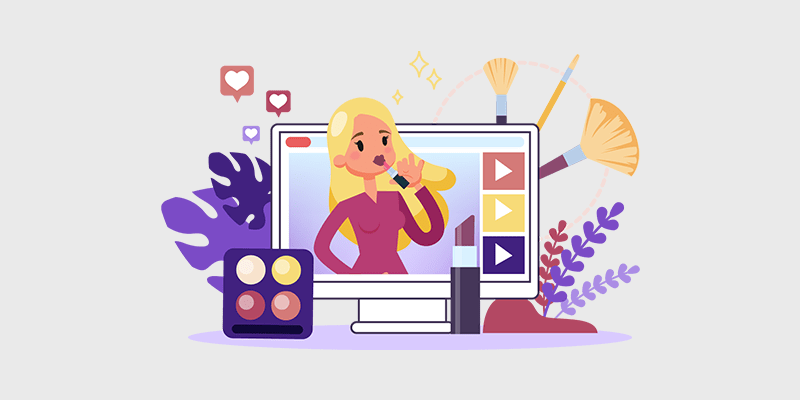 A re you looking to start a fashion blog, but don't know where to start?
Starting a blog today is pretty straightforward, but it's hard to be successful and make money from it.
If you're passionate about fashion and style, you're probably already following the hottest fashion bloggers and influencers on Instagram.
A fashion blog provides them with a platform to get out their ideas on the subject, and also brings them a ton of opportunities. You'd be surprised to see how many ways fashion bloggers make money from their blogs.
According to Business Insider, fashion and style brands are forecast to spend up to $15 billion by 2022. They spend on everything from promoted posts and content to free samples, trips, and more.
In this article, we'll show you how to start a fashion blog and share some tips on how to make money with it.
Step 1: Choose a Fashion Blog Niche and Name
Before you dive into the nuts and bolts of your blog, like finding the best blog hosting, you've got to determine what you're going to blog about.
You know you want to blog about fashion, but to find out if your idea is viable, sit down and brainstorm. If you can come up with at least 20 blog post ideas in 15 minutes, you've got a winner. If you don't, it's back to the drawing board.
Once you've chosen your main topic, you'll want to name your blog. Think about your topic, your target audience, and what your blog style will be like.
To come up with a name, try:
Using a thesaurus to come up with different words
Use techniques like rhyming, alliteration, or assonance (like "Fashionista File" or "Buying on a Budget")
You can read more tips and examples in our guide on how to come up with a blog name.
Step 2: Choose a Web Hosting Service
Web hosting is an integral part of your website. The servers of your web hosting holds your website's content and files online. Choosing a website hosting is not an easy task.
To eliminate any hassle for our users, we have conducted an in-depth analysis of popular hosting services. We have not only found Bluehost to be the best in terms of performance but it is one of the most affordable and user-friendly website hosting services in the market.
You can check out the deal we have worked out with Bluehost for our users below.
Step 3: Set Up Your Fashion Blog
Every blog needs three elements:
A unique domain name: This is what people type into their web browser to find your blog, like blogtyrant.com. It's usually the same as your blog name and should be easy to say and type. Learn more about choosing the best domain name here.
A reliable web host: This is where all the files, images, and content are stored. Companies like Bluehost make it easy to set up your account and blog.
A blogging platform: This is the software you use to write and publish your blogs, add the design and layout to your site, and more. We recommend WordPress, which powers 35% of the web, including big names like Adobe, Microsoft, Rolling Stone, and more. It's easy to use, flexible, and offers a wide variety of customizations with themes and plugins.
Many aspiring fashion bloggers get stuck at this stage because you don't want to pay for a hosting company, especially at the start. So when you are looking to learn how to become a fashion blogger don't look at the free hosting option.
It's critical that you retain control and ownership of all the contents and assets of your fashion blog. The free options may disappear at any point, leaving you without any copies of your content and a disappointed audience.
Plus, free blog platforms are very limited in features. Many of them won't let you use ads to earn money from your blog.
If you want more flexibility and control, you need to use a platform like WordPress and get your own web hosting.
We recommend Bluehost as a good starting option for new bloggers. You can get free domain name registration for a year and a discounted rate for being a Blog Tyrant reader.
Set Up Your Fashion Blog on Bluehost
Once on the Bluehost site, click Get Started Now.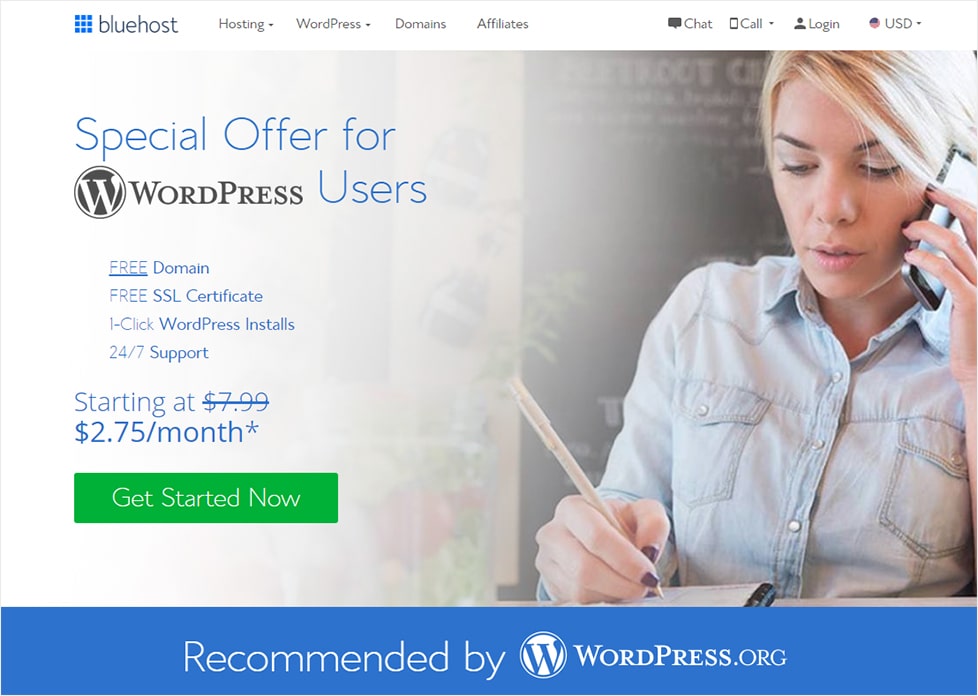 Choose the host pricing plan that works best for you and decide whether to register a new domain or use one you already have.

If you want to wait and think about it, click Choose free domain later.
Next, enter your account information and select an account plan. The 36-month plan offers the best deal, but you can choose the one you like.
The 12 Month plan is priced at $7.45 per month, whereas the 24 Month plan is priced at $6.95 per month. Therefore going for the 36 Month plan is the most affordable option with Bluehost.

After you're done signing up, you'll get an email with the login details for your web hosting control panel. Log in to your Bluehost account and look for WordPress under the My Sites tab.
Click Log into WordPress and enter your credentials. Click Create Site to create your new fashion blog.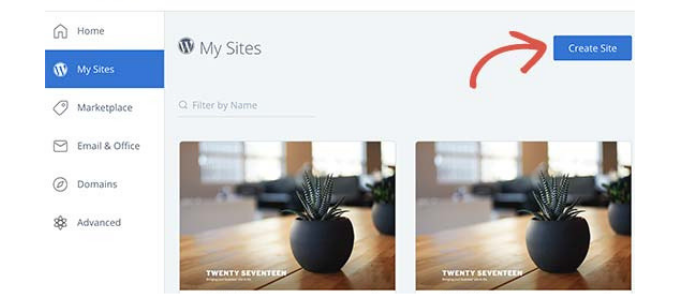 This launches Bluehost's WordPress installation wizard, where you'll enter the name of your fashion blog and a tagline (optional). You can always change both later.
Click Next and select your domain name from the drop-down menu.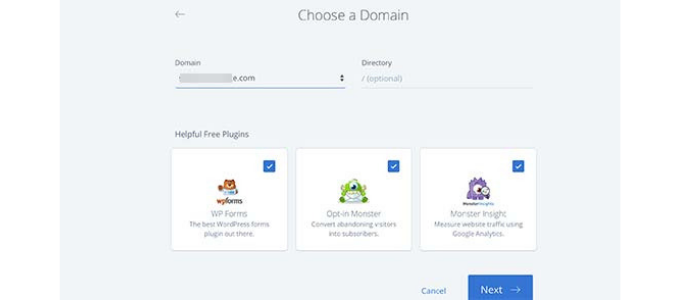 Click Next again to start the installation, which will take a few minutes. You'll see a success message once it's finished.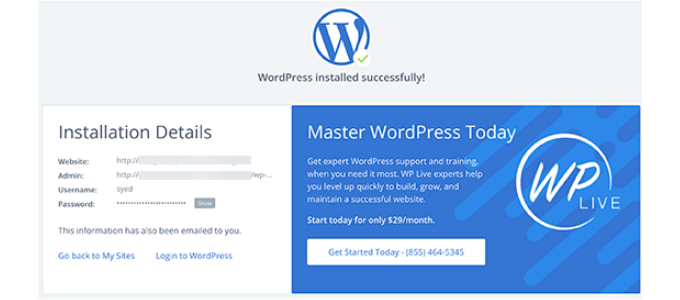 You'll also get an email confirmation with a login link.
And that's it, you successfully installed WordPress on Bluehost and launched your fashion blog!
Also, check out our detailed guide on how to install WordPress on Bluehost.
When you first install WordPress, your blog looks pretty basic and boring, but don't worry. You'll fix that in the next step. You'll install a theme and some plugins to make it look amazing.
Choose a Theme for Your Fashion Blog
Your blog is now live, though it's not ready for its close-up just yet. To make your fashion blog more visually appealing, you'll have to choose and install a WordPress theme.
There are thousands of themes to choose from. You can go with a free one or, if you're serious about blogging, buy a premium theme with more advanced features and styling options.
However, not all themes are suitable for a fashion blog. You'll need to choose one that matches your ideas on design and branding, so we've gathered some fashion blog post ideas for you.
Install a Free Theme
Because WordPress is so popular around the world, lots of people have designed perfectly good themes that are free to use. We've gathered a few of the best free WordPress themes in this roundup, so check it out and see if any would work for your fashion blog.
Pay for a Premium Theme
Premium themes are designed by experts and are usually more visually appealing than free ones. They also tend to have more features and functionality built into them and offer support options if you get stuck and need help.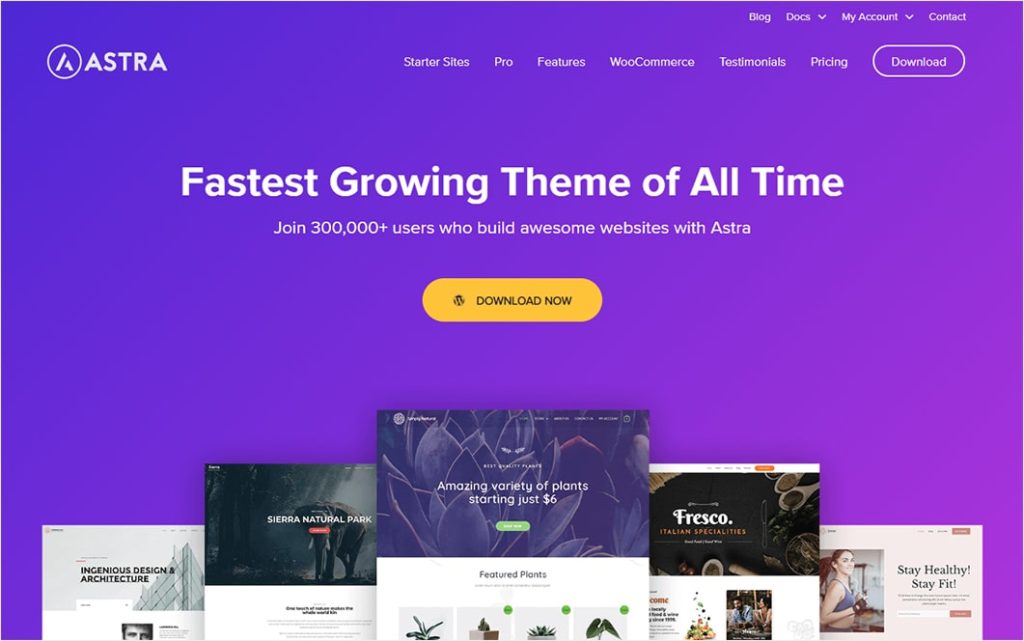 We recommend both Divi and Astra since you can start with them for free. You can upgrade to the premium version in the future if you want the advanced features that'll make your fashion blog awesome.
Invest in a Custom Theme
If you want a truly unique and original theme for your fashion blog, you can pay for a custom-designed WordPress theme. This is an expensive option (to the tune of several thousand dollars) and will take months to complete. It's a good option for later versions of your fashion blog if it becomes a sensation, as you'll have the money to spend on your custom theme.
No matter which you choose, make sure to choose a WordPress theme that reflects the style you want to convey. That means developing your own logo, choosing a unique color palette, understanding how font choices work, deciding on a blog post layout, and more.
Upgrade Your Fashion Blog with Plugins
Your fashion blog will also need a few plugins to optimize it and make sure it loads quickly and delivers a great reader experience.
Here are a few that you'll need:
Gallery Plugin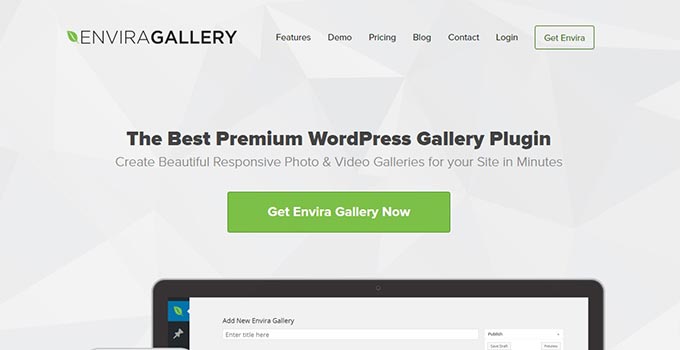 You can use Envira Gallery to help manage the images on your blog. Both load images quickly and make it easy to manage images on your WordPress blog. They also give you a wide choice of display options for images, like lightbox popups, grid layouts, and more.
Image Compression Plugin
Images can take up a lot of space online, which affects their load speed (and subsequently, how long it takes your site to load.) To speed everything up, compress your images before you upload them with a plugin like Optimole, EWWW Image Optimizer, or Smush.
Social Media Sharing Plugin

You'll want to make it easy for your readers to share your posts online, so a social sharing plugin is a must. We recommend Simple Social Icons because it's small and nimble and won't impact loading times at all.
Instagram Feed Plugin
Want to show off your fashionable Instagram feed on your blog? You can with an Instagram feed plugin like Smash Balloon's Instagram Feed Pro.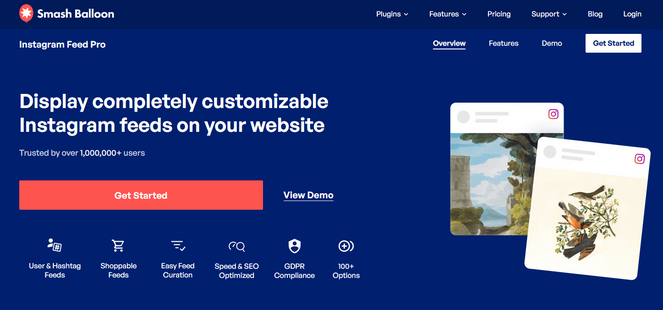 This plugin can help you display customizable feeds on your fashion blog, which will keep your blog looking fresh with new content, increase engagement, and grow your social media following.
With Smash Balloon's Instagram Feed Pro, you can:
Display multiple Instagram feeds
Show hashtag feeds and Instagram Stories
Create "shoppable" feeds
Choose from multiple feed layouts
And much more
If you're not ready to invest in the pro version, you can try out the free plugin.
SEO Plugin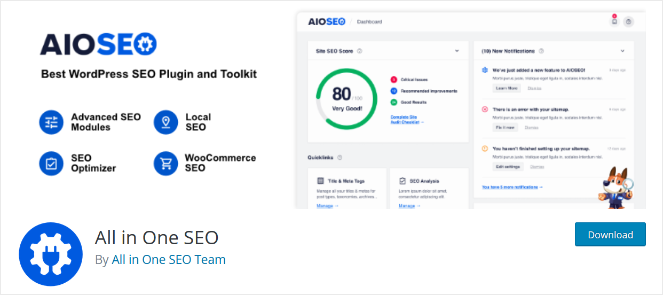 Optimize your blog for search engines with All in One SEO, the best WordPress SEO plugin.
It'll help you optimize your entire site for SEO by giving you a TruSEO score and a checklist of improvements you can make. Plus, it will make sure each of your blog posts is optimized for your focus keyword.
It's essential for getting more traffic to your blog.
Analytics Plugin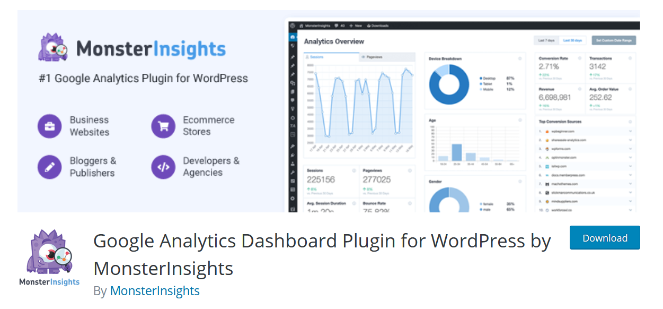 MonsterInsights is the best Google Analytics plugin for WordPress. With this plugin, you can view your website stats right from your WordPress dashboard.
You can see where your traffic is coming from, who is visiting your site, what pages they view, and more. Using these valuable insights, you can improve your fashion blog, boost traffic, and increase conversions.
For more of our favorites, check out our list of the best WordPress plugins.
Step 4: Create Content and Start Blogging!
Now you're ready to start creating and publishing your fashion blog content.
Avoid the temptation to start typing and publishing posts without a plan. Your fashion blog won't become a success that way.
Start with your core pages and main menu.
WordPress lets you create two different types of content: posts and pages. If you're wondering what's the difference, here's a detailed guide on posts vs. pages in WordPress.
We recommend creating these pages for your new fashion blog:
To add a new page in WordPress, log in to your fashion blog and click Pages » Add New.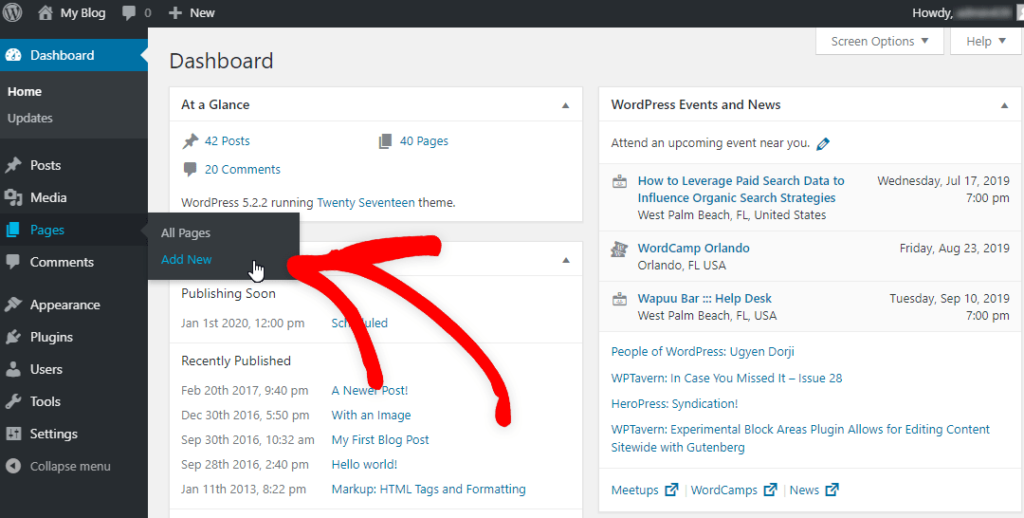 From here, add your page title and content in the editor. For more help on the WordPress editor, check out this post.
When you're done, click Publish to make the page live on your fashion blog.
What to Include on Your About and Contact Pages
About Page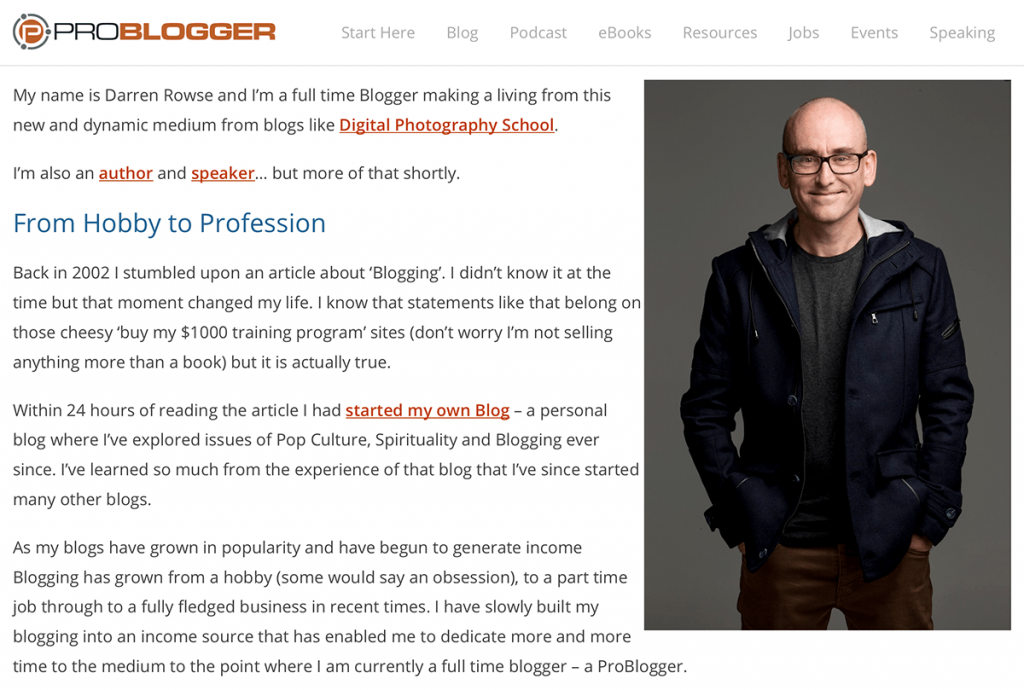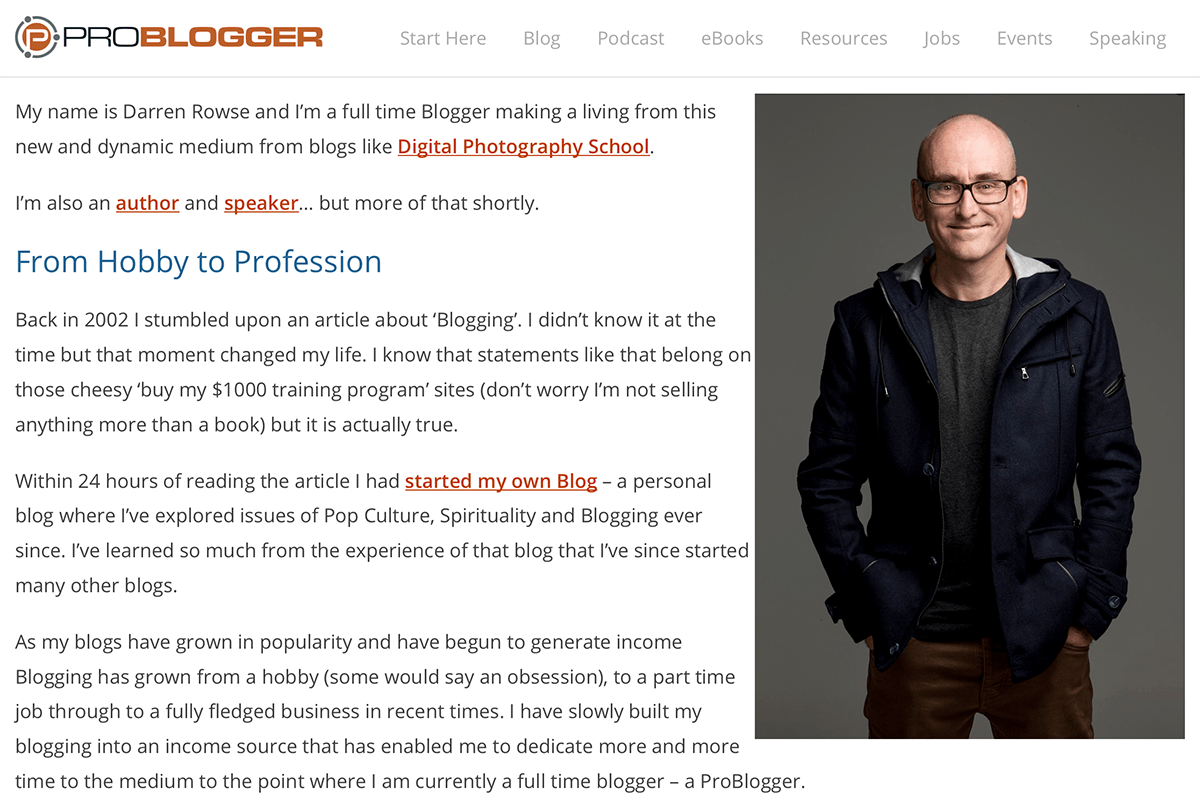 Introduce yourself to your readers and talk about what they can expect from your blog on your About page. Link to your social profiles so your readers can stay in touch with you.
Contact Page
A contact page is essential if you want your readers to get in touch with you. You can create one in less than 5 minutes with WPForms, which comes pre-installed on your Bluehost site.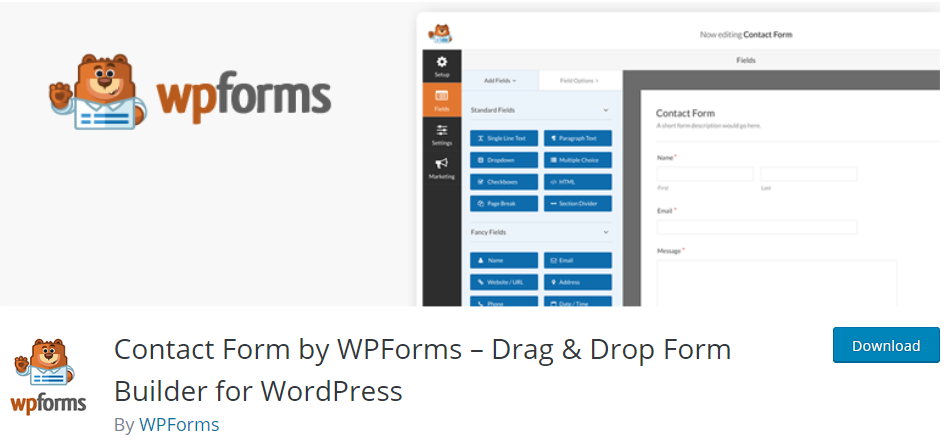 These pages should be enough to get your fashion blog started.
If you want to customize the layout and design of your pages, we recommend that you use a drag-and-drop page builder like Beaver Builder or Divi.
Now that you created a few pages, it's time to add them to the main menu of your fashion blog.
Add Your Pages to Your Main Menu
To create a menu in WordPress, click on Appearance » Menus. Enter a name for your menu (like "Main Menu" or anything you like) and click Create Menu.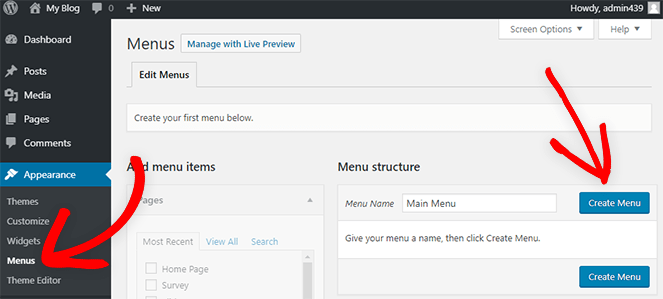 Next, add the pages you just created to it. Under Add menu items, choose the pages to add and click Save Menu.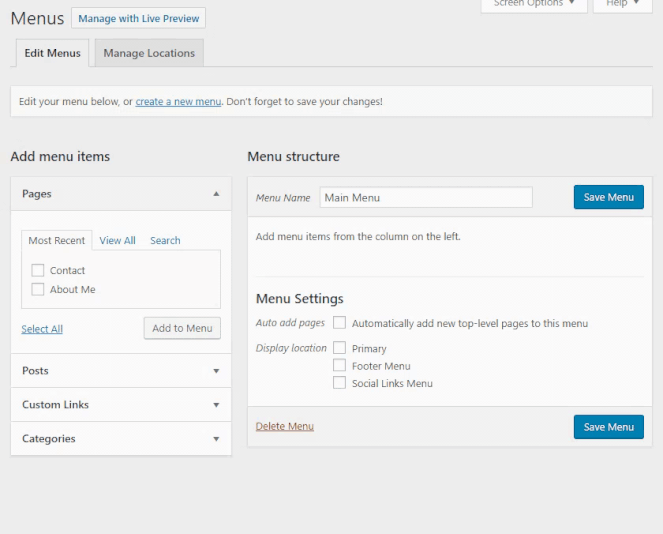 To add the menu to your fashion blog's header, click Manage Locations at the top of the page. Then, select the location where you want it to appear. The location options available to you will depend on the WordPress theme you chose, but make sure you've got the Primary location set.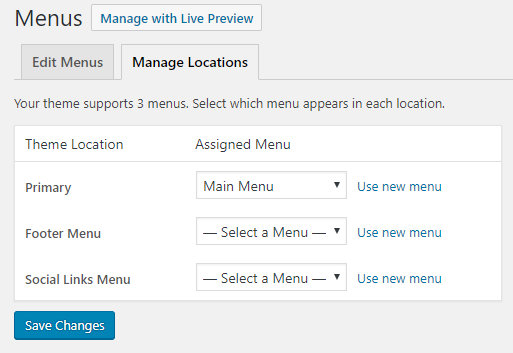 Write Your First Blog Posts
Now it's time for the nitty-gritty: writing your first fashion blog posts. You already brainstormed some blog post ideas earlier, so pull those out and start writing.
If you're stuck for ideas, check out our ultimate list of blog post ideas and our guide on how to write the perfect blog post.
Don't worry about monetization just yet. For now, you've got to get some content on your blog, so it gets indexed by search engines, and start building an audience. You can also create a blog strategy to keep the ideas flowing and your fashion blog fully stocked with posts.
Congratulations! Your new fashion blog is up and running. Well done.
But you're not finished just yet. You've got to promote your blog to develop an audience and following. After all, you want to keep people engaged and coming back to your blog regularly, right?
Plus, you'll need an audience if you want to earn money from your fashion blog, and it's hard to monetize without one.
Step 5: Promote Your Fashion Blog and Grow Your Audience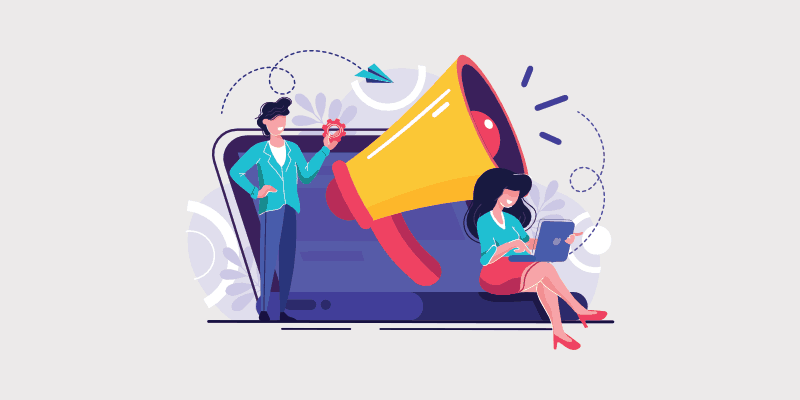 Promoting your fashion blog is essential if you want to develop an audience and, eventually, monetize it to earn money. Some are easy to set up and do, while others require a little more investment of your time (and maybe your money.)
Let's take a closer look.
Search Engines
Optimize your fashion blog for search engines to drive traffic to your blog. A good SEO strategy means that whenever anyone searches Google for a topic you've covered, your fashion blog comes up in the search results.
Check out our guide to blog SEO for more tips.
Social Media
As a fashion blogger, you know how important social is to your website. Especially if you've got great pictures and content that are easy to digest and share. Pinterest, Instagram, Twitter, and TikTok can help build and grow your audience, as well as increase your monetization options since you'll be getting more views to your content.
There are a lot of social media channels out there, so you'll have to decide which ones to use for your fashion blog. You might be tempted to use them all, but don't.
When you spread yourself too thin across them all, you won't have time to focus on creating content and sustainably grow your fashion blog. So, what can you do when it comes to social media?
Spend time looking at the biggest blogs in fashion. See what social media channels they're using, then dig deeper. Look beyond the followers and likes, since those can be bought. Look at how engaged their followers are, how much content is shared in each channel, and what kinds of interactions they're having on the blogs themselves.
Test out similar tactics on your fashion blog. Pick one or two social media channels and create content for them. Share your content through them and engage with your audience. Ask people to follow you on those channels. See how it goes for a few months and then decide whether to stay or switch.
Given time, you'll see which ones work for you and which ones you can skip. We recommend engaging with commenters on your posts and adding one or two social media platforms to the mix to start.
Email Newsletters
Professional bloggers use email newsletters to stay engaged with their audiences and generate an income from them. They help you develop and sustain relationships with your audience better than any other marketing method you might use.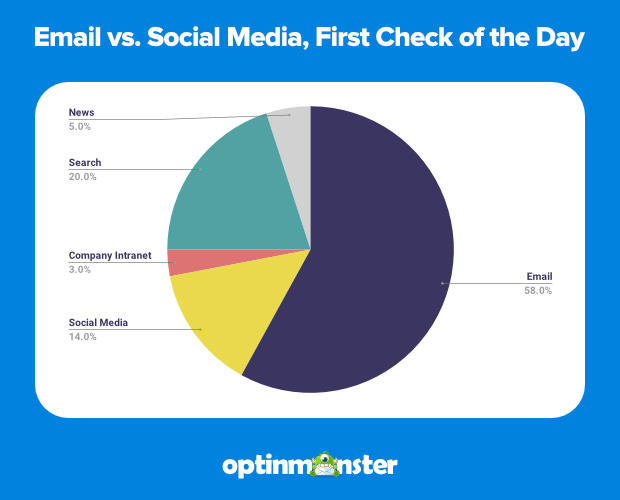 And if you think email is ancient history, think again. Over half of us check it first thing every morning! The rest of us check it some other time during the day, so consider an email newsletter essential to your fashion blog.
Grow it like a total pro with our step-by-step checklist on how to do email marketing.
Step 6: Monetize Your Fashion Blog
All right, you've come this far. Now it's time to start making money with your fashion blog.
Here are a few ideas you can try to monetize your fashion blog:
Display Ads with Google AdSense
Advertising networks can help you earn money on your fashion blog. Google AdSense allows you to display ads on your site, even when you're just starting. Follow our step by step guide on how to add Google AdSense to your blog properly.
Affiliate Marketing
Affiliate marketing allows you to recommend products you love and earn a referral commission when your audience purchases a product after clicking on your link.
To make money with affiliate marketing, you'll need to find fashion products and brands with an affiliate program. Start with Amazon Affiliates as they have tons of products in fashion, clothing, and accessories that you can recommend and get paid for it.
Become an Instagram Influencer
Instagram is THE social media network for fashion and style influencers. You can do the same for your fashion blog, so make sure to join and start posting with the relevant hashtags to reach the right audience.
Promote Branded Content
Reach out to brands, fashion startups, agencies, and others to partner with them. Demonstrate your influence by showing off your Instagram feed on your blog and also the size of your following.
Sell Branded Swag
Once you've got a good-sized audience for your fashion blog, create some branded swag to sell on your blog. Use a print-on-demand service like Printful, TeeSpring, or Gooten to manage the creation, printing, and shipping of your t-shirts, mugs, jewellery, and more.
If you're curious about how much you can make with your blog, here's a shortlist of successful fashion bloggers.
---
There you go, step-by-step instructions on how to start a fashion blog.
You've set up your web hosting, chosen a fashion blog theme, learned about image compression plugins, and started writing your first posts. You even learned a few advanced steps for any blogger, so you can monetize your fashion blog and earn money from it.
Have you started a fashion blog? Share it in the comments so we can take a look. We'd love to see it and hear more about your experience.
Now that you know how to start a fashion blog, learn how to get more traffic to your blog.
Don't forget to sign up for our email newsletter for more helpful blogging tutorials like this one!