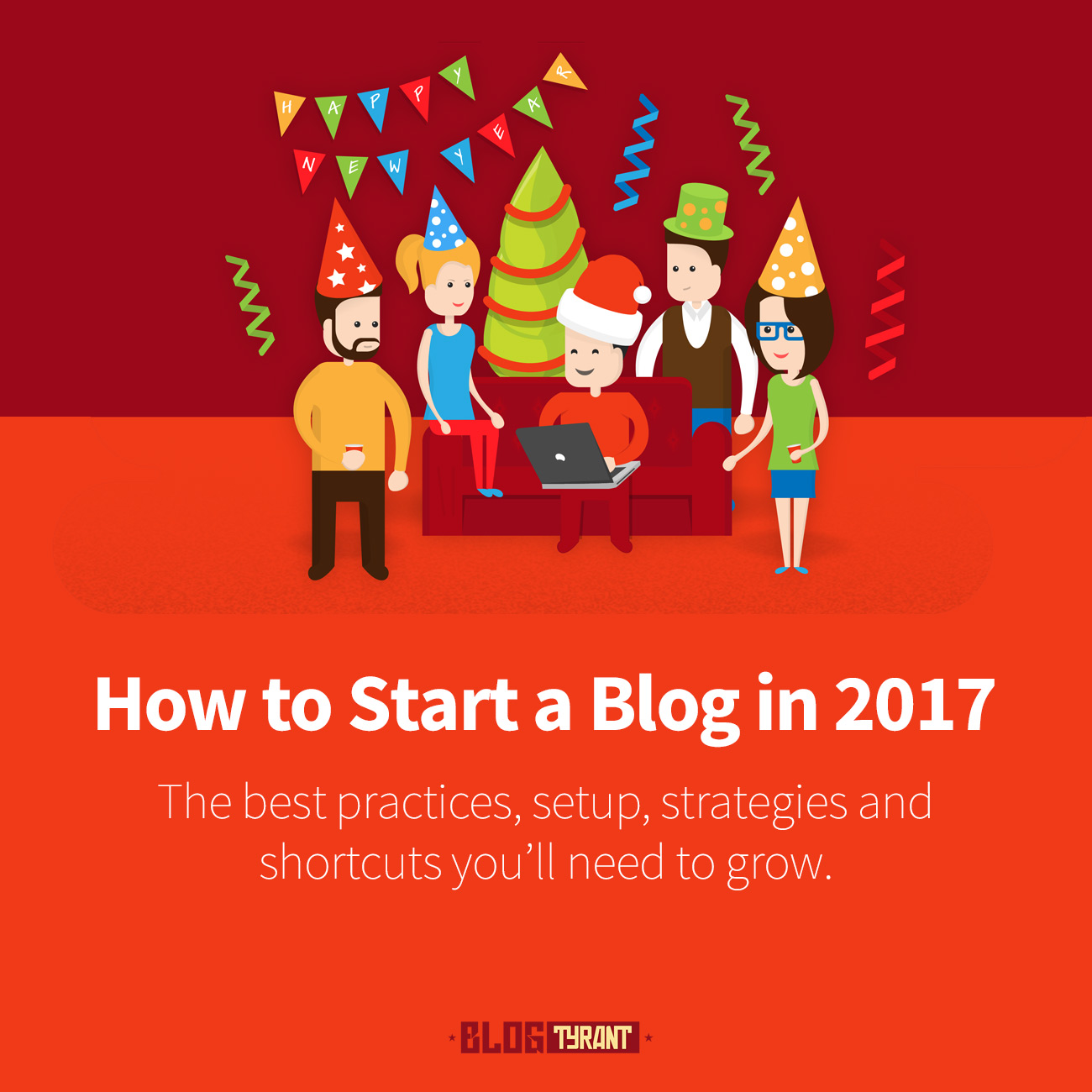 A few years ago we started publishing posts at the end of each year that tried to predict blogging trends for the year to come. This year I want to do things a little bit differently…
We'll start with my usual blog post on what I think will be important in the coming year, but then I'd like to turn it over to the amazing community here and ask you for your predictions about starting and running blogs, and the specific strategies you'll be focusing on.
I'm going to give a $250 prize to the best comment to go towards your blogging needs for the year. Hopefully the result will be a comments section filled with incredible knowledge and ideas on how to start and succeed with a blog in 2017.
Let's do it!
Starting a blog in 2017: What's changing and what's not?
Every year when I do these posts I notice how some elements of successful blogging stay the same, while others change and need to be updated.
There are the "golden rules" of blogging – tried and tested ideas and methods that bloggers and entrepreneurs have been using for over a decade now with continued success – and then there are the elements that change each year as technologies, trends and other related phenomena ebb and flow.
I'm going to try and touch on both of these in this article.
1. A blog is now a lot more than just a blog
One of the most common questions I get asked from new bloggers is whether or not a blog should be part of an existing website or something that sits separately.
For the last few years, blogs have really evolved from their original "weblog" format to a very professional operation that does a lot more than just offering news and updates. In 2016 we have seen this go to all new heights with how sophisticated themes, plugins and addons have become.
This is one of the main reasons I continue to recommend that bloggers start on a self-hosted WordPress setup because the open source platform allows you to change and evolve your site extremely quickly and easily as opposed to being locked into a free platform that has limited flexibility.
For example, sites like Nerd Fitness (which was once a content-only blog) have now evolved into multi-platform offerings that include community areas, stores, online live training videos, character creation, membership products, etc.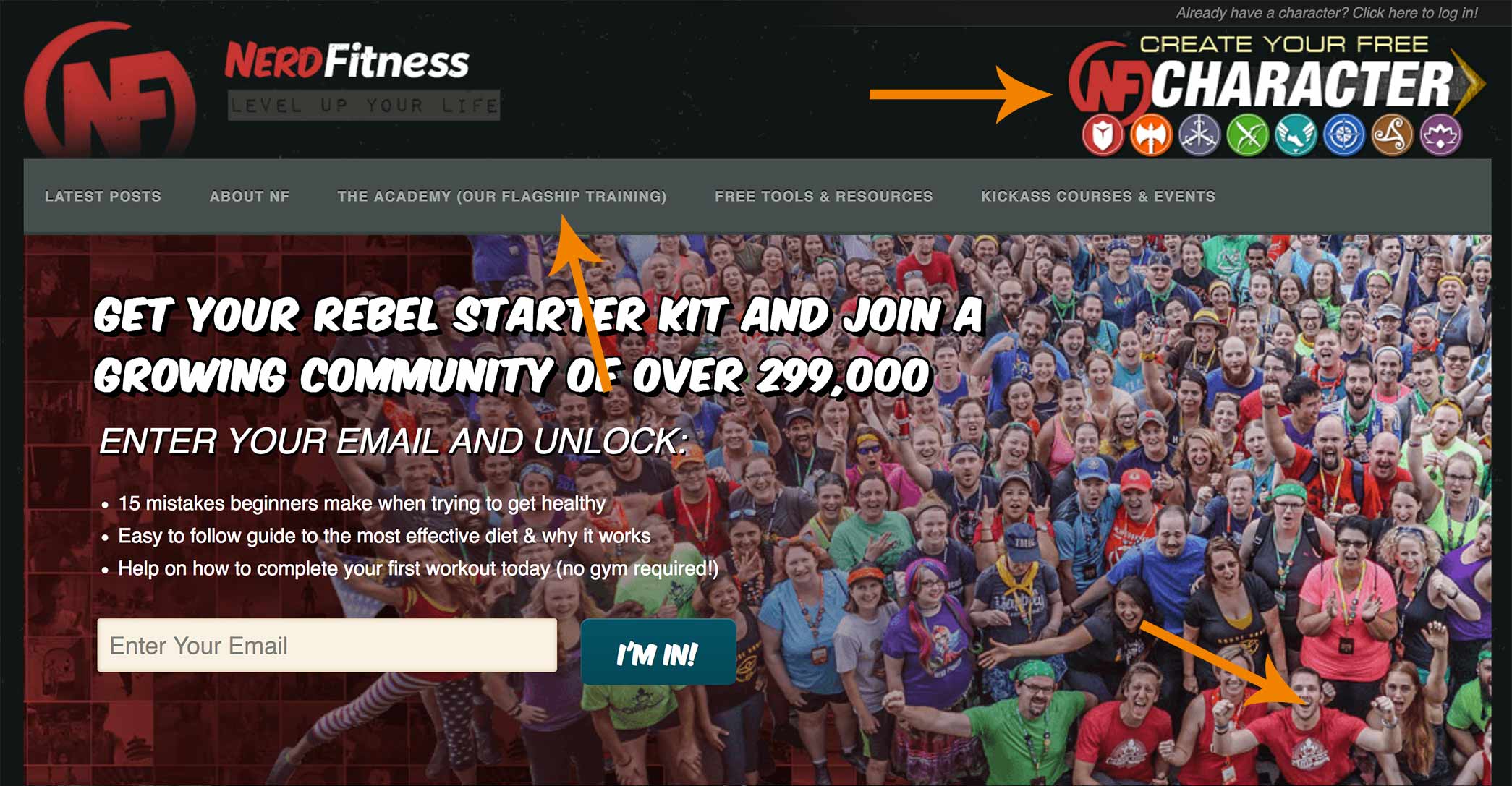 Steve (the one with the arrow on his face) has even taken this to the next level of holding a physical (and wonderfully successful!) annual camp. I often joke that he's not far away from his transformation into a legitimate cult leader!
If you take a look at many of the blogs that have survived the long term you will notice that they start to offer more than just the usual updates. Not only does it create a lot of value for your existing readers, these extra features attract new visitors who instantly find your brand valuable.
2. Understanding blogging SEO will become drastically more important
In the past you'd find that a blogger could get away with not knowing too much about SEO and still attract a lot of traffic if their content was excellent and social shares filled the gaps.
In the last few months, however, Google has been making some massive changes that are going to affect blogs in a really big way, and I predict that it's going to become even more important in 2017 (I'll be doing a separate post about this soon).
The main thing you want to be looking at is how the mobile version of your site impacts on how Google ranks you. Things like inconvenient pop up ads will soon be penalized in search, and the mobile will be the default analysis instead of the desktop.
There are also new technologies like Accelerated Mobile Pages which some blogs and websites are already taking advantage of. It's a whole new area of search optimization that, unfortunately, will benefit only larger sites unless we jump on board and learn about it.
3. Facts and helpfulness will be a vital point of difference
One of the standout features of 2016 was how quickly we entered into a post-fact era where science and truthful information seemed to become less important for news and media.
People now seem to embrace a cognitive bias openly when it comes to news and will, as an example, disregard whole newspapers like the New York Times as being "left wing elite propaganda" and instead choose a non-fact checked site that sits with their own agenda.
The trouble is that the algorithms that the web is built on encourage this kind of behavior. Veratasium explains in really well in this video.
What I think this means is that it is more important than ever for bloggers and social media wizards to do the right thing and produce content that is helpful, truthful and accurate.
A lot of people are scrambling to find trusted new sources of information and my hope is that it will lead to new blogs and content providers that are committed to making it in a fun and digestible way – you might even be able to make truth and trustworthiness marketable points of difference!
4. Speed will become more vital than ever
All around us we can see how things are speeding up. Have you ever noticed how ticked off you get when your favorite podcast or Netflix series is a day late? Well, services like Google feel the same about websites.
I'm predicting that 2017 will see a rise in the rankings of fast websites and those websites will also continue to perform better in terms of conversions as people become less and less patient with sluggish load times.
As mentioned above, we can already see Google giving preference to fast loading mobile sites with things like AMP and this will only continue to get more prominent as websites and blogs vie to be included in that section of search results.
To make sure blog as fast as possible look at how you use images, the configuration of your server with services like gzip and CDNs, and spend some time learning how to cache various aspects of your site as cleanly as possible,
5. Mailing list "bribes" will have to be more sophisticated
As more and more website owners, web entrepreneurs and bloggers realize the benefits of getting more email subscribers the more likely it is that subscribers will get fatigued.
Everywhere you look now you see different free courses, eBooks and other goodies that you can get for free when you sign up to a mailing list. This probably means that the old "get updates" is not going to be enough unless your content is on the level of Wait But Why or The Oatmeal.
A lot of bloggers are moving on to things like content upgrades where you offer a small download within a post as a way to enhance the value of that post. The catch is that they have to subscribe in order to get it by clicking on buttons like this:
Make a button like this one
Ultimately, I think the mailing list will continue to become more and more important for sustainable online business. A lot of services like Slack have been touted as the "email killer" but I'm still not seeing a mass transition away from the format.
Try to make email subscriptions a focus for your blog in 2017 because, as we're about to see in the next point, it can provide an extremely important protection.
6. Google will syndicate more content from blogs
If you're a small website or blog you'll find that Google can be your best friend one day, and your worst enemy the next. It's an unfortunate by-product of a service that is absolutely pervasive as well as brilliant in quality.
We all use Google as a way to drive traffic to our blog. The problem arises when we depend on that traffic too much and end up getting stung by a new update, algorithm change or penalty.
But what we'll see more of in 2017 is Google taking content directly from websites and blog and pasting it right there in the search results. Here's one example: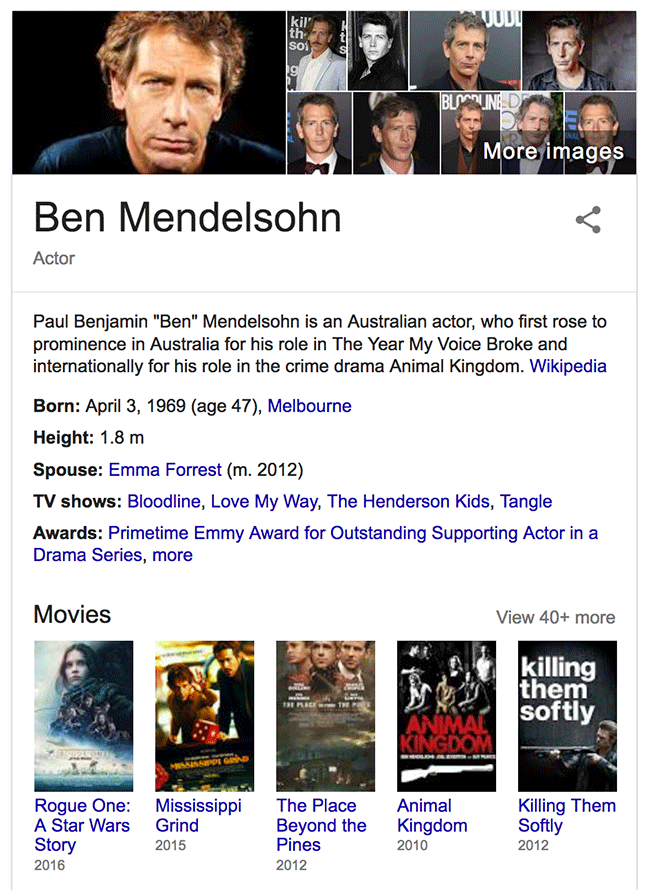 As you can see, the search for actor Ben Mendelsohn returns a little sidebar where Google have pulled information from sites like Wikipedia and IMDB. As a result, you don't actually need to visit those websites to get the information.
You can see this type of result with searches like sports results, movie times, and a lot of basic questions like "convert calories to kilojoules" will even produce a little calculator right there in search.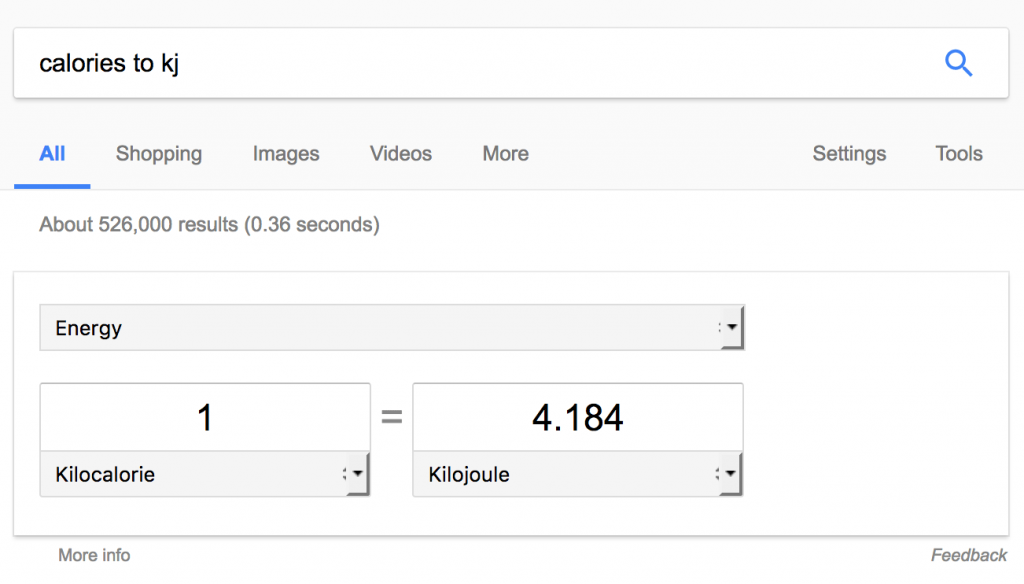 What this means is that you need to be a little bit careful if you have a popular resource that is easily scraped by Google as there is a high likelihood that they will display it directly in the search results if they think it will be faster and easier for their customers.
Of course, this might not be such a bad thing if it means that your content gets some extra graphical promotion above your competition but it all depends on how the click through rate is affected for your particular piece.
7. Security threats will continue to rise
Last year we saw a massive rise in all kinds of security threats, including one where half the East Coast of the United States got taken down in a DDoS that was vaguely linked to the election and/or Julian Assange and Wikileaks.
In my own smaller world, a relative had their entire workplace's network compromised when a staff member opened a link in an email that looked to be from an official postal service. The device was locked, held to ransom and a boat-load of personal data was stolen.
So what can we do?
Well, start by doing all the basic things like never opening links in emails, using two-factor authentication, keeping passwords different and strong, avoiding public WiFi, keeping software and anti-virus protection up to date, and using security plugins and protocols on your blogs.
Most importantly, however, is to make a backup of all that you do and all that is important in case something does go wrong and you need to re-load some stuff to a pre-attack phase. I would also highly recommend finding a trusted security expert or a firm like Sucuri that you can go to should something go wrong.
8. Teamwork will become more important than ever
If you read my post about threats to your online business you might be worried about producing enough quality content to compete with the growth in your niche. One way to take care of that is with teams.
For example, here at Blog Tyrant I have a designer who helps me with graphics, a WordPress expert who does coding and adds new features, a systems admin expert who deals with databases and security, brilliant video editors and photographers, etc. And that doesn't include any of the other bloggers I rely on for networking or cross-promo, or my accountant, lawyer, etc.
Really, there's no way to do it all by yourself and I feel so lucky to have such amazing people helping me out.
In 2017 bloggers will need to try and be more savvy with how they work with others. That could include collaborations, but mostly it will mean getting some really good staff on a contractor or part time basis to help you do some of the jobs that you don't need to be doing yourself.
Start by thinking about the things that take up a lot of your time but don't actually grow the business or earn you any money. These are the things you want to start with.
9. Long form content will change lives
If you have a look at the content that really made an impact last year it was mostly long form content that gave the reader something extremely helpful, and I think this trend will continue next year.
Sure, there were a lot of election and Harambe memes that got a lot of likes and shares, but the content that really seemed to make an impression on people was the in-depth article that spent a lot of time helping someone understand an issue or solve a problem they had.
But then there's articles like this one on marriage that got 20k shares, this one on Trump supporters that made me teary, this article about Sydney that got over a millions views, this article about how humans won't need to work soon that made me re-think my career path, or this article called I Used to be a Human Being which was one of the best articles I've ever read.
Some of these pieces took months to research and are 5,000 to 10,000 words long. Most importantly, they are genuinely helpful to the reader and have a positive motivation that aims to make sense of something scary in the world, or give people a new perspective.
My feeling is that in 2017 people will be looking for quality content that really helps change their lives. There's so much noise around us and when you encounter a piece like this you really stop and take notice. And, as the writer, even if you only help a few people I think it's entirely worth the effort.
10. We'll need to get better at using data
Even the newest bloggers have a lot of data at their fingertips. Your basic analytics account will show you thousands of data points each day, and when you start looking at split testing and other deeper statistics it can all seem a bit overwhelming.
The funny thing about data is that more is not necessarily better and a lot of people are starting to question how it is being used.
The same is true for anyone who is starting a blog in 2017 – there is a lot of data that you have access to and not all of it will be a valuable way to spend your time.
For example, you could spend literally your whole work week on keyword analysis trying to discover the best keywords to target for your next blog post. You could use SEMrush to check out all the competition, Google Adwords for traffic volume and ads spending and then still at the end come up with the wrong solution because you didn't factor in social shares, current trends, or the human element on the front end of those articles (i.e. what people will interact with at this particular point in time).
The same is true for internal metrics like bounce rate. You might spend weeks trying to get your bounce rate down by a few percentage points and as such have no real time left to craft new articles, network or provide value.
Personally, I'll be looking at a few key metrics that I feel are relevant to my business and then not worry too much about the rest. Not only does it take up a lot of my time, I also find it a little bit overwhelming and a bit deflating if I focus too much on numbers.
What would you say to someone starting a blog in 2017?
I'd really love to open up the comments now and hear the advice that you would give to someone who is starting a new blog in 2017. What strategies will you yourself be using? What trends do you think will come and go? And is there anything really, really important that I've missed? I can't wait to hear your perspectives.
I'm going to give $250 to the most helpful comment below so please take your time and give this post a share if you think it might help someone you know. I'll announce the winner on Facebook next week.