A short tutorial about creating shortlinks for your WordPress permalinks using in-built method, plugins and other ways.
What are shortlinks?
A shortlink is simply a shortened URL or link, having significantly lesser characters than the original link. For example, here's one we did on Blog Tyrant:
http://www.blogtyrant.com/start-a-blog-2014/
to
tiny.cc/startablog
There are several advantages to using shortlinks. For example, shortlinks are easier to share than the usual links.
Also, certain shortlinks can be tracked to check their performance metrics, which helps in gathering useful data.
On certain sites, you can find all your previous shortlinks, which further helps you get the links you need frequently, and to keep them organized.
How to create shortlinks in WordPress
You have several options for converting your blog links to shortlinks. Some of the most convenient options are listed below. You can use the one that suits you the best.
Create shortlinks in WordPress using plugins
WordPress provides plugins which let you create shortlinks directly in your WordPress dashboard.
The URL Shortener is a simple yet powerful plugin which offers several configuration options.
You can create shortlinks for the existing posts, make them nofollow, decide to open them in new window, choose the link preview type and do a lot more.
You can even sort your shortlinks using categories to keep them organized and handy.
Firstly, install and activate the plugin, after which a Short Links option will appear in your WordPress dashboard.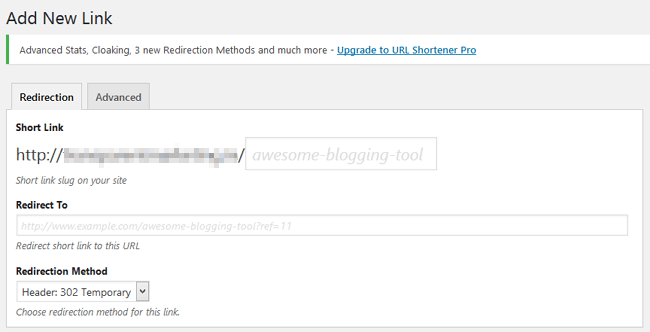 Now, to create a new shortlink, go to Short Links > click on Add Link. This will take you to the Add New Link screen.
Enter a custom name for your new shortlink in the Short Link space, and enter the original post or page URL in the Redirect to space.
Click on the Add Link button when you're done.
That's all.
You can use the same method to create shortlinks for other URLs as well.
To access the advanced settings, you can switch to the Advanced tab and control all the URL related settings.
The Short URL plugin quickly creates WordPress shortlinks for all your posts, right after you install and activate it.
If you wish to change the default shortlink, then you can do so by clicking on the Edit option below the links > update it with your desired link > and click on Update.
To create shortlinks for external sites i.e. links for sites other than your own, switch to the External Redirections tab > enter the external link in the External URL space > and click on the Add a New URL to Shorten button.
Furthermore, you can change the characters used in URLs from the Parameters section, and manage other settings within the plugin screen to modify them according to your preferences.
The previous versions of WordPress had the Get Shortlink button, which instantly generated a shortlink.
However, the button has been discontinued the newer versions. Still, you can create shortlinks for your posts or pages by installing the Bring Back the Get Shortlink Button plugin.
It's doesn't come with any customizations or settings, but simply adds the Get Shortlink button to your WordPress visual editor.
You can click on the Get Shortlink button to get a shortlink for sharing or linking whenever you wish.
How to create shortlinks using URL shortening websites
If you don't prefer adding plugins dedicated to the sole purpose of creating shortlinks, then there's an alternative option. For this, you can use any of the URL shortening websites. Here are some of the popular URL shortening websites:
You can simply enter the original URL and instantly get a shortlink.
BACK TO TUTORIAL ARCHIVE