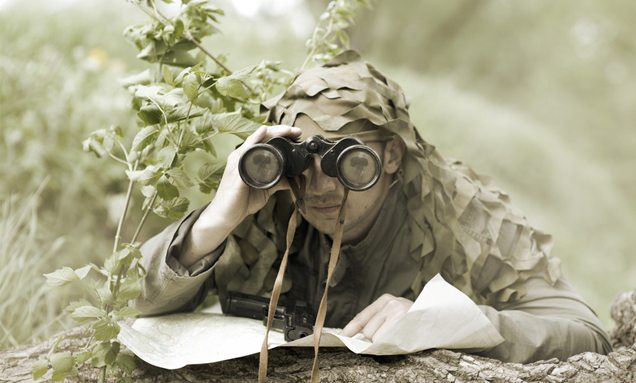 Last Update: October 17th, 2016
When people start a blog they often think that things will take off as soon as the first post is published. Traffic will flow in, readers will give you their email address and your fame and wealth with blossom and flourish.
Unfortunately it doesn't work like that.
When you start a blog you need to do a lot of work away from the actual writing of posts. In fact, the writing is really only a fraction of what you need to succeed.
Weird, huh?
In this post I'm going to try and help you with a few things that you should do as soon as you start a blog. They might make all the difference.
Oh, and there's a bit of news in number 14.
1. Make sure you're on the right platform
This one might hurt a little bit if you have just set yourself up on Tumblr or Blogger but the fact of the matter remains that if you want to take your blogging seriously you probably should own your website. When you use Tumblr or Blogger or one of those other free platforms you actually don't totally own and control the asset that you are building.
And that is a real worry.
I have always recommended that my reader use a self-hosted WordPress set up. This is an incredibly powerful blogging platform where you own the server that hosts the files as well as the domain name and blog. And the great news is that with platforms like BlueHost you can set the whole thing up in around five or ten minutes. I've done a post on why I recommend BlueHost as well as a tutorial on how to install WordPress.
2. Make sure you've found a distinctive angle
One of the most important things you can do for your entire career is find a way to be distinctive. Without this you will just become another one of the millions of boring blogs that are created every single day.
Being distinctive basically means that you have found a way to be remembered. As I've said before, you don't necessarily need to be unique and original but you do need to find a way to present your stuff differently.
Take Mayi Carles as an example. There are probably tens of thousands of handmade, craft blogs out there but her's is so distinct that you would never forget it. She has her own style, flavor, graphics and way of presenting ideas. She even writes her "and" as a "+" so you generally recognize something she has written!
If your blog currently doesn't seem all that different to the others out there I encourage you to think long and hard about your brand and how you can make it stand out from the rest. Find that unique angle.
3. Set up Aweber to manage your email subscribers
If your goal is to make money as a blogger you will undoubtedly want to grow your mailing list. It is the mailing list that lets you do things like:
Promote your posts
When you write a new post you can email your subscribers and let them know it's gone live. Those fans then share and Tweet your work and help you get the word out.
Promote new products
If you launch a new paid product or eBook you have a list of relevant and interested potential customers to promote to. This takes out a lot of promotional work that other companies have to do.
Increase reader feedback and depth
By emailing readers away from the blog you can increase the sense of loyalty that they feel towards your blog. This allows you to get new feedback as well as increase the depth that they will travel into your blog to find old articles or new information.
The sad thing is that a lot of new bloggers just use Feedburner as a poor substitute for this. As much as I love Feedburner as a service for managing RSS feeds, it is by no means comprehensive enough to mange your email subscribers.
For example, with Aweber you can do things like split test emails, set up multiple and separate lists, create sidebar and pop up opt-in forms without any coding, measure the conversion rate of individual forms, etc. This is stuff you just can't do on Feedburner.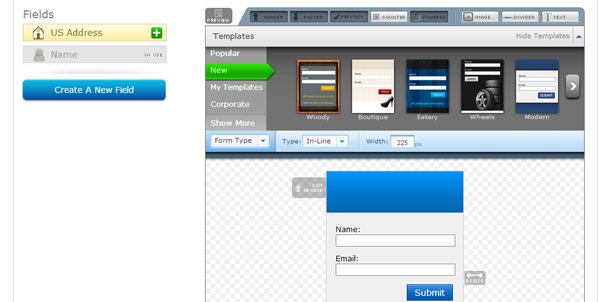 A screen shot of the Aweber optin form builder where you can design forms without code.
The other scary thing is that Google look like they are geared up to close down Feedburner forever which could be disasterous if you have been storing your subscribers in there and no where else. Now is the time to make the move if you haven't already.
4. Clean up your textual layout
Your content is the most important part of your site. Not your photos. Not your graphics. Not your email subscriber form. All of that comes second to your content.
It is, therefore, extremely interesting to see how often people work on their blog design in every other area while leaving the textual part looking drab and hard to read. It's a real shame. People are there to read – not look at your social media graphics or header images!
The first thing you need to do here is get a good font mixture for your header and body text. As a general rule your header should be sans serif if your content is serif or visa versa. (Tweet this)
Usually people choose Georgia for a serif font and Arial or Verdana for a sans serif font. These are considered "safe" as they are used commonly and people are used to reading them.
Brian Gardner wrote a really simple but intersting post on "sexy fonts" which talks about a great font size and spacing and how it can make a huge difference to how people interact with a site (unfortunately the site he was talking about has now changed their font).
It's 16px and if you still think that is too big for a font size you could have a read of this extremely popular but controversial post.
5. Make sure you know your brand
Your brand is not just your logo. It's not just your name. It's not your website as a whole either.
I always find it quite interesting to see what people think their brand really is. Most of the time it's a confused idea about a name and a tagline – after that everything sort of just gets tacked on in the hope that it will fit.
David Ogilvy defined a brand as:
"The intangible sum of a product's attributes: its name, packaging, and price, its history, its reputation, and the way it's advertised."
It's a much more comprehensive idea about what you are communicating, not just what you look like. You need to know how your logo, tagline, site design, colors, Tweets, posts, advertising and all that stuff fit together to either enhance or detract from your brand. You need to make sure that everything is on message.
So if you have just started a blog (especially if you've done it on a whim) it's a good idea to take some time and think about what you want your brand to be. Ask yourself questions like:
"What do I want to communicate to people?"
"How do I want people to feel when they interact with me?"
"What keywords summarize my brand?"
"What outcomes am I hoping to achieve with my readers?"
This can help you give you some direction and focus so that you are certain about the type of site that you want to create and the message that you want to give to people when they meet you. And remember, the individual behind that site plays a big role in the brand.
6. Set up Google Authorship
Update: Google Authorship has been abandoned by Google. I would no longer place much importance on Google+.
In case you aren't across it yet, it is basically Google's social network on steroids. It seems to me that Google was so worried about Facebook's dominance that they decided to create a social site that was totally integrated with all their other services. Google Maps, Google Places, YouTube and even email – it's all now being pushed as a Google+ integration.
And it's even more important for bloggers because it has re-shaped SEO forever.
Now people who run blogs can set up Google Authorship which is where you get your tiny little profile photo to appear next to your site's results in Google search. Not only does this increase click through rate due to being more eye-catching, the very act of verifying your Authorship is seeming to boost people's rankings.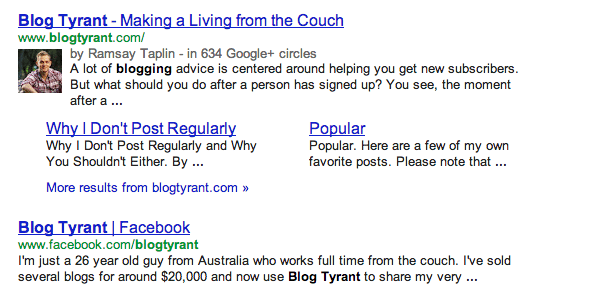 I've done a tutorial on how to set up Google Authorship that includes a quick little video to hopefully make the process a bit easier. I highly encourage you to get on this one right away.
7. Tactically read other blogs in your niche
If you've been reading Blog Tyrant for a while you'll probably be familiar with the famous Why You Shouldn't Read Blogs post. This is the article where I told all of my blog readers why they should stop reading. It was an interesting exercise!
I sometimes wish I hadn't written that post because it gets misinterpreted so often (probably due to bad authorship!) and people go away thinking that they should stop reading altogether.
That was not my intention.
In fact, I think it is really important to read blogs when the time is right. And one of the most important times that you can be reading and absorbing is when you are brand new to the game. It is, however, very important to do this tactically and with some method in mind. For example, read blogs in order to:
Find out what competitors are doing
Healthy research into your competitors is a very wise thing to do. All businesses do this. I would encourage you to think of them as "future friends" but you do need to have an idea about what they are up to.
Find out how similar blogs made it big
One of the most important things to do is read other big blogs in your niche and find out what it was that made them so successful. Was it a serious of posts? Was it a particular type of feature that they have? Was it a collaboration with another blog? Read up and see what they did well.
Find out how they are failing
The last interesting bit of reading/research you can do is to see where you think they might be going wrong with their approach. This is the most interesting part of the exercise because it gives you a lot of ideas for posts/products that you can launch on your own blog.
Again, my point is not to stop you from reading altogether – just to stop you wasting time reading when you don't really need to.
8. Generate some good comment karma
When you first start out it is really difficult to get a lot of comments. In fact, that is one of the biggest complaints that I hear about – no one is commenting.
Well, I think the best place to start in this regard is to generate some good comment karma for yourself. Make a list of all the big blogs in your niche and then go and read and comment on their latest articles. If there aren't any new articles to comment on then head over to their Facebook Pages or Google+ Profiles and interact that way.
I am also a firm believer in doing this for the smaller blogs that don't already get a lot of comments. Those small bloggers might one day be the big guys and if you were around helping them out and leaving comments in the beginning you will be remembered. People like Marcus, Liz, Jen, Chris, Rachelle, Diggy, Scott, Cristina and Lisa did that for me. There are a LOT more of those original Tyrant Troops but I couldn't mention everyone!
There are plenty of people out there who go around to 20 blogs everyday and leave comments like "Nice article." That is not what we want. If you have a look at some of Marcus' comments here on Blog Tyrant you will see that some of them are as long as the post itself! While you don't have to go to those same lengths I can assure you that it made an impression on me and I will support Marcus in his online ventures if he ever asks.
9. Create evergreen articles of at least 3,000 words that solve problems
Evergreen content is content written in such a way that it will remain relevant forever. It is usually aimed at beginner topics.
This type of content does extremely well (if written properly) because it appeals to a large number of people and the type of people it appeals to are usually keen to learn more, subscribe to a list or buy a product.
The problem is that most bloggers forget about evergreen content and write about super-advanced issues or issues that are so personal to the blogger that no one can relate. Rather, what should be happeneing, is that bloggers are using personal experience to make wide-reaching topics more human. Not the other way around.
Let me say that again.
Not cool: Articles about your own life that don't have relevance to anyone else.
Cool: Articles about everyday topics that are infused with your own life experiences.
The difficult task with evergreen content is find topics that are singular but not so singular that you run out of anything unique to say. And it is quite important to approach that topic in a unique way. The information itself doesn't have to be unique (e.g. how many new ways are there really to shuffle cards?) but the personality that you inject into the article and the way you approach it must be.
3,000 words might seem like an arbritrary number to a lot of people reading this but I have found that you need around that amount to make a real impact on people. Of course you don't want to ramble on just to meet a word count but you should think about trying to make the article as complete as possible without totally exhausting it.
I often find myself sharing Gregory Ciotti's articles out of respect for the time and effort even if the topic isn't a major interest to me.
10. Tweak your opt-in form placement and design for conversions
If you are using a free theme or a paid theme that is sold en-masse you might want to take a look at how your email forms are setup from both a positioning point of view and a design points of view. Often these themes go for the "good looking" solution instead of the one that converts.
Even a few pixels of bad placement can mean hundreds and thousands of subscribers lost.
The first thing you need to know here is that your blog has "hot spots" where a reader's eye will naturally fall. These hot spots need to be taken advantage of. The main ones are:
Above the fold
This is the area of the screen that you see when you first load the site and haven't scrolled yet.
The top right of your sidebar
If your sidebar is on the right the top part is usually a hot area. This is often thought to be a relic of the days where the mouse didn't have a scroller and people had to position the cursor on the top right to grab the scroll bar with your left finger.
Of course there are a lot of other places to take advantage of like whatever area you call the popup and after each post when people are looking for something to do.
In terms of tweaking the design you need to think about colors, styles, fonts and font sizes. But we'll get to that in the next part.
11. Create a split test
A split test is the only way to know whether your opt-in forms are performing as well as they could be. Have a look at how well it worked for Obama.
The idea is to create two different forms and then use Aweber's technology to see which one performs best. It will show one form to 50% of readers and the other to the other 50% and then give you vital stats about which one gets you the most subscribers.
Once you get used to the idea you can split test variations of certain parts of your form. For example, I am currently split testing the sidebar form here on Blog Tyrant to see whether different button color and text makes a difference to sign up rates.
So far I have found that the words "SIGN UP" in all caps doesn't seem to be too popular compared to almost any other variation.
I would never have been able to figure that out if I didn't do a split test!
The above video is something I made quite a while ago to show you how to set up a split test with Aweber. Again, this is a major reason to switch to Aweber or at least make sure you are using a plugin like OptinSkin.
12. Set up a Gravatar
Ever wondered how people get their photo next to the comments down below? Well, it's called a Gravatar and it takes literally two or three minutes to set up.


A screen shot of Pat Flynn's Gravatar. Notice the consistent branding everywhere?
This particular service is great because it links your photo to your email address so anytime you leave a comment with that email you get your photo appearing right next to it.
Surprise, surprise! I've written a post on how to set up a gravatar and how to make sure you get the most out of it. Some of them are absolutely dreadful!
13. Know the power of the WordPress behind you
WordPress is much more than a blogging platform. It can be used to transform ordinary sites into e-commerce megastores or magazine style blogging themes. In fact, if you know the right coder you can make your WordPress site do practically anything.
But many bloggers don't realize the power that lies beneath their simple template design.
I guess the best place to start is to emphasize that the right plugins can completeley transform how your blog functions on both a cosmetic level and an inner (invisible) level.
For example, on a cosmetic level you might use plugins to make your comments stand out or to add a new function to your sidebar. On an inner level you might use a powerful SEO plugin like Yoast in order to change the way Google looks at your blog and hopefully increase your rankings.
So how do you know what WordPress can do? Well, you need to read about it and play with it. Just like the best pilots know how to break down and reassemble their aircraft in order to know its limits, we need to know how WordPress functions and what we can do with it.
14. Create a goal-orientated content strategy
This is one of the most important things you can do when you start a new blog. So important, in fact, that I have written a complete guide to this that will be coming out soon. For that reason I'm not going to go over it all here.
What I will say, however, is that your content is not about getting traffic. It's not about getting subscribers, even. You need to have a goal for your content that will eventally make you some money. Once you have that you can begin to craft a plan that will help you create content in a way that takes you closer and closer to that goal.
If you are struggling with this and want to know more make sure you subscribe to my list as I'll be announcing something very soon that will hopefully change the way you think about writing content forever.
15. Begin researching the costs associated with hiring staff
Bloggers hate the idea of having staff. It's very strange. Every other "real world" business has staff in order to help the main players focus on the main issues but bloggers want to avoid this at all cost.
It's a big mistake.
Now I'm not saying that you need to hire full time workers that you pay insurance and superannuation to, but I do think it is a good idea if you can start outsourcing some of the more time consuming tasks to competent workers from around the world.
In my blogging business I've found that a lot of time gets wasted on "day to day" tasks that I really need to do but really don't have time for. I'm best at working on business development and writing sexy new content. So it seems like a smart idea to get someone to help me with all the small stuff so that my time is opened up.
I highly recommend everyone head on over to Freelancer.com (aff) and have a look at how it works. Here is a rough overview:
Set up a listing
You set up listings based on individual jobs (like a WordPress design, image creation, etc.) and people then bid on those jobs.
Browse the bids
You then browse the bids and take note of the worker's history, success rate, location, timezone, etc.
Select a worker
You then select a worker and they pay a 10% security deposit. This feature is unique to Freelancer.com and helps to make sure you get the work done on time.
Manage and wait
You then manage the worker through and problems or questions they have and then wait for the job to be completed. All communication must be done on site so that there is a record in case someone wants to make a complaint.
Pay the worker
Once the job is completed you release the funds to the worker and leave them a feedback score.
Once you have found a good worker you can send them an invite to any new jobs that you post. In this way you can create a very longterm and trusting relationship with a worker who gets all those little annoying things done.
It is tempting to think that, as a new blogger, you can't really afford to hire anyone yet. I understand. But it is also good to shift your perspective a little bit and think about how much money you can save/make if you stopped working on all the little maintenance taks and started focusing on writing, sharing and creating stuff that people love.
16. Ensure your branding is consistent across all platforms
If you've just set up your blog and social networking profiles it is a good idea to make sure they all match your main branding.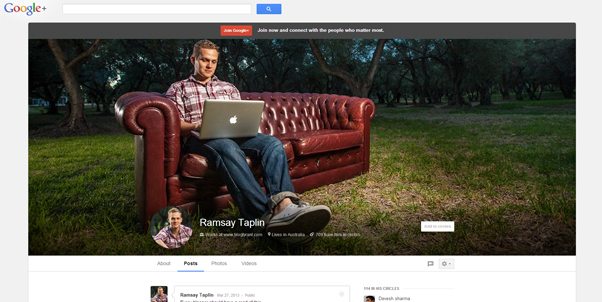 A screen shot of the image used on my Google+ Profile. It's absolutely enormous, right?
For example, Google+ now gives you this bloody giant header photo to crown your beautiful profile page. A lot of people use this to show something beautiful or fun but it is a good idea to use it to solidify and promote your brand.
The main reason for this is that you want people to recognize you and your stuff whenever they see it. As soon as my ugly mug pops up sitting on that couch in the woods I kind of hope that people know it is a Blog Tyrant area and some long, drivelly content is on it's way!
17. Make plans for expansion into video
Do you know how many page views YouTube got today? Roughly four billion. Yes… billion.
Video is bigger than ever and it is only getting bigger. There are now more smartphones on Earth than tootbrushes (how good are my facts?!) and as such we're finding that people are accessing video easier than ever before.
People like Pat Flynn have done extremely well by making the foray into video early on in their career. I started getting into it a few years ago (only recently on Blog Tyrant) on some of my other blogs and noticed some distinct advantages like more interaction, huge streams of new traffic, etc.
There are roughly four types of video that you can make. Here are some examples:
The first is the usual talking head video where you are speaking to a camera. You can do this with a webcam and a computer mic but if you want the sound and video quality to be professional you'll need to spend a little bit of money. I'm using a Canon Rebel T2i SLR and a RODE Cold Shoe mic for that video although I'm not overly impressed with the mic sound yet.
The second type of video is called a screen capture and this is where you record the computer screen as you see it while you speak into a mic and give directions or a commentary. This is really only good for people who have blogs where computer-based tutorials are relevant. I used BSR Screen Recorder for this one but have also had good experiences with Camtasia.
The third type of video that you can make is a fully animated presentation. Unless you are a digital animator these will be expensive to make but are extremely good for launching products or explaining a service.
The fourth type of video is one where you produce or act in a movie/short film/TV show style presentation. Some YouTube channels have done extremely well with this format – many of them landing more "maintstream" gigs after reaching some internet fame.
Again, you need to make sure that these videos fit in with your content strategy that we talked about above. The goal is to find new readers/subscribers/customers – not just get random traffic.
18. Research guest posting gigs that make a difference
New bloggers tend to think that you need to write all of your content for your own site. This is a huge mistake. Blogs grow by getting content on other sites. That's how you find new people!
With that in mind it is good to realize that finding the right guest posting gigs can be a real art form and takes a lot of research. For example, some of the things you'll want to look out for include:
Comment counts on regular posts
How many comments do they get on their regular posts? Is it alive and active?
Comment counts on guest posts
Do the accept guest posts regularly and are they received well by the readers? Some readers really hate guest posts.
Subscriber numbers
How many subscribers will your article go out to? Are the active?
Social media numbers
Do they get a good amount of Tweets and Facebook likes? Again, how many people will see it?
SEO value
This is a post in itself but basically you want to know how much benefit this post will do for your own rankings and target keywords.
One of the most important factors, howevever, is how much input and future help you might be able to get from that site's owner. These relationships are extrmely important to build and that leads us nicely on to the next point.
19. Make contact with influencers
Put simply, everything that I have been able to achieve with this site has been thanks to the kindness of my readers and the other bloggers that have helped me out.
That's it.
If you don't make friends (and I mean genuinely) with the other guys and girls that are making progress around you then there is a good chance you won't get anywhere. On a very basic level these people often have huge social media followings and a Tweet or shout out from them can put new life into your site. On a deeper level, these people have been in your shoes and thus can offer a lot of help if you ever need it (and they like you!).
As a new blogger it is important to start slowly. Go to their blog and share some of their main content. Link to it on your blog and talk about it on Twitter. That will get some attention. After that you can start chatting on Twitter and eventually move to email.
I know it's harsh but please don't email right away asking for huge promotional favors. As much as I'd love to help everyone out I only just met you and love my readers too much to send out content from a stranger.
20. Subscribe to the tops blogs (for funnel's sake)
The other day I subscribed to Nerd Fitness after following the site for a very long time. For some reason I didn't want to sign up to another mailing list and as such I just occasionally visited when I had time to read the geeky brilliance.
But once I signed up I was glad I did because the way Steve does the process is different to me and gave me some really good ideas. And it reminded me of the good old days where I'd sign up to blogs that excited me and learn from the way they did things. It was a great education!
If you find a blog that makes you think "Oh I wish I thought of that!" it's a good idea to subscribe and follow them for a while to see if you can pick up any tips or hints. I am absolutely not suggesting that you copy them – you're just looking for inspiration or a bit of guidance.
21. Think about a better permalink and page title structure
These two things can make a big difference to your SEO rankings as well as the readability of your post titles in search engines. If your not sure what they are I'll give a quick explanation.
Permalink structure
The permalink structure is the shape that your URL takes on single posts and pages. For example, my URL at the top of this page has the root domain (http://blogtyrant.com) and then the post title after it (/21-critical-tasks-etc.). Sometimes I just use a key phrase in place of the post title so that it is really short. Some people add the date and the category too (http://blogtyrant.com/2013-07/blogging/21-critical-etc).
Page title
This is the title structure that is shown in the top information bar or tab. You'll see on this page it just shows the post title. Some bloggers like to have Post Title | Blog Name or something like that. I've chosen to display post titles only single posts and a Blog Name | Description structure on my homepage.
I've chosen to use the post name for my default permalink structure. You can change yours by going to SETTINGS > PERMALINKS.
WARNING: CHANGING THIS WILL RUIN YOUR OLD URLS!
Please read this post to see what will happen if you've already written and published posts and then decide to change permalink style. If you've got some good links to those posts you might have to just do your URLs manually as you write each post.
To change your title structure you'll need to tweak a bit of code so follow this tutorial. If you're not sure about it just leave it alone for now – it can wait.
22. Use a keyword tool to research your topics and titles (reader submitted)
Yesterday I went on Facebook and asked people to answer the question, "What was the biggest change to your blog/blogging that you wish you had made earlier?".
There were some phenomenally good answers but I said I would only pick one and that was submitted by Kevin Grunert. And yes, I promise it is only a coincidence that he is from my home state. I've never met him!
Kevin said:
"The biggest change for me has been to perform keyword research about the amount of traffic for any given keyword before beginning a blog, and using that keyword research to assist with creating SEO friendly titles for my content."
This is a really good lesson to learn early on because even a simple change of tense or root keyword in your URL and title can make a huge difference to your traffic and rankings. For example, the title How to Bake a Pie might get thousands less searches than How to Cook a Pie.
Market Samurai is still a very good tool for people to use to do their keyword research in order find out competition, traffic and back link profiles. I'm happy to write a tutorial about it if enough people are interested.
How many have I missed?
This article is over 5,000 words long but without a doubt is missing some valuable points. I'd like to open up the comments now for the Tyrant Troops to answer the following question:
What was the most important change you made to your blog that you wish you had done earlier?
Feel free to discuss anything you want but I'm particularly interested in what answers you guys have to that cracker.
Photo: © Ekaterina Yudina