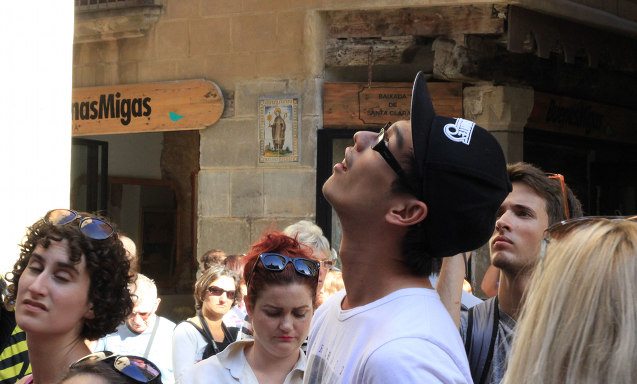 Guest posting is dead!
At least that's what everyone has been saying since Google's web-ninja, Matt Cutts (and others), talked about how links in guest posts should no longer pass SEO juice.
Since then some of the biggest and best bloggers have been talking about whether or not guest posting is still a viable option for your SEO tactics. The best of these posts was written by Glen at ViperChill right here.
But the thing that people have been missing (even Glen) is that guest posting SEO is about more than just your rankings.
Ah… what?
You heard right. Let me explain.
How guest posting SEO works/worked
If you're not very familiar with SEO you might want to go back and read my old post on beginner SEO for blogs. That will help get you across some of the terms. For everyone else just read on.
So, we all know that for the most part that you can rank higher on Google  by getting good backlinks.
Some people think it's more important to have high quality links from reputable sources, other people prefer to have a lot of links. Some people want both!
Either way, it was/is about links.
For most of SEO history bloggers and SEOs have been trying to build backlinks with their keywords in the anchor text. For example, if you were trying to rank for the phrase "beginner SEO for blogs" you might use that as the anchor text (as I did above).
That worked fine until a few years ago when Google decided that too many people were building links in an unnatural way and "gaming" the system. The latest progression in this dilemma is that Google wants you to no-follow any links that you use in guest posts.
Hmmmm…
What people are missing
As mentioned, Glen wrote a really good post about the history of all this and whether or not you should follow Matt's advice and un-follow all of the links that you put in your guest blogging from here on in.
I highly suggest you read that post, and anything else Glen writes.
But what I think is missing from a lot of the discussion around the web on this issue is the fact that guest posting SEO tactics should not be just about getting posts on your blog ranked.
That is a very narrow strategy.
Rather, you should be using guest posts to form an overarching strategy for your own blog's promotion. It's about getting relevant traffic to your site and then funnelling those visitors to an outcome.
If you think about it like this, you'll start to see guest posting SEO as an exercise in getting strategic content ranked – even if it isn't on your site.
As we all know, Google is now (perhaps unfairly?) giving greater weight to websites that have a large amount of perceived authority even when their articles aren't the best ones on particular topics that you're searching for.
Well, why not take advantage of that?
If you search for "get more email subscribers" you'll probably see my article somewhere near the top. Except it's one of my articles for Copyblogger, not Blog Tyrant.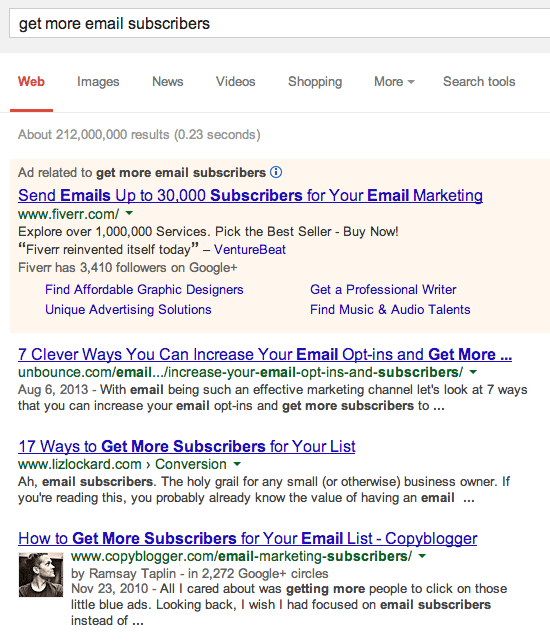 When I wrote that I was really trying to rank for keywords around how to get more email subscribers and growing a mailing list so that people would sign up for my mailing list – which was about that topic. But the competition was so fierce I knew I couldn't rank a new site's posts in any quick way.
So I decided to use a website with a lot of authority.
That post will stay there forever because Copyblogger is going to be around forever. I now have a few posts sneaking up to it in the SERPs but that original post I did over there has and will hopefully continue to send me traffic for the near future.
Does it matter whether the links I include in there are follow or nofollow?
Not so much. Because we're trying to promote for relevant traffic, not rank our own articles.
(Note: They are follow links in that example. It was still cool back then. I'm a bit more conservative with linking these days and try to play it safe.)
Not really SEO?
I'm sure a lot of people are going to tell me that what I'm talking about is not really SEO. Maybe that's true. It's certainly not "traditional" SEO and I know a lot of experts out there who will hate the idea of ranking a post on an authority site for keywords that you yourself want to rank for.
But that's the climate we're working in now.
And if you're blogging in a super-competitive niche and trying to build an authority site yourself then you are probably being a little bit more conservative with your link building than you were three years ago.
As Glen mentioned in his post, not everyone is going to be nofollowing all of their guest posting links. People are still going to successfully use guest posting and clever anchor text to get their articles to rank.
Good.
But I just wanted to make people aware that you can do your guest posting SEO differently if you are perhaps too afraid to risk linking like that. And instead of getting upset at the authority-based Google results that now dominate, you can start working with them.
As a final word, make sure any guest posts you do are always high quality to the point of being better than what you'd put on your own blog. I often spend two or three days researching and writing the posts I do to make sure it's good for all aspects of guest posting – SEO being a very small one, in reality.
What do you think?
I'd be really interested to hear how you all use guest posting. Do you think about the SEO implications or are you just trying to get traffic back directly from the site's readers? Has Matt Cutts' announcement affected you?