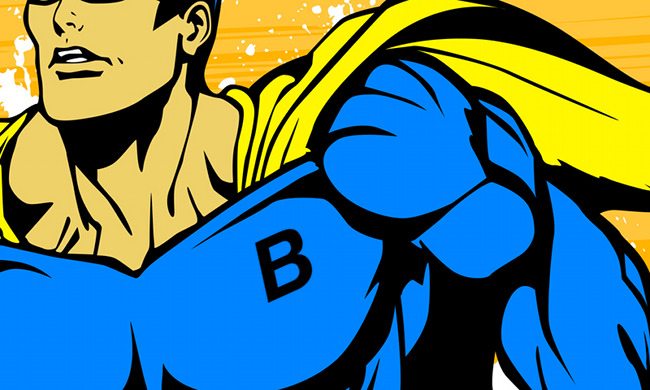 Last update January 27th, 2018.
I was driving with my cousin when he asked me, "Why would anyone want to start a blog?"
He was of the opinion that perhaps blogging had given way to Instagram, Facebook and Twitter and was no longer a very popular thing to do. After all, he sure as hell doesn't read them anymore!
Pffft!
Actually, turns out that blogging is more popular than ever.
Let's just look at Tumblr – over 120,000 people start a blog there every single day!
And that's just one blog site.
In this post I'm going to show you how to start a free blog and grow it insanely fast while building a beautifully loyal readership. It doesn't matter whether you're into sport, travel or fashion blogging – these platforms and tips are built for everyone.
If you already have a blog I'll make sure there's still some handy tips down below for you.
A word of warning about free blogs
Before we get started I want to issue my usual word of warning about free blogs like Tumblr, Blogger and WordPress.com.
While these services have many positive features, they also have too many drawbacks to be a viable option if you want to make money or build a career from your blog.
This is not true of all free blogging services, but on many of these platforms:
You can't advertise
WordPress.com, for example, won't let you do many forms of advertising on your blog.
You can't edit the back-end
If you want to tweak your site to boost conversions or change the layout you won't have access to the backend code.
You don't fully own it
This is the big one for me. When you are using a free blogging platform you are not the full and complete owner. You are building someone else's asset.
This is why I recommend that all bloggers should start a new blog with a self hosted set up and their own domain name. It's cheap and gives you complete ownership and control of that asset.
How to start a free blog in 2018
If you still want to start a blog on a free platform, that's okay.
However, there are a few things you'll want to consider before you get started as the choices you make now will have a big impact on things you can and can't do when you start to grow and expand.
Before you get moving it's important to consider:
Your goals for the blog
What are your goals for the blog? Will it just be a personal journal or are you going to try and build it for some commercial aspect?
Your target audience
What age group of reader are you targeting? Each blogging platform seems to have somewhat of a different audience that interacts with it.
How you'll be blogging
Will you be typing your entries from your laptop or iPhone? Some free blogging platforms lend themselves well to smartphones while others do not.
Whether you need your own domain name
Some blogging platforms (like WordPress.com) will let you have your own domain name while others will restrict you to ones that have the company name in the domain.
Whether you might want to sell
If you ever want to sell your blog in the future it's worth considering who will actually own your blog and whether you are allowed to sell it. On a self-hosted platform this is no issue.
Once you've had a good think about what you want to do with your blog it's then a good idea to spend some time browsing around the different platforms to see what might work best for you. Here is a list of a few of the best ones that I think might be a good place to start.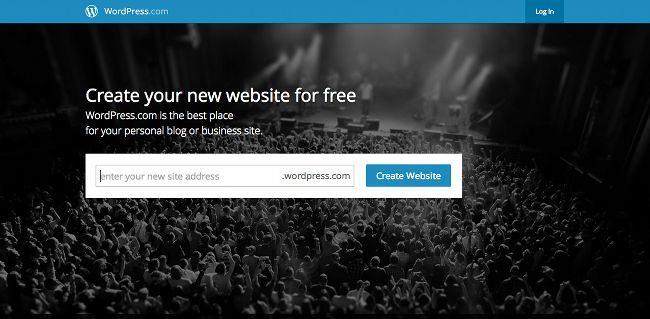 I am a huge fan of WordPress.org (that is the self-hosted version I use) so it's natural for me to recommend WordPress.com (that's the free version that WordPress hosts for you) because the platforms are very similar. It's also pretty easy to migrate across from WordPress.com to WordPress.org if you decide you want a real blog/website in the future.
The main benefits of WordPress.com are:
Good range of features
You get a lot of the features that you get with WordPress.org which makes it quite a robust free platform.
Ability to add domain name
You can purchase a domain name and add it to your free WordPress account. This comes in handy if you ever want to migrate to your own host.
Huge support network
WordPress is open source and as such there is a huge amount of support material available.
Basic stats
WordPress.com has basic stats built in so you can see how much traffic you're getting when you write posts.
270+ themes
There are heaps of themes to choose from so you can make your blog/website look pretty much however you want. Of course, you can't really tweak these too much.
Mobile publishing
Pretty good apps for publishing and updating while you are on a smartphone.
While these are all well and good, there are some really annoying disadvantages that might make this option untenable for some people:
Inability to make money
There are big restrictions on making money from advertising or affiliates which is one of the best ways to make money from your mailing list.
Forced ads
WordPress.com will show ads on your blog. This is the help pay for the costs of running the free platform. For me, this is a massive downside.
No plugins
The most beautiful thing about WordPress is the tens of thousands of free plugins that you can install with one click and totally change the functionality of your website. On the free version you can't use any.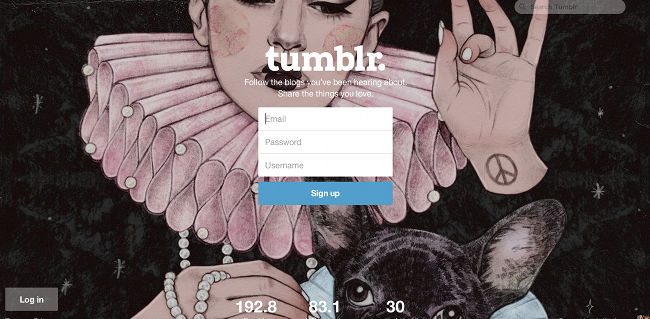 Tumblr has been an absolutely huge phenomena. So big, in fact, that Yahoo! bought the blogging service for a cool billion dollars last year. Yep, that's billion. There are a few reasons why a blogger might want to start with Tumblr.
Some of the main features you get if you start a free blog with Tumblr include:
Easy re-blogging
Everyone on Tumblr re-blogs everyone else. It's easy to do and it's a great way to get your blog new traffic really quickly.
Easy subscribing
Tumblr pioneered this little pop out box that asks people to subscribe to your blog. It works really well and you can get followers quite quickly.
Beautiful layouts
The designs of Tumblr blogs are really simple, sexy and are built for page view. That means people will often spend a lot of time scrolling through your posts.
Excellent mobile interfaces
Tumblr is made for mobile. It looks great on all devices and is really easy to post articles or photos from whatever you're using.
Simple backend
Beginners will find Tumblr really easy to use. You just sign up with your email and post away.
So what are the disadvantages? Well…
No domain name
Tumblr does not allow you to use your own domain name so you will always have .tumblr.com at the end of whatever name you choose. This is very bad if you want to migrate to your own domain name as you'll lose a lot of links and page rank.
Uncertain branding
Tumblr has an undeniable "feeling" associated with it. I am yet to really see a lot of Tumblr blogs that are used in their own branded way without escaping that feel that comes along with Tumblr.
Yahoo! acquisition
When Yahoo! purchased Tumblr in 2013 there was a reported 70,000 blog posts migrated to WordPress on the first Sunday after the announcement. A lot of people don't trust Yahoo! to maintain Tumblr properly and as such don't want to risk putting years of effort into starting a blog there.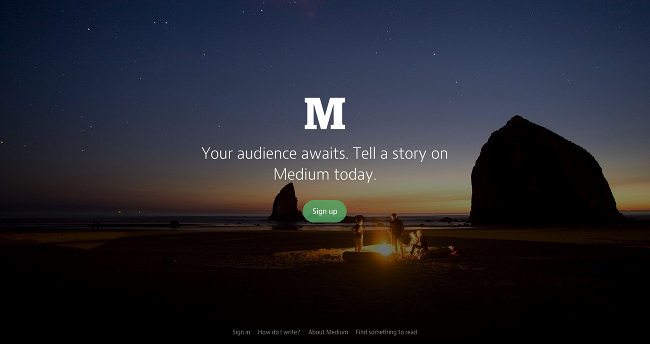 Medium is a very interesting new platform that has promised to put the focus back on simple content. This makes it both a good and a very bad option for some people.
The main benefits of starting a blog with medium include:
Utter simplicity
One of the main goals of Medium was to make it as simple as possible to use. You'll find the back end and the front end extremely basic and beautiful.
Ability to upgrade
If you need to upgrade to something more substantial in the future, Medium has a Pro version that is quite affordable.
Focus on writing
There isn't a lot of other stuff going on at Medium. The focus is on the written word and many people have found that quite refreshing.
All that being said, some of the downsides to this blogging platform include:
Not great for growing a brand
One of the benefits that Medium itself lists about their service is, in my opinion, one of their downfalls. The author is not a prominent feature, rather, the writing is the new hero. For example, if you click an author's bio on their article it goes to their Twitter page, not the other posts they've written.
Limited control
As with all of these platforms, you have very limited control with what you can do if you need to customise or change your blog in any way.
The great thing about Medium (and the others) is that they are free so it's easy enough to sign up and just have a play around before deciding whether it's a good place for you to start your new blog.
How to quickly become a blogging superhero
Now that I've introduced three places to start a free blog I want to go over some strategies for how you can grow it as quickly as possible and build a loyal and thriving audience.
1. Find a way to stand out from the crowd
This is the most important step in blogging (or any business!) an unfortunately one that a lot of people totally forget.
There are literally tens of millions of blog out there. You need to find a way to make sure that when someone sees your blog they get excited and remember the name.
Even better, you want them to subscribe for future updates.
So how do you do that?
Find a point of difference
Why are you different to the other sport/fashion/travel/personal blog out there? Research and find a way.
Tell stories
Make sure you inject your story into everything that you do. This will help people to become more interested in your blog.
Copy
Not steal. But take a look at what the successful blogs in your niche have done and figure out what sets them a part. Make a big list and then see if you can replicate it in a new and unique way.
I can't remember where I heard it but someone once said that you don't need to be original, you just need to be distinctive. This is so important.
2. Take a single problem and solve it many different ways
If you want to start a blog and be a blogging superhero you need to solve problems for people. This is the most fundamental way that people find your blog and keep coming back.
But the thing that the really successful bloggers do is solve problems in many different ways. This is a smart idea because everyone is different.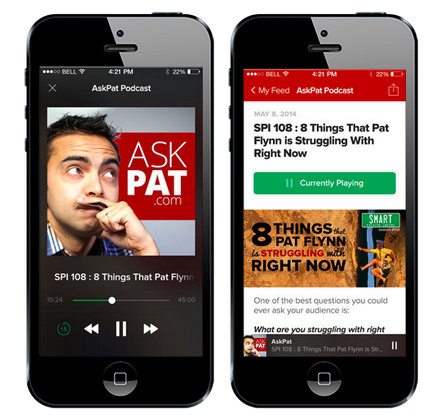 Take a look at Pat Flynn. Not only does he have a blog about building a passive income, he also offers people content by video and podcast.
But he didn't stop there!
When he realized that there was space for it he started a conference where he met people face to face with Chris Ducker. And when he realized it needed to be done, he built his own podcast player for people to play their downloads on a nicer environment. This is in addition to the app that he already has for people to see his site.
Figure out what problems people are having and then solve them in different ways.
3. Forget small posts, go big!
If you are going to go to the trouble of writing a blog you may as well go to the trouble of writing really long form articles that provide a lot of useful information.
Short little update style posts are dead.
The statistics tell us time and time again that both Google and real live human beings prefer long content. It gets shared more and it gets more conversions.
So think 2,000+ words instead of four 500 word articles.
Now, this is obviously not always true of every niche. There are a lot of ViralNova style sites out there that just show you one video and have a lot of Facebook share buttons around it doing very well. But for the most part, you'll need to produce highly useful long form content if you want to cut through.
4. Be exceedingly cool (professional)
When you run a blog that you'd like to take to the big time it's important to treat it like a business. And that means being professional.
A very popular Tumblr blog called What I Wore is the perfect example of this. The branding is tight, the concept flows well and then there are features integrated with the design to make the reader really interested.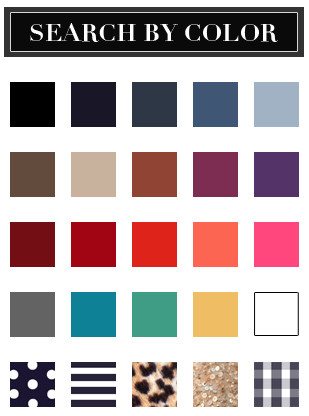 The image above is a screen shot of a color picker that you see in the sidebar of Jessica's blog. Such a good way to tag posts and get people to dig deeper. This was the exact type of thing I was talking about in my (now popular) article on how to start a fashion blog the right way.
5. Make it look good
Blogs are a very visual medium. Sure, people are doing well with podcasts and the like but, for the most part, the most successful websites are still text, photo and video based.
And so it's important to make it look good.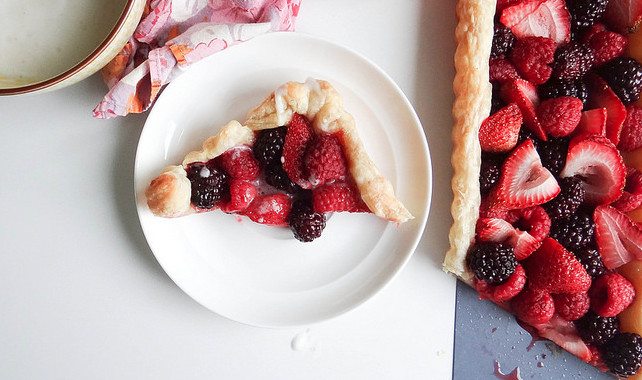 Photo by Heather from SMBP
Blogs like Sunday Morning Banana Pancakes use stunning photography to bring posts to life. This also has the added bonus of making it a beautifully competitive blog on photo based sharing sites like Pinterest.
Whatever platform you end up using, make sure you spend the time and money to make your stuff look good. That means a nice responsive WordPress theme, good photography, logos, and so on. You don't need to do it all at once but bit by bit is good.
Resources for starting a successful free blog
That should be enough to get you started but you need to always be growing and learning. Here are a list of resources that might help you out.
Has anyone used a free blog?
I'd love to know if any of the Tyrant Troops have started a free blog and had some success. What did you like or not like about the platform or the process? And did you end up migrating to a self hosted set up?
Please leave a comment with any tips you have.
© Top photo: Florianr | Agency: Dreamstime.com