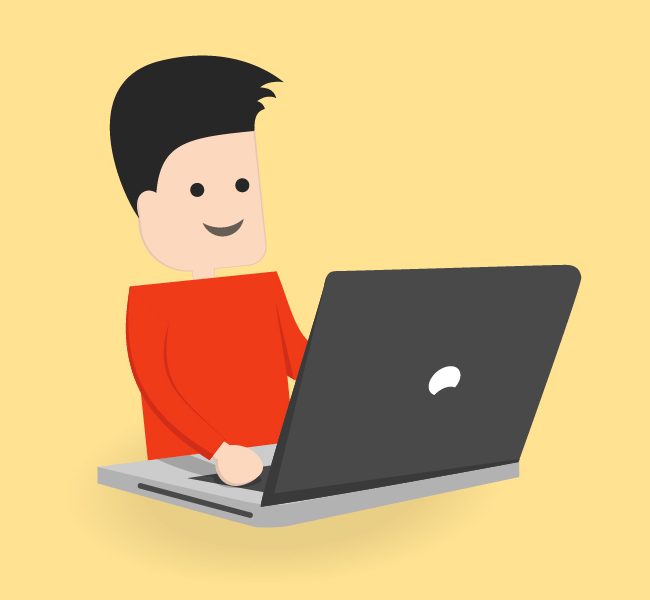 Last Updated September 30th, 2016.
For the last two years I've written prediction posts about what you'll need to know before starting a blog. These have been really popular and helped a lot of new bloggers kick off their careers. This year I'm doing something a bit different.
You see, not everyone is ready to start a new blog. The truth is that starting a blog and running it in a professional and sustainable way is a lot of work.
So, to kick off 2016 I'm going to show you a few things that will help you determine whether or not you are ready to start a blog or whether you've still got some preparations to do.
Let's do it.
Ready to start a blog in 2016? Take this quiz first.
I've teamed up with my buddies over at Lifestyle Updated to develop a short quiz that will determine how prepared you are for starting a blogging related business this year.
Take the quiz, see what score you get, then come back here and keep reading below for tips on how to improve.
CLICK TO TAKE THE QUIZ
How did you go? Leave a comment at the end of the post and let me know your score!
If you get less than around 70% then I'd suggest that we have a little bit of work to do. But that's okay – this is intended to reach beginners. Read the information below to figure out how you can fill in the missing pieces.
What do you need to know to start a blog in 2016?
So what's the motivation for this post?
Well, recently my friend Glen mentioned that too many bloggers talk about earnings and fancy lifestyles and never go into the realistic aspects of what it takes to run a successful and beneficial blogging business.
And while I do always try to be realistic about what it takes, I decided to focus on making sure new bloggers in 2016 get the full picture and have enough information and resources to look at if they feel like they're lacking in some areas.
1. Do you really want to work for yourself on the Internet?
People who work for themselves often paint it as a fantastic lifestyle filled with freedom and days off at the beach. And while it is true that you have more flexibility, you're also responsible for a lot of other more negative aspects.
When you work as an employee you generally don't have to worry about complicated taxes, working late nights when deadlines or problems pop up, hiring and firing staff, and dealing with money worries when the business takes a downturn. That stuff is often taken care of.
Running a blogging business is not just about writing articles and posting them to social media. It's a real-world business that has a lot of side issues that you'll need to take care of.
2. Can you actually write?
This is a really hard one to point out and it's something that those luckily enough to have had some success probably don't do as regularly as possible. You see, not everyone has the writing skills needed to run a successful blog.
Please don't think that this means that you can't improve. We all get better at things that we practice. But if you're planning on trying to make money blogging then you'll need to be able to write.
Every week I get emails from someone who is asking me how to make money quickly (like a few weeks) and my heart just breaks at their grasp of English. For non-native English speakers I can imagine this would be really difficult.
But all hope is not lost!
Set up a free blog and practice
Before you go and get all professional you might want to start a free blog and just practice for six months. Write as much as you can and get feedback.
Get help from an editor
There are lots of great editors out there who can help you polish your writing to a point where you might be able to write out articles in less than perfect English and publish anyway.
Write a blog in your native language
A lot of bloggers want to write in English because there is a bigger market. But it might be a good idea to start in your own language and see whether the results are better.
I really don't mean to discourage anyone from starting a blog and building a career, but it's very important to try and be honest about our limitations. Someone who has only a few years of writing English is going to find it a lot harder to write long form content than someone who has grown up writing and communicating with it.
3. Are you prepared to pay for setup and ongoing costs?
At least a few times every week I get an email from someone who wants to find out how to get a free domain name, free hosting or a free plugin or service.
Unfortunately business doesn't work like that.
Successful blogging doesn't either.
As I always say, the best thing you can do is start your blog with your own host and domain name that you own, control and have unlimited access to. Free hosted setups do not give you the flexibility you need, and can severely limit you in many aspects.
Of course, we should always try to minimize our expenses, and if you can get free things that is always good. But it can also be a really big limitation if you refuse to pay for anything. It will set your progress back immensely.
A small business IRL (in real life) pays for rent, equipment, stock, staff, insurance, accounting, etc. Here on the web we have less of these expenses but you still really need to spend money on things like servers, mailing list hosting, accounting, premium plugins or themes, security, coding, etc. – it's still a lot less than the real life alternative.
If you want to start a blog in order to make money this year then you need to be prepared to pay for a few things. You can stagger this approach but please don't expect it to be free forever.
It's also important to note that these days it's a huge bonus if you are willing to pay for promotion. Facebook, for example, is largely a "pay to play" platform these days and the blogs and blogging businesses that spend money on advertising are usually the ones that see success come a lot quicker. This is my favorite guide on the Internet for how to get started with Facebook advertising.
4. Do you have the time to commit to blogging?
If you look at my guide on how to start a blog I talk a little bit about how long it took me to transition into a full-time blogging capacity. It's a lot of work that can take careful planning.
But at the same time, I still recommend blogging as a way stay at home moms can make money if they're looking to do some part time work. And I believe that as well.
Blogging does take a lot of time and often you progress is linked to how much time you can devote to the craft. If you're trying to blog while raising kids that might make it a bit more challenging.
Here's a quick graphic I made to show you what I feel are the most important aspects to consider"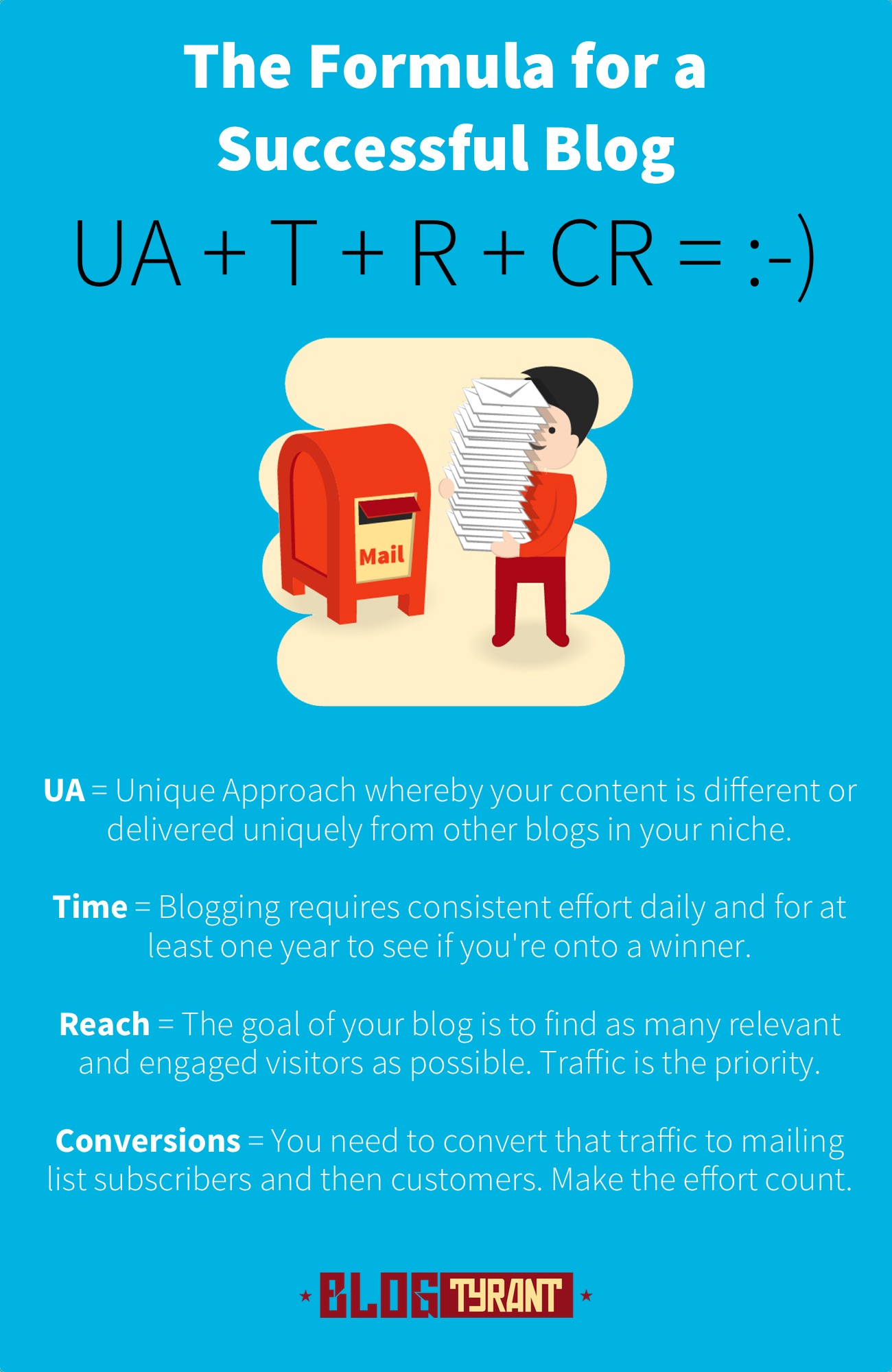 The main thing I want to emphasize is that it's not a get-rich-quick scheme. It takes time and dedication and we need to set our expectations to "marathon" instead of "sprint".
5. Will this be your only source of income?
When I first started my blogging business I worked in a gym cleaning toilets to pay the bills.
This was a fantastic experience that I really treasure. It taught me to be humble, and the hours were from 6am til 10am so I could come home after that and work on my own projects.
If you're ready to start a blog please don't quit your day job straight away with the expectation of instant riches – especially if you have kids, debts or other commitments that you need to take care of.
It's a much smarter idea to gradually build up your blogging and online income until it is proven and stable before you make the decision to quit your IRL job. And that decision shouldn't be taken lightly – make sure you talk to your husband or wife first and make sure everyone is on board.
6. Have you figured out how to differentiate your blog from others?
One of the most important things you can do if you want to start and build a successful blog is figure out how to differentiate it from other blogs in your niche.
Unfortunately a lot of new bloggers see successful bloggers doing their thing and just want to emulate that success by copying what they do.
For example, since Blog Tyrant became popular there have been quite a few Blog [insert different type of dictator name] popping up around the place. This doesn't bother me, but it really reduces the chances of success for that person, which is a little bit sad.
At a very minimum you should figure out how to make your brand stand out by having a differentiated logo, color scheme and angle at which you attack the content. If you want to learn more about this I highly recommend you read How Brands Grow (non aff) to see how some of the most successful companies have done it.
7. How much do you know about SEO and inbound marketing?
These days SEO (Search Engine Optimization) and inbound are two wings of the same bird.
And, lucky for us, you don't need to be an expert to get started – we can learn as we go. I have a beginner's guide to SEO that you can read, and then a big load of tips in this piece about reaching 100,000 visitors per month.
Think of it all like this: produce amazing content and people will share it. The more people share it the higher Google will rank you. – Tweet this.
That's basically it.
However, I did put a little bit of a trick in the quiz about this because backlinks are still the number one most important thing for good rankings. The only difference is how we go about getting them – with naturally useful content that people want to link to.
So our role as bloggers is to write the most amazingly helpful, brilliantly problem-solving content that we can possibly manage. And even more than that, we should focus on writing on other people's blogs more than our own. The more gigs you get off-site the more new faces you'll get in front of.
8. Do you have experience with WordPress?
I always recommend starting a WordPress blog over and above every other type of blogging platform. It's the most popular blogging software in the world and comes with hundreds of thousands free and open source plugins and themes.
It is extremely simple to use and publishing a blog post isn't much harder than sending an email. But, that being said, there are a few extra features that you'll want to learn about if you want to get the most out of the platform.
Know how to secure it
Securing your website is an ongoing struggle that, unfortunately, every blogger needs to think about. There's plugins that lock things up, but you still need to take extra precautions like having a complex username and password, using secure connections and so on. Most importantly – take regular backups.
Know how to find good plugins and themes
At a bare minimum we should know how to find good plugins and themes. That means not downloading anything that isn't regularly updated and patched for security, and making sure you look at reviews to see how it might interact with your site.
Know how to get help
Lastly, as a beginner, you'll need to know where to turn when something goes wrong. First point of call is usually the WordPress Forums, but then hitting up your server support or a WordPress expert can often become necessary.
One of the best things you can do in regards to WordPress is find someone else to outsource a lot of the tasks to. It is such a comprehensive platform that, if you try, you could spend your whole life trying to learn. Just focus on the important tasks and then find someone else to do the coding and updating type of jobs that you struggle with.
9. Are you active on social media?
A lot of bloggers think that if you start a blog you also need to be active on Facebook, instagram, Twitter, Pinterest, Reddit, Google+, LinkedIn and every other social network ever invented.
Well, actually, that might just be a huge waste of time.
If you take a look at the majority of the world's most successful bloggers you'll notice that they spend very little time on social network sites. Instead they are writing content, taking photos, developing tools, producing podcasts and generally just making as much beneficial content as possible.
Sure, there are a few people who hit it big posting on instagram and develop a following from there, but for the most part that forms part of an overall strategy that then leads people back to a mailing list.
10. Have you started your mailing list?
If you want to have a successful blog you need a successful and healthy mailing list.
I am absolutely convinced that it's the best way.
And if I could give beginners one piece of advice it would be to not wait to start growing your mailing list. Have it set up and ready to go on day one.
A lot of newcomers think that you need to have a lot of content on a blog before you can start promoting it to the big wide world. It's a mistake. You should start your blog with one or two incredible pieces of content and a mailing list coupled with a free giveaway "bribe". Billy Murphy did one post called How to Buy a Ferrari for $20k and got 760 subscribers within a week.
One strategy for doing this effectively is to spend a week writing out an eBook or eCourse that is based around one particular aspect of your niche. You then focus your first few blog posts around elements of that free giveaway.
For example, lets say you write an eBook called How to Do a Handstand in One Week you could then published long form articles on micro-topics like The Complete History of Handstands or 21 of the Most Dangerous Handstands You've Ever Seen.
This type of blogging strategy works extremely well because you are always "teasing" people about the free eBook that you are giving away. This way they sign up for your mailing list at the same time as getting a huge curiosity filled.
A final positive word from someone who does it
After I finished writing this post I realized that it might come across as a bit of a downer. I really don't want that. I want you to feel inspired, but to also acknowledge what's realistic.
I've been lucky enough to make a comfortable living from my blogging company for many years now. I have friends who are doing the same. It's allowed me to travel the world, work from a home office and, most importantly, donate to a few charities that I believe are worth supporting.
But it's been hard.
There have been times where I've had to go to my mother's house for dinner because I couldn't afford food. There's been times where I've been so stressed that I wondered whether it was worth the hassle.
In the end, however, I feel like it's worth it because all the stress is for my own asset. I'm building a business where I control our vision and goals. I can donate the money to good causes if I work hard enough. That kind of thought process really makes the whole thing worth while for me.
So I encourage you to have hope and inspiration, but to also not beat yourself up when it doesn't get instant results. Sometimes these things take time. And they always take a lot of hard work.
Got tips for people starting a blog this year?
The Blog Tyrant community is full of people who are making a living through blogging. It's wonderful to see so many people who are not only doing what they want for work, but are also helping others by running truly useful websites. So, what advice would you give to any newcomers to the blogging world?
Please leave a comment below and let us know. It might really help someone who is just getting started.