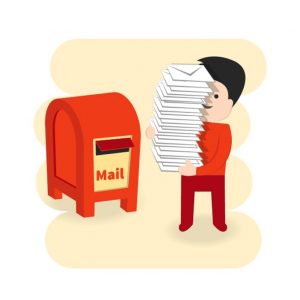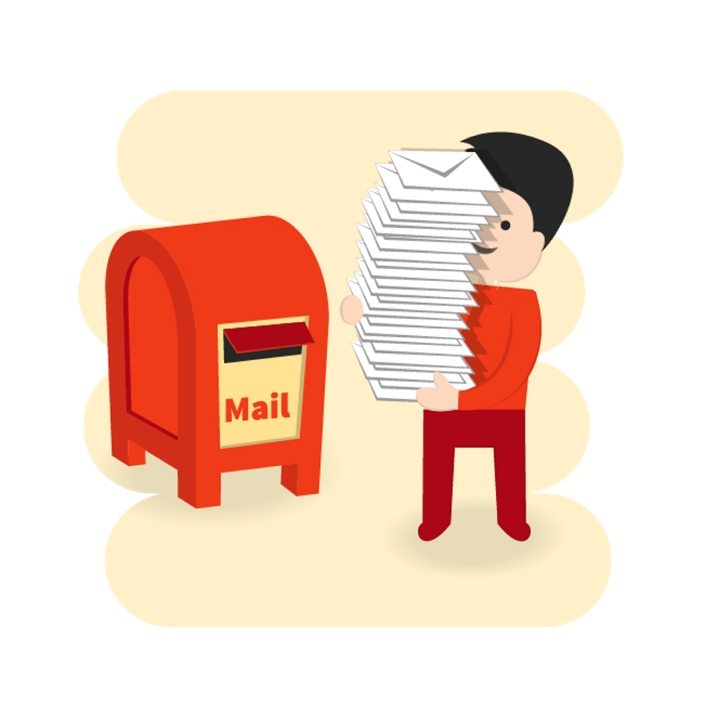 Last Updated February 8th, 2018
Every blogger should know how to start a blog and launch it with a bang.
Even if you've already got one up and running, the skills you learn at a launch can give you massive advantages when promoting new posts and launching new products, blogs etc. Today we've got something fun.
Since I started blogging back in uni I've launched more blogs than I care remember. Most of them we're massive failures.
In this article I'm going to show you a method that one reader used to get 17,000 email subscribers in just a few weeks. Pretty awesome right?
I know a lot of you have been waiting for this one so let's dive in.
How to launch a blog
Last year I wrote a really popular post about how to start a successful fashion blog. It seems it caught the attention of one very clever human being because in April this year I received the following email:
Hey Ramsay,

My name's Marina, nice to meet you.

I just read your article about your landing page that converts at 22.9% – and it reminded me that I wanted to email you to say THANK YOU!

The reason I'm thanking you is because of this article you wrote a while back: www.blogtyrant.com/start-a-fashion-blog

In this post you had a line in there about how 95% of fashion blogs out there "really suck".

Anyway, this was around October last year and fast forward 6 months and I've launched my fashion blog www.notamodel.net. I launched on 1 March (as in 6 weeks ago), and my subscriber email list has just reached 17,800 (the subscriber email again is thanks to you because you always harp on about it so I thought I better figure it out before I started a blog).

Back to your landing page article. You mentioned buying Facebook Ads, and you've mentioned it many times before in your previous posts…So when I launched my blog that's the first thing I did. I must admit it's bloody expensive, but it definitely works none the less! At the moment I'm using a $300 giveaway + Facebook ads + Leadpages and getting a 53% conversion (this is pretty much all I've been doing to get subscribers). You can see the landing page here https://www.facebook.com/notamodelbymarinadegiovanni/app_427089034046612

So in a long about way I just wanted to say thanks for all the info you share on your blog and for those words "95% of fashion blogs out there really suck" – that was the catalyst for me, cause I had always thought of starting a fashion blog but was always to scared to jump into a saturated market!

Thanks again,
Marina

Here is a screenshot of the email just so we all are happy that this actually happened (plus I thought it would be nicer for you to read the larger text instead of the screenshot). Please also note that the above Facebook campaign is no longer active but you can still see a version of it later in this article.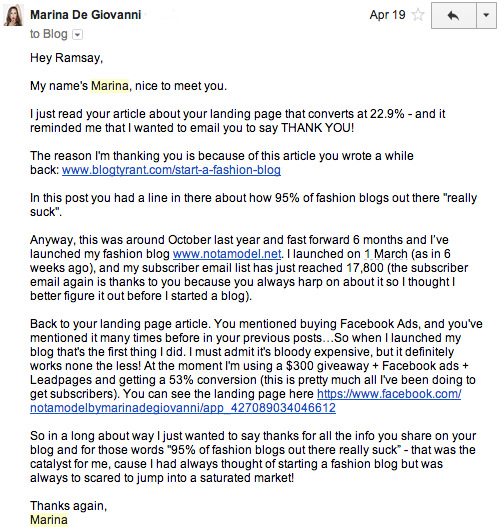 Now this obviously caught my attention because, according to the email, Marina had launched a blog and attracted a huge number of email subscribers in just a few short weeks.
It was incredible!
Here's a lovely screenshot showing all those wonderful subscribers:

I wrote back to Marina and told her that I'd love to do a case study on Blog Tyrant so that they Tyrant Troops could learn from her strategies and successes. Thankfully she was kind enough to agree.
I'd also like to say that receiving feedback like this is such a wonderful honor. It really makes all the late nights and long sessions typing in a dark room worthwhile.
Why was this blog launch so successful?
Let's go over a few lessons that we can take away from Marina's success.
Her email to me is really pretty plain and simple so I don't want to go over the process again as I fear I'd just be repeating what has already been said. So, how has this new blog launch gone so well?
The main lessons I've taken away from Marina's case:
Create a bloody brilliant brand
The first thing I said to myself when I first visited Marina's Facebook page was, "Good name!". The "Not a Model" brand is memorable and you instantly know what it's about. I imagine this would "click" with a lot of people.
Understand the power of value
Marina was giving away a $300 bracelet every month to an email subscriber. This is a good quality giveaway that her audience would recognize as valuable. Here's how you can do that with a free eBook as opposed to a product.
Know the technology available
Marina has combined a self-hosted website with an email opt-in form that is then promoted with Leadpages and Facebook Ads. It might be complicated for some but the combination has worked exceptionally well for her.
Don't be afraid to spend money
Marina mentions this specifically in her email to me: it's not cheap. But as I always say, if you want to make your blog a business you need to treat it like one and sometimes that means spending money on marketing and advertising.
Target specifically and follow up with quality
All of the above is useless if Marina targeted the wrong group and then followed up with bad content. Rather, she regularly creates useful content and has been growing her brand in a way that keeps all those new email subscribers engaged.
The great thing about this blog launching process is that it really can work in any niche for any type of blog. You just need to keep testing and tracking to see what is working.
A deeper look at how Marina does it
If you'd like to replicate this style of blog launch there are a few things I'd take note of.
1. Ensure you have a solid domain name, host and WordPress theme
As mentioned, the first thing you notice about Marina's stuff is the awesome brand that is encapsulated in the domain name and blog design.
This is the type of thing that you just struggle to do on a free host and so I recommend you read my BlueHost review and find out why it's time you switched to a self hosted WordPress set up.
Once you've done that, make sure your are using a quality mobile responsive WordPress theme because you will find that a huge portion of your traffic now comes from tablet and smartphone devices. If you are spending money on ads you want to make sure you are covering all bases (although you can turn off mobile targeting, of course).
The clean and mobile responsive theme will go a long way to making your landing pages work well.
2. Simplify your process and remove obstacles
When you launch a blog or a product you need to make the process simple. People get confused at even the most basic steps so learning a few marketing tricks for removing obstacles is a good idea.

The above is a screenshot from Marina's Leadpages landing page that she used Facebook Ads to drive traffic to. The button tells potential subscribers that it is a quick an easy process and the arrow is a very effective tool for directing people to where you want them to go. Glen uses this on a lot of his sales pages too.
3. Get your graphics and forms right
If you visit Not a Model's sidebar you'll see a very simple "enter now" button which causes a mobile responsive pop up to occur where you then enter your email address.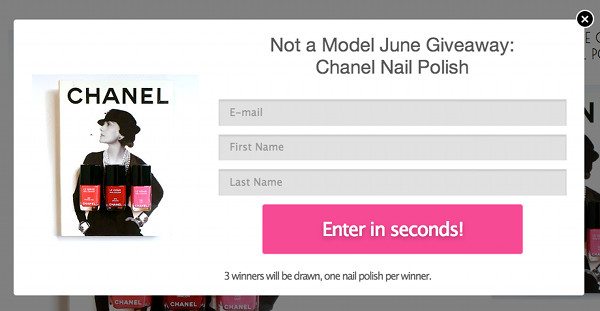 This is known as a "two step opt-in" and many people are saying that this now converts better than having the email submit form as the first thing that people see. The thinking is that the initial button click to open the pop up makes readers feel like they've done something and reduces friction on the next page.
Regardless of the psychology of the method, the graphics are all extremely tight and on-message and it feels very professional.
4. Use video on sales pages to pitch and clarify
At the top of her sales advert Marina uses a video very effectively to explain exactly what is going on and how to enter.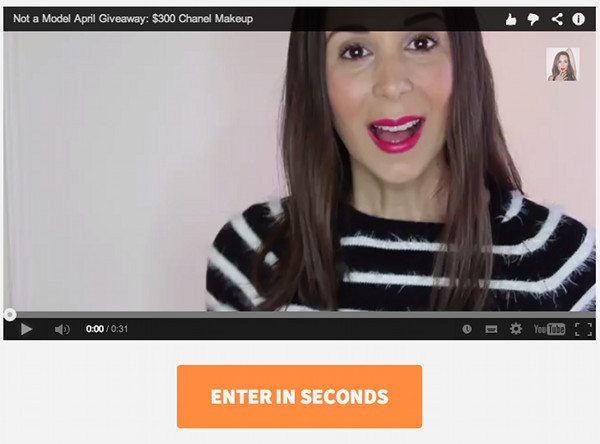 She then places an entry button right below the video and actively points to it during the video. Here is a link to the original ad that was running although please note that it is no longer running actively on Facebook itself.
5. Testing different giveaways
The last thing I wanted to mention was that Marina seems to regularly test different giveaways. The initial one was a bracelet and then a Chanel package and now Not a Model is giving away nail polish.
This is clever because it helps to keep her current subscribers engaged but also attracts new people who might not have been interested in the last offering.
If you are giving away a free eBook it might be worth testing a different topic or even format. For example, change an eBook to an email course and see if it is perceived as being more valuable to potential subscribers.
More from Marina on launching her blog
Two weeks ago when I first mentioned that I would be writing about Marina's blog launch success a lot of Tyrant Troops left comments on this article saying that they we're really excited to see the case study.
Marina was reading those comments and, in typical awesomeness, wrote me an email with more points to share about the process.
Here they are:
Reading some of the comments, I just wanted to share some more information with you on the email list quantity vs quality debate. Here are my thoughts on it:

What I should have mentioned in the data I prepared for you, is that every time I send out an email an average of 0.9% of people unsubscribe. I also do a monthly giveaway to my email list only, which keeps my current subscribers engaged.
If you were to do a ton of guest posts on blogs that are read by your target market and then offer a lead magnet (like an eBook) to then convert that traffic; or just do targeted Facebook ads (offering a giveaway) in my eyes the quality of that traffic would be equal. Sure guest posting is free, but when you factor in the enormous amount of time (and number of guest posts it would take) you actually save money using Facebook ads.
If the giveaway was something unrelated to your niche (like a fashion blog giving away an iPad) then yeah sure that wouldn't work and the traffic quality would be low…but you'd have to be an idiot to do that!
It's also important to make it clear to people that the absolute number one thing is epic content. Before anyone does anything they first need to plan out the most awesome content marketing strategy that they possibly can (that's what I did!). And then offer a giveaway to get the eyes on your awesome content. And if the content is amazing, the people will stick around. So it would be important to mention that if you offer the most unbelievable giveaway ever and spend a bunch of $$ on Facebook ads but when people get to your site there's mediocre content (then sure, your unsubscribe rate will go through the roof). Focus on content first and then giveaways and Facebook ads after that.

Cannot wait to see case study!
As you can see, Marina wanted to launch a blog – not just get people onto a mailing list. If you browse through her archives you'll see a boat load of quality videos, tutorials, photos, articles, etc.
This is super important.
My own experiments with this method
I've been dabbling in Facebook Ads for a while now but after Marina's email I decided to give it a more concentrated effort.
I've done a couple of different campaigns – one focusing on leads and the other focusing on getting direct sales from an affiliate page.
The latter especially was performing quite well and the costs were't overly expensive as you can see below.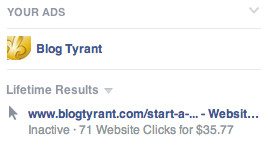 Since then I've decided to develop a new free report that I will test as a lead magnet for a Facebook campaign that will target new bloggers. I've finished writing it (it's about 60 pages long) and the cover is ready to go.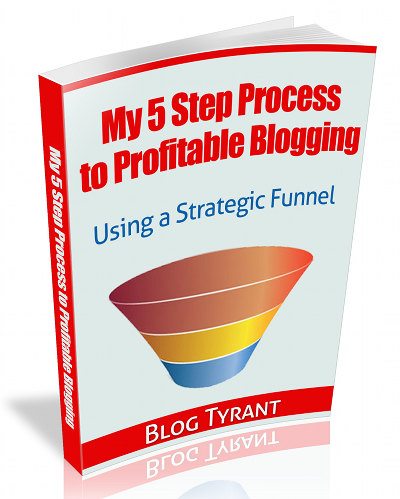 Over the next couple of weeks I'm going to measure results from this and do a follow up post to this one on how it all went. I'm hoping to go into more detail about the Facebook Ads strategies as well to give you something else to follow along with.
This free report will be available to all new email subscribers but I'll make sure I send it out to all the current subscribers as well so you don't miss out.
How did your blog launch go?
I'd be really interested to know whether you have had (or have heard of) any blog launches as successful as this. If not, what lessons did you learn when you launched your blog? Feel free to ask any questions of me or Marina about this process too.
Please leave a comment below and let's get chatting!