So you want to know how to blog?
You want someone to run you through all the steps necessary to quickly start blogging and then grow it to become something successful and profitable?
Well you're in the right place!
I've written nearly 8,000 words for you on how to blog including getting a domain name, finding a blogging host, choosing a template, installing WordPress on your server and much much more.
May I suggest bookmarking this post now?
Hopefully you will want to refer back to this one and PART TWO in the future.
Note: This post contains some affiliate links. If you purchase a product through one of these links I will earn a small commission at no extra cost to you. Thank you for your support!
Breaking it down
This is a pretty massive undertaking so I want to break it down in to some clear sections which allow you to skip through and read areas that you are interested in. Of course, I encourage you to read the whole lot as you might learn about something you have thus far overlooked. The sections are:
Starting a blog
(hosting, platforms, themes, plugins, etc.)
Creating content that sells
(sexy titles, blog posts that people actually read, guest posting etc.)
Using social media
(Facebook, Twitter and all the reasons you need them, etc.)
Growing your blog's traffic
(SEO, keywords, going viral, analytics etc.)
Making money from your blog
(Adsense, Ebay, affiliates and how to make good money from home)
As always I want to see lots of comments with things I've missed. I will always answer your questions and angry criticisms as best as I can and I love seeing what other bloggers have to offer.
Starting a blog: Setting it all up
Let's jump right in. The first section is all about how to start a blog and do it right. I wish I had a post like this back when I first started blogging years and years ago because it would have prevented me from wasting a lot of time on Blogspot.com and other annoying distractions. I hope the metaphor of acorn seeds from the picture above isn't lost on anyone.
1. Establish exactly why you are joining the dark side
Blogging isn't really the dark side but it is really hard work and as such you need to know exactly why you are doing it. In my article on why blogging is a waste of time I looked at the ideas of motivation and inspiration and knowing why you are doing it. If you are just trying to make money online there might be better ways than blogging. If, however, you are a passionate writer who wants to interact with and help human beings then blogging is a good idea. The first and most important part of starting a blog is understanding exactly why you are doing it.
Note: the comments section in that above article have some really great insights from my readers who have started blogging and failed or gone on to do wonderful things. A great variety of opinions there.
2. Get your own domain name and host and installing WordPress
If your blog has some other company name in it like blogspot or Tumblr you are going to come to regret it.
Your blog is your asset and as such you should grow it as such. Everyone who writes their own blog should have their own domain name, without it you run the risk of looking like just another personal blogger who doesn't have much new to offer.
I talked about this a lot in how to choose a domain name and I really hope you all take it seriously.
There are a lot of ways to register a domain name and link it to your host but the absolute easiest way is to get both your domain name and hosting package through Blue Host. That way everything is in the one place. They also give you one year free domain name hosting.
I have said this before and I will say it again, self hosted WordPress blog platforms are the only way to go. If you want to take your blogging seriously you need to get your own host and install WordPress and not build up an asset on a site like Tumblr that you don't own.
Blue Host are the host I have used and recommended for a very long time and I've written an entire step by step guide on how to install WordPress on your own hosting platform.
The most wonderful thing about Blue Host is their 24/7 live support staff. If you have any troubles at all just jump on and they'll help you out.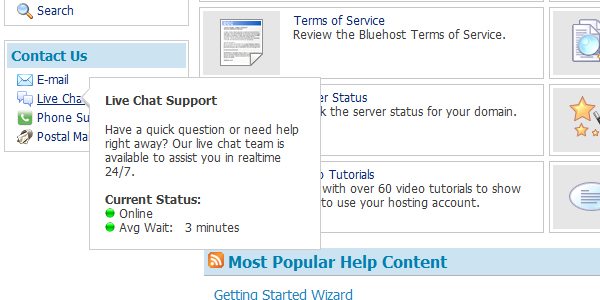 A screen shot showing you how easy it is to get support.
3. Brand your blog to stand out from the crowd
The annoying thing about writing a massive post like this is that you can't go in to too much detail. The idea of branding your blog could be the basis of a thousand page book and you would still not have covered it properly. So, really, all I can do here is introduce you to the ideas behind it and hope that you will follow them up.
Your brand is how you are perceived by other people. It needs to instantly tell people what you are about, why you are different and what you can do for them. It is more than just a logo and a slogan, it is how you carry yourself, appear in public and so on. Everything you do has an effect on your branding so you need to make sure that it is all consistent. The absolute basics of branding include:
A logo
You need an original logo that helps people to visually see what you are about. Even if it is just some text it needs to be unique and send out subtle messages about your product.
A theme
The way your website is presented speaks a lot about your brand. Is it messy and cluttered or is it super sleek and modern? Make sure your theme ties in with your brand and helps to enhance it, not detract from it.
Your content
Your content has to have a voice and that voice is the sound of your brand. It is your brand speaking to people. You need to figure out who you are and who you are targeting and never forget that.
Something extremely simple to think about is who you want to target and where. This is called positioning. Everything your blog does from the logo to the way you leave comments effects how people see you. Try and ensure that you always using your brand to target the right people in the right place (niche). A great example that I've used before is Subway. They are a fast food chain but one that positions themselves as healthy and targets people wanting to lose weight. Nothing they do ever strays from that vision. Everyone knows what Subway does, and that is the sign of a strong brand.
4. Choosing a theme
One of the joys of using WordPress is that you can choose from tens of thousands of free themes (or templates). There is a bit of an art involved in this process and there are a few things to consider.
Firstly, as I mentioned in my latest post on Problogger, it is a good idea to get a custom built theme made if you want to portray your blog site as serious and professional. As WordPress gets bigger and more popular you will find that people can recognize a free theme pretty easily because they have seen it before. And this affects your brand. But, custom built themes are expensive and range from between $500 to several thousand.
If you can't afford that you need to pick a free theme that is clean, minimal and simple. I strongly urge you to use one that is mostly white and not something with a black background as it is uninviting and a little bit hard to read. If you go to Google and do a search for "free wordpress magazine themes" you will find a lot of really cool themes that have more functionality than the regular double columned template. These magazine themes often hide the fact that they are free because they are quite photo heavy and all your photos will be different from other people's. Some good places to look for free themes are:
When choosing a theme you want to make sure that it is also easy to customize. Some of them are so hard to manipulate that as soon as you add a Facebook graphic in the sidebar the whole thing goes haywire. Unfortunately the only way you will know is by practicing and trial and error.
5. Getting plugins that set you up for success
I'm assuming now that you are on WordPress with your own domain and self hosting like a pro. Well done! Now you need to install some of the more important plugins that set you up for success. These plugins do things like automate tasks, improve your on-site SEO and make it easy for people to love you on social media. A few weeks ago I did long post about all the tools, plugins and extensions that you could ever need so I don't want to go over them all again. I will mention these ones though as being super essential:
Google Sitemaps
This plugin is essential for SEO as it creates new sitemaps automatically and submits them to the major search engines. Think of it as a plugin that helps Google find you.
Head Meta Desc
This plugin changes the description of your post that gets indexed to Google to the first 50 words of your post. This is excellent because it means your beautifully crafted opening paragraph becomes like an ad for your blog post on Google.
What would Seth Godin do?
This is a cool little plugin that lets you put a message on your blog that only gets showed to new visitors. You might want to use it as a way to encourage them to subscribe or check out some other cool posts you have done.
Now for a bit of toughness. I didn't link to these plugins because the new WordPress allows you to search for them and install them directly from the Plugins section of your Dashboard. Just click "plugins" and then "Add new" and search for the ones I mentioned. Now you know how to do it!
Creating content that sells
This next section is all about how to create content that gets people excited. I use the word "sells" because it is basically what you are doing; selling your blog to people with the advert that is your articles. The content is the heart and soul of a blog so you need to make sure you get it right. Unfortunately there are many bloggers out there getting it very wrong despite being amazing writers.
1. Finding your voice
I talked about this a little bit above but it is something that needs to be discussed again. Blogging is all about having a conversation with people interested in similar things. If you are blogging as an expert you will have a different voice to someone who is just learning and sharing their journey. Every person has their own voice and you need to find yours and stick to it. One of the most annoying things you will find on a blog is when the voice changes; it makes it hard to connect and hard to follow. Some ways to find your voice are:
Read other blogs and find a style that works for you
Pretend you are writing to a particular person in your niche and always write for them
Talk as you type so you have a conversation with your readers
Read more!
The most important thing is that whatever voice to develop it needs to be informal. If people wanted high brow peer reviewed papers they would go to the library or look on the University websites. Blogs are for everyday people so have an everyday conversation with them.
2. Sexy titles
For as long as there has been blogging there has been people writing about how to craft sexy titles. And to be perfectly honest articles like this one and this one are way better than anything I could ever write. In fact, almost everything I know about writing good ads and good headlines comes from Brian Clark. I rarely find I need to read much else.
That being said, there are some other things that I want to talk about. And the first thing is the idea of advertising your post. Basically your title is just that, an advert. When you go on to Digg, Stumble or even Google it is the titles that make you visit that blog, nothing else. For this reason you need to craft your titles like you were making an advert to get people to read the rest of the post.
When you are doing that you need to ask two things: who and why. Who is the article for and why should the click it. Unless you can identify those two elements very strongly it is unlikely you are going to get the response that you need. That being said, there are some certain formulas that you can follow that help you select your titles:
Ask a question
Asking a question is a great way to get a response. If the question is controversial or emotional then people will feel obliged to look further.
Make it personal
Titles that are overly general are boring. You want your title to be personal so use words like "you" and "your" instead of vague broadly descriptive terms.
Make it specific
Use actual numbers instead of broad statements. My article How I Sold a Blog for $20,000 in 8 Months sounds a lot more interesting than How I sold a Blog.
Promise to solve something
If you have done some research and are solving a problem in your niche you want to make a claim to solve that problem in your article. For example, the title of this post is a kind of promise.
Writing titles is almost half of the battle. If your title is amazing it will often excuse your article if it isn't quite as good. This is especially true if the goal of your blog is to get people to interact in some way, good titles make for good conversations. In fact, that is the perfect way to describe a title; its a conversation starter.
3. Writing blog posts that people actually read
This section (like every other section) could go on for days and months and years. So instead of going through every tiny little detail I am going to give you a few little pointers on how to make your blog posts attractive to everyone; often this has nothing to do with what you write.
Wait a second… nothing to do with what you write? Yep.
You see good blogging is much more than just writing well. That is why you see so many blogs authored by amazing writers that have no followers. Blogging is an art in itself and it is very very different from creative writing or journal writing or anything like that. A big part of blogging is about how you present your writing. Some things you need to do include:
Lots of headings and paragraphs
Take a look back at this post and every other post I've written. They are full of headings, bold text and paragraphs to divide up the content and draw the eye to certain places. Why is this important? Because it makes the content scannable. No body reads articles from front to back anymore because we all have mild ADD. People scan for the important points and move on. If you want someone to read a certain passage you have to give it to them in an eye catching way.
Use lists and dot points
Sometimes you don't need to explain every little detail because it gets boring. Make it easy to scan by putting the information (or at least some of it) in lists and dot points.
Don't finish it
I wrote about this in the article How I Got Over 11,908 Visitors in My Blog's Third Week. The idea is that you want to write comprehensively about a topic but not so thoroughly that people feel satisfied and leave. You want to leave some things open ended, ask more questions that you answer, etc. Your blog post should be a stimulus for more discussion.
Be an interesting guy
In the best selling book How to Win Friends and Influence People one of the very handy tips that the author gives is that people perceive you as being interesting if you spend most of the time talk about their interests and listening to them. Think about that for a second. People will find you interesting if you talk about them. Any ideas?
If you can present blog posts in ways that are interesting, easy to scan and easy to interact with then you are much more likely to get readers to interact. I even go so far as to structure all of my posts the same – any time I have a list I do a little summary paragraphs, etc. Seems to work.
4. How to guest post
Guest posting is one of the best ways to get your blog attention from the right people. And I am not just talking about readers; guest posts get you attention from other big wigs in your industry that you can then make contact with down the track for other guest posts or different projects. Leo from Zen Habits has often stated that the reason his blog grew so fast was because he spent a lot of time writing posts on other people's blogs. I'm often amazed at where I see his articles pop up.
The thing about guest posting is that you have to put a lot of thought and time in to getting it right. Its a little bit like giving a speech at a different company; its a lot different to speaking to the people you see every day of your life. But if you can get it right the rewards are quite marvelous – new opportunities, more traffic, more subscribers and so on.
Study your prey
Have you ever watched a tiger about to attack its prey on David Attenborough documentary? The tiger spends sometimes up to 30 minutes just watching the prey and studying it before it makes a move. Why? Because it can't afford to miss the opportunity. There is only so much energy to go around and one too many failed chases leads to a dead tiger or an injury. The same goes for guest posting. Don't muck it up.

Study the blog and all its aspects. If you are doing a guest post on ProBlogger you need to know what Darren looks for in a guest post, what his readers find interesting and so on. The last thing you want to do is put up a post that doesn't get any reaction because it just makes you look bad.

Challenge or ask a question
In my experience the best guest posts are the ones that challenge the community on the site or ask them a question. Your post needs to be provocative without being rude. Get the people's attention.
Inject your style and your best work
Make sure your guest posts are better than what you would do on your own blog. There are two reasons for this. Firstly, it is a massive advert for your own brand. You want to really put your best foot forward and not worry about saving the best content for your own site. Secondly, guest posts have to be so remarkable that the owner of the blog couldn't have thought of it or pulled it off. Tim Ferris (I can't remember where, sorry) says that he doesn't put any guest post up unless he couldn't have written it. Otherwise what's the point? Injecting your personal style is one of the best ways to appear unique and get that gig.
Pitch it perfectly
If you just send an email to the owner of the blog saying "here is my guest post I hope you like it" chances are they are not even going to read it. Make your pitch to them irresistible. Tell them why their readers need to see it, how it is going to help them and make the email personal and fun. Shoemoney always says that the emails that get his attention are the ones that show they care and used the example of someone who wrote to him about last night's episode of LOST which they know he watches. When I got my first post with ProBlogger I'm pretty sure I made fun of Darren's favorite Australian Rules football team. Maybe that wasn't such a good idea now I think about it…?
I recommend spending 20% of your blogging time writing guest posts. This strategy is a fantastic way to grow your blog in the short and long terms because it gets you in touch with people that would otherwise probably never find your material.
Stay tuned for Part 2
As you can see we have only covered the first two sections and still have social media, growing your blogs traffic and subscribers as well ask making money to go. The next post in the How to Blog series is going to answer a lot of your questions, questions that you wish you knew the answers to a long time ago. Make sure you leave a comment if you think I have missed anything – I'd love to get some good discussions going about how to blog and how to do it well.