"No one ever went broke underestimating the intelligence of the American public." H.L. Mencken
Are your readers all stupid? What a thing to ask! Its the type of claim that could lose me loyal readers because by questioning the intelligence of your readers I'm also indirectly questioning the intelligence of mine. So perhaps its time to announce a controversial rant and warn that this post might upset a few people.
That being said, I think it is an important discussion to have from a marketing, blogging and online business point of view. Why? Because if you believe the logic of the opening quote you might be losing money by overestimating how smart your readers are.
In this article I am going to talk about why your readers might be dumber than you think. Stay with me on this one. I even touch on why it is me that is stupid.
Why am I calling people stupid?
Last week I was reminded of a mobile phone marketing phenomena that went absolutely nuts a few years ago. It was called the Crazy Frog Ringtone; a tone that you put on your phone so that every time it rings you get the horribly annoying sound of a frog gone mental.
The issue? It cost a fortune.
The bigger issue? Everyone loved it. It went viral and then spread all over the world and eventually inspired a song that did extremely well on the charts.
I'll never forget sitting with my friend one day watching television when the advert came on. We both groaned out a loud and scrambled for the remote control in order to mute the pain. It was at that point that my friend uttered the Mencken quote above that he had heard in a marketing lecture. Although perhaps a little bit mean spirited, I had to agree. Here we were, in the middle of an economic downturn where people were worried about putting food on the table but more than happy to pay $10 a week for a frog ringtone.
So, as I was searching Google for the source of the Mencken quote I came across a wonderful article by an academic called Thomas Benton which discussed why some Americans dislike intellectuals and why he thinks social media is making people stupid.
How this applies to blogging and online business
The quote and the article inspired me to write this article because I wanted to talk about how all of this applies to the blogging and online marketing world. And its not as nasty as you might think. I actually don't think any of you are stupid. In fact, I know for certain that most of you are a lot smarter than me.
But sometimes, due to a myriad of reasons, you need to treat people as if they were beginners. And that is what this article is about.
1. Most of your readers are beginners
Something that a lot of bloggers and online marketers forget is that 80% to 90% of your readers are straight up beginners. Darren Rowse has talked about this before; most of the people coming to his site are people who are about to start blogging or have only just set up a new blog. He realized that a lot of his more advanced articles were falling on deaf ears.
Now, this does not mean that you should stop writing for experts if you have expert knowledge. You will always have a portion of your readers who have been following what you have been saying for a number of months or years and now want to do something more advanced. But for the most part you will find that the majority of the people coming to read your stuff are new to the area.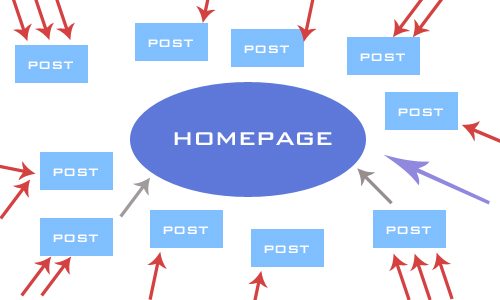 Take a look at this graphic as an example of how people find your site. Lets say the dark red arrows represent Google searches that land on one of your posts. The purple arrow is a Google search that lands on your homepage and the two grey arrows are people who click through from one of your posts to your homepage.
This highlights that your site entry pages are usually not your homepage. Only a small percentage finds your homepage first. Most people arrive at your site after making a search on Google for the answer to a specific question. For example, a lot of moms now find my article on how stay at home moms can make money by looking for it on Google. They didn't find Blog Tyrant first and then search for the information. At the time of reading that post most of them will be beginners and therefore looking for beginner material.
2. Most readers have limited online experience
Something that took me a long time to realize was the fact that as a blogger and online businessman I take for granted how well I know the internet. When I was helping my mom set up an email account a few months ago I told her to enter in her password and was shocked when she said that she didn't know how.
Similarly, I constantly get emails from people asking for clarification when I say something like "just install this plugin" or "just add this to your root directory".
The ironic thing here is that by assuming that my readers and customers know as much as me I am actually proving that I am the stupid one. If I assume that you know how to download my eBook I am making the mistake, not you. Its like getting upset with your preschool son for not knowing how to do algebra – you just don't because you know that he is too little to understand yet. Its not that he's stupid.
The same goes for your readers. They aren't dumb or stupid, they just don't have the same level of experience yet. It is your job to make your writing, instructions and website design clear enough so that anyone of any experience can follow and make progress.
3. Most readers are new to your site
Quite closely related to point number one is the fact that most websites have a stream of traffic made up of mostly new readers. If you head over to your Google Analytics and look under Returning vs New Readers you will see that the portion of the pie chart representing New Visitors looks like Pacman devouring the Returning Visitors.
This means several things for you and your site:
Your navigation is foreign
It is important to understand that not everyone knows how to navigate your site. Do they use the sidebar like on my site or the top like Mashable? Do they use tags or categories? That is why I advocate just one main method of navigation in this video.
Your community is scary
Sometimes when I go to a new forum or active website I get a little bit intimidated by the amount of knowledge and inside jokes that are floating around. People sometimes seem to be talking in riddles. It is often good to remember that you should answer even advanced questions as if you were talking to a new student. And make them welcome.
Your mess is not organized
When I look at my desk in my office I see the organized filing of a genius. My girlfriend sees the crap of a lazy, work-from-home, eat-over-the-keyboard slob. The same is true of all that rubbish in your sidebar. All that stuff that looks organized to you often appears as clutter and distraction for your 80% of new readers.
Take care of those new readers if you want to turn them in to returning visitors.
What are your thoughts?
Please leave this article knowing that I don't think any of you are stupid. I don't care whether you are a newbie or an expert online marketer; I am here to do whatever I can to help you. That is why I started Blog Tyrant and that is what I will keep doing. Until you are dominating your blog and your niche I will be here for you.
Do you treat your readers like they are beginners? Are you pitching over people's heads? Do you think there is a balance between not talking down to people and not writing in riddles? Finally, do you agree with the opening quote and can you think of any other examples? Please leave a comment. I'd love you know your thoughts.