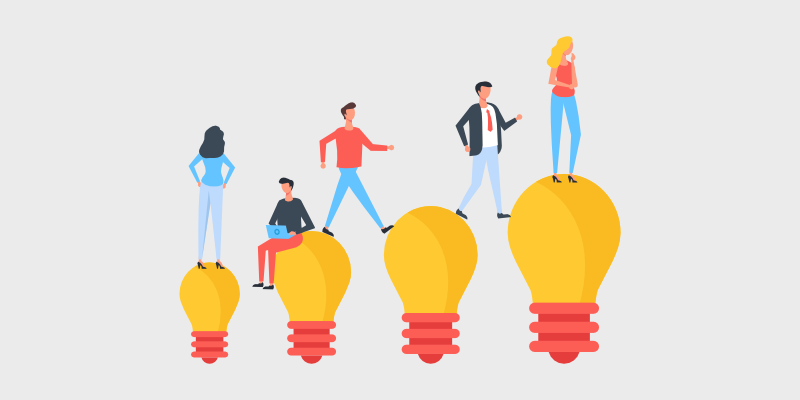 S hould I start a blog? If you've been asking yourself that question, we're here to help you find the answer. In this article, we'll go over the best reasons to start a blog, so you can decide if blogging is right for you.
Whether you want to build a successful online business or simply take on a new hobby, starting a blog can be a big commitment. So, you'll want to think carefully about whether it's the best choice for you before you dive in.
Today, we'll go over 7 big reasons why you should start a blog. And we'll also go over a few reasons why you shouldn't so that you don't make a decision that you'll regret later.
Let's get started.
7 Reasons You Should Start a Blog
If you haven't blogged before, you're about to find out why so many people love it.
Of course, there are benefits like making money online. But, there are also other benefits to blogging that you might never have considered before.
So, let's find out what they are…
1. To Share Your Passion
Blogging is one of the best ways to share your passion with the world. No matter what you're interested in, whether it's cooking, video games, fashion, or finance, you can build a blog and share your love of something with other people online. 
In fact, it's pretty important to be passionate about one particular subject when you're starting a blog. This is called a blogging niche. It's what your entire blog will be about.
Choosing a blog niche will make it easier for you to attract a loyal audience of readers who share the same interests as you.
And when choosing a blogging niche, you should pick something that you're passionate about. After all, you're going to be writing a lot about it.
So, if you love photography, for example, you should start a photography blog.
That's exactly what Cole Joseph did when he started his blog Cole's Classroom: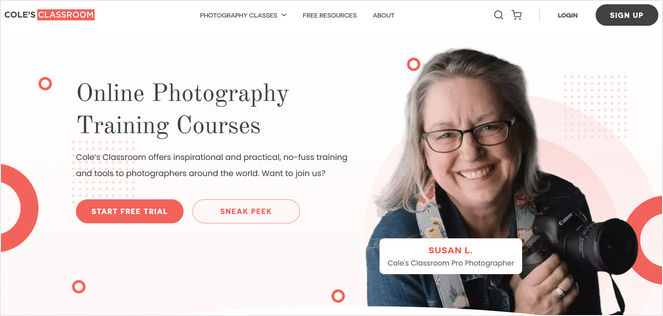 Aside from sharing free photography tutorials on the blog, he also offers photography training courses to teach aspiring photographers how to take amazing photos.
As you can see, blogging is a great way to turn your passion into a full-time business.
Even if you're not interested in blogging to make money, having an outlet to share your passions can be just as rewarding.
In this example, Amy has a video game blog called A Forest Life: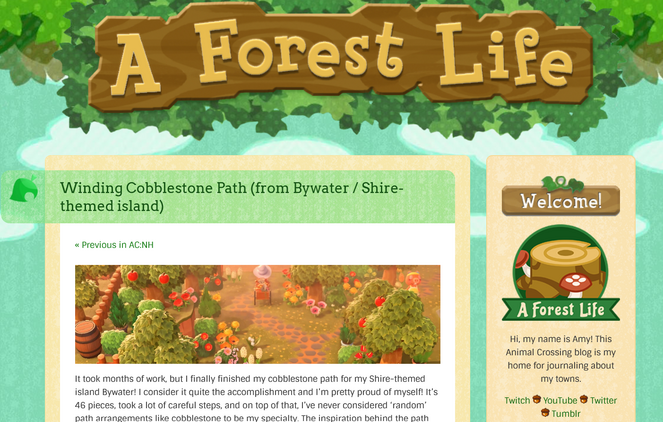 She uses it as a way to journal about her progress in Animal Crossing, a popular video game. 
So, if you want to share a passion project with the world, blogging is the perfect way to do it.
2. To Improve Your Writing Ability
Another reason you should start a blog is to become a better writer.
So, if you feel like you're not a strong writer now, and it's discouraging you from starting a blog, don't let that stop you.
Anyone can become a great writer, it just takes practice. And with a blog, you can get a ton of writing practice.
Writing blog posts might feel like a struggle at first, but the more you do it, the better you'll get. In time, you'll be able to write faster, your words will flow beautifully from one sentence to the next, and you'll develop a writing style that's unique to you.
If you need a little extra help, you can use a tool like Grammarly. Grammarly will automatically check your writing for spelling mistakes and grammatical errors and show you how to fix them. It can also give you suggestions on how to improve in other areas like style and tone.
With your improved writing skills, you'll be able to craft articles that people truly love to read, which will help you drive traffic to your blog and build a large audience.
Plus, you can even use your new and improved skills to get guest posts on other major blogs or land paid freelance blogging gigs.
3. To Learn New Skills
If you've ever wondered what does a blogger do all day, it's not all about writing. There are many other tasks a professional blogger has to perform.
That means that, aside from writing, having a blog will help you learn a bunch of other valuable skills including:
Online research
Photo editing
SEO best practices
Designing websites with WordPress
Networking
And much more
Plus, as a blogger, you'll always be brainstorming new topic ideas and researching the latest trends, which will help you become an expert in your niche.
All of these new skills can be a huge asset to your current day job and they can even help you land a new position.
4. To Help Others
Did you ever consider that what you write about on your blog can change lives? It might seem far-fetched but it's true.
By sharing your story, you can make a real difference in the lives of others, which can be very rewarding.
For example, Julien and Kiersten of the finance blog Rich & Regular paid off $200,000 in debt in 5 years and dramatically boosted their net worth. Now they share the lessons they've learned on their blog to help other people improve their finances and have better conversations about money.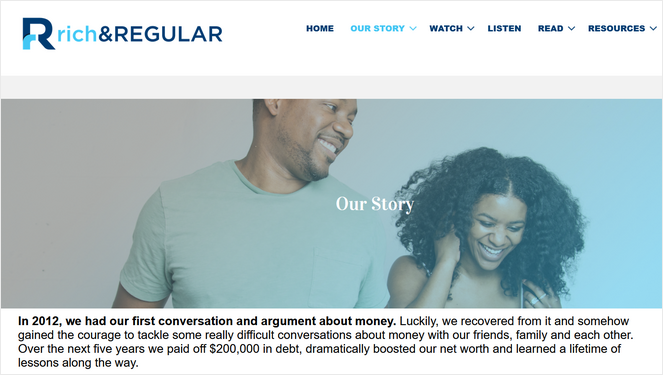 Even if you think what you're writing about isn't as important as topics like finance or health, you can still make a difference in someone's day.
A blog about funny pet videos could put a smile on a lot of people's faces.
5. To Meet New People
Blogging might be a solo activity, but that doesn't mean that you'll be alone.
In fact, by starting a blog, you'll be able to make a ton of new friends!
The blogging community is huge and you can easily connect with people that share the same interests as you.
For example, if you have a mom blog, you can join a Facebook Group like this and chat with other mommy bloggers online.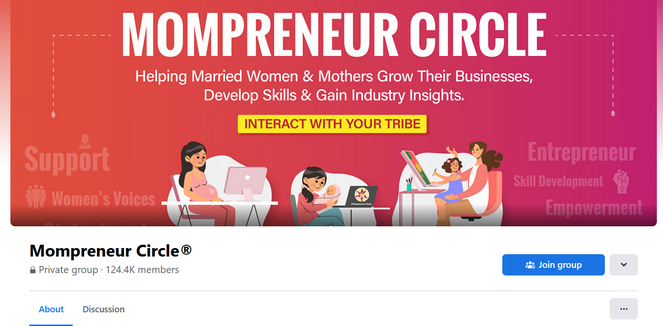 You can even meet up with like-minded individuals in person. WordPress lovers can attend WordCamp events all over the world.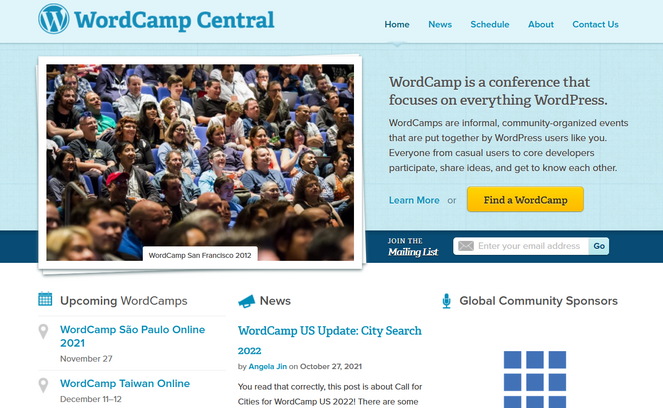 Don't be intimidated if you're a newbie either. Blogging communities are super welcoming to new bloggers and many people are more than willing to share their tips with you.
So, not only can you make new friends, you can learn from mentors who have been exactly where you are.
6. To Build an Online Business
If you've come to this article as a business owner wondering if blogging is worth it, we're here to tell you it is.
All types of businesses like beauty salons, clothing stores, accounting services, landscaping companies, and so on, can benefit from having a blog.
By publishing regular blog posts on your business website, you can drive more traffic to your site and introduce your product/service to more people online.
For example, Whale Cove Inn is a hotel/restaurant, and on their blog, they publish content about the best local activities, restaurants, and scenic stops in Oregon.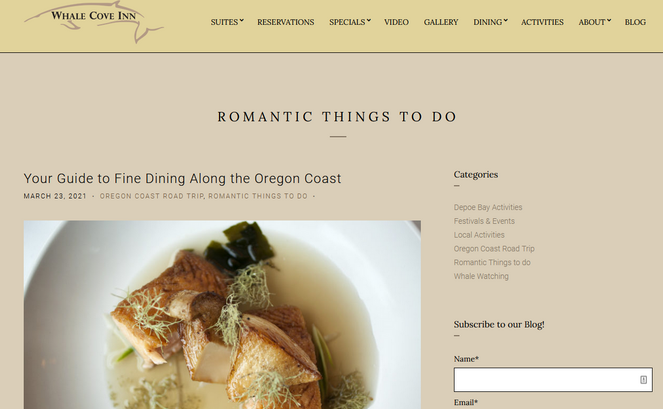 When someone is planning a trip to Oregon, they'll perform Google searches like "best restaurants on the Oregon coast" or "best places to see in Oregon" to plan their itinerary.
Because Whale Cove Inn has published these relevant blog posts, they're likely to show up in Google search results. This results in more traffic to their website and more leads generated.
Blogging is a great way to attract a targeted audience to your website. And when your audience reads your helpful blog posts, they can learn more about your business, begin to trust you, and become customers.
If you want your business to show up in Google search results, you need to optimize your site for SEO. Check out our guide on how to rank higher on Google for step-by-step instructions.
7. To Make Money Online
This last reason is what many people are most interested in when it comes to blogging…making money online!
There are successful bloggers out there that have turned their websites into 6-figure businesses, like Adam Enfroy: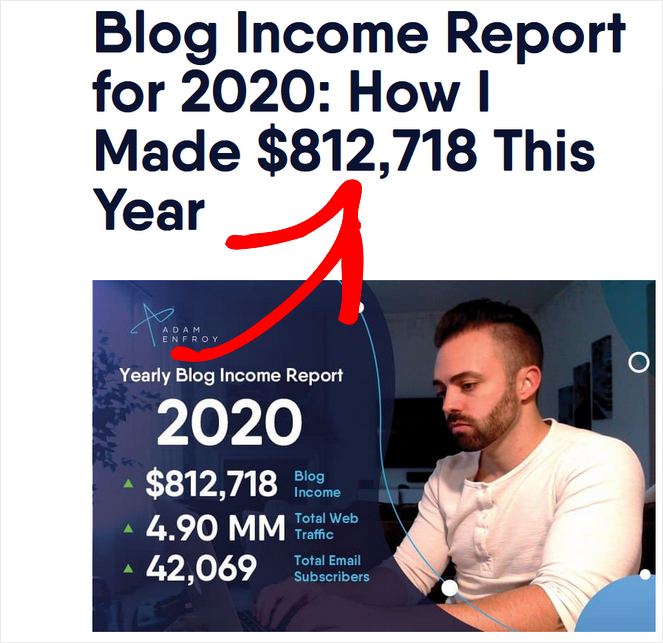 Being able to generate income like this from the comfort of your home is the dream for many aspiring bloggers.
But, making money like Adam Enfroy isn't easy. It takes a lot of time, hard work, and dedication.
It all starts with picking a profitable blog niche and attracting a targeted audience of loyal readers. Check out our post on the types of blogs that make money for examples.
Then, you need to monetize your blog. There are several ways to monetize your blog including:
Selling digital products like ebooks
Offering coaching or freelancing services
Selling an online course
And more
If you don't make money right away, don't give up.
Most bloggers don't make money when they first start out. But, if blogging is your passion and you're willing to put in the work, you will be able to generate an income in time.
Remember, the key to making money from your blog is dedication and consistency. Once you start a blog, you need to regularly publish new content, constantly promote your blog, and always keep up with your monetization strategies.
You need to treat your blog like a business, not like a hobby, if you want to generate real income.
Why You Should Not Start a Blog (3 Reasons)
Now that you know why you should start a blog, let's take a look at the flip side.
Blogging isn't for everyone, so if you're in it for the wrong reasons, it's best to realize it before you commit to it.
Below are some reasons why you shouldn't start a blog.
You Think it's Going to Be Easy
If you think blogging is easy, you're wrong. Like we said previously, creating a successful blog takes a lot of hard work, time, and dedication.
When you're first starting out, you'll likely have to come home from your day job and work on your blog for hours into the night.
It's not as simple as sitting down and typing words onto a screen either. You have to do research, write clickable headlines, craft posts that will resonate with your audience, edit images, do social media marketing, respond to emails, the list goes on.
You should only start a blog if you're willing to put in the time and effort.
You Want to Get Rich Quick
Blogging is definitely not a get-rich-quick scheme. So, if you're interested in blogging to make fast cash, you should look for another option.
It is possible to make great money from your blog, of course. But, as we mentioned, it doesn't happen overnight and it takes a lot of hard work.
You Don't Like Writing
If you don't like writing, starting a blog probably isn't the best option for you. You have to love writing in order to run a blog because that's what you'll be doing most of the time.
So, if you hate writing but you still want to make money online, you might be wondering, what can I do instead of a blog?
Well, if you're great at speaking, you could start a podcast. Or, if you're comfortable on camera, you can make your own YouTube channel. 
Don't force yourself to write if it's not your thing. Instead, find something that fits your interests and expertise.
Should I Start a Blog? Making Your Decision
Now it's time to decide if you should start a blog.
If you read the 3 reasons why you shouldn't start a blog above and feel like blogging isn't for you, then check out our list of the best ways to make money online. You can use this list to find another avenue for making money on the internet.
And if you've made the decision to start a blog, that's awesome!
There are many great reasons to start a blog and it's one of the easiest types of online businesses to launch.
It doesn't cost a ton of money to start a blog either.
In fact, you can claim this exclusive deal and get 60% off web hosting with Bluehost, which includes a free domain name, free SSL certificate, 24/7 support, and 1-click installation for WordPress, which is the best blogging platform in the world. 
Start your blog today by clicking on the offer above and following our easy tutorial on how to set up a blog.
---
That's a wrap!
We hope this article has convinced you to start your blogging journey. If you want step-by-step instructions on how to launch your own blog, then check out our detailed blog launch checklist.
And don't forget to sign up for our email newsletter so you can get helpful content like this sent right to your inbox!