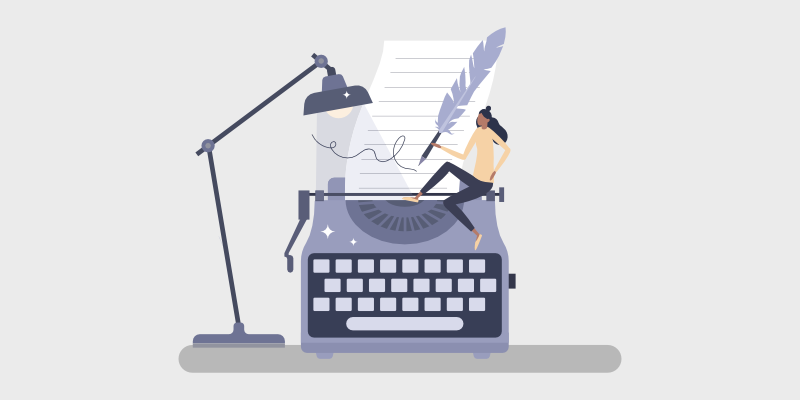 A re you looking for eye-catching headline templates? In this article, we'll share the best blog headline formulas to get more clicks on your posts.
When you start a blog, it can be hard to stand out from the crowd. There are likely a ton of other blogs that produce content similar to yours.
But, one way you can encourage people to click on your article instead of the competition is with a catchy headline.
Coming up with good headlines for your posts can be tricky though.
So, to make it easier and save you time, we'll share the best fill-in-the-blank headline templates you can use.
First, let's talk about what makes a catchy headline and why headlines are so important.
What is a Catchy Headline? (And Why It's Important)
A headline is simply the title of your article or blog post. It's meant to grab the attention of people and get them interested in reading what follows the headline.
Look at the headlines you see on news websites or in newspapers as an example:

The headlines typically give a sneak peek at what the story is about and they use elements of psychology like surprise, curiosity, negativity, and others, to get you interested in learning more.
The better your headline, the more people will want to click on your post and read it. 
Plus, once you get people reading your article, it's easier to get them to subscribe to your email list or even make a purchase.
In addition, a great headline can boost the number of clicks your article gets in search engines, which can help you improve your search engine rankings.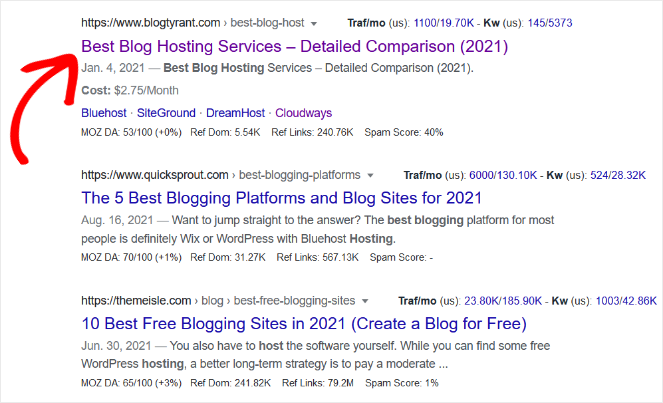 Now let's look at some headline templates that will help you get those results…
25 Headline Templates You Can Use (FREE)
Here are some catchy headline templates you can use for your blog posts.
Simply fill in the blank spaces in the formula to fit the topic of your article.
1. How to [Achieve a Desired Outcome]
Starting a headline with "How to…" is one of the most popular and effective headline templates. It works for any type of tutorial that shows the reader how to do something.
Headline Examples:
How to Cook Eggplant Perfectly
How to Create a YouTube Channel
---
2. The Ultimate Guide to [Topic]
"The Ultimate Guide to…" headline formula lets the reader know this is a comprehensive blog post. Everything they need to know on the particular subject will be covered in this article.
Headline Examples:
The Ultimate Guide to Copywriting
The Ultimate Guide to Growing Your Own Food
---
3. [Number] of Ways to [Achieve a Desired Outcome]
Adding numbers to your headlines is an easy way to get more clicks. People love listicles because they're easy to read and they can scan through the post quickly to learn new tips. 
Headline Examples:
21 Ways to Reduce Stress
35 Ways to Make Money Online
50+ Ideas for Organizing Small Spaces
---
4. [Number] Steps to [Do Something]
For tutorial posts, you can also add the number of steps it takes to complete the task.
If a reader wants to start a podcast, seeing a blog post that shows them how to do it in 10 easy steps will grab their attention.
Headline Examples:
10 Steps to Starting a Successful Podcast
23 Steps to Building a Gaming Computer
14 Steps to Making a Homemade Pizza
---
5. [Keyword]: How to [Long Tail Keyword]
If you want your blog posts to rank in Google search results, you've got to use keywords in the title. This headline template allows you to fit your main keyword and a long tail keyword into your blog post title.
Headline Examples:
Healthy Eating 101: How to Eat More Fruits and Vegetables
Bodybuilding Meal Plan: How to Create a Bodybuilding Diet
Link Building 101: How to Get Backlinks for Your Site
---
6. The Secret of [Acheiving a Desired Outcome]
This headline formula is sure to grab the attention of readers. They'll want to know what secrets and insider knowledge you have to share with them.
Headline Examples:
The Secret of Finding True Love
The Secret to Living the Life You Want
The Secret to Stock Market Success
---
7. [Number] Little-Known Ways to [Topic]
Similar to the headline formula above, this type of headline also inspires curiosity. Readers will want to click on your article to learn something unique that they won't find in other posts. 
Headline Examples:
5 Little-Known Ways to Improve Your Productivity
7 Little-Known Ways to Encourage Brand Engagement
9 Little-Known Tips for Amazing iPhone Photography
---
8. How to [Do Something] in [Short Duration]
Blog post titles that tell the reader they'll be taught how to do something in as little as 5 or 10 minutes can also be attention-grabbing.
Headline Examples:
How to Run 5K in 30 Minutes
How to Fall Asleep within 5 Minutes
Learn How to Play Chess in 10 Minutes
---
9. [Number] Lessons I Learned From [Experience]
With this headline formula, you can share lessons you've learned personally. This type of headline can be very relatable to readers going through a similar situation.
Headline Examples:
4 Lessons I Learned From Quitting My Job
10 Lessons I Learned as a Freelance Writer
7 Lessons I Learned From Traveling the World
---
10. How [Something] Made Me [Something Desirable]
You can make this blog title formula super interesting and clickable by filling in the first blank with something that's seemingly unrelated to the second blank. For example: How Video Games Made Me Smarter.
Headline Examples:
How Instagram Made Me a Better Photographer
How Yoga Made Me Believe in Myself
How Knitting Made Me a Better Writer
---
11. How to [Do Something] Like [Celebrity]
This headline promises a strong benefit to the reader, which is something most good headlines should do. With this title, they'll learn how to master a skill like an expert they admire. 
Headline Examples:
How to Write a Book Like Stephen King
How to Play Basketball Like Lebron James
How to Master Public Speaking like Tony Robbins
---
12. How to [Desired Outcome] Without [Unpleasant Action]
If a reader can achieve something awesome, without having to do something they don't want to, that makes for a very eye-catching blog title.
Headline Examples:
How to Update Your Kitchen Without Breaking the Bank
How to Start a Business Without Investment
How to Get Six Pack Abs Without Leaving Your Couch
---
13. Are You [Blank]?
Asking a question in your blog headline is another way to attract attention with curiosity. And it can make the reader feel like you're speaking directly to them.
Headline Examples:
Are You a Good Listener?
Are You Ready to Be a Parent?
Are You Ready for Your Spanish Test?
---
14. Do You Make These [Topic] Mistakes?
Nobody likes making mistakes, so this type of headline is sure to stop readers in their tracks and click.
Headline Examples:
Do You Make These Common Grammar Mistakes?
Are You Making These Puppy Training Mistakes?
Do You Make These Mistakes in Job Interviews?
---
15. [Number] Mistakes Most People Make When [Common Action]
Here's another headline template that combines the attention-grabbing mistake formula with numbers. Readers will know exactly how many mistakes you're sharing in the article.
Headline Examples:
7 Mistakes Most People Make When Choosing a Financial Advisor
15 Mistakes Most People Make in Relationships
10 Common Mistakes New Gardeners Make
---
16. Warning: Are You [Something Undesirable}?
Most headlines focus on the positive or the benefit readers will get from reading the article. But, you can also use a negative headline to grab attention effectively too.
Headline Examples:
Warning: Are You Hindering Your Employees' Creativity?
Warning: Are You Living Beyond Your Means?
Warning: Are You Eating Too Much Sugar?
---
17. Stop [Strong Command]
This is a simple yet strong headline will make people want to know more about why they should stop doing something.
Headline Examples:
Stop Calling It a Side Hustle
Stop Wishing You Were Anywhere Else
Stop Chasing Customers with 'Pick Me' Posts
---
18. Get Rid of [Problem], Once and For All
People are always looking for solutions to get rid of their problems. This headline promises to do just that.
Headline Examples:
Get Rid of Household Clutter, Once and For All
Get Rid of Fruit Flies, Once and For All
How to Get Rid of Self-Doubt, Once and For All
---
19. Why [Problem] (And What to Do About It/How to Fix It)
This headline formula focuses on the problem of the reader and also hints at a solution to it, making it highly clickable.
Headline Examples:
Why You're Not Getting Hired (And What to Do About It)
Why No One is Subscribing to Your Email List (And How to Fix It)
Why You Can't Lose Weight (And What to Do About It)
---
20. [Number] [Power Word] Facts About [Topic]
If you want to write an article to share facts or statistics on a particular subject, this is a great headline to attract more interest.
Power words trigger a psychological or emotional response in people and persuade them to take action by clicking your post. 
Headline Examples:
7 Eye-Opening Facts About Social Media
15 Shocking Facts About Climate Change
5 Strange Facts About the Human Body
---
21. [Product] Review: Is It Worth It?
Writing product reviews on your blog is a great way to make money through affiliate marketing.
This headline formula is perfect for attracting users that are interested in the product and want to know if they should buy it or not.
Headline Examples: 
Smash Balloon Review: Is It Worth It?
KitchenAid Mixer Review: Is It Worth the High Price?
Grammarly Review: Is Grammarly Worth It?
---
22. [Number] Tools That Every [Person] Needs
Instead of promoting only one product in a review, you can also promote many different products in a numbered list using this headline template.
Headline Examples:
10 Tools That Every Copywriter Needs
15 Tools That Every Homeowner Needs
---
23. Quiz: Which [Topic] Are You?
Do you publish quizzes on your blog? If you do, then this Buzzfeed-inspired headline is an effective way to get people interested taking in your quiz.
Headline Examples:
Quiz: Which Star Wars Character Are You?
Quiz: What Type of Writer Are You?
Quiz: Are You an Introvert or an Extrovert?
---
24. [Number] [Experts] Share Their [Topic]
When you want to write a round-up article, this is the perfect headline template.
Round-up articles bring together tips and tricks from many different experts that readers will want to learn from.
Headline Examples:
15 Pro Bloggers Share Their Monetization Strategies
7 Artists Share Their Tips for Working on Large Paintings
11 Nutritionists Share Their Secrets for Better Digestion
---
25. How [Company] Got [Results] in [Timeframe]
If you sell your own product or service, writing case studies can help you build social proof and make more sales.
This headline template clearly states how your customer got amazing results by working with you. This makes readers want to click and find out how they can achieve similar results.
Headline Examples:
How Knix's Virtual Sale Hosted 35,000 Shoppers in Only 10 Minutes
---
More Tips for Writing a Good Headline
Now you've got plenty of headline templates to get you started. But, you might want to get creative and come up with some catchy headlines of your own.
So, we want to share a few more tips that will help you write good blog post titles.
First, we recommend that you start saving headline examples that you come across on the internet. You can use the ones you like as inspiration.
You can also use online headline generators to get a few new ideas as well.
But, once you've got a headline you want to use, it's important that you use a headline analyzer to make sure that it's effective.
A headline analyzer will give your headline a score and provide suggestions to improve it.
One of the best headline analyzers is MonsterInsights.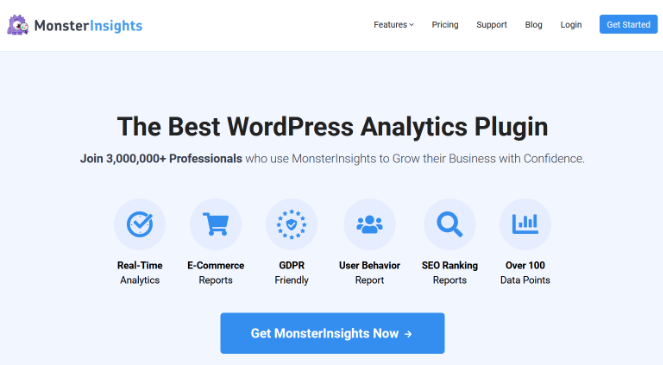 MonsterInsights is a Google Analytics plugin that also comes with a powerful headline analyzer. It gives you instant feedback on your blog title right from the WordPress editor.
The analyzer ranks your headline on a scale of 0-100 using factors like word balance, emotional words, common words, uncommon words, and more.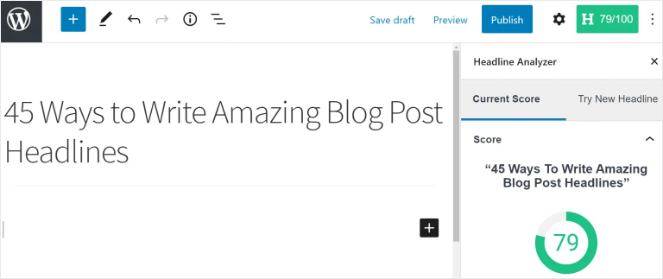 Then, you can use the suggestions provided to make your headline more impactful and clickable.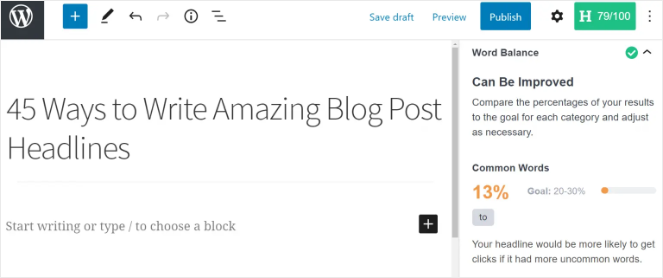 With a headline analyzer like this, you can make sure that every blog post you publish is going to grab the attention of readers.
---
That's a wrap!
We hope that you'll put these headline templates to good use so you can start getting more clicks on your articles!
If you enjoyed this post, you might also want to check out our guide on how to write clickable SEO title tags.
And don't forget to sign up for our email newsletter for more helpful blogging tips!