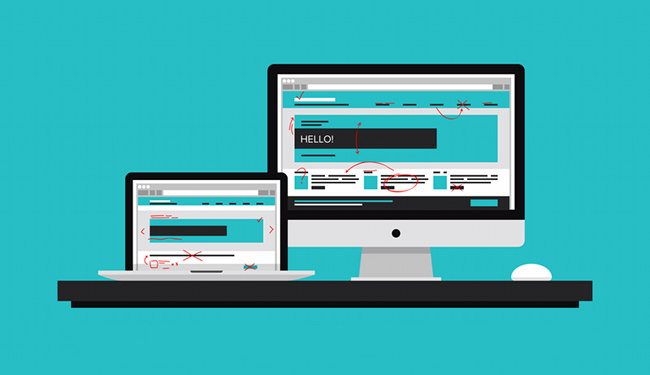 Last week I published a landing page and was fortunate enough to sell all five openings in just a few minutes.
I'm not saying this to brag, but rather because I want to share with you why I think this landing page performed so well, as well as giving you examples of some of the best landing pages that I've seen on others sites.
My goal is to give you an article that you bookmark and open up every time you want to remind yourself how to make a great new landing page.
Let's go!
What exactly is a landing page? Do I need one?
A lot of people might think that a landing page is something reserved for e-commerce sites, or blogs that have a product to sell.
Not true.
In fact, every single blog on Earth should have at least one great landing page: the one that promotes your mailing list.
You see, a landing page is just a specific page that you use to promote something.
It might be a product, an affiliate or it might just be a rant about why people should sign up to your weekly newsletter.
We all need to learn how to craft great landing pages because it's something that we will all use at some point in our online careers.
Tips for making great landing pages
Here are a list of tips that I've learned over the years.
Keep in mind that I have built a lot of really, really shitty landing pages that performed miserably. I like to romanticise this process and say that it's all part of getting good at it.
But, if I can save you that time and trouble with this post I'll be very happy.
1. A landing page is only as good as its product
It's really important to remember that you'll only have a successful landing page if you have a good quality offer at the end of it.
Sure, an excellent landing page will still sell crappy product, but you'll end up with a lot of refunds and bad reviews. And that's not what we want.
Before you get too deep into landing page design and conversions you want to make sure that the thing you're offering is something that people want – or something that you can convince people that they need. This means a lot of research and understanding before you launch.
2. A great landing page has lots of social proof
One of the reasons you see big marketers running BETA versions of their products is because it gives them a chance to get testimonials and endorsements while sorting out bugs.
A good landing page should completely remove any fear that a potential customer has by showing them that other people have already bought the product and really enjoyed it.
If you have a look at OptinSkin by Glen Allsopp you'll notice that there is a huge percentage of the page devoted to endorsements and testimonials.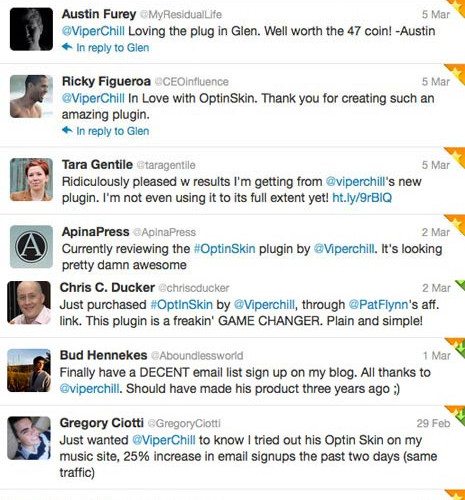 A lot of people say that using Tweets as testimonials is a good idea because there is less chance that they have been faked. The above screenshot is only about half of the Tweets that they use on their landing page.
3. An endorsement is better than a testimonial
Having someone well known endorse your product is, in my opinion, a lot more powerful than just testimonials from people that may or may not be faked.
For this landing page, I asked Glen from ViperChill to write something that would encourage people to look deeper. I really didn't want to do it to make myself look good, but rather to help people know that I wasn't scamming them and that it was a genuine offering.
I have it sitting right above the opt-in form on that page and, I think, this has the effect of reducing the fear associated with sharing your email with someone.
Something I wanted to add here is that most of these "famous" guys and girls are really picky about handing out endorsements. I talk to Glen almost every day and still felt a bit nervous/dirty asking him to give me one.
I've even heard Shoemoney state that he never does anything unless he's met the marketer in person. But as I talk about all the time it's a really good idea to make friends.
4. The story and the fears outweigh the features and the specs
Something that took me a long time to learn is that the story always sells more than the specs.
This is something that Demian Farnworth calls a 'promise'.
Most of us would have heard of the marketing adage: focus on the benefits, not the features. This is exactly what we are talking about here.
Instead of telling people that your eBook is 137 pages long with HD photos you should tell them that they can finally stop worrying at night about when the next bill is going to arrive.
Your landing page should relate to the customer by describing the common fears that we all have and then showing how your product can solve those fears.
Storytelling always wins.
When I wrote the copy for my Private Coaching landing page I spent a lot of time revising it to talk less about what customers would get and more about the problems that I would help them overcome like not knowing what key words to target, fiddling endlessly with their blog's layout and so on.
5. Testing will make you more money
It's a steep learning curve for some but it is so important to get into the habit of testing your sales pages. Even the weirdest, smallest little details can make a huge difference. Here's a quick overview of the difference between a multivariate test and an A/B test to start with.
Some of the simple but relevant things you could test include:
Headers and titles
Do your headers and intro texts have an impact on end sales?
Button colors and text
If you change your red 'Buy Now' button to a green 'Add to Cart' do you get more sales?
Length of page
What about if you have a super short landing page with a video? Does that convert better than the traditional one-column long form letter?
Photos and images
A lot of people have seen big results by changing the main photo on a sales page. Check out this case study about faces on landing pages.
The best place to get started with split testing and the like is with Visual Website Optimizer. They have a really simple set up that allows you to do multivariate testing, A/B testing and so on.
The really interesting thing about this is that the results often make no sense at all. You'll scratch your head wondering why it's working. That's why it's so important – because you likely would never have known to do it based on all the conversion information out there.
6. $97 or $197? Free trial or monthly payments?
One of the hardest things about landing pages is the pricing and payment arrangements.
It can drive you nuts.
And it's one of those situations where you might change the price by a few dollars and see conversions go through the roof because of some perceived value that you really didn't think about.
Neil Patel talks about testing a free trial vs a money back guarantee and comes up with some really interesting results.
The thing about pricing is that it is based not only on your target audience (banker or student?) and your product (Ferrari or ball point pen) but also the impact that numbers and pricing can have on the sales process itself. As mentioned, sometimes the most random number changes can have dramatic effects on how people perceive the value of your offering.
So what do you do?
Test.
7. Colors, branding and drawing the eye downwards
The best landing pages are a professionally designed mix of perfect colors, messaging and a layout that draws the eye downward towards the check out area.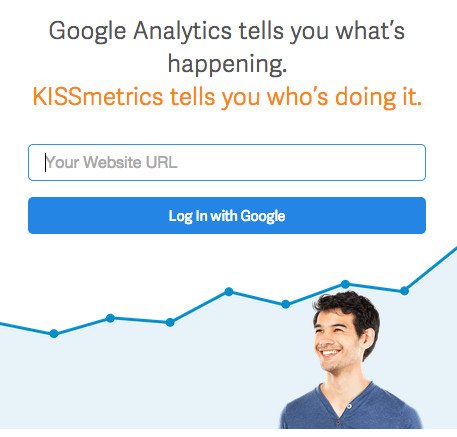 The KISSmetrics homepage is perfect.
Everything on the page is designed to get your attention towards the one action that they want you to take. Notice how the guy is even looking at the opt-in form. This is one of the most cohesive and effect landing pages that I've seen.
And it's insanely simple.
8. Build up to the event, create scarcity and pre-sell the page
When you look at people who have really successful launches you notice that they always drum up excitement before the event and then pre-sell the landing page.
Before anyone even sees the darn thing there is a buzz in the air!
This is a perfect scenario.
It is especially powerful when there is some scarcity involved.
When I opened up Private Coaching I dropped hints for about a week beforehand. I then made sure that when I emailed my list I emphasized the fact that I would only be taking on five participants and that it was a first come, first serve kind of deal.
Here's the actual email if you missed it: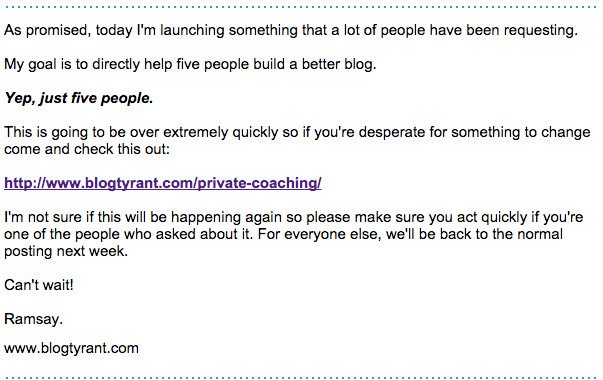 This turned out to be extremely effective for pre-selling the landing page and I think it had a lot to do with why the purchases happened so quickly. Some of the participants purchased so quickly that there was no way they had time to read through all the copy!
Here's an interesting read from the Harvard Business Review about scarcity. Note that I'm not at all a fan of creating fake scarcity which seems to be what a lot of people do online.
The best landing pages from around the web
I really like to finish off these types of posts by pointing you towards some people/companies who actually know what they're doing.
Here are a few landing pages that I borrow and learn from all the time.
1. Copyblogger – drawing the eye down and fear of missing out
You know that Copyblogger's landing page is going to be good when they teaching courses on landing pages and sell products that make them for you!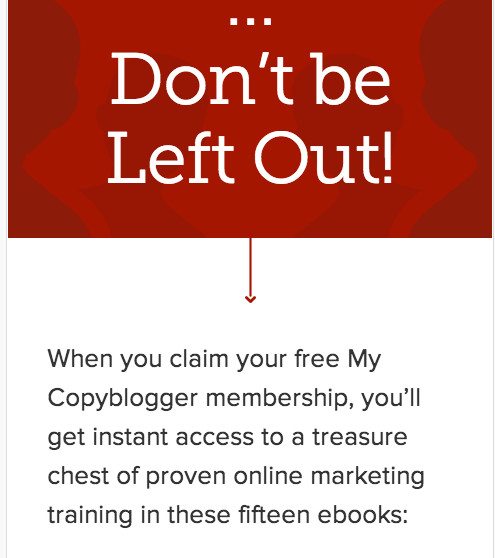 This is the perfect example of drawing the eye downwards and reducing the friction that is created when you ask someone to subscribe. You're also hit with the painful idea that you might get left behind if you don't sign up.
Awesomely done.
2. Smart Podcast Player – live demo and ultra-strong branding
This beautiful plugin is the latest creation from Pat Flynn – and it's awesome. I finally got my copy this week and although I haven't put it in place on Blog Tyrant yet I've seen it around the place and know how sexy it is.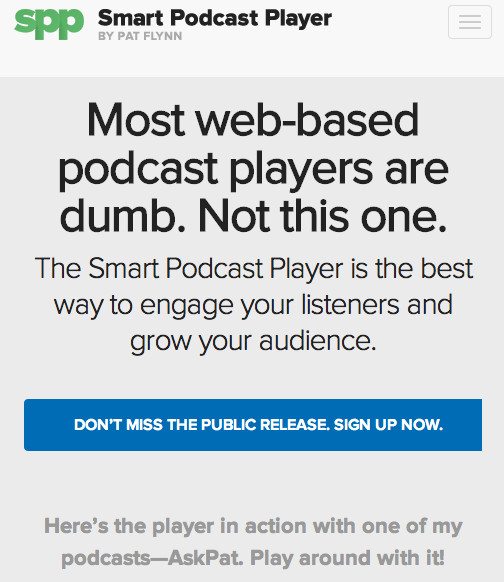 The landing page is no different.
You have scarcity as well as a tightly branded design that shows off the plugin in real-time. This is one of the best tech-based landing pages I've ever seen.
3. HelloBar – breaking all the rules with testing
I almost wasn't going to include this one because it goes against most of the good advice that you get given about landing pages. But given that I know Neil Patel is behind their attitude to testing and tweaking, I know this thing is converting well.
All you get is a place to enter your website details.
That's it.
It then very smoothly takes you through the set up process and before you even know whether you're interested or not, you're being shown a live demo of this beautiful little widget for your website. This is a truly great landing page.
4. Crazy Egg – single call to action and endorsements
Another Neil Patel creation, this landing page is super simple and is centered around the ideas of social proof and a single call to action.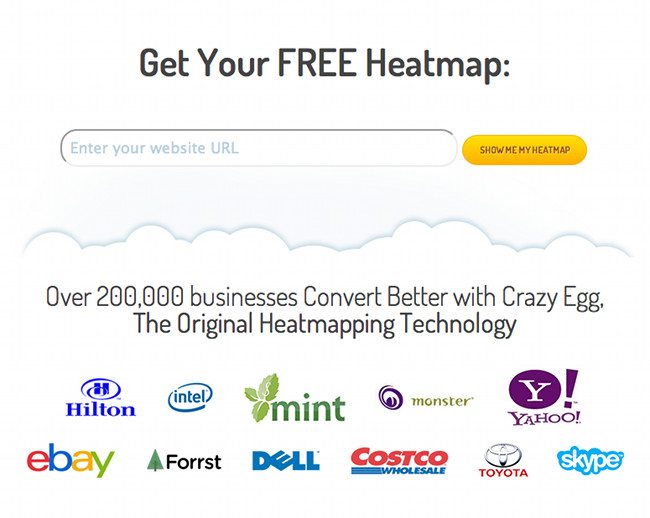 It simply tells you to get started on receiving your free map and then shows you some massive clients like Hilton, Dell, Intel, Yahoo, Ebay and so on. The effect is very powerful – you can use the same software that these hugely successful companies use.
5. BlueHost – human faces and reducing anxiety
As an affiliate partner of BlueHost I know that when the right traffic hits their homepage they can sell very well.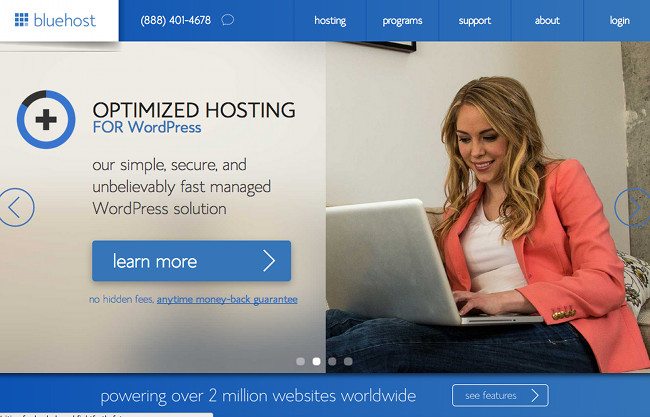 The new design that they launched this year is a huge improvement – faces looking at the conversion area, discount pricing, money back guarantees and a huge amount of social proof.
This is really one of the best examples you'll see of a landing page that reduces anxiety for potential customers through a variety of means.
6. Unbounce – jargon-free with case studies and social proof
The Unbounce landing page better be awesome given that their whole business is about conversions!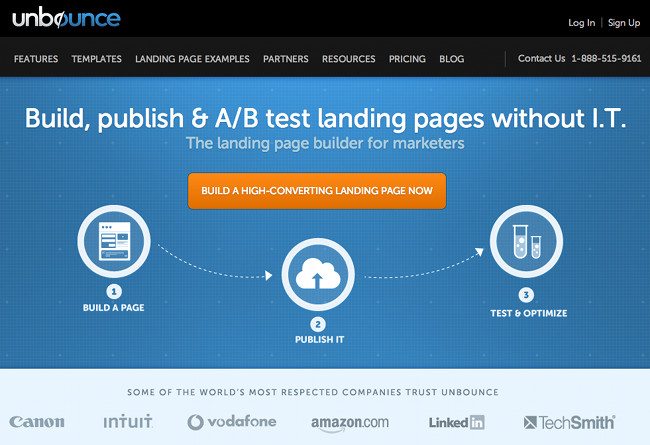 The first thing you notice is how they are simplifying the language to really appeal to their target market – marketers as opposed to tech people.
They then do an excellent job of interspersing testimonials and endorsements (really strong ones) with the features that you inevitably need to know about when looking at a feature-heavy service that might seem complicated.
A very solid landing page that a lot of money and testing would have gone into.
Have you seen a great landing page?
The topic of landing pages can go on and on – there was no way I could cover it all in one post. I hope it gave you some nice ideas and guidelines. If you've ever built a great landing page or seen one around the place I'd love to know about it. Please leave me a comment below.
Top image © Pressureua.