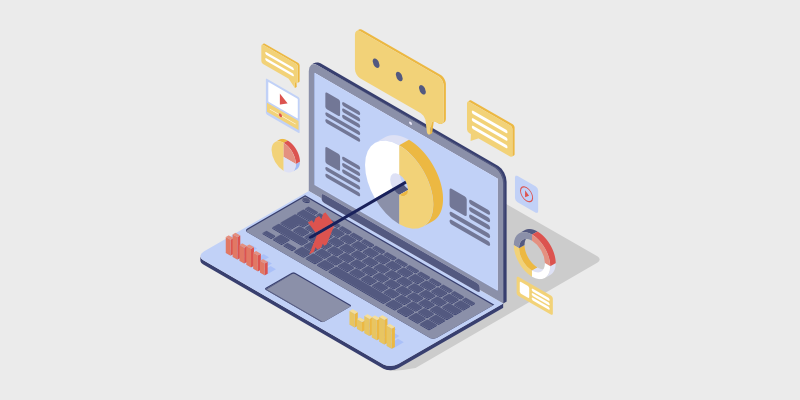 I f you run a blog, it's crucial to stay on top of its analytics. But if you aren't sure which metrics to track, you won't be able to boost traffic or conversions. In this article, we'll go over the top Google Analytics metrics so you can grow your blog with ease.
When you start a blog, it's important to track its performance with readers. You want to ensure that your blog content attracts visitors, keeps your audience engaged, and even turns them into paying customers.
However, if you aren't exactly sure what to track, you'll have a difficult time increasing blog views and boosting your blog's performance.
In this article, we're going to share the most important Google Analytics metrics you need to track on your blog. Plus, we'll also share some reliable tools that make it easy to monitor the right metrics.
Let's get started.
Why Track Metrics on Your Blog?
First, look at a few reasons why you should track what's happening on your blog.
Learn About Your Audience & Create Relevant Content
When you know who you're creating content for, it's easier to think of relevant blog topic ideas and campaigns that'll serve your audience. Because the more you know about the users that visit your site, the easier it is to cater to their needs and interests. This makes it easier to create content you know your audience will be interested in, which helps you attract more traffic to your blog and develop a loyal readership.
Boost Traffic and Conversions
By tracking your blog metrics, you'll be able to see exactly how you're attracting new visitors to your site and what on your site makes them become a subscriber or customer. And, you'll also be able to discover how you're losing visitors from your blog and what's causing them to leave. By analyzing these stats, you can make adjustments to your landing pages, email popups, and other content, in order to boost traffic and conversions.
Measure Blog Growth Over Time
You want to make sure your blog reaches its goals so it can continue to grow and thrive. Monitoring your blog metrics allows you to measure your blog performance over time. You'll be able to see what's working and what's not. Then, you can reexamine your blogging strategy, make the necessary changes and adjustments, and get back on track to success.
Now that we know more about the importance of tracking your blog analytics, let's learn more about doing so using the best tools.
Tracking Blog Metrics with Google Analytics & MonsterInsights
The most popular way to track your blog analytics is through Google Analytics.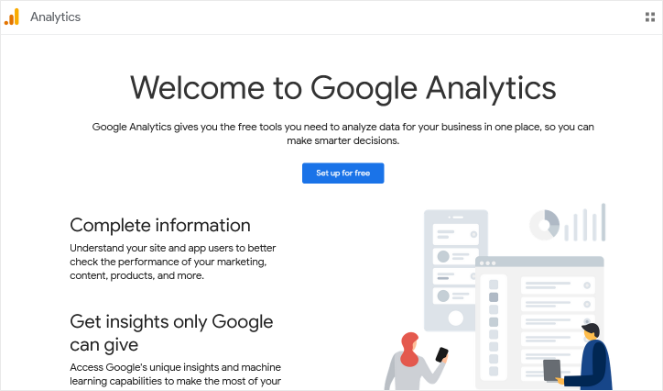 Google Analytics is a free analytics service that monitors your traffic and gives you important information about the visitors, actions, and content on your site.
You can learn what devices visitors use, where they came from, what blog posts they visited the most, when they visited, and so much more. It's important to know how people explore your site so you can offer the best user experience and keep them on your website longer.
All of the details provided by Google Analytics give you a full picture of your visitors and how they navigate your site so you can improve your content, boost traffic, and build your brand.
There's one drawback to Google Analytics though.
Because you can't view your analytics from your WordPress admin, it makes it frustrating to check on your metrics and track progress. It's also not the easiest tool for beginners to understand their analytics and how to use them.
But, with MonsterInsights, you can view data points and simple analytics reports straight from your WordPress dashboard.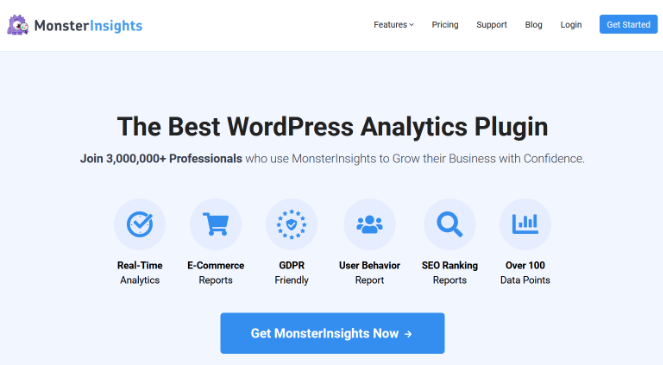 MonsterInsights is the best Google Analytics plugin for WordPress. It's beginner-friendly and makes it easy for anyone to understand what's going on with their website and how it's performing with visitors.
MonsterInsights comes with the powerful features you need to measure your blog performance, including:
Minimal, easy setup
Custom reports (content, behavior, publisher, eCommerce, site speed, and others)
Ability to track blog posts, file downloads, forms, affiliate links, focus keywords, categories, and more
Real-time statistics
GDPR compliance
MonsterInsights also integrates with popular email marketing services and plugins like Constant Contact, WPForms, MemberPress, Easy Digital Downloads, and more.
The Pro version of MonsterInsights comes with the most powerful features, but you can also get started for free with MonsterInsights Lite.
Bloggers and publishers use MonsterInsights to track their blog growth and ensure they continue to meet their goals.
But first, you need to know exactly what to track…
The Top Google Analytics Metrics for Bloggers
Now that we know more about MonsterInsights, let's dive into the top Google Analytics metrics bloggers should track on their websites.
1. Overview Report
An overview report is important when you want a general idea of how your blog is performing in different areas. It quickly gives you the information you want to know so you don't have to go digging for it.
The MonsterInsights' Overview report lets you look at your overall blog metrics over a specific period of time you choose. It automatically shows you data from the last 30 days, but you can customize this to your liking.
You can view this data as reports or graphs to suit your preferences and look at metrics like:
Sessions: Sessions are a group of user interactions with your website. A session begins when a user lands on your site and ends after 30 minutes of inactivity.
Pageviews: This is the total number of pages viewed on your blog, it includes repeated views of a single page.
Average Session Duration: This measures the average length of sessions or how long users typically spend on your site.
Bounce Rate: Bounce rate is the percentage of visitors that leave your site after only viewing one page.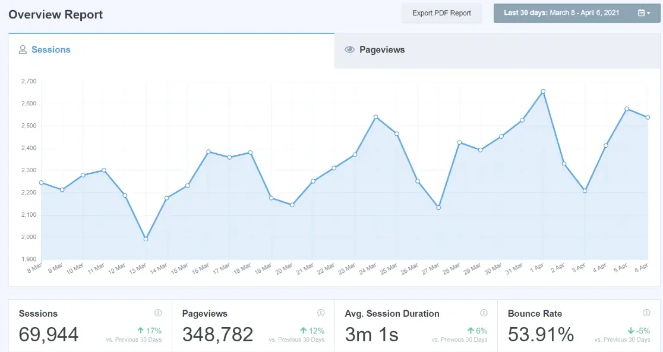 You can view this report right from your WordPress dashboard thanks to the MonsterInsights Dashboard widget. Without any extra clicks, you have the most important data in front of you. Or, you can view it on the Custom reports page.
With this data, you can see the overall flow of traffic to your site as well as a comparison of these stats from the last 30 days. This way, you can track the volume of traffic to your blog and see if it's growing or not.
With the average session duration and bounce rate, you can see how engaged users are. A higher average session duration means that your visitors are engaged and reading your content. But, if your bounce rate is high, that means users aren't engaged and they're leaving your site soon after they arrive on it.
2. New vs. Returning Visitors
New visitors are unique visitors who are visiting your blog for the first time whereas returning visitors are browsing your site again.
It's crucial to keep track of this metric because the number of new visitors you have will show you how well you're attracting new readers with your content and blog promotion strategies. And if you have a lot of returning visitors, that means that your existing readers are loving your content and they're coming back for more.
Both are important for building a successful blog.
You can see new and returning visitors under your Overview report in MonsterInsights: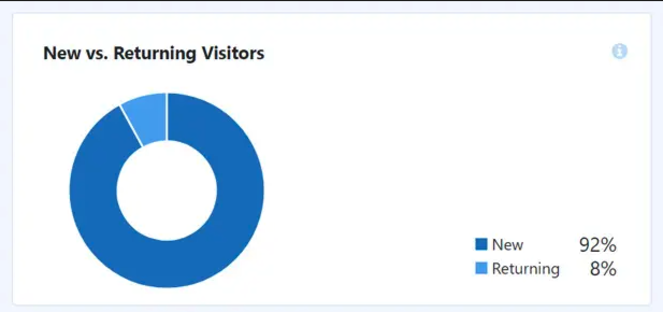 MonsterInsights gives you the percentage of new and returning visitors to see the rate your blog is growing at. You can concentrate on growing both percentages to grow your overall audience.
3. Popular Posts and Pages
As a blogger, you need to know what content performs best with your readers so that you know what they like and what to create more of. By tracking your most popular posts, you'll know what content does well with your audience.
This enables you to create a better content calendar with topics suited to your readers so that you can boost views, improve engagement, and increase conversions.
It also helps you understand your readers more so you can answer their questions and provide them with solutions that guarantee they keep coming back.
With MonsterInsights, you can view your popular blog posts by clicking Insights » Reports » Publishers from your WordPress dashboard: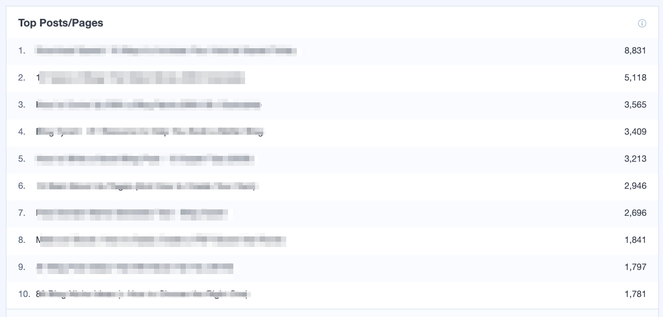 Aside from showing your most popular blog posts, this report will also tell you what the top landing pages on your site are. If a particular landing page is performing well, you can use that as an example to optimize your other landing pages so that they're more effective.
4. Top Referrals
It's important to track where new visitors are coming from so you can better understand their journey. How did they find your blog? What websites are linking to your blog in their content? Can you build more backlinks with these websites to improve your search ranking and gain brand visibility?
You can find your top referrals under the Overview report in MonsterInsights. Simply visit Insights » Reports from your WordPress dashboard: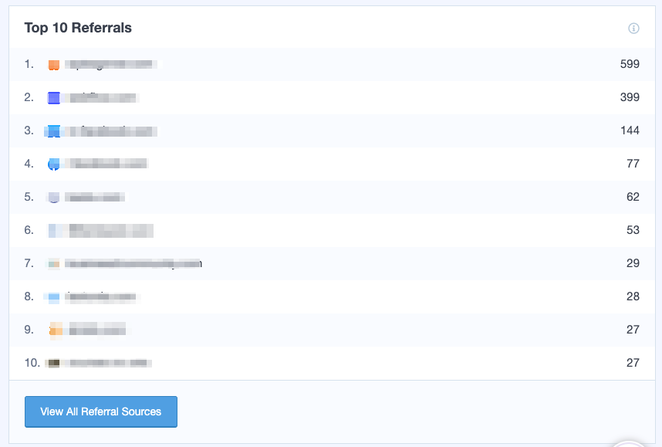 Here, you'll see the top 10 websites referring to your blog. These websites are linking to your blog, sending their own visitors to your website. This builds natural backlinks for your site which improves your search ranking and site visibility. The more backlinks you build with popular websites, the more traffic and views you'll receive.
Other sites will likely link to your blog because they find your content useful and want to use it as a source. The top referral data will tell you which websites are sending the most traffic your way so you know what kind of future content to create.
You can also gain backlinks by guest posting on other sites. Guest posting is when you publish content on another blog and add links to your website to drive traffic to it.
5. Google Search Terms
Increasing organic traffic, which is any traffic that comes to your website using a search engine, is important to all bloggers. But, it can be tricky to get your blog to rank higher on Google search results.
That's why you need to make sure you're adding the right keywords to your content. Because if your content ranks for keywords that people are typing into Google and other search engines, you'll be able to get a jump in traffic easily.
With MonsterInsights, you can view the Top Google Search Terms to find out what keywords your visitors are using when they search for content and find your blog.
MonsterInsights lets you connect your Google Analytics account to Google Search Console so you can easily view the keywords from your WordPress dashboard.
Click Insights » Reports and go to Search Console: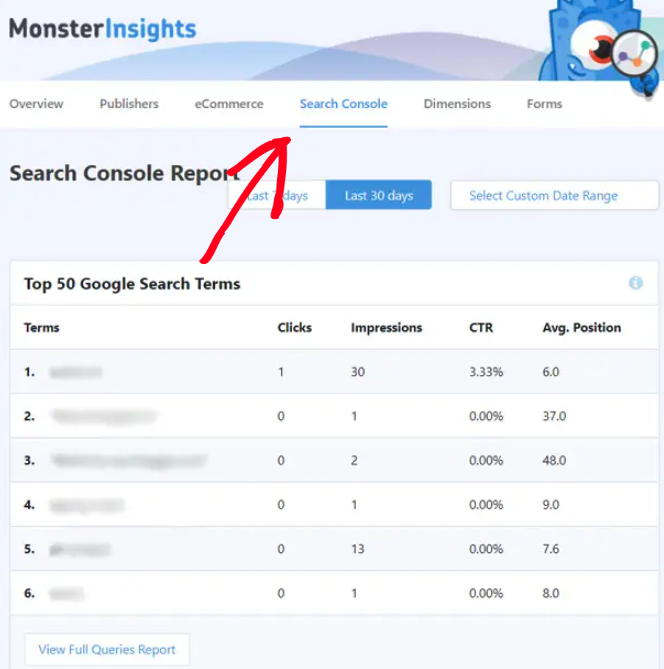 You can find the top 50 Google search terms for your blog to enhance your SEO strategy and drive more traffic to your website.
If your top search terms in the report match the keywords in your blog posts, you can be confident that your search engine optimization strategies are working.
But, if you see a lot of keywords that you haven't focused on in your content, it's best that you add those keywords in future content so that you can increase your visibility and boost your organic traffic.
6. Top Outbound Links
Your top outbound links are links on your blog that direct users to other sites. You can see where users go when they leave your site using the links you've provided.
You can use this information to see which sites receive referral traffic from your website. From there, you can create potential guest posting opportunities with these sites. Because you're already sending them your visitors and traffic, they could link to your site as well so you can build your backlinks.
You can view your top outbound links by clicking Publishers on the top navigation menu from your WordPress admin:

Scroll down and you'll see the Top Outbound Links: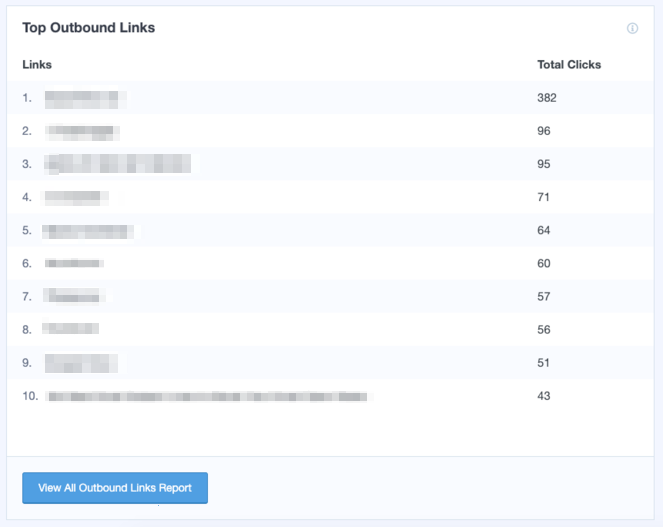 You'll see the websites and the number of total clicks.
7. Top Affiliate Links
The top affiliate links are the most clicked on links that lead to the affiliate programs you're promoting on your blog. When you add affiliate links to your blog posts and send visitors to those websites for commission, you'll want to see how they're performing.
Because the more traffic and clicks you drive to your affiliate products, the more revenue you can make.
Next to the top outbound links report, you'll find the Top Affiliate Links report under the Publishers tab: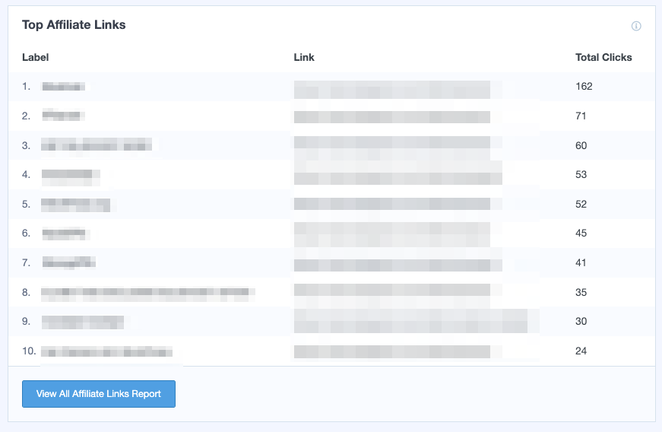 Based on what affiliate websites are getting the most clicks from the report, you can start promoting those sites more to increase your affiliate marketing revenue.
Affiliate marketing is a popular way for bloggers to make money from their content. If you're interested or want to know more, check out our guide on how to start affiliate marketing.
8. Top Download Links
If you're creating and offering lead magnets on your blog to get more email subscribers, then it's important to track your top download links.
With MonsterInsights, you can easily track which files are downloaded the most from your website. You can track file downloads for PDFs, eBooks, audio files like music and podcast episodes, and more.
To view your most downloaded links, go to Insights » Report » Publishers Report and scroll down the page: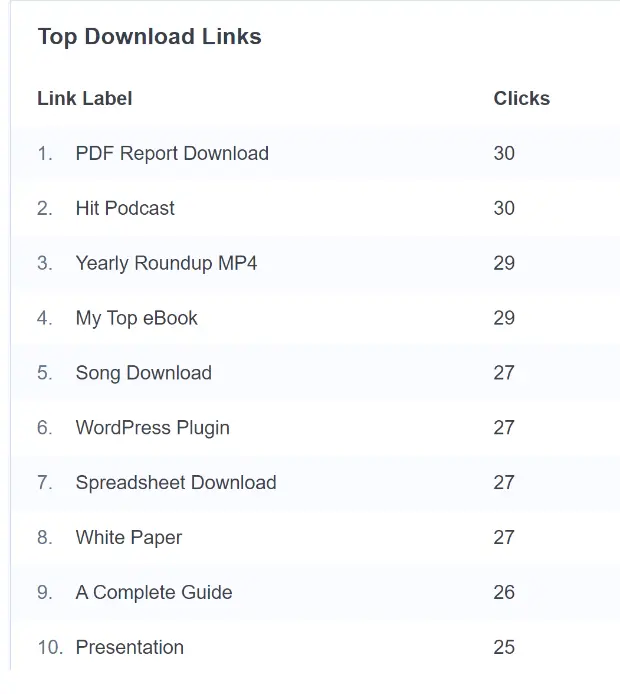 With these insights, you can find out what type of downloadable content you should make more of. For example, if podcast episodes are being downloaded a lot by your readers, this proves that your podcast is successful.
On the other hand, if no one is downloading the spreadsheets you're creating, it's best to stop creating those and spend your time focusing on something else.
9. Form Conversions
By adding forms to your blog, you give users a way to share their information, leave feedback, sign up for your newsletter, and much more. You receive all kinds of useful information through your contact forms, so it's important to track their performance to better understand your readers.
Unfortunately, it's not enough to post a form on your blog and expect it to convert.
But, with MonsterInsights, it's easy to see how your form is doing with users. Then, using the insights you discover, you can tweak your forms so that you get more submissions.
MonsterInsights' Forms addon allows you to track your form conversions by simply installing and activating it.
You can view your report by going to Insights » Reports » Forms from your WordPress admin:

Then, you'll see a list of your forms as well as their impressions, conversions, and conversion rate:

You can see which forms are performing the best and worst with visitors. You can compare the form designs, form fields, formats, questions, CTAs, placements, and more to determine what works best with your audience so you increase your form conversion rate.
Optimizing your contact forms also improves your site's user experience so you can continue attracting new visitors and collecting their information.
With these metrics, you can now create highly optimized forms moving forward.
10. Custom Dimensions
Google Analytics tracks specific dimensions called primary dimensions. But you can monitor other dimensions by manually setting them up in your Google Analytics account.
With MonsterInsights, it's much easier to track the custom dimensions you want. You can do this by installing its Custom Dimensions addon which only takes a few simple clicks.
The Custom Dimensions report will show you the following:
Most Popular Authors: The author whose posts generate the most traffic
Top Focus Keywords: The keywords on your blog that drive the most organic traffic
Top Categories: The categories on your blog that generate the most clicks
Most Popular Post Types: The post types that generate the most clicks
To see your Custom Dimension reports, visit the Dimensions tab from the top menu bar: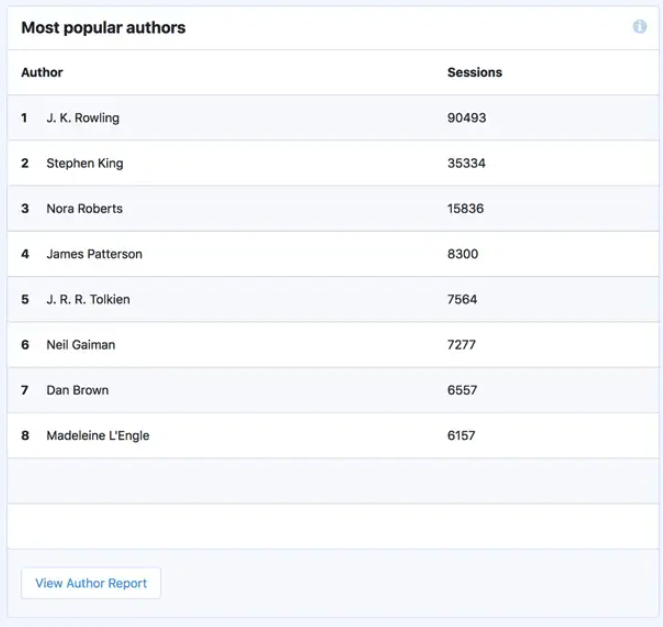 The Most Popular Authors report is an important metric for blogs with multiple authors so you can keep track of how each person's content is performing. This allows you to provide your team with more resources if needed, as well as reward them for their accomplishments.
---
And there you have it! These are the most important Google Analytics metrics you should track on your blog.
We hope you enjoyed this article. If you found it helpful, be sure to check out our post on the top SEO tools to use for your blog. It shares the best tools to choose from so you can improve your SEO strategy and drive more readers to your blog.
Last but not least, don't forget to sign up for our email newsletter so you can get useful content like this sent right to your inbox!