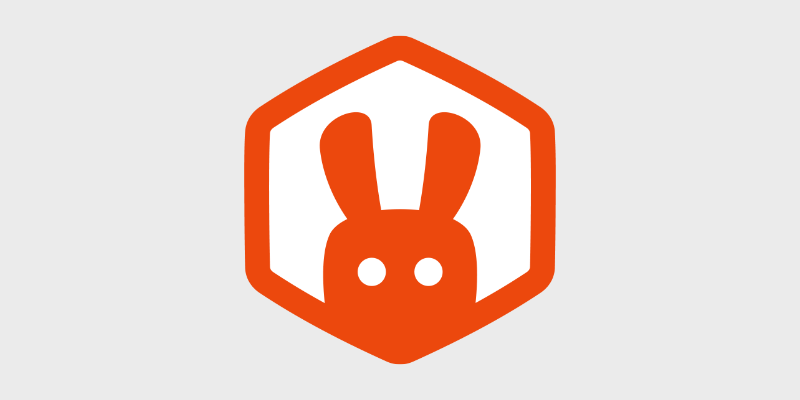 A re you wondering if RafflePress is the right giveaway plugin for your WordPress blog? Find out in this detailed RafflePress review.
When you start a blog, it's important to come up with fun, creative ways to attract the right audience and get them interested in your content. A great way to do this is by holding an online giveaway or contest.
Online giveaways ramp up excitement around your blog and boost engagement. They can also generate more traffic for your website.
One of the most popular tools for creating viral contests is RafflePress, a giveaway plugin for WordPress. In this RafflePress review, we'll go through its features, pricing, and more, so you can decide if it's the right solution for you.
Let's get started!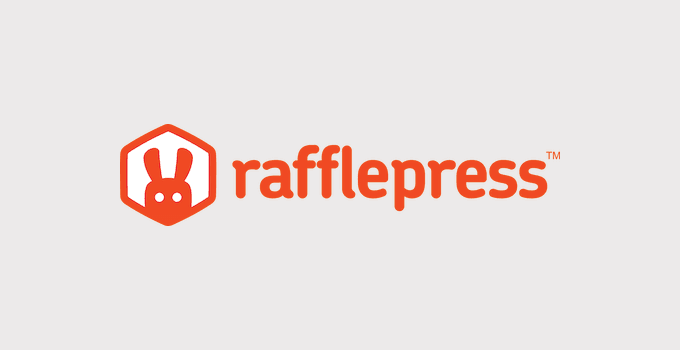 Pros:
100% Mobile Responsive
Beginner-Friendly
Minimal Setup
Drag and Drop Builder
Viral Giveaway Templates
Social Media Integrations
Marketing & CRM Integrations
Tracking & Retargeting
Cons:
Only for WordPress Sites
Limited Free Version
RafflePress is the leading online giveaway plugin for WordPress. In minutes, anyone can create a viral contest or giveaway for their blog without needing to touch a single line of code.
Creating viral campaigns with RafflePress is easy and the process is beginner-friendly. It comes with pre-built templates so you can make beautiful giveaways without having to start from scratch. Its customization options also allow you to match your campaigns to your WordPress theme.
RafflePress also comes with powerful features like one-click entry, landing pages, tracking and retargeting, premium integrations, and so much more.
It's not always easy getting attention on your website and encouraging your audience to participate. But RafflePress makes it easy to build excitement and even increase conversions.
Get RafflePress today!
Before diving into the review, let's look at a few reasons you might benefit from running an online contest.
Why Run a Giveaway on Your WordPress Blog?
There are many benefits that come with running an online giveaway:
Attract the Right Audience. Giveaways, with the right prizes and entry rules, are a great way to grab your target audience's attention and encourage them to participate for a prize.
Boost User Engagement. People love winning things, so contests and giveaways are the perfect way to boost engagement from your site visitors. While on your website, they have a higher chance of browsing your other content and coming back in the future.
Grow Your Email List. Building an email list is crucial to keep in touch with your readers, promote your latest blog posts, and more. With the right giveaway, you can grow your email list super fast. People are more likely to give you their email address in exchange for a chance to win a prize.
Increase Social Media Following. Social media is crucial to running a successful blog or business because it's easy to reach your audience there. Promoting your giveaway on social media can boost your following and lead those followers back to your website for more conversions.
Now that we know some of the benefits of hosting a viral giveaway, let's take a closer look at the RafflePress plugin.
RafflePress Pros
1. Drag and Drop Builder & Flexible Customization Options
RafflePress comes with a drag and drop builder that makes it super easy to customize your online contests exactly the way you want. You can add and remove elements simply by dragging them and dropping them into place.
You can add a title, set start and end times, upload an image of your prize, and adjust other settings as well. It's also easy to find your way around as everything is clearly labeled and visible.
And you can see the changes you make in real-time so you know how they'll look live.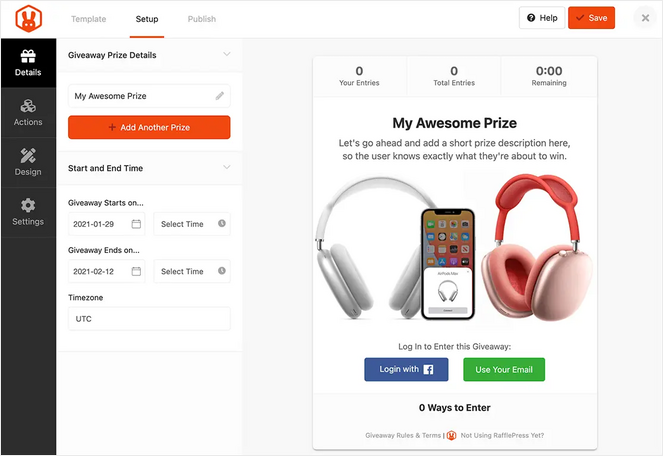 Plus, you can even add bonus entry actions that will help you reach your goals. These entry actions reward participants with extra giveaway entries, and a better chance of winning the prize, for performing specific actions like:
Following you on Twitter
Liking your Facebook page
Watching a video
Visiting a page on your website
Leaving a comment on a blog post
And much more…
You can add any of these entry actions to your giveaway in one click.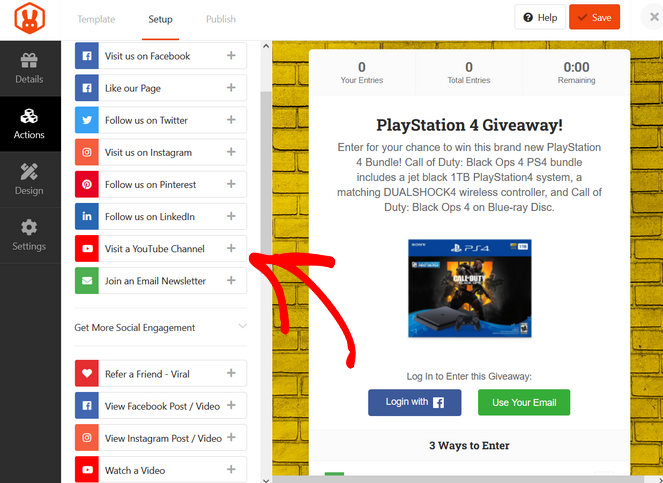 In addition, when creating any campaign, it's crucial to customize it so it matches your brand and accurately represents your blog. However, some tools and plugins make this difficult to do or require you to use coding. Not with RafflePress though.
You can change fonts, button colors, text, add images, and more, with the click of a button. And because you don't need to touch any code, it's easy to create an eye-catching giveaway campaign that matches your blog.
2. Pre-Built Giveaway Templates
With RafflePress, you can quickly create a successful giveaway campaign for your blog, thanks to the ready-made giveaway templates.
These templates make it easy to create campaigns based on your goals. So, you don't need to start from scratch to build a viral giveaway that converts.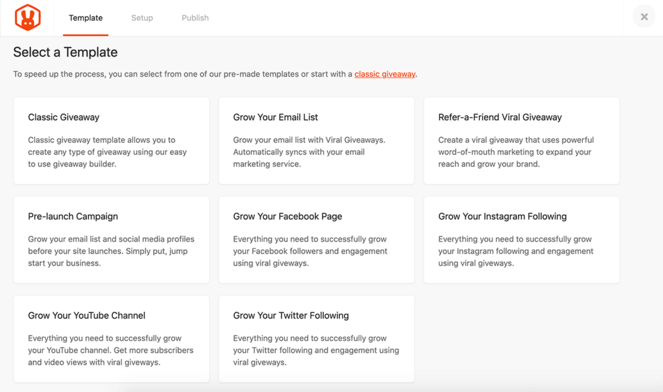 You can select a pre-made template based on specific goals such as:
Grow Your Email List
Grow Your Instagram Following
Grow Your YouTube Channel
Refer-a-Friend Viral Giveaway
And more…
Each template is already set up with the proper giveaway entry actions that you need.
For example, the Grow Your Email List template comes built with the Join an Email Newsletter entry action which gives participants extra entries for signing up for your email list.
Plus, it includes the option to show an optin checkbox confirmation to help with GDPR compliance.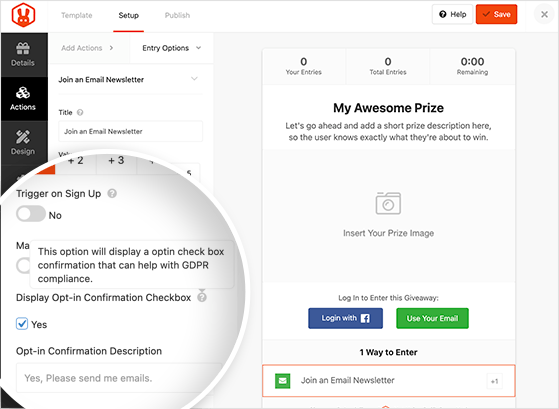 You do have the option to build your giveaway campaign from scratch, but the templates make it easier to create a successful giveaway in minutes.
3. Giveaway Landing Pages
RafflePress comes with pre-built landing pages to promote your giveaway. A giveaway landing page will help your contest get more entries because it's distraction-free.
There's nothing else on the page like navigation menus, sidebars, or other irrelevant content to distract users from taking action.
There's only one action they can take on the page: Entering your giveaway!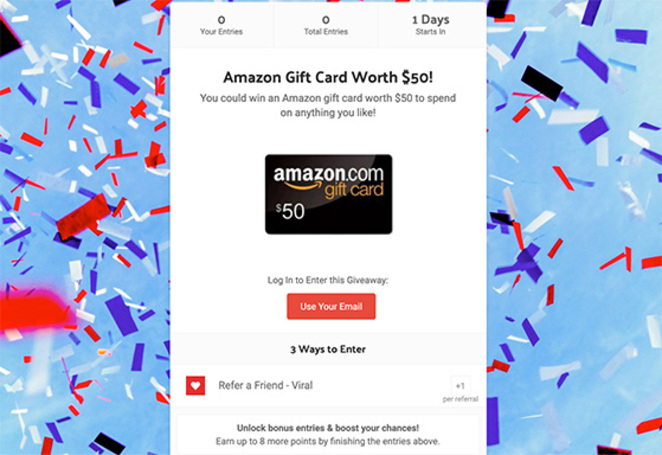 The RafflePress giveaway landing page includes all of the important elements an optimized landing page needs like:
Headline
Entry rules and guidelines
Images
Simple entry forms
You can even add a custom background image to your landing page to make it unique to your blog.
4. Email, CRM, and Social Media Integrations
When using a tool for your website, it's important to make sure that it integrates with your existing services and plugins so it's easy to connect and set up your campaigns.
RafflePress integrates with the most popular email marketing services. This makes it possible to automatically add new subscribers to your email list as they enter your giveaway so it's easy to track new signups.
Some of RafflePress's integrations include:
Mailchimp
Constant Contact
AWeber
Drip
GetResponse
ActiveCampaign
You can also connect RafflePress to over 500 services with the Zapier integration.
5. Responsive & Mobile-Friendly
If your campaign is slow or doesn't load properly on some screens, it's less likely to convert visitors into participants. It's important to make a good first impression so you can keep your brand credibility and have a successful contest. You only get one chance to wow your audience, and doing so can make all the difference.
Because RafflePress is 100% mobile responsive, it looks great on any device. Whether visitors are on tablets, smartphones, or desktops, they'll enjoy an equally positive user experience when engaging with your giveaway.
RafflePress even lets you preview what your campaign will look like on different devices so you can make sure they appear exactly how you want them to.
6. Easily Manage Giveaway Entries
With RafflePress, managing the many entries your contest will receive is simple and you can do it all from one place.
You can see everyone who entered your giveaway right from the WordPress dashboard. It includes details like the email, name, whether the email was verified, and how many entries they earned.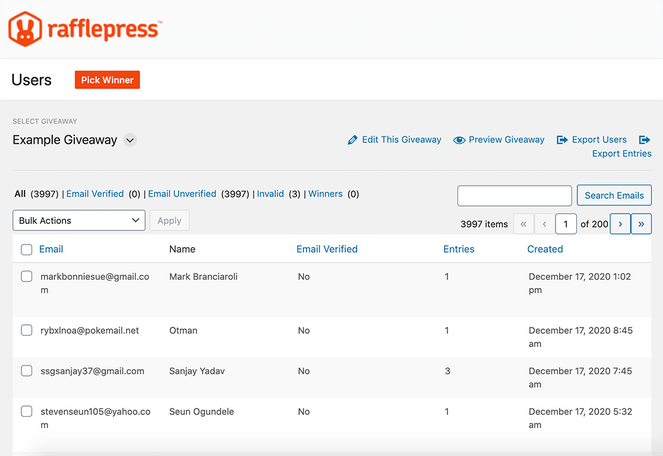 Selecting a winner for your giveaway is a breeze too. With the built-in random winner generator, you can automatically pick a random winner from the qualified entries.
7. Other Powerful Features
RafflePress also comes with other powerful features we don't want to skip on sharing with you.
Some of these include:
With RafflePress, giveaway participants can submit user-generated content like photos to enter in your giveaway. You can then use those photos as social proof to show other visitors that your brand is trustworthy and worth interacting with.
The process of having participants submit their own content is super simple and easy to navigate through: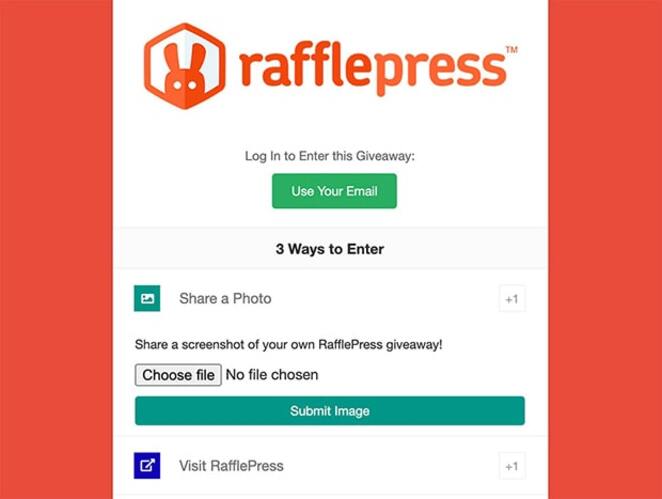 And because they're getting extra giveaway entries, they'll be likely to participate.
The easier it is to enter your giveaway, the more submissions you'll receive.
With one-click entry, users don't have to spend time filling out various form fields and figuring out your campaign. Instead, they can enter with just one click: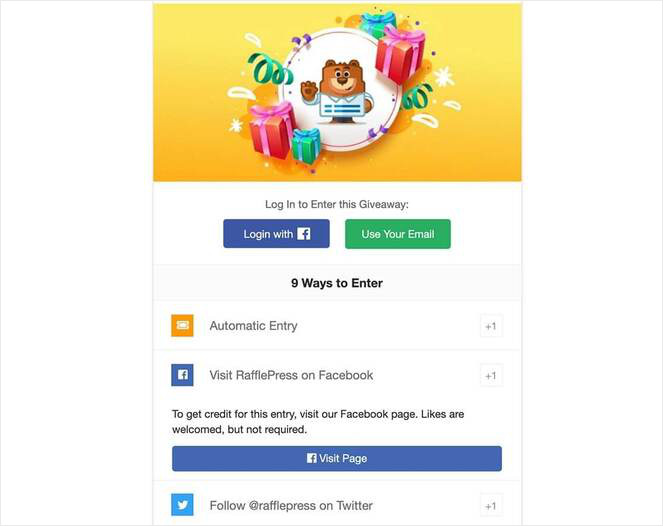 Part of what makes a plugin successful is how it caters to the audience and simplifies processes. Taking out the tedious work of entering information guarantees you more signups so you can run a successful online giveaway.
It's crucial to ensure that your giveaway gets enough promotion so can drive as much traffic to your blog as possible.
RafflePress's Refer-a-Friend entry action makes it easy to spread the word about your giveaway and get more people to enter. It rewards participants with extra entries for sharing the giveaway on social media or through email.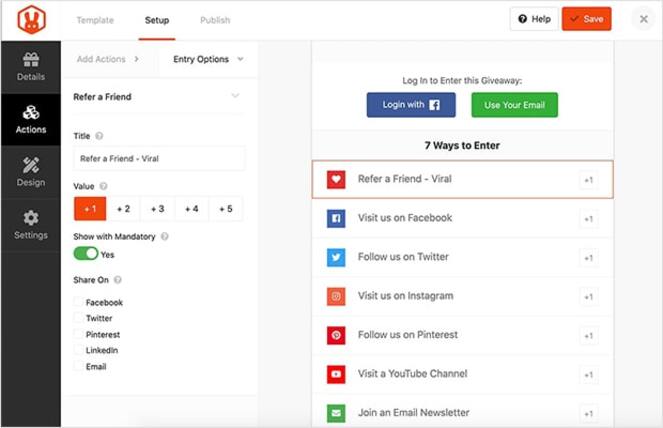 When one person shares with a friend, that friend might share to their social platforms, and so on. This starts a chain reaction of users promoting your campaign while entering your giveaway.
It's important to track your campaign's progress to see how it's performing with your audience and to create more effective giveaways in the future.
RafflePress comes with built-in tracking that makes it easy to measure your campaign's success. All you have to do is enter your Google Analytics tracking code and see your results in your Google Analytics dashboard.
And with retargeting, you can bring users back to your giveaway to boost its conversions and increase entries.
RafflePress Cons
We couldn't find many cons that come with RafflePress, but there are a couple of things to consider before purchasing.
1. Only for WordPress Sites
If you run your blog on a platform other than WordPress, you won't be able to use RafflePress. RafflePress is a WordPress plugin exclusively built for WordPress websites.
So, you'll have to switch to WordPress to take advantage of this powerful tool.
Additionally, RafflePress is not compatible with the WordPress.com platform, you need to have a self-hosted WordPress.org blog. Read this article to learn more about the difference between WordPress.org and WordPress.com.
We recommend WordPress.org to create your blog as it gives you full control over your website. You can create your site exactly how you'd like it since it's open-source software.
Check out our post on the best blogging platforms to learn more so you can choose the right option for your needs.
2. Free Version is Limited
RafflePress Lite is the free version of the plugin that comes with the basic features you need to create a giveaway campaign for your blog. If you're working with a limited budget, you can use the Lite version to reach your goals and drive traffic to your website.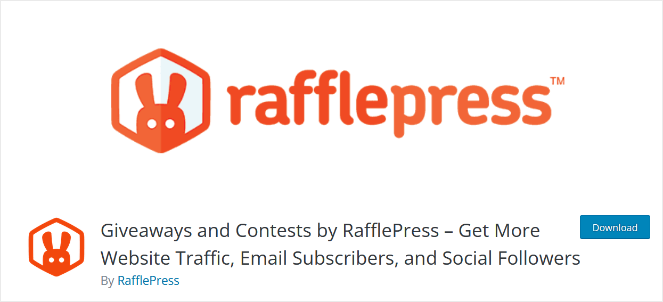 With RafflePress Lite, you still get:
Quick and easy installation
Drag and drop builder
One giveaway template
Mobile-responsive campaigns
Facebook, Twitter, Instagram, and Pinterest follow or visit entry actions
And more…
But if you're looking for more powerful features and flexibility, you're better off upgrading to a paid subscription.
A paid plan in RafflePress grants you access to premium features including:
One-click entry
Many pre-built templates
Email marketing integrations
Multiple prize options
Pro giveaway entry actions
Giveaway design options
And much more…
To get the most out of RafflePress and create stunning, attention-grabbing campaigns, we recommend switching to a paid plan. This will help you reach a larger audience and support your blog as it grows.
RafflePress Pricing & Support
You might be wondering how much RafflePress costs if it comes with such powerful features and flexibility. The good news is, you don't need to break the bank to reap the benefits of this plugin.
RafflePress offers 4 premium subscription plans: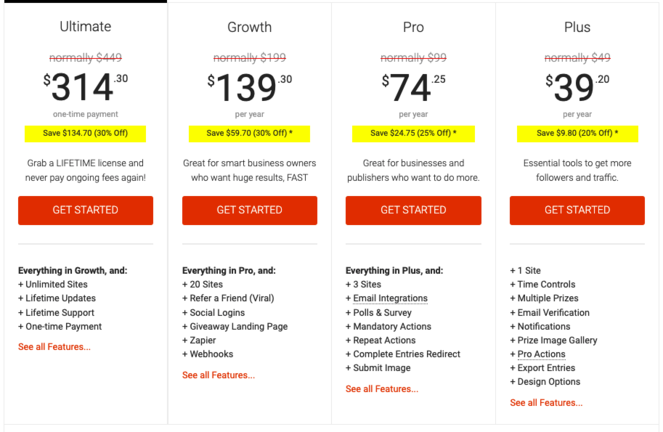 Plus: $39 per year for 1 site
Pro: $74 per year for 3 sites
Growth: $139 per year for 20 sites
Ultimate: $314 one-time payment for unlimited sites
You can easily find a plan that gives you everything you need while staying within your budget.
RafflePress also offers amazing customer support and plenty of documentation and tutorials to guide you if you ever get stuck.
Verdict: Is RafflePress the Best Viral Giveaway Plugin?
As we reach the end of this in-depth review, we've come to the conclusion that RafflePress is the best giveaway plugin for WordPress.
It comes with all of the features and integrations you need to create a successful giveaway campaign that goes viral. It's also super beginner-friendly so that anyone can take advantage of its features and easily create an online contest.
---
We hope you enjoyed and benefitted from this RafflePress review so you can find the right tools for your blog.
For more helpful content like this post, be sure to check out our OptinMonster review. It has everything you need to make an informed decision about whether or not this lead generation tool is the best for growing your email list.
Lastly, don't forget to sign up for our email newsletter for more helpful blogging tips!