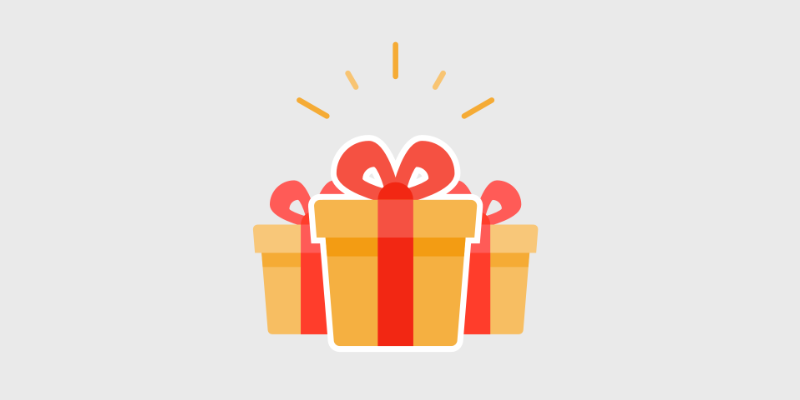 N eed help thinking of awesome giveaway ideas for your blog? In this article, we'll share different ways for you to run a successful online giveaway to boost conversions and drive engagement.
When you start a blog, you need to come up with creative ways to boost its visibility, drive traffic to your website, grow your email list, and get more followers on social media.
That's where giveaways come in.
Online giveaways create excitement for your blog and encourage your audience to take action. People jump at the chance to win prizes, so you can easily get people to subscribe to your newsletter or follow you on social media with a contest. Plus, you can attract both returning and new visitors to your giveaway campaign so that you can grow your blog quickly.
If you're not sure what type of giveaway to run on your blog, we'll share some awesome giveaway ideas that you can use.
But, before you create your viral giveaway, you need to choose the right tool for your WordPress site.
Creating a WordPress Giveaway with RafflePress
To create an optimized giveaway, we suggest using RafflePress.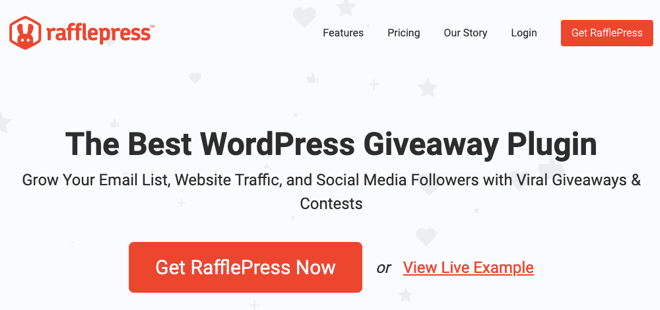 RafflePress is the best giveaway plugin for WordPress. Both beginners and experts alike can take advantage of RafflePress's powerful features and set it up within minutes.
RafflePress comes with a drag-and-drop builder and viral giveaway templates so it's easy to create an optimized giveaway in no time. It also provides fraud protection and one-click entry so it's a breeze for users to enter and participate in your online giveaway. And RafflePress is 100% mobile responsive and looks great on any device.
RafflePress also has built-in social sharing features so you can boost your giveaway's visibility and increase entries. And it integrates with the most popular email marketing services so you can set up, manage, and grow your email list.
Plus, RafflePress has bonus actions that reward participants with extra entries for performing specific tasks. This is the perfect way to reach your blogging goals whether it's to get more newsletter subscribers, increase pageviews, or grow your social media following. More on that later…
Now, let's dive into 15 killer giveaway ideas you can use for your WordPress blog.
1. Blog Post Writing Contest
A great way to let your readers tap into their creativity is by hosting a blog post writing contest. Participants must write a blog post about a given topic and publish it on their website for a chance to win a special prize.
If bloggers post articles about your giveaway on their site, they're introducing their own audience to your brand. This ramps up your giveaway's number of entries as well as visitors on your site. It's also a great way for beginner bloggers to grow an audience and get more eyes on their content.
RafflePress makes it easy to create a blog post writing contest with its Write a Blog Post action: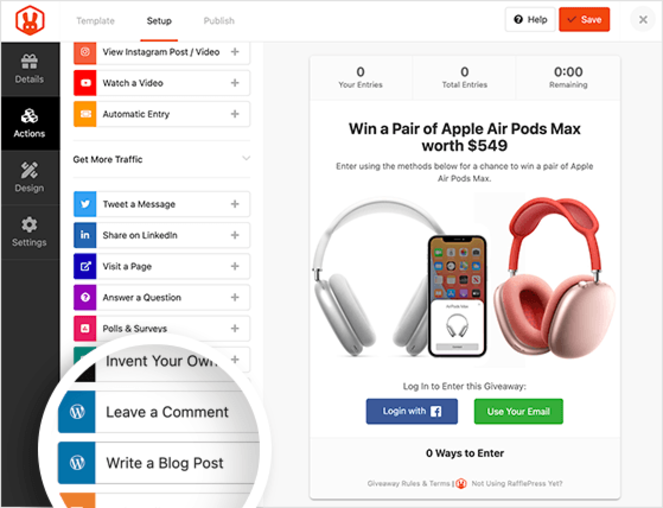 You can add this action to your giveaway with the click of a button.
From here, you can add more details about the requirements of the blog post, what you're looking for, and more, to ensure the best results. When they're ready, users can post a link to their published blog post to officially enter.
2. Photo Contest
You can also encourage your audience's creativity and participation by creating a photo contest where the best image wins a prize.
Photo contests are especially useful for photography blogs where images are the most popular type of content and they're relevant to the theme.
Here's an example of a photo contest from Photocrowd that has over 1,500 entries: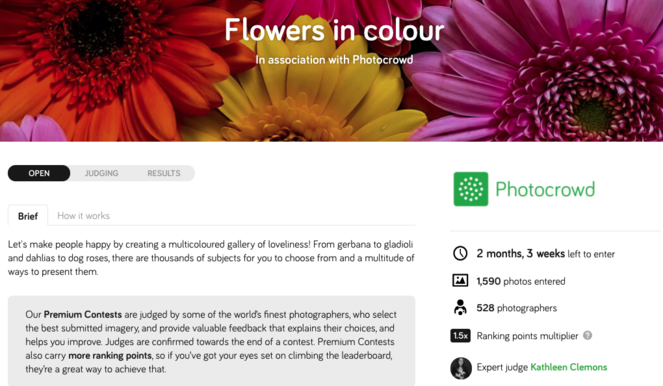 You can also run a photo contest where users snap a photo that represents your business or features your product and upload it to their social media. The photos created as a result of this type of contest are a form of user-generated content that will help you bring more attention to your brand and build social proof.
RafflePress makes it easy to create an optimized photo contest by enabling participants to submit an image: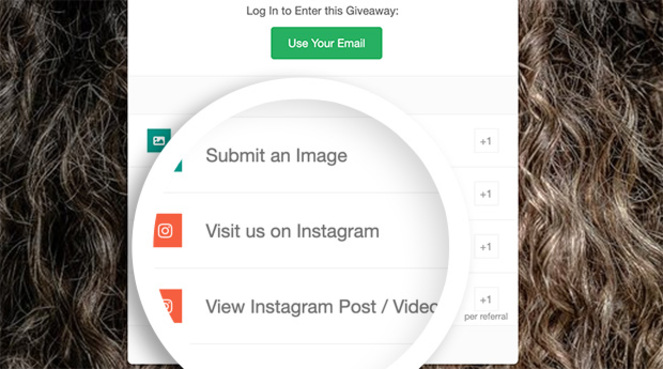 Once you have enough entries or the time limit is up, you can choose the winner based on the best photo or pick one at random.
3. Instagram Hashtag Giveaway
To make your blog giveaway stand out, you can create a branded hashtag that participants have to add to their social media post when entering. Branded hashtags are created specifically for your brand or campaign so its content is specific and easy to find. When users click on these hashtags, they're shown relevant content and social posts.
Audi created the hashtag #WantAnR8 when they launched their new model. People who added the hashtag to their social media posts were then picked at random for a chance to test drive the car. Using a hashtag for this campaign made it easier to reach the right audience and collect more user-generated content.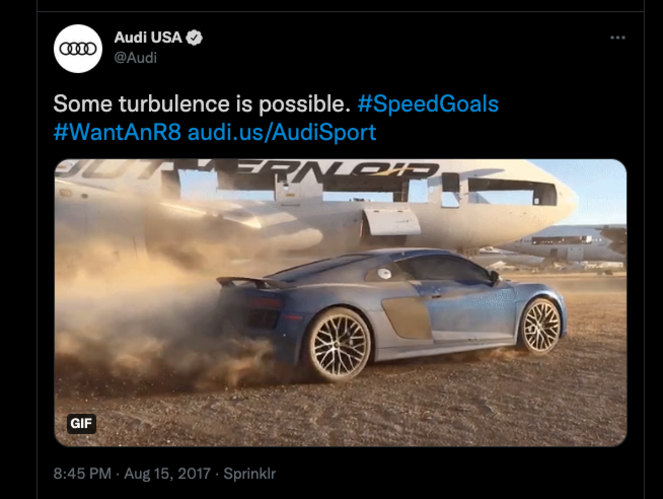 Branded hashtags do a few things for your blog giveaway, like:
Track its performance and engagement.
Start a conversation around your brand.
Build brand awareness for new users in your target audience.
Promote new content, campaigns, and products.
Grow your social media following.
When people upload their content to social media with your branded hashtag, you might want to display the feed on your website to showcase your new social proof and promote your social platforms to website visitors.
You can do this using Smash Balloon.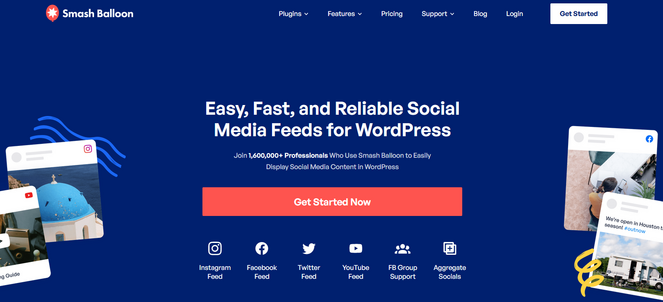 Smash Balloon is the best social media feeds plugin for WordPress. It allows you to display and manage beautiful social feeds on your website so you can grow your following and boost social engagement. There are plugins for Instagram, Twitter, Facebook, YouTube, and a Social Wall plugin that combines all 4 social media platforms into one feed.
Here's an example of an Instagram hashtag feed created with Smash Balloon's Instagram Feed Pro: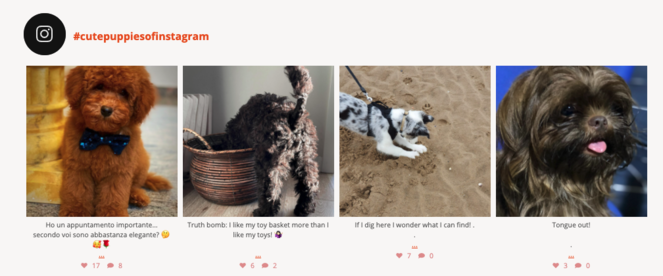 Smash Balloon comes with a reliable backup caching system, multiple feeds with no limitations, post caching for speedy loading times, and much more. It's fully customizable so it matches your WordPress theme and branding. It's also beginner-friendly, takes only minutes to set up, and is 100% mobile responsive.
You can try out Smash Balloon for free. But, you need to upgrade to the pro version to display hashtag feeds on your website.
4. Trivia Contest
With this giveaway idea, you have the chance to put your audience's wits to the test by creating a trivia contest. People love to test their knowledge so trivia contests can be really interactive. They're a great way to ramp up excitement for your brand and attract new visitors to your site and social media platforms.
Try running a trivia contest or giveaway that has one correct answer. If more than one person submits the correct answer, you can choose a winner at random using RafflePress's random winner generator.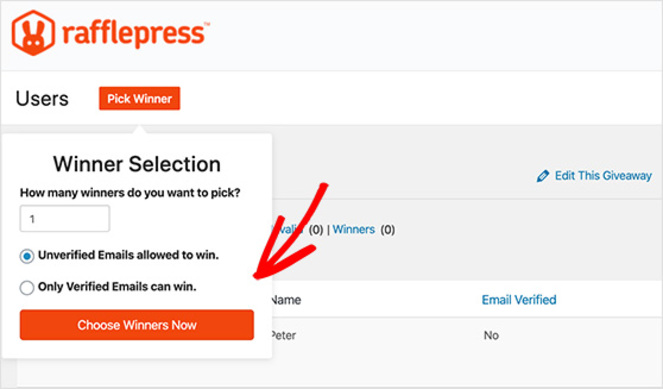 To keep your audience engaged and drive traffic to your blog, try to relate the question to your brand. This adds relevance to your campaign and attracts the right viewers so that they're more likely to convert on your site.
For example, this Kia dealership ran a trivia contest where the question was about the Kia brand of car: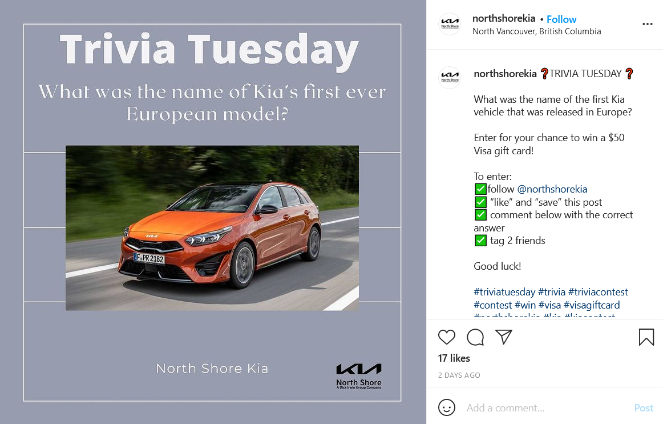 This attracts people that are interested in Kias or cars in general, which is the dealership's target audience.
5. Guessing Game
Another fun way to get people involved in your blog giveaway is by hosting a guessing game. This adds another layer of competition when participants need to guess something specific which encourages them to engage further.
When creating your guessing game contest, think of how you can make it relevant to your brand. You want to send relevant messages to your audience through your campaigns so it's important that they fit your blog niche.
For example, if you run a finance blog, you could fill a jar with coins and ask people to guess how many there are. If you have a food blog, you could display candies in a container. As long as it fits the theme of your blog, you're better off attracting your target audience.
6. Selfie Contest
A selfie contest requires participants to submit a photo they've taken of themselves to qualify for your blog giveaway. It's a form of user-generated content that gets your audience involved in your brand and helps you build a connection with readers old and new.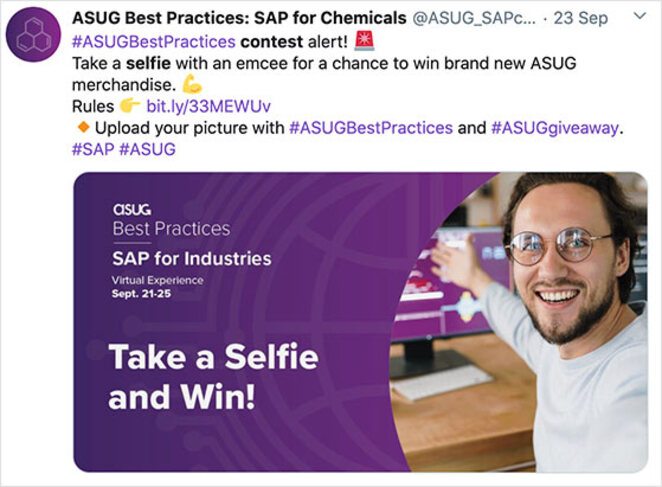 You can ask users to upload their content to social media and add a hashtag.
Or, you can make things more simple by letting users submit their photos straight to your WordPress site using RafflePress. Simply choose the Submit an Image action when creating your campaign so participants can upload their selfies.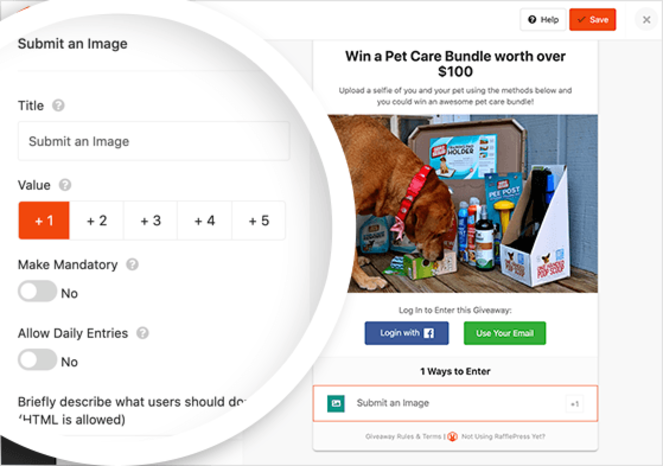 RafflePress allows you to make this entry action mandatory so users have to submit a photo to enter your giveaway. You can also let users submit a photo daily if you want to accept multiple submissions from one user.
7. Simple Enter to Win Giveaway
Making your giveaway super simple ensures that more people participate. Enter-to-win giveaways are easy to interact with and allow you to collect more entries because all participants have to do is submit their information to enter for a chance to win the prize.
Speaking of prizes…
Gift cards are a great prize idea for your giveaway campaign if they're relevant to your blog. So, if you run a food blog, you could give away gift cards to popular restaurants or grocery stores. It suits your audience's interests and is likely to garner more entries than a prize that doesn't relate to your brand.
In this example from Vyper, a popular YouTuber that reviews movies, he used a Netflix gift card as his giveaway prize. It suits his target audience and makes it easy to convince his viewers to enter for a chance to win: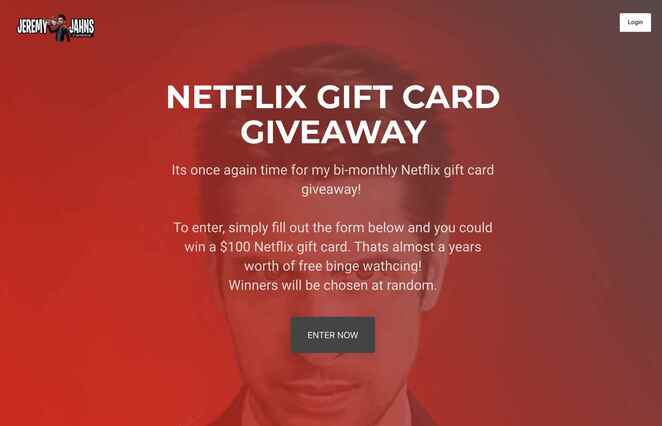 But, as we mentioned earlier, RafflePress has actions that will help you increase conversions for your blog. So, we recommend adding entry actions so that you can get more out of your giveaway campaign.
If you want to build your email list, for example, you could use the Join an Email List action. This gives you direct access to participants so that you can send email marketing campaigns and offers they're likely to engage with in the future.
8. Fill in the Blank
Another way to make a competitive giveaway that people want to participate in is by running a fill-in-the-blank contest. For this campaign, you post a sentence with a missing word or phrase. The best answers win the giveaway. You can either choose the most creative, relevant entries or have only one correct answer for this type of campaign.
In this example by WINK Unisex Salon, participants must submit "quirky" comments for their entry. The brand will then choose the 3 best comments as the winners of the contest.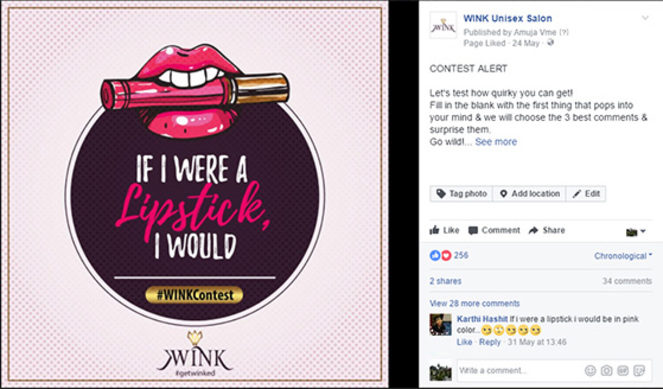 You can easily create this type of giveaway campaign using RafflePress. Simply add an image of your sentence with the blank to your prize image widget. Then, select the Answer a Question option to ask users to submit their entry.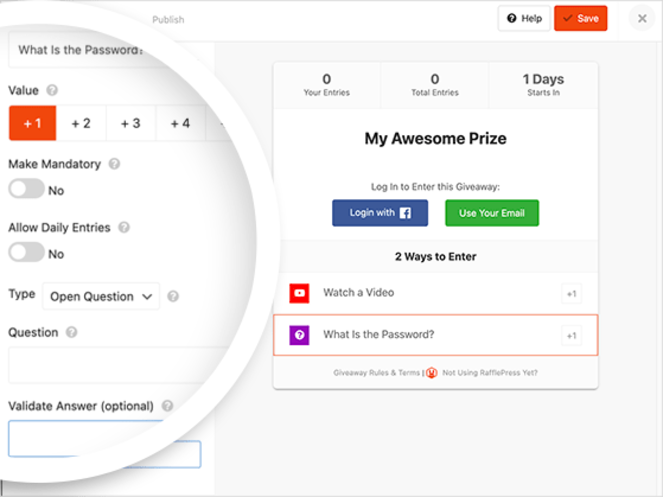 9. Referral Giveaway
With referral giveaways, you can boost brand awareness, skyrocket website traffic, increase sales, and much more. These types of giveaways require participants to send the giveaway details to other people. This allows even more people to see your giveaway.
Giveaway contestants can refer a friend in several ways such as:
Sharing your giveaway on social media platforms like Twitter, Facebook, and Instagram
Tagging friends in your social media giveaway post
Sending a referral link to others through email and social media
Sending a link to your giveaway landing page
In this example from Genesis Health Fitness, they hosted a refer-a-friend giveaway where each referral counted as one entry: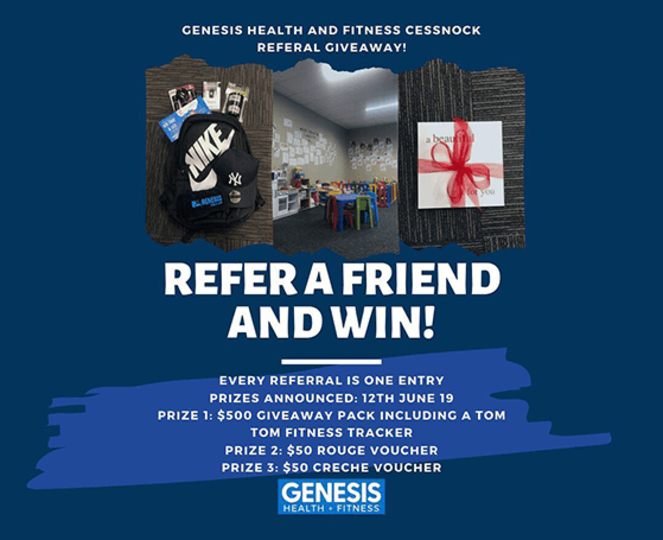 If you want your giveaway to go viral and to be able to boost traffic and sales through referral marketing, you can use RafflePress' Refer a Friend giveaway action.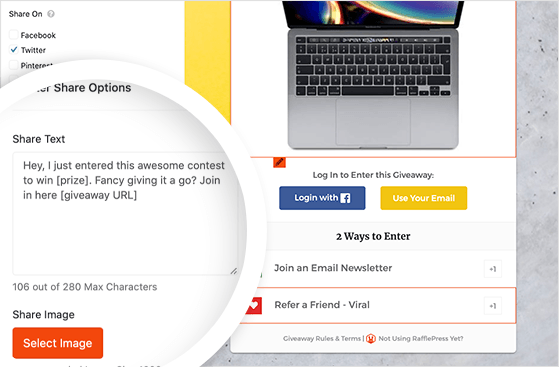 With RafflePress, you can choose the platforms where you want participates to share your giveaway and you can even provide them with a sample message, including the URL, that you want them to share.
10. Check-in to Win Giveaway
If you have a brick-and-mortar business, then a check-in giveaway is a great option for you. It's the perfect way to get local visitors involved in your giveaway and attract new customers in your area.
A check-in to win giveaway requires participants to visit a location and then check in on Facebook to win a prize.
Here's an example of a Facebook check-in giveaway where participants need to check-in with a live video from the event to enter: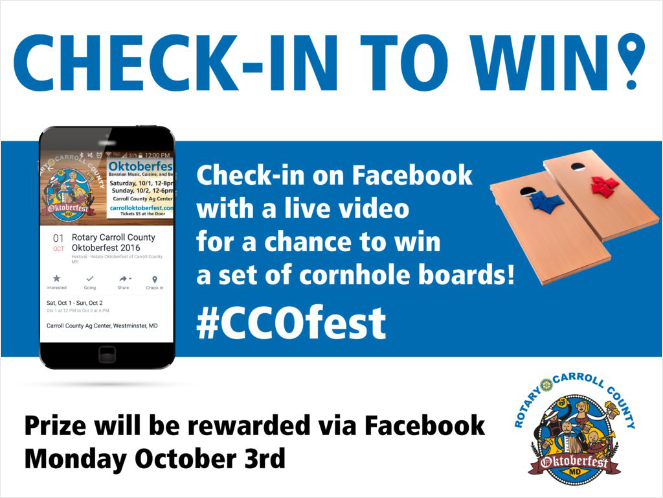 When participants check-in to your business on Facebook, the post will show up in their friends' feed introducing new people to your company. So, you have the chance to boost your Facebook following and engagement, and possibly generate new sales at the same time.
11. Caption Contest
Many bloggers use images and photos to spice up their content and improve user engagement. So, you can run a caption contest by displaying a photo either on your website or on social media and asking users to submit a relevant caption. Participants get to put their creativity to the test while you get to enjoy their answers.
You can sort through the submissions and manually choose a specific entry based on what you're looking for. Many brands use this to add humor to their campaigns by picking which entry is the funniest or most laughable.
This example from Cartoon Stock allows participants to create their own funny captions to a specific cartoon: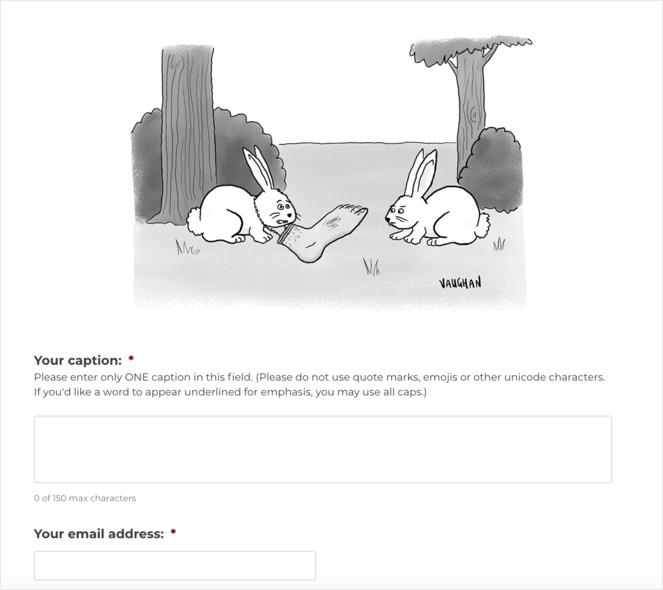 12. Do It Yourself (DIY) Contest
Another great way to get your visitors more involved is by running a DIY, or do it yourself, contest. It allows your audience to engage with your blog by creating something of their own.
If you run an arts and crafts blog, you can ask users to create their own version of a project and submit photos as entries. Or, they can create a video tutorial on the step-by-step process and you can choose the best video submission.
In this example by Instructables, participants must create their own fashion piece for the chance to win the giveaway prize of a $400 digital gift card: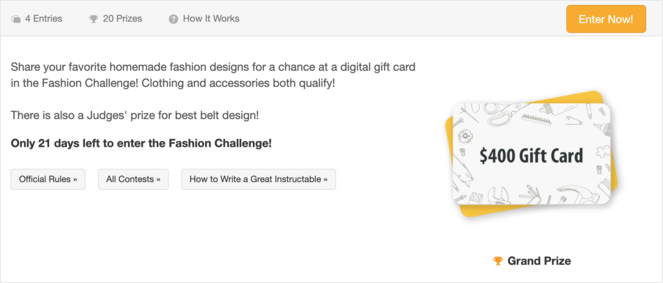 Contests like these help to build a stronger relationship with your audience by involving them in your brand and reviewing their content. It's likelier that these participants will continue coming back to your blog and engage in future giveaways.
13. Comment to Win
Another popular giveaway idea for blogs is creating a comment to win contest. The winner is picked at random and anyone who enters has an equal chance of winning the prize.
You can choose to have participants comment on your blog or on social media, depending on your goals.
If you want to run your giveaway on Twitter, RafflePress has a Grow Your Twitter Following template. It automatically populates your contest widget with Twitter-specific entry methods for the best chances of converting users. It includes the option to tweet a custom message and follow you on Twitter as well.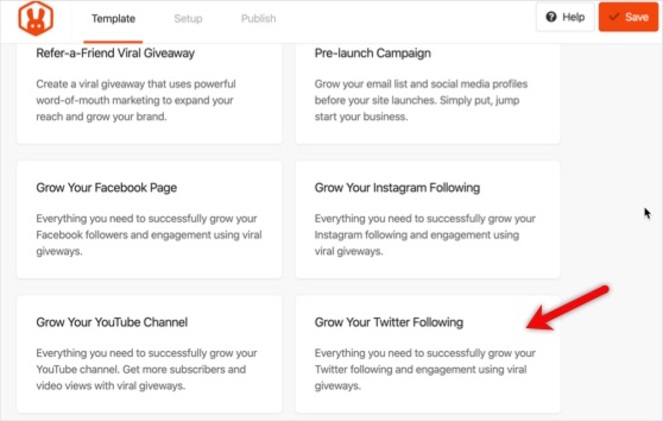 After selecting the template, you can use the Leave a Comment action to convince users to comment on a specific tweet. Paste the tweet's URL and tell participants to comment to enter the giveaway. They can then post their comment link to show that they entered according to the guidelines.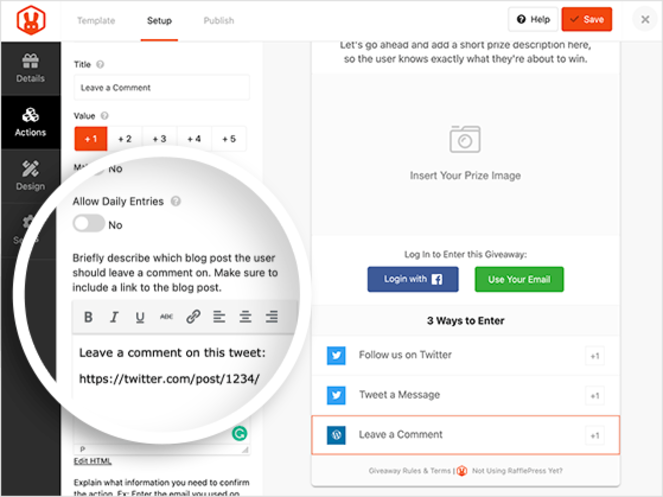 This method helps you keep track of those who entered properly and those who didn't so you know whose entries to count.
14. Voting Contest
You can also get your blog readers more involved in your giveaway by letting them vote for their favorite entries. This gives them more of a voice in who wins the prize based on the best answer, photo, etc.
If you have a surplus of entries, you can break it down into 2 separate contests. For the first one, you can choose the top 3 finalists with the most votes. For the second contest, you can have participants vote on their favorite from the select few.
RafflePress's Polls and Surveys action makes this easy to do.
First, upload a photo grid of the final images and ask participants to vote for their favorite. Then, they can submit their choice using the giveaway widget.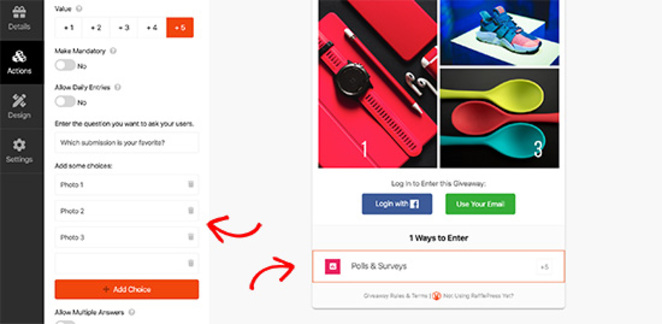 15. Video Contest
Video content has proven to grab users' attention and boost engagement, so running a video contest can be the perfect way to attract new people to your blog.
A video contest can also help you increase YouTube likes, comments, and subscribers for your channel so you can develop your brand on that platform.
To win your contest, you can have users create a product review, testimonial, or any other type of video content to compete with other participants.
RafflePress has an "Invent Your Own" giveaway action in its drag-and-drop builder so it's easy to let users submit video content for your giveaway. Users can upload their videos to YouTube and post the link in your giveaway widget.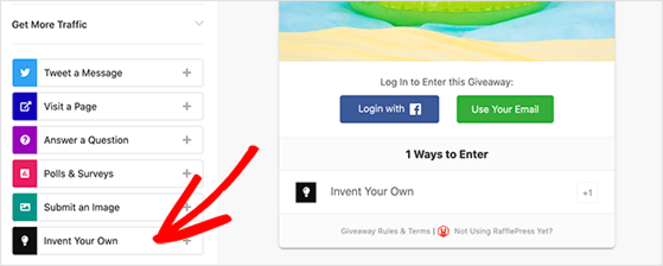 To promote the video entries you receive, you can embed a YouTube playlist on your blog with Smash Balloon's Feeds for YouTube Pro.
This will allow your website visitors to watch the videos right from your blog, which will keep them on your site longer.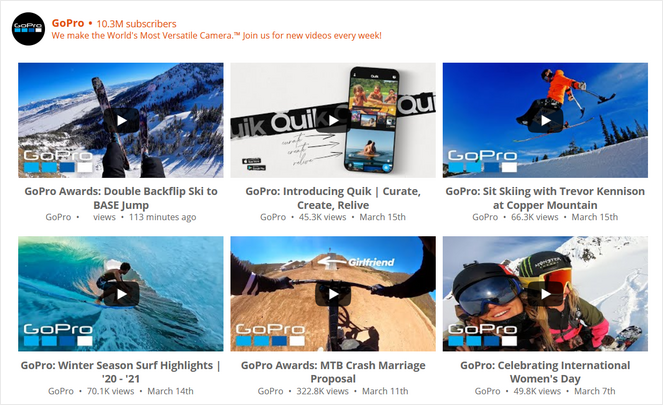 ---
And there you have it!
You can use these giveaway campaign ideas for your blog to increase conversions, grow an email list, build brand awareness, and much more.
We hope you found this list of ideas useful so you can apply them to your own campaigns. If you enjoyed it, let us know in the comments below.
And if you liked this post, you might want to check out how to promote your blog for more ideas.
Lastly, be sure to sign up for our email newsletter so you can receive similar content straight to your inbox!