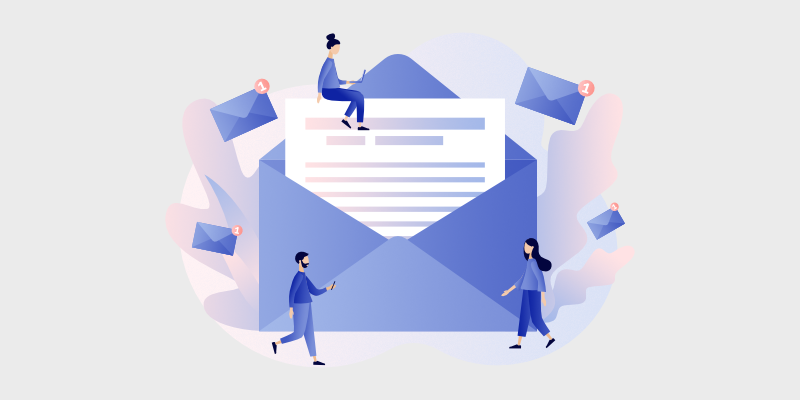 A re you looking for email newsletter ideas that will interest your subscribers? In this article, we'll share fun and fresh email ideas that you can use for inspiration.
One of the most important parts of creating a blog is growing your audience and forming a connection with readers. And one of the best ways to do that is with an email newsletter.
But, if you're new to email marketing, you might be wondering: How do you write an interesting email newsletter?
In this article, we'll share a bunch of cool email newsletter ideas to help you out. With these ideas, you can create an awesome newsletter content strategy and take your blog to the next level.
Let's get started!
What is an Email Newsletter?
A newsletter is an email that you send to your subscribers on a regular basis, whether it's weekly or monthly, to keep them updated on your blog, share tips, receive feedback, and more.
Here's an example of an email newsletter to give you a better idea.
In this simple newsletter example, the blog IsItWP recommends a WordPress plugin that will help their readers automatically share blog posts to social media: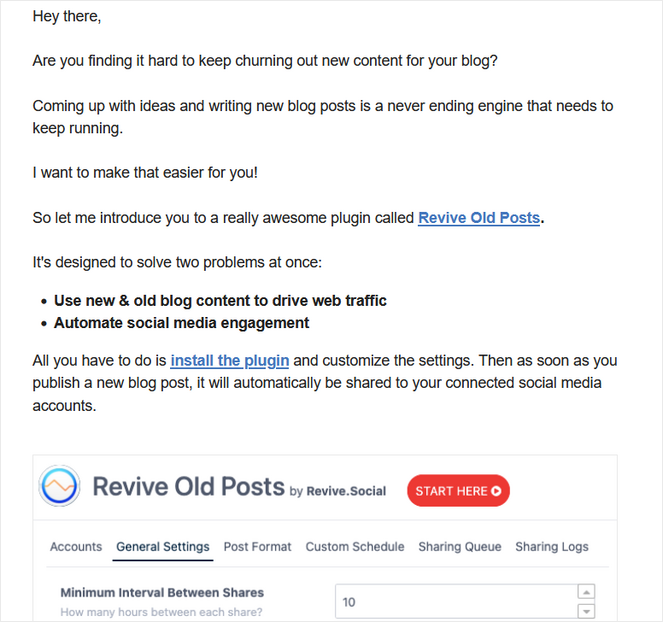 When subscribers click on the link in the newsletter, they'll be taken to a blog post on IsItWP that reviews the plugin, which helps drive traffic to the website.
And this is just one way to use your email newsletter to grow your blog and build a relationship with your audience, we'll share more ideas later.
But, it's also important to understand the importance of a newsletter so you can get the most out of it…
Why Use an Email Newsletter?
Each person who explores your website is a potential customer and lifelong reader. Without getting their information and opening the door to future communication, your blog misses out on valuable conversions and engagement.
Publishing a consistent newsletter allows you to build strong connections with your audience, drive traffic to your blog, promote products to boost revenue, and much more. You can guide your readers to the exact content that needs views, engagement, or sales.
Email newsletters are a direct line of communication between your blog and its invested visitors. And because most people check their email regularly, they're likely to see your newsletter and respond.
Now that we know the importance of using email marketing, let's get into the list of ideas you can use for your newsletters.
Best Email Newsletter Ideas for Bloggers
Creating an email newsletter doesn't have to be a painful process. These email newsletter ideas will help you spark your imagination and think of new, creative ways to appeal to subscribers and keep them interested.
1. Answer Questions
One great idea is to use your newsletter as a way to answer the questions your audience is most curious about. Think about the questions your readers ask you in your blog comments, answering them can boost engagement and retention as well as position yourself as an authority in your niche.
If you receive the same questions frequently, you can create an FAQ newsletter to send to new subscribers so they have the basic information they need.
You can also use Quora to search for relevant keywords and see what your target market is asking about: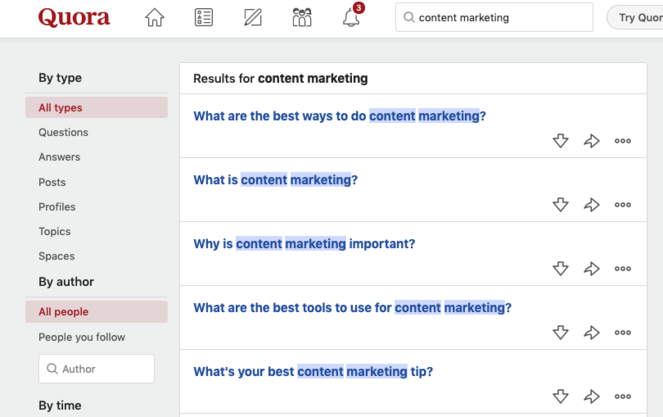 Using the questions about content marketing in the example above, you could create potential newsletter topics like:
The benefits of using content marketing
The best tips for content marketing
The best tools for content marketing
While these examples are pretty general, they give you an idea of how you can use questions like these to brainstorm newsletter content.
2. Interview Industry Experts
Industry experts have a lot of knowledge and wisdom to share. On top of that, people like hearing from professionals who inspire them and can guide them to where they want to be.
You can create newsletter content with interviews from industry leaders with valuable insight. Because they're successful, your audience will take their advice seriously.
Sending your subscribers this type of content will motivate them to be successful themselves and continue to follow up with your newsletter.
If you can get a guest post from the expert, it can encourage readers to click through to your website and explore your content further too.
And you don't have to interview professionals personally, either. If it's not possible, you can also dig through old interviews and round up the best pieces of advice.
3. Share Personal Anecdotes
Whether you realize it or not, your own experiences can be a great source of inspiration for your audience. As a blogger they follow, they look to you for tips and tricks on how to solve problems or get ahead.
Do you have a personal anecdote you can share with your audience that taught you something valuable about your life or business? It doesn't have to strictly relate to your niche as long as it provides a bigger lesson that can resonate with your readers.
4. Run a Giveaway
Who doesn't like to win free things? Running a giveaway in your email newsletter is a great way to boost engagement and get your subscribers excited about your content.
In this example, VRBO ran an online giveaway where users could enter to win a free ski trip with friends: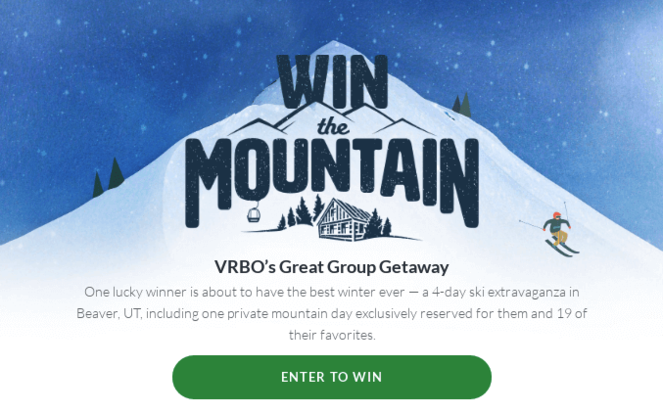 Aside from providing you with interesting newsletter content, an online giveaway can boost your blog visibility, grow your social media following, drive traffic to your website, build your email list, and so much more.
But, only if you use the right giveaway tool that provides participants incentives to take action…
To run an optimized giveaway or contest, we recommend RafflePress.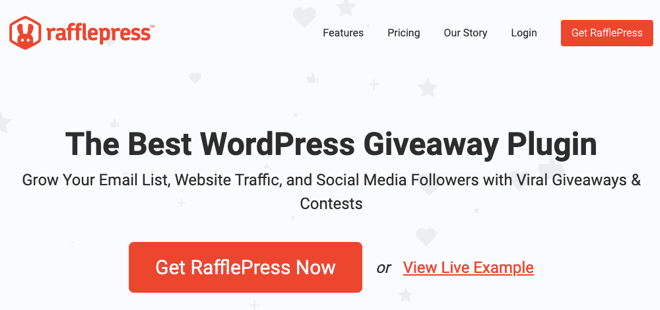 RafflePress is the best giveaway and contest plugin for WordPress. RafflePress makes it easy for anyone, even beginners, to create a stunning giveaway campaign that converts. It comes with a drag-and-drop builder, pre-built giveaway templates, one-click entry, fraud protection, and more.
The best part is that you can require users to perform certain actions to gain extra entries to your giveaway, such as:
Joining your newsletter
Sharing the campaign on social media
Leaving a comment
Answering a question
Subscribing to your podcast
If you require users to join your email newsletter to enter your giveaway, it'll look something like this: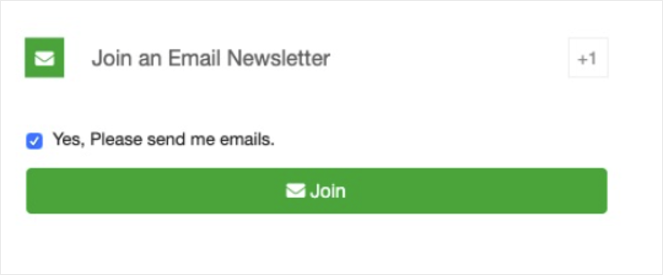 From there, you'll have new visitors who are interested in your email content and feel excited about the chance to win a prize. If you continue sending them relevant, engaging newsletters, they'll stick around even without a prize.
5. Share Exclusive Tips
If you share exclusive tips in your email newsletter, your subscribers will really feel like they're a part of something special.
So, if there are any tips or tricks that you haven't written about on your blog yet, be sure to create some email newsletters to spill your secrets.
Sharing exclusive content is also a great way to boost newsletter signups. If users know that subscribing to your newsletter will help them in some way, they're likelier to subscribe.
You can create an optimized newsletter signup form that tells users what exclusive content they'll get access to by signing up: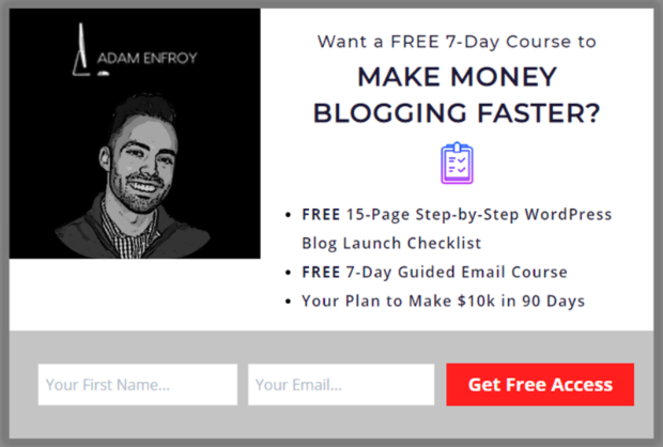 People already have flooded inboxes as it is, so telling users exactly what you're sending them increases their chances of signing up.
To create these email optin popups and forms, we recommend using OptinMonster.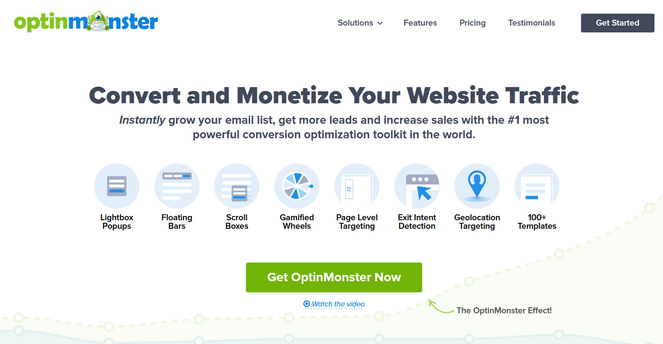 OptinMonster is the best lead generation plugin for WordPress. With this tool, you can easily create eye-catching popups to grow your email list, recover abandoned carts, and more.
OptinMonster is super beginner-friendly and its drag-and-drop builder makes it easy to customize your popups however you'd like. Choose from inline forms, slide-in scroll boxes, floating bars, sidebar forms, and other campaign types.
6. Promote Your Latest Video
If you've recently done a Facebook Live video or uploaded a new vlog on YouTube, you can promote it to your subscribers in your email newsletter.
This is the perfect way to boost your views and encourage your blog readers to follow your content on other platforms.
Instead of just adding a link to your video and telling subscribers to check it out, write a summary of the video in your newsletter to get people excited about watching it.
And if you don't produce any video content of your own, you can also share videos by other creators that you think would be relevant, entertaining, or helpful to your audience.
7. Offer Exclusive Deals and Promotions
Most of the time, people sign up for newsletters because they know they'll receive coupons, discount codes, and access to promotions they otherwise wouldn't have. If you have products or content to sell, this is a great way to boost sales.
For example, in their newsletter, Blue Apron offers email subscribers a $30 off coupon towards their next purchase: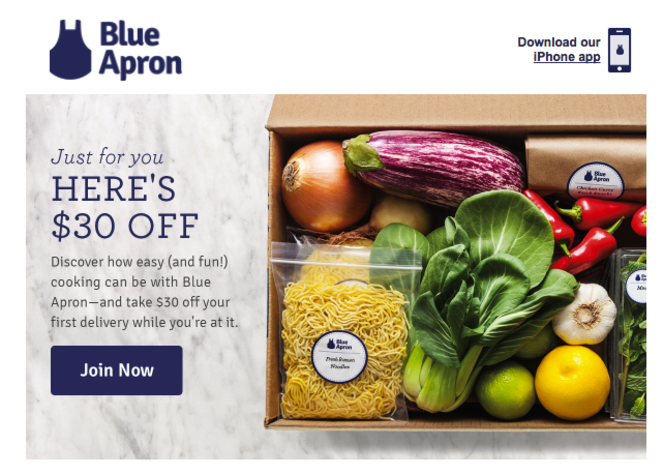 Non-subscribers don't have access to this particular discount code, which makes it a great way to build an email list with loyal customers.
8. Share Your Latest Blog Post
Not all of your subscribers will visit your blog every day, so it's important to give them that push.
That's why a popular email newsletter idea is to inform subscribers about a new blog post you've published on your website. Because they've signed up for your email list, you already know they're interested in your content. This makes it an easy way to drive traffic back to your website and encourage engagement.
The cloud computing company DigitalOcean dedicates an entire section of their newsletter to their new blog posts so subscribers can check out anything they've missed: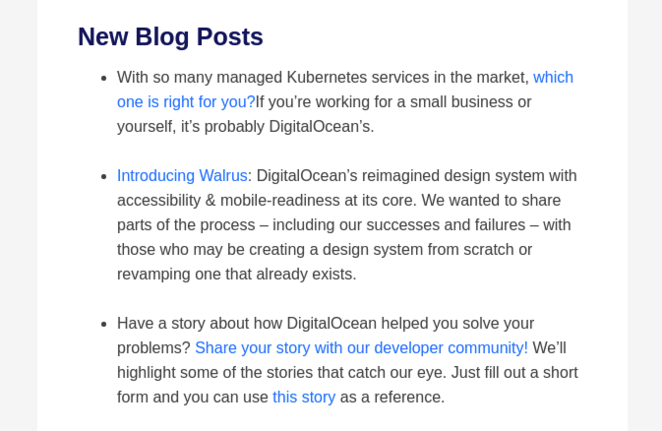 Instead of waiting for your audience to stumble upon your content, you can send it straight to their inbox.
9. Share Gift Guides
Many people find it difficult to shop for others no matter how well they know them. If you have an online store, you can take the stress away from gift-giving by sending subscribers a gift guide featuring your products or services.
Gift guides are good for newsletters because they provide your readers with easy solutions to their problems. During the holidays especially, you can drive more traffic to your website and get more opens on your emails by catering to what your audience needs.
In their gift guide newsletter, Eight Sleep gives subscribers gift ideas for Father's Day: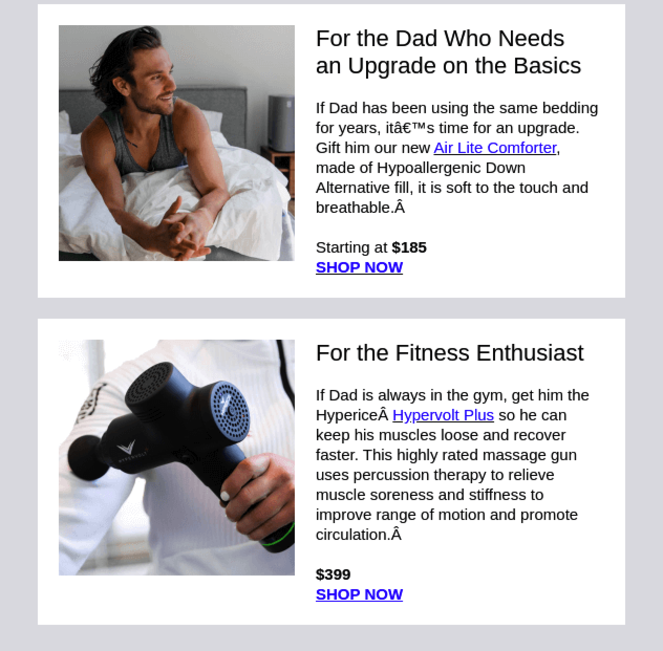 They make it easy to find the perfect gift based on categories like fitness enthusiasts and basic needs.
Even if you don't have your own products to sell, you can still create gift guides with recommendations of your favorite products or affiliates that you promote.
10. Show User-Generated Content
User-generated content is any content posted by your audience online. Adding it to your newsletter helps your brand build more trust with its followers and shows them that other people enjoy your blog just as much.
With user-generated content, you can boost social media followers, increase personalization, and build social proof. It's crucial to nurture trust with your audience so they continue to engage with your content and be loyal readers.
Glossier dedicates an entire section of their newsletter to user-generated content posted on Instagram: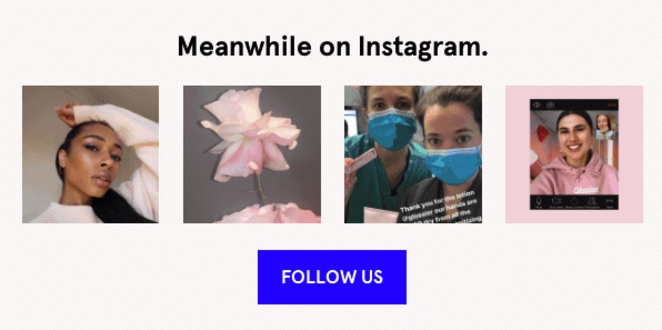 Users can click through to see customers' posts and see how many people use and like the products.
Aside from social media images, you can also user-generated content like reviews and testimonials.
11. Show Behind the Scenes
Many of your audience members will be curious about what goes on behind the scenes of your brand. You might be surprised to learn that many of your readers are interested in seeing other parts of your blog that you haven't shared yet.
Going behind the scenes can help your audience feel connected to your brand and help them learn more about the people behind the blog. This humanizes your brand and makes it easier to relate to.
The watch company Jack Mason used their newsletter to invite subscribers to take a look behind the scenes and learn more about its intricate design: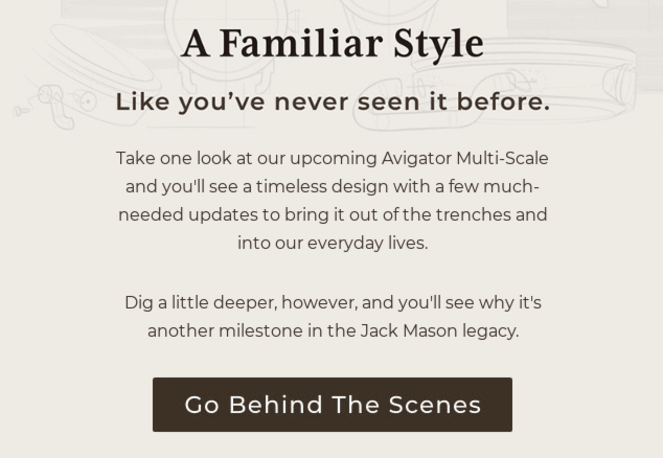 You can also show more parts of your company by giving a video tour, introducing your team members, sharing your analytics or affiliate marketing revenue, and more.
12. Send a Quiz
Quizzes can be a fun way for your audience to learn more about themselves and to add excitement to your newsletter.
Harry's added a fun quiz to their newsletter so subscribers could find out which scent would work best for them, even without trying it in person: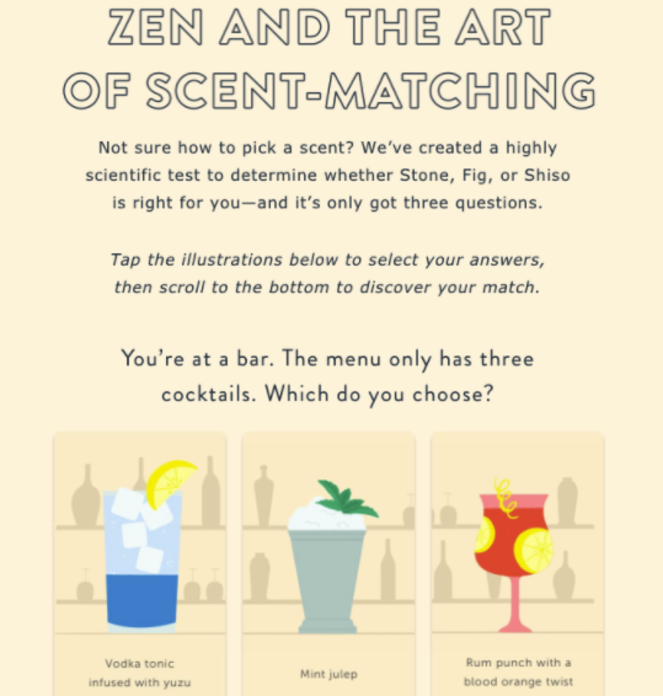 People like discovering new things about themselves, so introducing a quiz is the perfect way to keep them engaged. If they enjoy interacting with your newsletter, they're likelier to stay subscribed.
Quizzes can also help you learn more about your readers if you include questions that reveal what they're interested in.
It's important to continue collecting information about your subscribers even after they've opted in. As their interests and needs change, you can create relevant newsletter content that speaks to what they want.
More on that in the next section…
13. Ask for Feedback
Do you know what audience thinks or what they want? You might think you know everything about them, but the only way to truly know is by asking.
Asking your subscribers for feedback helps you understand them better as well as figure out how best to cater to their needs. They can give you insight into what type of content they want, what interests them the most, what's lacking in your content, and so much more.
You can ask subscribers to reply to your email with suggestions or send them an online survey.
In this example, Riders Republic asks their subscribers to take an anonymous survey to learn more about their experience: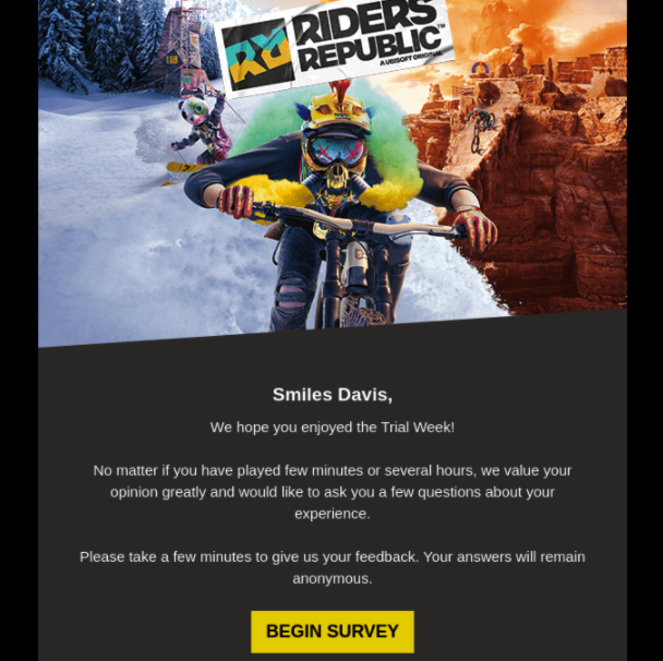 Adding a call-to-action button also makes it easier for subscribers to go directly to the survey instead of manually navigating to the website and searching for it.
14. Share Industry News
As you continue to build your reputation as an authority in your industry, it's important to share the most relevant and accurate information. You could become a source for all the latest happenings in your niche, and you can do so through your newsletter.
Hacking Finance is a finance blog that shares the latest issues impacting financial services in its newsletter: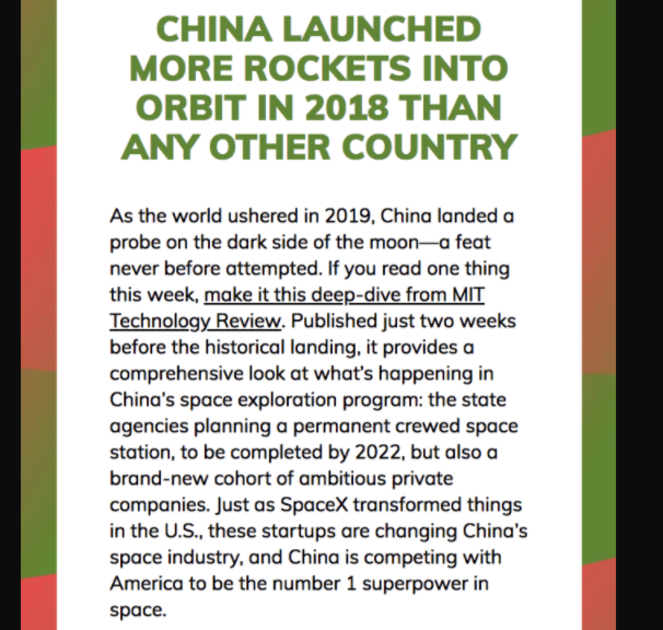 Sharing industry news keeps your audience updated and informed which allows them to trust you and your brand.
This works especially well for B2B (business to business) companies that are interested in industry news and want to keep up with the trends.
15. Share Your Company Story
Perhaps there's a special reason you decided to start your blog and share your experience with others. The story of how you started your blog can serve as inspiration to your readers and encourage them to reach their goals as well.
For a new blog especially, it's important to find ways to connect with your audience so they feel comfortable taking action on your site.
An inspiring story can help your audience feel more in tune with your brand and solidify their choice to subscribe. If they know that your company is after something positive, they're likelier to engage long-term.
---
And that's the end of the list! We hope you found these email newsletter ideas fun and exciting enough to use for your own email marketing campaigns.
If you enjoyed this post, be sure to also check out our guide on how to make money with email marketing. It takes you through the different ways you can earn an income through email.
While you're here, make sure you also subscribe to our newsletter to get blogging tips delivered straight to your inbox!