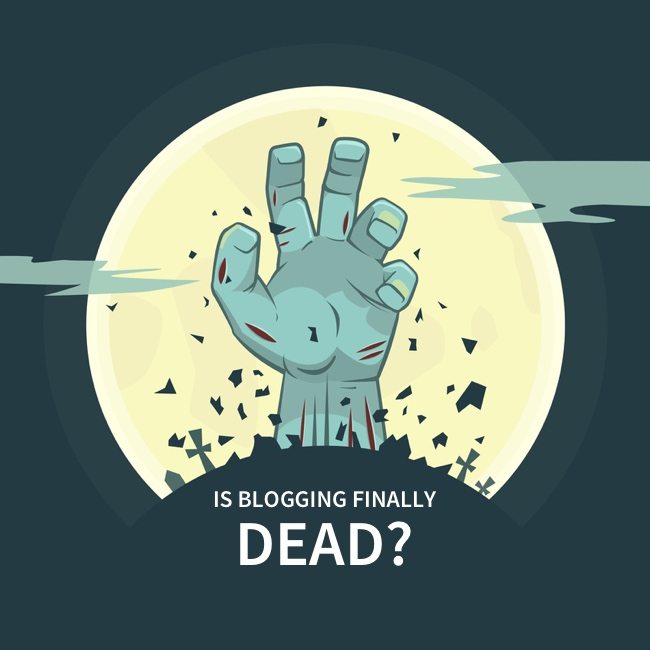 As someone who runs a blogging company I am always very curious about the trends that blogging itself is undergoing.
This is especially important to me as a lot of people look to this website for information about best practices when it comes to our much-loved medium.
And something that has been popping up more and more over the last few years is whether or not blogging is finally dead (or at least dying).
Today I want to show you some interesting data that might help you determine for yourself whether or not you want to keep putting time, money and effort into your blog.
Let's take a look.
Is blogging dead? That depends…
I'd like to start by showing you a few interesting graphs from our good old buddy Google Trends. This tool shows us the popularity of certain things based on how often people search for it. Obviously it's not 100% accurate but it does give us a good overview.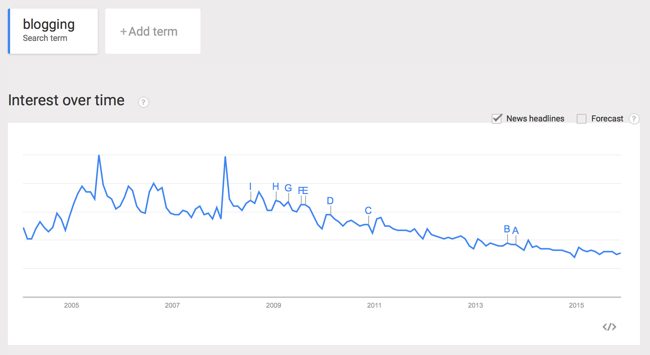 In this first one we can see the popularity of the term "blogging" has declined quite a lot over the last decade. The peak was around 2006-2008 with some really large searches. This was a bit before I started Blog Tyrant and I remember blogs like ProBlogger being absolutely massive brands.
This graph is kind of worrying if you're taking a narrow look at blogging, or are involved in building a blog about blogging itself. *cough*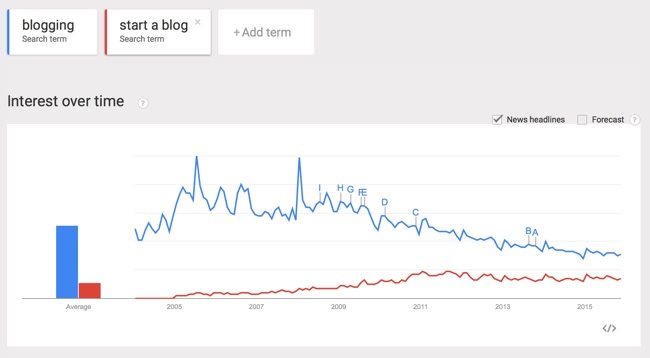 However, let's add another term to go deeper. Here we can see that the searches for "start a blog" are actually on the rise. This could indicate that maybe people are no longer searching for definition-based queries (like: what the hell is blogging?) and now the term is well ingrained in our language and culture. This is good.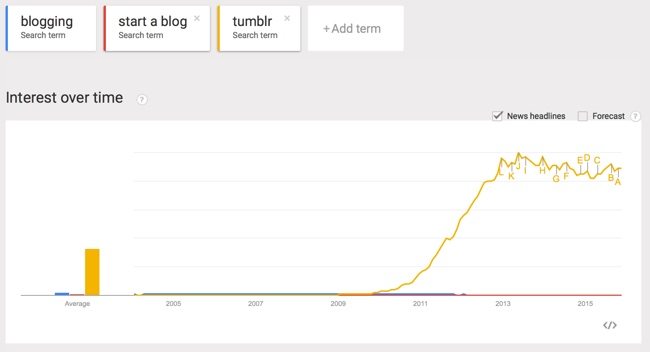 If you're still a bit worried about the initial graph we can think about language even more here in the third. I've added the search "Tumblr" and you can see an absolutely astronomical growth in searches even compared to the other keywords (see those tiny squiggles at the bottom?).
What this indicates, perhaps, is that blogging is evolving into different formats. It doesn't mean that blogging itself is dying, but that people are calling it by different names or taking it to different mediums or hosts.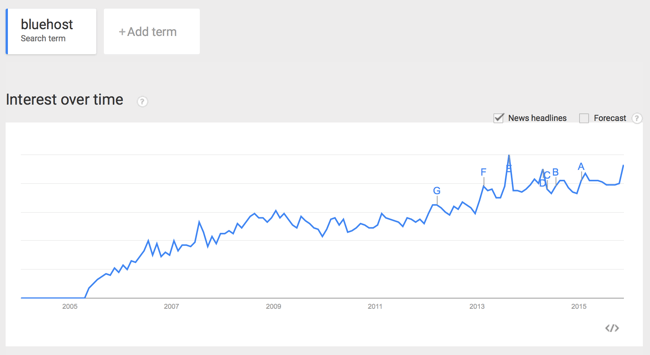 To investigate this idea further I typed in the term "BlueHost" to see what it looked like. As you might know, I am an affiliate for BlueHost and recommend them as a good place to start a WordPress blog if you are a new blogger. I know from my own sales that BlueHost has been growing, but it's also encouraging to see the search trend is growing.
So what is actually going on?
I always get a bit bored when people write titles like "Blogging is Dead!" and actually mean it.
The internet is a constantly changing landscape and you need to be a bit more subtle and detailed with your analysis about what the future holds for any format.
If you want some deeper reads check out my post on starting a blog.
Some things to remember:
1. Everything is a trend, some are just better trends
Think about a few of the big web events over the past few years and you'll realize that not all of those trends lasted. But, not all of them faded either.
Myspace fizzled out while Facebook grew and grew.
Napster got killed while Spotify seems more sustainable.
Messenger services like ICQ disappeared while email spread far and wide.
All of these examples go to show that even within a similar industry or service-type there are successful trends and not so successful trends, but they are all trends. If you're running a blogging site it is very important to keep abreast of how your clients and readers consume information and ensure you focus on making that work.
2. Don't ever rely on "the box"
This point relates heavily to the first one but has a distinct difference that is best illustrated through the example of Microsoft and their new CEO. I highly recommend you read this short article from the New Yorker to get the full take.
If you think about Microsoft in the old days you'll think of a company that wanted every house and office to have a PC desktop or laptop running a version of Windows.
While this worked extremely well for a long time (Bill Gates is the richest man in the world…) it started to cause problems when the smartphone and app market exploded and Microsoft was left well behind. During this time their main saving grace was the Xbox which kept things ticking over.
The quote from the above article that really got me was:
Windows used to run on ninety per cent of computing devices; now, with the rise of Android and Apple phones, it runs on eleven per cent.
This really applies to us bloggers as much as it does a massive company like Microsoft. If you think that your website or blog's format is going to become obsolete in the next few years then you need to plan for that. New technologies like Google Glass, for example, will cause that to happen in some bloggers.
Try to think about whether you need to adapt your blog or website to a new market. A lot of bloggers are now building apps to cater for an increasing amount of people that are purchasing or reading using their phone instead of a desktop. This allows for things like push notifications or SMS messages which aren't technologies that readily work from a desktop setup.
3. Your blog should be more than a blog
It is absolutely vital that your blog is more than just a blog.
This statement is actually a little bit misleading because the definition of "a blog" is quite diverse now. A lot of bloggers will consider it to be something like an online journal or series of text pieces, but many others will understand that it is really about doing a lot more.
Successful bloggers do things like:
Produce multimedia content
Content does not just mean blog posts. It means infographics, podcasts, eBooks and videos. This takes our blogs into new dimensions and gives people solutions in formats that are appropriate to their own needs and usually lead to more shares.
Run mailing lists and newsletters
As I mentioned up above, email has remained a solid and stable communication method and as such you'll find all the successful bloggers devoting considerable time and energy to growing mailing lists and communicating with email subscribers. Getting open rates up, subscriber rates up, and providing constant high value is very important.
Experiment (carefully) with new technologies
Every now and then a new technology comes out and you get the feeling you should experiment with it. At the moment Periscope is really taking off and is generating massive amounts of traffic for people like Derek Halpern and Chris Ducker who jumped on early (I'm there too – follow me in case I ever have a weak moment and try it). One thing you should be mindful of is wasting your time and, more importantly, jumping on board and doing something like replacing your comments section with G+ comments before the medium is proven.
The best way to figure out what technologies to look at is to figure out who is an early adopter in your niche. For example, in my niche Pat Flynn was using podcasting and apps before it was cool. We would have done well to put more resources into it way back when he did.
So is blogging actually dead?
No, of course not! Companies and individuals are using content marketing more effectively than ever.
To prove it, just take a look at what Steve Kamb's blog has turned into.
Or what happened to Zoella after having a simple video blog.
Blogging is alive and well. But it is changing. And it has been doing that from the very beginning.
Where do you think the blogging format is headed?
Last week we talked about what to do when your personal blog is dying but this week I'd really like to know what you think blogging as an industry or format is going to do over the next few years. Will it continue to grow? Will it fade away and be replaced by holograms that come out of Google Glasses?
Leave a comment and let me know.
Top photo © Elisanth | Dreamstime.com