Amazon.com is one of the most successful websites in history. In fact, I am willing to bet that in a decade Amazon will be as big as Google and Facebook. Why? I'll tell you a bit later on.
In this post I am going to show you how Amazon.com hooks visitors in and turns them into hyper loyal repeat customers. Once you learn to see these strategies and methods you will be able to apply them to your own blog or website in order to massively boost your reader retention, interaction and, of course, money making ability.
Why will Amazon.com be as big as Google?
Amazon.com is quite unique as far as privacy goes. Why? Because you willingly give them every single detail about yourself. Without doing any guess work whatsoever Amazon.com has information like:
home addresses
work addresses
phone numbers
email addresses
credit card details
buying and searching history
Can you think of another website that knows you as well? You might say Facebook but they don't have your home address, credit card, phone numbers, buying history, etc. by default. Google has a comparable level of information with access to your Gmail, search history, etc. but it still doesn't seem as complete and personal.
Amazon.com can, over a number of purchases, get a pretty complete picture about what you like to buy. And this is a very powerful thing. If Amazon.com was to be purchased by Google you would see the perfect selling machine; ads delivered to your search results based on your shopping history and personal preferences. The idea is mind boggling. I'm surprised it hasn't happened yet.
How Amazon.com hooks visitors
Through all of this success and experience Amazon has developed a keen sense for hooking visitors and turning them in to subscribers, customers and so on. That is what we should be interested in; the ability to hook and retain and market to our visitors. If you want to get rich using a blog or website you need to keep getting better at this.
1. A personalized call to action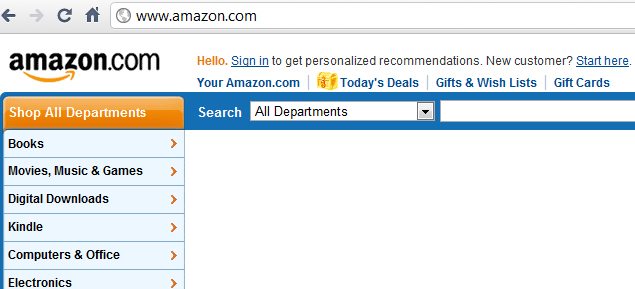 The very top line of Amazon.com is devoted to a clear call to action for old and new customers. If you don't know what a call to action is just think of it as a piece of text that tells a visitor what to do. The idea is to take away the uncertainty in a person's mind and establish them on a clear course of steps.
The difference with Amazon's call to action is that they personalize it. If you are an old customer you can sign in and get recommendations based around your previous history and searches. This is a very powerful feature because it subtly implies time saving and finding products that you might not have thought about. Part of me is always curious to see what new products Amazon will suggest for me.
We all know that you need a call to action on your website or blog but we sometimes forget that it needs to be personalized. Don't make it bland and dry but rather tailor it to what your visitors need from you. Help them understand how to get the most out of your product on a personal level.
2. Extreme up-to-date social proof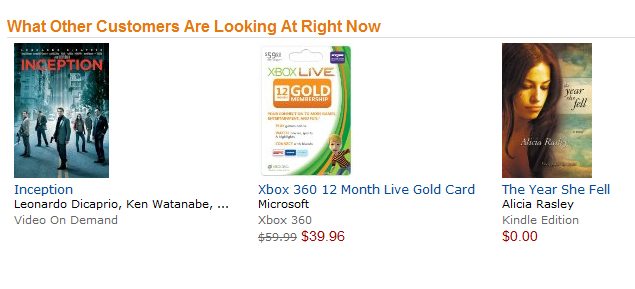 One of the unfortunate consequences of the modern age is that people are fast. I wrote about this in my article on wait marketing; people need to be constantly stimulated because the brain has become so accustomed to instant gratification. Amazon is well aware of this phenomena and utilizes social proof that is extremely up to date.
A large portion of the front page is devoted to a line of products that people are looking at right now. Just like high school, you are immediately drawn in to see what the latest trend is and whether you can get in on it. Delve deeper into the site and you will see well placed lists of "Customers who bought this item also bought" products. It is quite interesting to see how much the brain wants to buy extra stuff when it knows that the guy before you got something extra on top of what you are buying now. Now you can even connect your Facebook account to your Amazon.com account and see what your friends are buying.
Social proof is vital because it has the dual function of removing people's anxiety about opting in to something and generating interest based on a community mentality. You can take these elements to lofty new heights by ensuring your social proofs are as relevant and up to date as possible. Do not overlook the importance of this hooking technique; Amazon sure doesn't.
NOTE: James from Men with Pens doesn't agree with this section. What else is new?
3. Overcoming objections at problem stages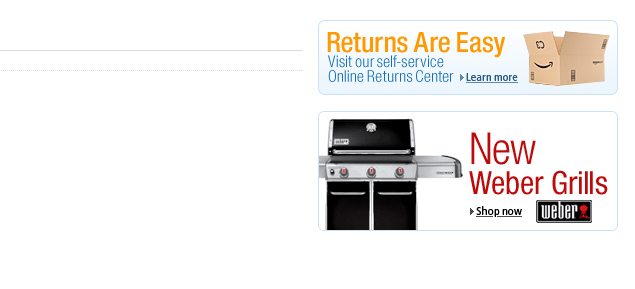 When I first decided to sell a blog in College I knew I would have to focus my sale on overcoming people's objections. I ended up making $20,000 USD on my first attempt, mainly because I was able to help the buyer get over his own concerns. Selling is so often not about just having a great product but helping people get over their own insecurities.
Amazon.com are extremely cautious about addressing their customer's potential concerns because they know that poor shipments are their Achilles Heel. The search and sign up stages of the website are clean and simple; the real problems arise when people realize they might need to return something. They clear away this objection by making the return process easily visible and completely user orientated. You can return your own products. This is a very empowering feature of their service. It makes the customer feel in control.
The important thing to note here is that you need to overcome objections at relevant stages. A banner on the homepage is nice but a reminder at the checkout stage and confirmation email is even better. Figure out where people encounter objections on your website and do your best to overcome them in a very transparent way.
4. Managing expectations at multiple levels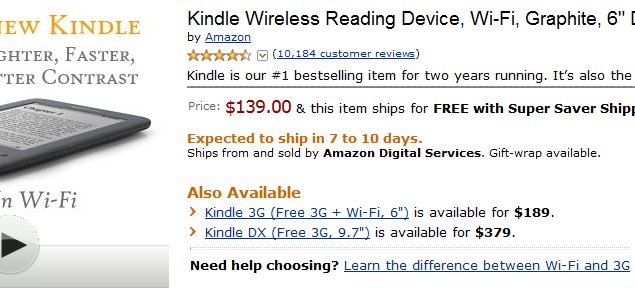 The above screen shot is taken from the Amazon Kindle page which has been their number one selling product for two years. I wanted to use it as an example of managing people's expectations because, as you can see, this top section alone has three areas where it does just that.
The first is the description where it states exactly what the Kindle is and how well it has been selling. This let's people know they are on the page that their friends have been talking about. The second is the shipping details where it assures people it will arrive in about a week. The final one is down the bottom where it talks about the differences between Wi-Fi and 3G.
The idea behind managing people's expectations is to "preempt" people's objections. Worried that someone might cancel the transaction because it hasn't arrived fast enough? Why not tell them on the first page exactly how long it will take? Unsure about whether people will pay more for a 3G version? Give them the reasons why it is superior.
One of the top reasons people unsubscribe from an RSS feed or email newsletter or return a product is because they didn't get what they were promised. You can avoid this mistake totally by managing people's expectations on all the levels they might think of.
5. Sell just as hard to old customers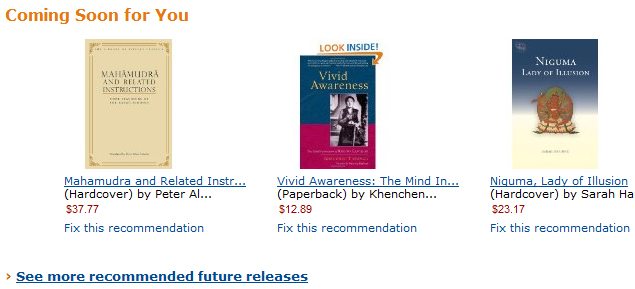 There is a lot of talk in the blogosphere these days about how to get more email subscribers, traffic and generally sell to new users but there is very little about how to keep selling to people who have already bought from you. And this is a shame. Why? Because many offline and online businesses find that the majority of their income comes from follow up products, ongoing fees, etc. Not just the new guys.
Amazon.com does this extremely well by having a very well refined list of recommended products that are available now and coming soon. This is both selling in the present and setting you up for sales in the future. And it works. I spent about $30 on a book ten years ago on Amazon.com but since then I have spent thousands. I have bought jumpers, DVDs and fitness equipment. If they just worried about the first sale they would be out of business by now.
Make sure you don't ignore your old customers while you concentrate on getting new ones. The best business models supply to both fronts.
Important lessons from Amazon's example
I'm sure you have a few ideas already about how you can use the above five points to improve your blog or website. What I want to do now though is talk about a few very important overarching principles that we need to learn.
Keep stages to a minimum
One of the best things that Amazon.com do is keep the number of transactional stages to a minimum. Why? Because it keeps it simple for the customer and gives them less chances to come up with objections or problems.
Give as much relevant detail as you can
This point might seem like a contradiction to the first one but its not. A good copywriter or salesperson will always give as much relevant detail as needs to be given in order to make the sale or convert the reader. If you know what concerns people are likely to raise then raise them first. The hard part is making it comprehensive without compromising on the flow.
Use social proof as a sales point
I have noticed that some websites and blogs relegate their social proof items to the background. Its almost like they think it is something that people will look at if they are not convinced about the product and need a little push. That is a mistake. Social proof should form a large part of your sales points, right in the foreground. When you watch car advert on TV you don't see a photo and some testimonial from a few drivers at the end of the ad, you hear them say "…this was last year's best selling small car".
If you can adopt these principles and incorporate them in to your blog or business website you will find that you get more sign ups and more inquiries and a lot less tire-kickers who aren't sure what direction they want/need to take.
What has worked for you?
I'd really like to open up the comments and find out if any of these ideas have worked on your blog or website. Do you do anything similar or different to Amazon.com or any other successful web business? If so please drop a comment and tell me all about it.