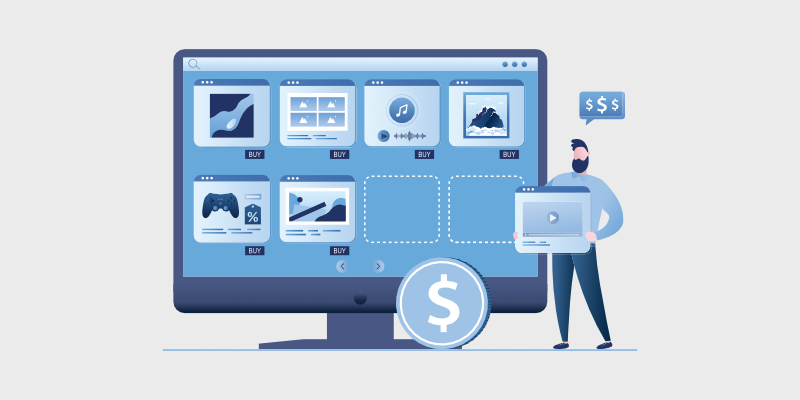 A re you wondering how to sell videos online? In this tutorial, we'll show you how to sell videos from your WordPress blog, in 5 easy steps.
When you start a new blog, earning passive income from it is typically the ultimate goal. Passive income is money you can earn without putting in much ongoing effort.
For example, many bloggers choose a monetization method like selling ebooks to earn passive income. This is because you only need to create an ebook once, and then you can earn money from it over and over again.
So, if you're skilled with a camera, you might be wondering, how can I make money selling videos?
In this tutorial, we'll show you exactly how to sell videos online with WordPress. That way, you can turn your love of creating video content into a successful passive income stream.
Let's get started.
What is the Best Way to Sell Videos Online?
If you don't have a WordPress blog or website yet, we recommend setting one up because it's the best way to sell videos online.
With your own WordPress blog, you can sell videos directly from your website using the right WordPress plugin. You'll have complete control and you can sell as many videos as you want, without paying high monthly or transaction fees.
To create a WordPress.org site, all you need is a domain name and web hosting. A domain name is your website's address on the internet. Web hosting is where all of your website files will be stored and made available on the internet for people to visit.
At Blog Tyrant, we always recommend using Bluehost for your web hosting and domain name. That's because it's the best web hosting service on the market.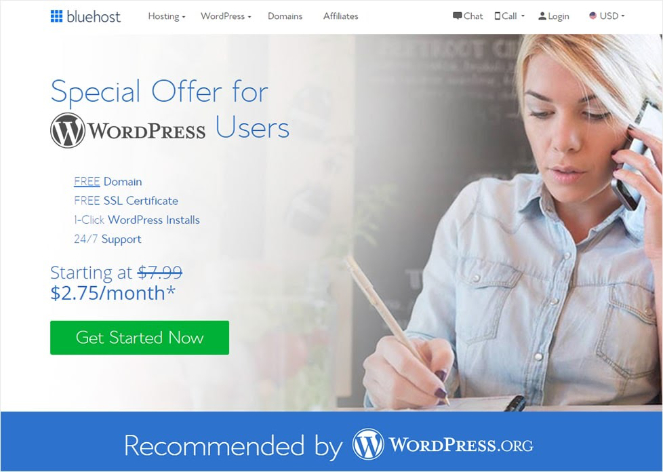 It's reliable, easy to use, comes with 1-click WordPress installation, and it's officially recommended by WordPress.org themselves.
Plus, Blog Tyrant readers can get 60% off web hosting with Bluehost along with a free domain name, free SSL certificate, and much more.
If you need help, you can follow our tutorial on how to start a blog with WordPress + Bluehost. It includes step-by-step instructions for creating a Bluehost account, installing WordPress, and building a website.
Once your WordPress website is set up, you need to choose an eCommerce platform or plugin in order to sell videos. For that, we recommend using Easy Digital Downloads.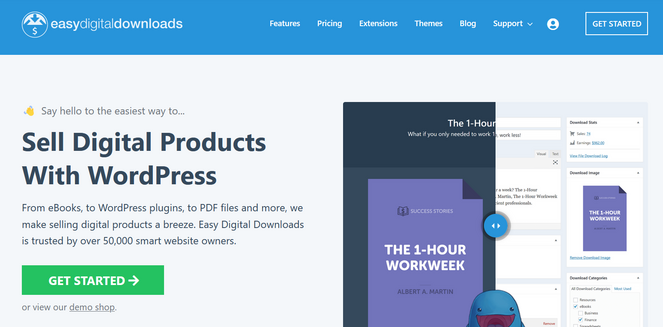 Easy Digital Downloads is the best eCommerce plugin for selling digital products like videos, ebooks, PDF files, audio files, and software.
In minutes, you can start accepting credit card payments for your videos using Stripe, as well as Apple Pay, Google Pay, and PayPal. There's even a Recurring Payments addon that allows you to sell automated subscriptions for your videos.
Easy Digital Downloads also offers powerful features like a full shopping cart system, unlimited file downloads, customer account pages, discount codes, download activity tracking, and more.
To learn more, check out our detailed Easy Digital Downloads review.
Now that you know what you need to start selling videos online, let's begin the tutorial.
Step 1: Decide What Type of Videos You Want to Sell
If you already have an established blog, it's important to think about your blog niche when choosing what type of videos you're going to offer.
For example, if you have a food blog, then creating and selling video cooking lessons might be a profitable idea for you. Your existing audience already enjoys your written recipes, so it's a safe bet that they'll pay for and enjoy cooking video courses from you as well.
On the other hand, if you just started your blog and haven't picked a niche yet, read our guide on blog niche ideas. This will help you figure out the type of audience you want to attract and what type of videos you should sell.
To help you out, here are some types of videos you can sell online:
Tutorials and Courses – Teach people how to do something. You can sell videos on how to build a WordPress website, how to create a monthly budget, how to edit photos in Photoshop, how to play the guitar, etc.
Exclusive Vlogs – You can sell exclusive vlogs or behind-the-scenes footage from your life, work, or travels. This type of video works best if you're an influencer.
Stock Footage – If you enjoy taking videos of the scenery around you or everyday objects, you can also sell stock footage to other creators or companies to use in their projects.
Scripted Series or Movie – If you've always dreamed of creating your own TV series or movie, you can make it happen by selling it on your own website.
Once you've decided what type of videos you're going to sell, it's time to get your camera out and start filming. Then, you'll be ready for the next step…
Step 2: Install the Easy Digital Downloads Plugin
To get started with selling videos online, you need to install and activate the Easy Digital Downloads plugin on your WordPress website.
Easy Digital Downloads offers a free version of its plugin that comes with everything you need to start selling videos, including built-in payment processing through Stripe and PayPal.
You can always upgrade to the premium version of Easy Digital Downloads later to get lower transaction fees and advanced features like recurring payments, content restriction, customer reviews, and more.
To install the free plugin, head over to your WordPress dashboard and click on Plugins » Add New in the main menu. Then, type "Easy Digital Downloads" into the search bar.
Once you find the plugin, click the Install Now button.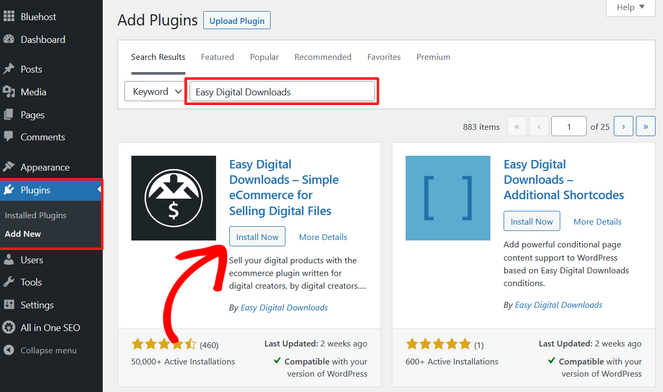 After the plugin is finished installing, you need to click on the Activate button.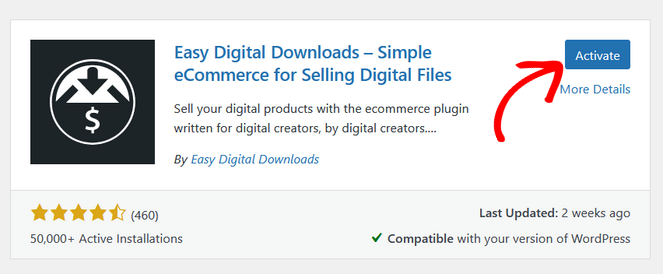 That's it! Easy Digital Downloads is now installed and activated on your WordPress site.
If you need more detailed instructions, you can read our tutorial on how to install a WordPress plugin.
Step 3: Set Up Easy Digital Downloads
Next, we need to adjust a few simple settings so you can start selling videos with Easy Digital Downloads. To do that, click on Downloads » Settings from your WordPress dashboard.
On the General » Store tab, you can add your business name, address, and other details.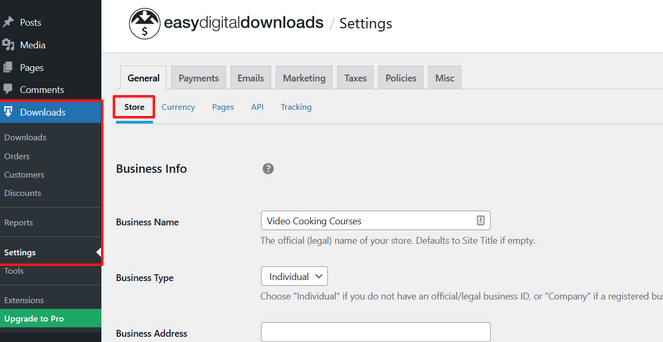 If you use a different currency than USD, you can click on the General » Currency tab to select the correct one from the drop-down menu.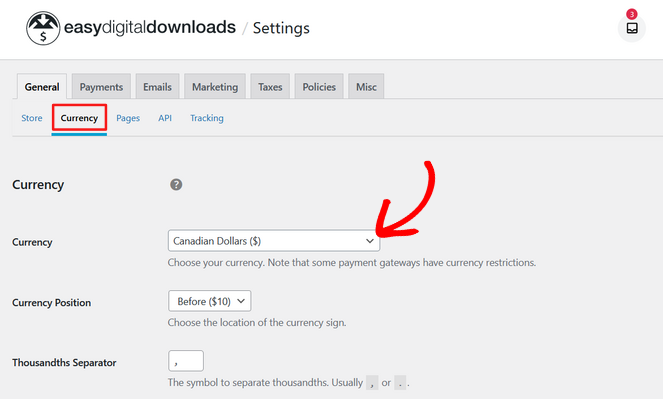 In the Easy Digital Downloads Settings area, you can also configure details like taxes, purchase receipts, sales notifications, privacy policies, and more. You can edit these settings at any time.
For now, we'll finish up with the Settings area by configuring the payment method. This is important because you need to set up at least one payment method in order to sell video downloads.
From the Settings screen, click on the Payments » General tab.
In the Active Gateways section, you need to put a check mark next to the payment gateway you want to enable. For this tutorial, we'll put a check mark next to the 'Stripe' option.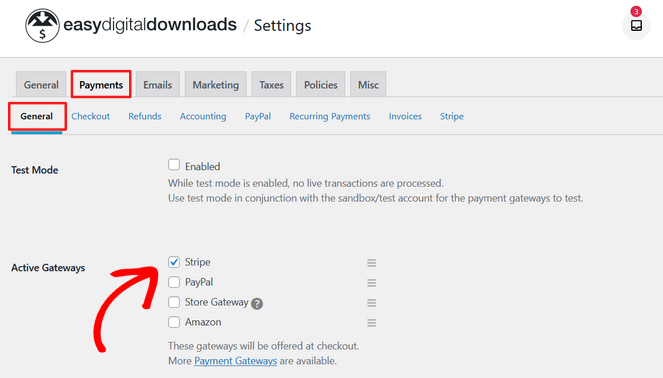 After that, go to the Stripe tab and click on the Connect with Stripe button. Then, simply follow the prompts to connect your Stripe account to Easy Digital Downloads.

The process for setting up PayPal is nearly identical.
That's it, you're ready to accept payments for your videos now! Remember to hit the Save Changes button before moving on to the next step.
Step 4: Make a Downloadable Product
Now that your website is set up with Easy Digital Downloads, it's time to add your first video to sell.
Go to Downloads » Downloads from your WordPress admin dashboard and then click the Add New button.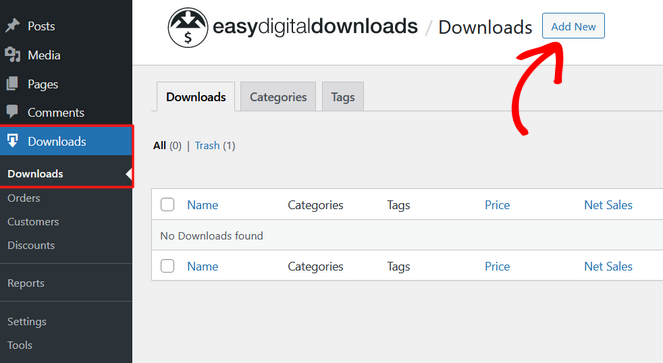 This will open up a page that looks similar to the WordPress block editor. Here, you can add a name for your product and a description.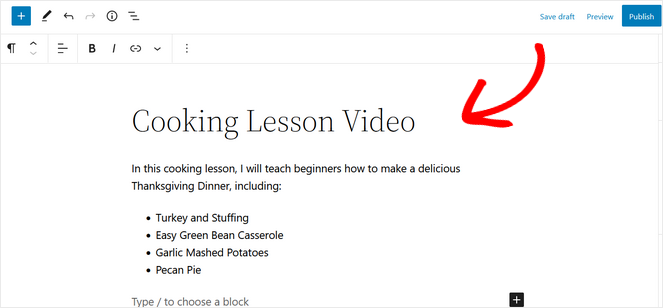 WordPress will show the description to your website visitors, so make sure that it's detailed and convincing enough to encourage people to buy the video.
Next, scroll down to the bottom of the page to set the price for your video.

After that, scroll down a bit further to the Download Files section.
Here, you need to click the File URL field to add your video. You can select a video file from the WordPress media library or upload a video from your computer. Alternatively, if you're using a file storage site like Dropbox, you can paste the link here.

Before you publish the product, you can use the right sidebar of the download editor screen to configure some other settings for your video.
You can create categories and tags for your product. This can help website visitors find the product they're looking for easier. You can also set the file download limit, refund status, and refund period. In addition, you can add a featured image for your product.

Once you're happy with how everything looks, you can hit the Publish button to publish your video product. You'll see a success message at the top to let you know that your product is now live.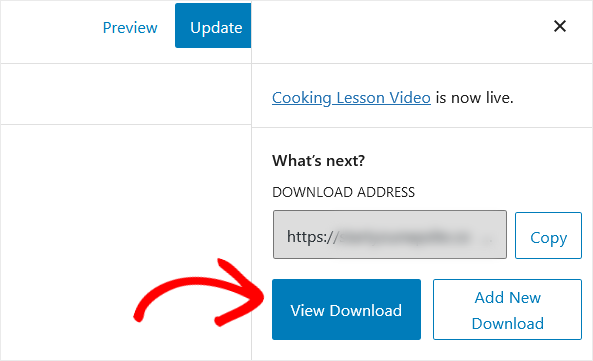 Then, you can click the View Download button to see how the finished product looks on your website.
How your product page looks will depend on your WordPress theme and the settings you configured. Here's an example: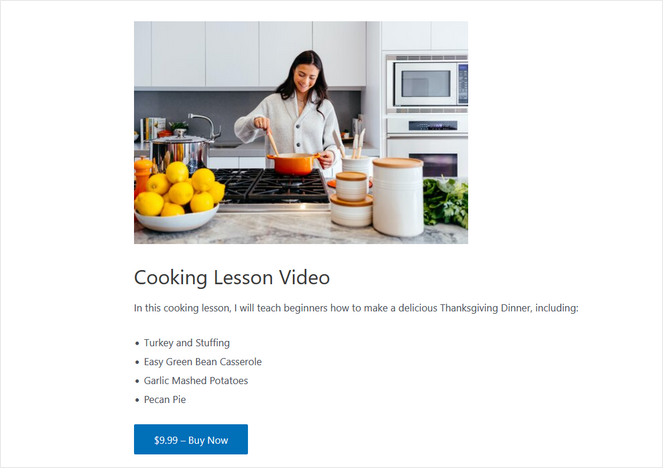 When a customer clicks the 'Buy Now" button, they'll be taken to the checkout page where they can add their information and payment details to purchase the video.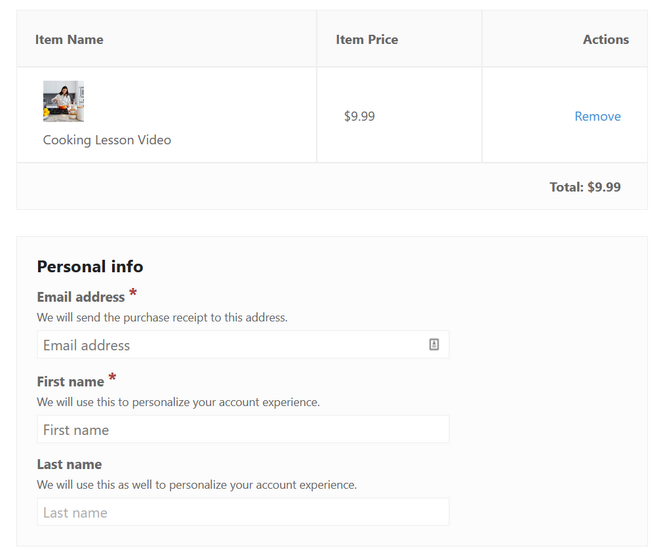 After completing the purchase, customers will see a confirmation page where they can immediately download the video. They'll also receive an email with the download link.
Step 5: Display and Sell the Videos on Your Website
Every time you publish a digital product, Easy Digital Downloads will create a new page for it. So, you'll need to drive traffic to these pages if you want to sell your videos.
One way to do this is by linking to your video product page from your blog posts or website pages. You can find the link to your product page by looking directly underneath the product's title in the download editor screen.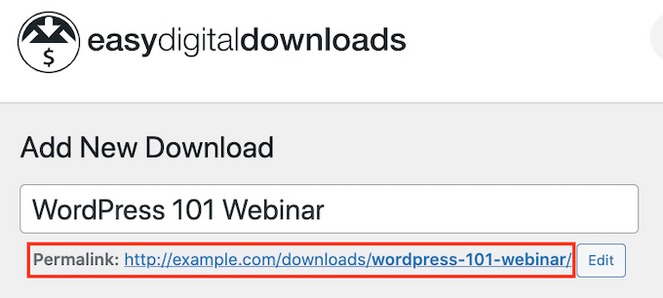 Another option is to add these product pages to your website's navigation menu to make them easier for visitors to find. Simply follow this tutorial on how to add a navigation menu in WordPress.
You can also add the product's 'Purchase Shortcode' to any page or post on your website. To do this, go back to the download editor screen of your product and find the Download Settings section. Then, copy the Purchase Shortcode.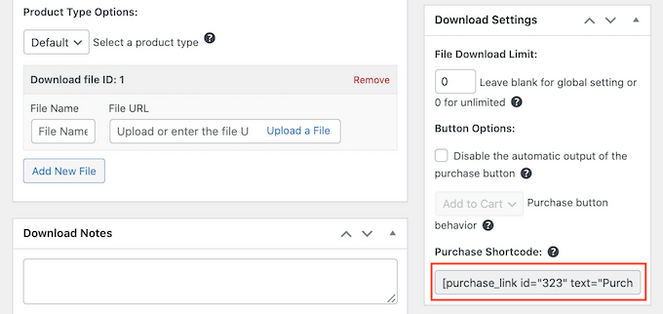 You can then paste the shortcode in any page, post, or widget area like your sidebar. Here's how the Purchase Button looks within a blog post: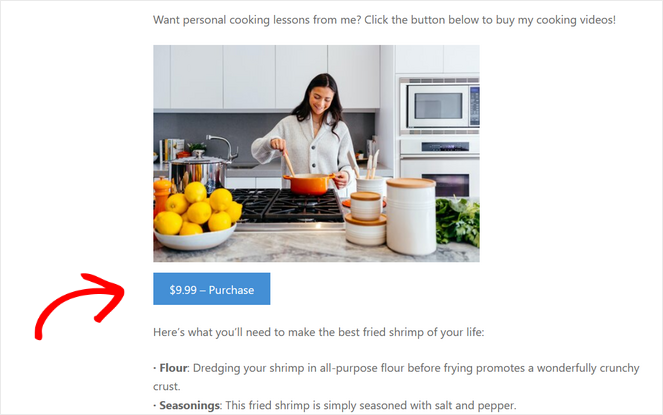 When a visitor clicks on the Purchase button, it will then turn into a Checkout button. Visitors can then click on the Checkout button and they'll be taken to the checkout page to complete their purchase.
If you need help with shortcodes, read this guide on how to add a shortcode in WordPress.
Bonus: Promote Your Videos to Boost Revenue
Want to take your video business to the next level? Here are some WordPress plugins that will help you better promote your video products and boost your revenue.
---
That's a wrap! We hope this tutorial helped you learn how to sell videos online and create a steady source of income for yourself.
If you enjoyed this post, you can also check out our guide on how to make money online. It includes more money-making ideas you can try out.
And don't forget to sign up for our email newsletter so you can get useful content like this sent right to your inbox!