How do I make money blogging? Can I go from hobby writer to professional blogger? Why isn't it happening as fast as I'd like?
These are questions that almost every blogger will ask themselves at some point in their career. From the moment we get the itch and purchase our first WordPress blog host we are dying to make it big – or at least make some pocket money.
Well, one of the best ways to avoid pitfalls on the path is to study the history of those that came before you. And, funnily enough, it's also a really good way to come up with new and profitable ideas. Remember the motto no ideas original?
In this post I want to show you some of the most controversial, interesting and inspirational events that have happened to people making money with blogs.
By looking back at these provocative histories I'm hoping we can avoid mistakes and come up with ideas that will help us in our time, with our journey.
Let's dive in!
The problem with history
Have you ever heard anyone say that history is written by the victors?
It's kind of true but what I really think is that history is can't ever be that accurate because you are reading about it through the eyes of a person or people who have opinions.
And it's also impossible to include everything while framing the event in the context of the time in which it happened.
So, with that little warning I'd like to make sure you realize that this post will never be complete. It's more of a selection of the blogging events that I think we can learn from or that inspired/interested me while I was around.
Who'd really want to read the whole history anyway?
The history of making money with blogs
As usual I would love your help with this. The Blog Tyrant comments are often a lot more informative than the stuff I write in the post so make sure you include any other significant events or lessons if you think I've missed something.
And if I've made any errors on dates or timing please forgive me. It was actually quite hard to go back and figure out exactly when things happened. Add that to the fact that I still think the 90's were 10 years ago and perhaps I'm not the best historian!
Here we go!
2002 – Dooce got fired for blogging about her work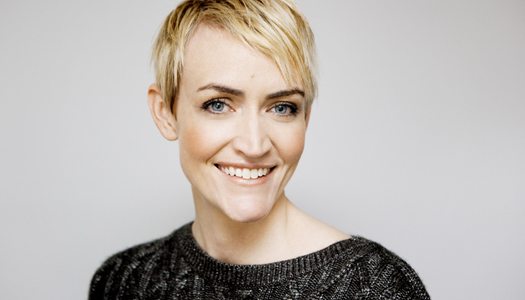 Photo: Armstrong Media
As you probably know by now, I am a really big fan of Heather Armstrong. She is possibly the most famous female blogger in the world and it all started when she got fired from her job for writing about it on her personal blog.
This was a pretty monumental event and I actually think it was the birth of the "mommy blogger" (sorry to my readers who hate that term). She has an incredible ability to get her thoughts into typed words and has a massive and quite loyal group of readers who love her rants and her dog photos.
Heather serves as a wonderful example of how stay at home moms can make money using blogs. Because of her lead we now have a bunch of great female bloggers that might otherwise have not thought to put their wisdom and grace online.
2003 – WordPress started
Although the first versions of WordPress were nothing like the current ones, this event is probably the most important for the history of professional blogging.
It is by far the world's most popular self-hosted blogging platform and is totally open-source having been downloaded over 65 million times.
It spawned the massive free and premium plugin and theme markets and revolutionized the way we go about building an income earning blog by giving us more flexibility and control over the way the site looks and functions.
2004 onwards – Free blogging platforms shifted towards self-hosted blogs
When I was first getting interested in the net there was Angelfire and a few other free website builders. But they weren't really blogs. After a while we got introduced to Blogger and the other free platforms. Google even bought Blogger when it saw how fast the platform was taking off.
Finally, though, Google began to favor self-hosted blogs and websites as being more trustworthy and as such the trend moved away from the free hosted platforms.
The really important lesson here is that people began to realize the importance of totally owning the asset that they were building. This is something that we'd all do well to remember since the advent of Facebook and other places we put content that we don't own or control.
2004 – Darren Rowse created ProBlogger
The influence of Darren Rowse can't really be understated in the history of professional blogging. He is the ProBlogger after all!
Most importantly, however, Darren has from the very beginning advocated a very clean and value-based form of blogging. He never wrote about shady methods and always focused on developing lots of really useful content.
I think we, as bloggers, need to pay homage to that. There is hardly a blog out there that hasn't been influenced by Darren and his work and I think that probably means there is a lot better content out there then there could have been if a different blogger had filled that space instead.
2004 to 2008 – Adsense was the main form of blog monetization
When I first started (and probably still, for some people) Adsense was the main way that people were making money with their blogs – especially when Google got good at matching ads to blog content.
My first big blog sale was pretty much based around Adsense revenue. It wasn't enormous but it was very helpful for a Uni student.
After a while people started to realize that it was not a perfect model. As I wrote about in a controversial post, it seems a little bit wasteful to send a reader away from your site in exchange for a $0.10 – $2.00 click. Why not get them signed up to a mailing list and promote affiliates or future products?
2005 – Text link ads and paid posts took over
Around this time most bloggers were making money with ways that probably look insanely dangerous to bloggers these days.
Sites offering paid reviews and paid text links were hugely popular. You would sign up for an account, get your blog submitted and then accept offers for paid posts that included in-text links or sidebar text links that paid you on a monthly basis.
What this meant was that people started to create "fake" blog networks with high page rank (you needed usually a PR4 to get accepted) and then just do paid posts on them.
Google is still responding to this SEO strategy. Penguin and Panda updates have been particularly rough on bad text links with spammy anchor text. These days you wouldn't want to put any links to other sites in your sidebar for fear of looking like you were paid to do it.
NOTE: Some of these "paid links" sites seem to be a bit more SEO friendly nowadays according to some bloggers but I personally wouldn't risk it.
2006 – Shoemoney posted his Adsense photo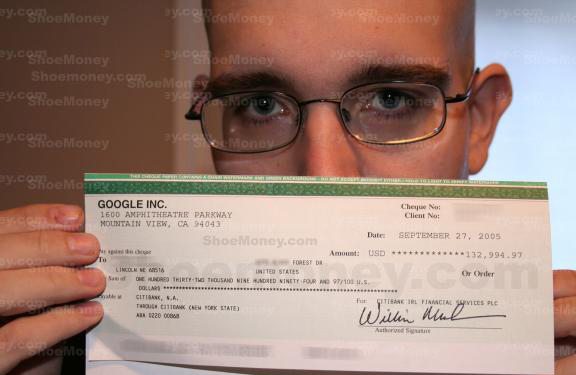 Photo: Jeremy Schoemaker
There was a time when Shoemoney was the go-to-blog for anyone wanting to make money online. Although Jeremy is still doing very well for himself, it seems as though his blog has sort of declined in popularity a bit if the comment numbers are a good indicator.
But it used to be a bustling metropolis – and it all started (I think) because of the photo of him holding an Adsense check for over $100,000. That one photo turned him into an overnight blogging celebrity.
Jeremy's posts were characterized by really clever ideas and doing things that sort of pushed the boundaries. I was always really curious to see what fascinating tactics he would write about next. It was the perfect example of a quality content blog and an authority statement.
2006 – Blog carnivals and forum posting were big SEO favorites
One of the ways I built up my first blogs was by participating in Blog Carnivals. They were absolutely huge at the time and people would host these events where you'd submit a link and get it included in some person's blog post about the related topic.
People still do this but it is not really a big a strategy as it used to be now that Google's algorithm is a bit less forgiving. They are simply getting too good at sniffing out "unearned" links and it just isn't worth the trouble.
These carnivals played a big part in the development of the way we do guest posts now. It's not quite the same but I do think people wanted to continue with the underlying tradition of the carnivals. Nowadays people do them a bit differently like Pat Flynn's reader challenges.
2007 – John Chow was banned from Google (and let back in)
John Chow was one of the first bloggers to make money by openly focusing on helping other people make money. But one of the things that actually really helped his career was his ongoing battle with Google.
It's difficult to know the exact truth of the matter (because Google is quite private about their policies) but it seems as though John was de-indexed from the search results for running a competition that essentially asked people to link back to his blog. Google basically likened it to paying for links and kicked him off.
But it made him stronger. Word spread that he'd been banned and it caused a big influx of readers looking to learn from the guy who was making a fortune without any Google rankings at all. At the time it was really exciting.
Later on John met with someone from Google and managed to get himself re-indexed after explaining that he was all above board. All in all this guy has changed blogging by being pretty open about how he was making money and letting others learn from his example.
His "Google dramas", to me, also pointed out how we must never rely on any one source of traffic for our own success. It's just too risky.
2007 – Zen Habits was born and so was guest posting
Can you imagine a blogging world without Zen Habits and Leo Babauta? Well, as hard as it is to believe he wasn't always there.
In fact, I remember being an avid blog reader in early college and seeing this unknown guy called Leo appearing on almost every blog you can think of. Back then his site was pretty ugly (sorry Leo!) and the whole thing was very unprofessional.
But his content was remarkable. And people knew it.
As far as I can remember he was the first blogger to go on a guest posting campaign that made his career skyrocket in a matter of months. He went from nobody to thousands and thousands of subscribers in record time and clued everyone into the idea of guest posting for growth. Since then he's been in Time magazine and created one of the most popular blogs in the world.
As a side note, Leo gave me a month of free adverting on Zen Habits for one of my original blogs which helped me start my own career. So, Leo's history is also quite linked to mine.
2007 – Twitter and Facebook started to take off
It's hard to believe but there was a time when blogging existed without the major social networking sites like Facebook and Twitter. They really are only recent additions to the whole online marketing puzzle.
Back in the day there were sites like Reddit, Digg and a lot of other bookmarking sites like Netscape which served as the place for bloggers to share and find content. But other than them and the good old forums there was really no centralized social networking hubs.
This totally changed blogging because it created a whole new method of promotion (and distraction!) for bloggers to explore. It even created pro-bloggers who just used them without the traditional blog.
2008 – Brian Gardner created the premium WordPress theme market
Brian Gardner is another blogger that you could probably ring up and ask him to help you move you house. He's a really friendly guy and insanely talented when it comes to WordPress themes.
In 2008 he started Studiopress themes which are now a big part of Copyblogger Media. This marked a really big point in blogging history; showing people that they could take control of their blog design and giving developers a new market to tap in to. WordPress themes and theme design are now a huge industry.
Although I don't use Genesis/Studiopress themes (yet!) they are extremely high quality and well worth a look.
2009 – Johns Wu sold his blog for $14.9 million
As Aaron Wall mentions in his interview, it took Johns Wu just three years to build and sell Bankaholic.com for almost $15 million.
Oh yeah, he was only 22.
This was a hugely exciting and inspirational story at the time as it signalled (for me anyway) the moment when traditional big business started to realize that blogging was a viable and upcoming way to make money. It also showed us how powerful one or two good rankings on Google really could be.
Well done Johns.
2009 – James Chartrand became a woman
One of the all time greatest reveals in the history of blogging. Better than mine even!
James Chartrand was another prolific guest poster and had made quite a name for himself. Then one day we were hit with a post on Copyblogger called Why James Chartrand Wears Women's UnderPants and we found out that he was actually a she.
Great promotion, yes, but kind of sad when she explained the rationale: she hadn't been getting a fair deal as a copywriter with female name. Once the male pen-name was introduced the earnings started to increase.
NOTE: Getting a guest post on Men with Pens is the hardest guest post you'll ever land. Isn't it, James? 😉
2006, 2006, 2007, 2008, 2009, etc. – Blogging died
Every few years some bright spark would declare that blogging, as a medium for us to make money, was dead. And every year people like Brian Clark or Sonia Simone would write articles saying, "… guess I'll give it all back, then."
One of the really interesting things about blogging is that is has been a consistently reliable source of traffic, readers and, yes, income. The people who have focused on building a readership through the development of quality content have weathered all the trendy storms.
I am quite sure that someone will soon enough declare blogging to be dead, again. But I am betting that their declaration will be wrong – unless some scary SOPA-style statute gets in and makes it all too hard.
One thing we do have to look out for, however, is the changing mediums. The method of delivery is changing to mobile very rapidly and that might present some challenges/opportunities.
2010 – Dosh Dosh disappeared
Maki, the guy who wrote Dosh Dosh, famously took a leave of absence around this time and never came back. This was a hugely sad and strange development for his fans because it was one of the most unique and actionable blogs out there.
Considering he had over 50,000 subscribers when he vanished it still strikes some people as odd the way it went down. There are some articles that have a go at explaining his disappearance but, for me, this will always be a huge event in the professional blogging niche because Maki was one of those guys who would change things for the better. I can't help but wonder where he would have taken it by now.
This was a really interesting lesson in terms of how supportive a bloggers readers can be. There were scores of people asking where he went and begging him to come back. Content creation at its absolute best.
2012 – Google opened a scary zoo of black and white animals
Two of the most recently significant events for professional bloggers was the massive changes to SEO that were brought about by the Penguin and Panda updates. So dramatic were these rollouts that some blogs and web businesses found themselves struggling to make any money at all.
The two updates focused on mainly the issues of bad social and link signals and as such they seemed to favor large and popular websites. For example, if your back link profile had too many links from ordinary blogs you might have got penalized.
What this meant was that the entire SEO industry has essentially been turned into a premium content creation one. As has happened so many times before, the lesson that came out of the Google updates was that you need to focus on quality content and an email list or suffer the consequences.
2012 – Digg died (or choked a little bit)
Digg really was a bit of a King Maker when it came to helping blogs reach new heights. Sites like Boing Boing, TechCrunch, Huffington Post and even our mates Darren Rowse and Leo Babauta would spend days on the front page and receive tens of thousands of visitors.
But since Twitter and Facebook came around it seems as though Digg has fallen off the edge a little bit. After being valued at $175 million it recently sold for just a few hundred thousand. It just doesn't seem relevant anymore.
Again, this is a huge lesson for the egg basket. Meaning that you shouldn't put all your eggs in a basket that you don't own. Sites that people thought were too big to fail (like MySpace) always seem to fail eventually.
2012 – Brian Clark won the internet
Okay so maybe this is a little bit sensational but he's getting kind of close.
Just a few years ago (or so it seems!) Copyblogger was just a regular blog with a mailing list and some brilliant content. But each year Brian and his awesome team developed new software and ideas and integrated them to the blog. This year the "blog home page" style design took a backseat to the slick new interface that promotes their products first and blog second.
When I saw the design I instantly thought that this is where a lot of us will end up going (like when Darren shifted to a "portal" blog theme). Brian, again, showed us the way forward as the blogosphere morphs and changes.
Lessons learned from the history of making money online
As I said at the start, this post was not intended to be a complete history of blogging as a whole. It wasn't even intended to be a complete history of blogs that make money. Rather, I wanted to show you some of the events that I remember or remember reading about that had a big impact on my own path.
Some of the main lessons I think we can take away from these events are:
Crisis breeds opportunity
Both Dooce and Pat Flynn started their blogs because their work situation took a turn for the worse. John Chow succeeded without Google rankings. They are now absolutely smashing it online after landing on their feet and making something happen for themselves. Don't let crisis get you down.
You gotta love it
Darren and Leo are perfect examples of guys who have made it because they love the work and throw themselves into it with as much effort as possible. If you don't love your blog or your topic you really need to consider changing.
You gotta own it
Google is constantly changing their algorithm. If you rely too much on them for your traffic you could get stuck. The same has happened for people who have spend a lot of time growing Facebook Pages only to find that you now have to pay to increase your reach. Own your asset. Focus on email subscribers.
Persistence produces ideas
One of the things I've noticed is that sticking at it for a long time often causes "break throughs" where you find a gap in the market that needs filling. Look at Brian Gardner's premium themes or Johns Wu's bank site.
Quality trumps gimmicks
The guys and girls who have been developing distinct brands with quality content and a kind motivation seem to have weathered all the storms and changes in the blogging world. Forget promotional gimmicks and just work on a blog the helps people.
Learning from the past will hopefully mean that we all have a bright future as bloggers. But the best place to get an insight into where blogging is probably headed is in Glen's incredible post on the future of blogging. It's long and it's detailed but it is full of knowledge that we all should pay attention to.
What have I missed?
So Tyrant Troops, what have I missed? There are undoubtedly a lot of other big events or trends that have made a huge difference to professional blogging. Please leave your usual amazing comments if you can think of anything special.