Working from home is a big goal for many Tyrant Troops. It's something we talk about all the time as if it's a kind of living-room-located heaven on Earth.
But I have to be honest and say that it's not all sleep-ins and midday movies. Sure there are perks but you'll also notice a few downsides.
The problem with working from home is…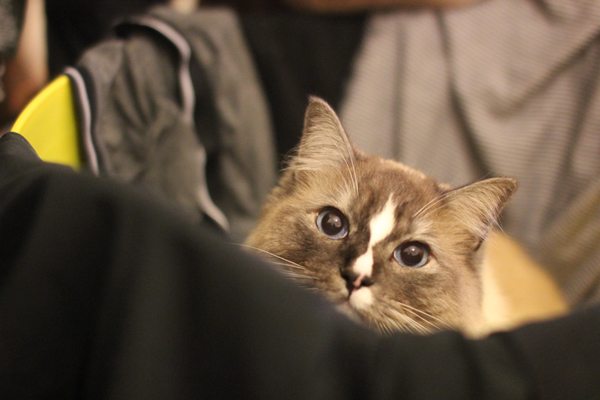 Read the rest of this amazing literary work…
How do I make money blogging? Can I go from hobby writer to professional blogger? Why isn't it happening as fast as I'd like?
These are questions that almost every blogger will ask themselves at some point in their career. From the moment we get the itch and purchase our first WordPress blog host we are dying to make it big – or at least make some pocket money.
Well, one of the best ways to avoid pitfalls on the path is to study the history of those that came before you. And, funnily enough, it's also a really good way to come up with new and profitable ideas. Remember the motto no ideas original?
In this post I want to show you some of the most controversial, interesting and inspirational events that have happened to people making money with blogs.
By looking back at these provocative histories I'm hoping we can avoid mistakes and come up with ideas that will help us in our time, with our journey.
Let's dive in!
Read the rest of this amazing literary work…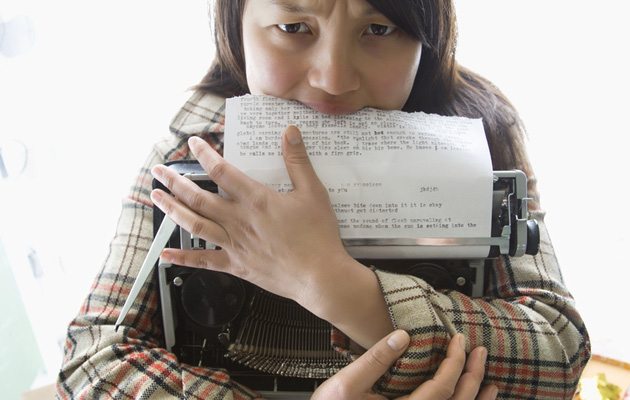 Your writing sucks.
Don't worry, so does mine.
I've never published a best selling book and my blog is an error-ridden, hatchet job compilation of the English language.
But there is good news.
You can learn how to write good. Much gooder.
And don't panic. This is not another article about spelling mistakes or how to master grammar like an 18th century poet. In fact, I'm starting to think that those things are a bit daggy anyway. This article is all about what it takes to become a better writer. Good writing just ain't what it used to be – and a lot of people might find it a bit depressing.
Let's dive in!
Oh, and I've added a collection of my favorite quotes about writing and how to write down the bottom.
Read the rest of this amazing literary work…
Time for something new here at Blog Tyrant.
Hey! I heard that collective sigh of relief!
Anyway, for some reason I seem to be surrounded by people who are fantastically successful at what they do. I always seem to be picking their brains or soaking in their borderline-annoying brilliance. And it occurred to me that maybe you guys would like to hear from them as well.
So I'd like to announce a new section here on Blog Tyrant called Tyrades (sort of like a tirade!) where I interview people who are doing extremely well for themselves in the hope that we can learn a thing or two.
The big twist is that I'm not going to interview other bloggers. I want to look at what people in different niches/industries (but still with an online element) are doing so we can get out of our shells and apply tactics that we have long forgotten or perhaps never heard about. It's also about staying inspired.
Let's get started!
A chat with Mark Trim – founder of RoundAboutTravel.com.au
The first interview in this series is with a guy I've known for five years. In that small amount of time he's gone from a top seller at Flight Centre to starting his own online travel agency called RoundAbout Travel that turns over $6 million a year, even in the GFC climate. Not an easy feat.
Read the rest of this amazing literary work…

When you've been blogging for as long as I have you'll start to see a few common trends, questions and concerns that continually pop up.
And one of the most common questions of all is how to find the most profitable niche to blog about.
People rack their brains trying to find the hallowed niche that is untapped, flowing with traffic and, of course, oozing with money.
They use amazing tools like Market Samurai (aff) to research their competitors backlinks (yes, you can do that!) and see if there is any way that they can do it better or mimic their success.
And while these methods do have merit there is something missing. Something not quite right about it all.
So, in this post I want to talk about the most profitable niche in blogging.
I really hope everyone reads this because it might save you a lot of time, money and heartache over the years.
Read the rest of this amazing literary work…
I love blogging.
This post is designed to do one thing and one thing only – inspire you to start your own blog today.
You see, blogging has done a lot for me. It's helped me to work from home and it's helped me reach out to other people when I needed a friend. It's helped me travel the world and make a modest living from something that I actually enjoy doing.
So, here are a bunch of reasons why blogging might be just the thing that you are after.
At the end I'll even show you a few awesome success stories to fire you up!
Read the rest of this amazing literary work…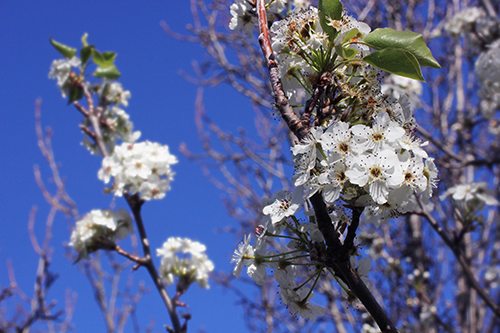 As a blogger it is tempting to aim your articles at people who are at the same experience level as you. It's natural – you want to share what you are learning as you yourself grow and mature.
But it can be a big, big mistake.
In fact, I'd go so far as to say that if you aim your articles at readers who are at your level you will slowly, article by article, begin to kill your blog.
What we need to do is start pitching in a different direction. And that is where evergreen content comes in.
Let's take a look at what evergreen content is and why it is so important to master it.
What is evergreen content?
The usual definition of evergreen content goes something like this:
Read the rest of this amazing literary work…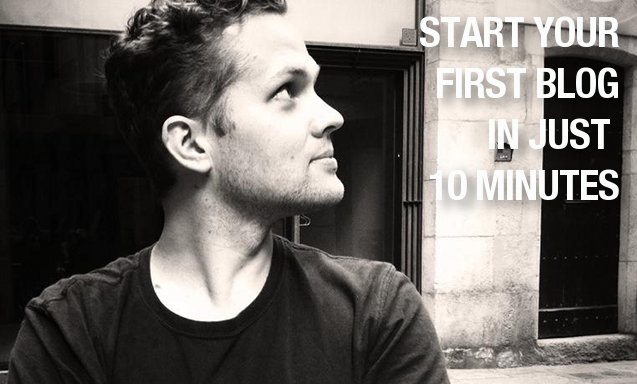 So you want to learn how to start a WordPress blog in around 10 minutes? Easy.
As I mentioned in my latest blog hosting review, starting a WordPress blog is super simple with BlueHost. In fact, it only takes a few clicks.
One of my goals here at Blog Tyrant is to make things simple for new and old bloggers alike.
And as I am constantly asked about how to start a blog I decided to do a step by step tutorial on how to install WordPress on your own host so I can refer readers to it when needed.
Let's get it right the first time around!
Note: I will earn a small commission at no extra cost to you if you buy a hosting package from one of my links. Thanks for your support! Please make sure Blue Host is right for your needs before choosing them.
Click here to open BlueHost in a new window (and get a free domain name when you buy a hosting package) and then follow the tutorial below. It will take you through the setup process – step by step. It should take around 10 minutes.
Step 1: Get your free domain name and hosting from BlueHost
BlueHost is where I first got started and they currently they have an incredible low rate of $3.95 per month for Blog Tyrant readers and they throw in a free domain name for a year. If you want to learn more about why I recommend BlueHost for new bloggers you can read this post.
Click the green Get Started Now button at Blue Host to get started.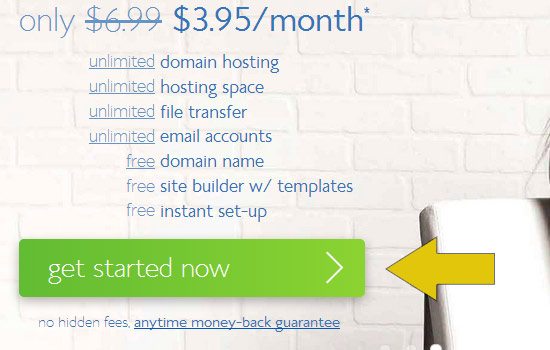 Then you will be taken to a page where you have to enter in the domain name that you'd like to use. Remember, you can add unlimited websites and blogs to your Blue Host account so don't worry too much if your not totally sold on your current domain name idea.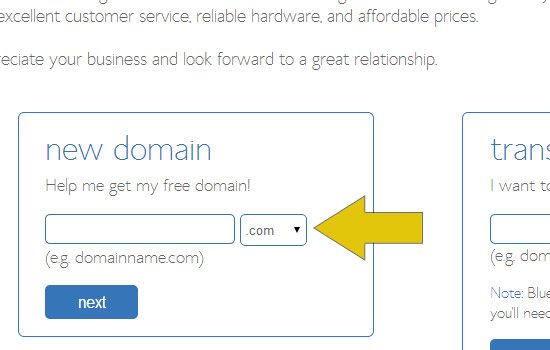 The next step is easy – just fill out all your contact details and payment information (billed annually). Make sure you use your real details because if you ever lose access to your account you might need to prove that you are the owner in order to get back in.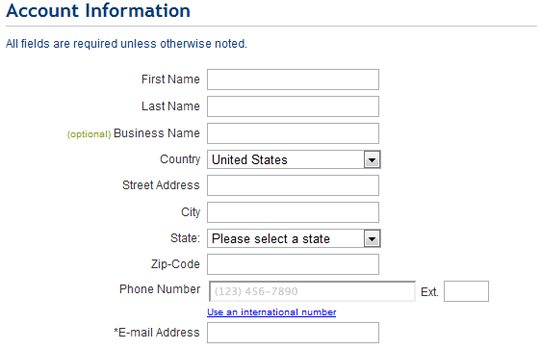 As you can see, there are some optional extras. It is up to you whether or not you purchase these but I would generally recommend you buy the Whois privacy. What that does is keep your personal details private. If you don't buy this people will be able to look up your name and address.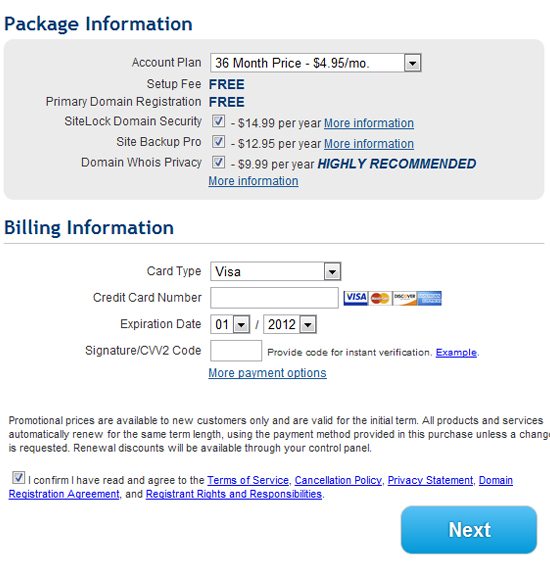 Step 2: Install WordPress from your cPanel inside Blue Host
Now that you have purchased your domain name and hosting package you will get given access to something called a cPanel. This is the "engine" of your hosting and has dozens of different icons that link to all the different services and features that are available inside your hosting account. At first it will seem a little overwhelming but don't worry, you can ignore 95% of them.
Scroll down until you find the icon called Simple Scripts. This is the amazing new software that lets you install WordPress on your host in just a few clicks.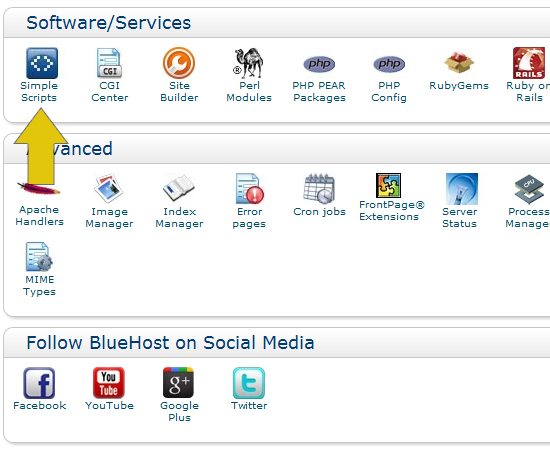 On the next screen, scroll down and find the icon called WordPress. Give it a click.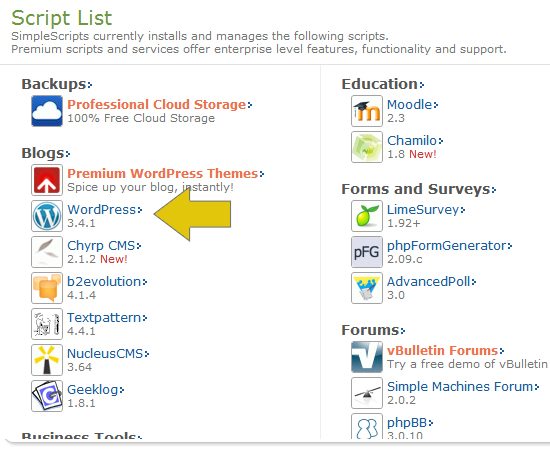 On the next screen all you have to do is click the install button if you are creating a new WordPress blog (you are).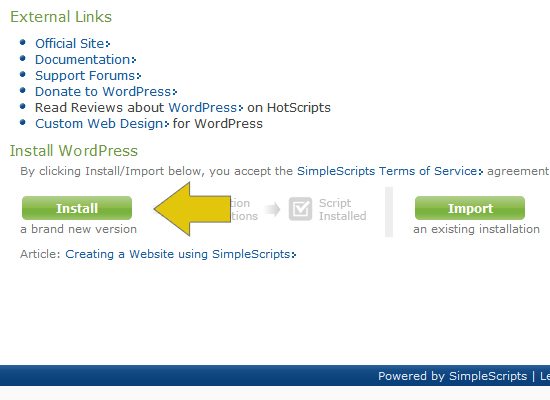 Now, the next scree has a few options but is actually really simple.
First, where is asks what version you'd like to install just select whichever is the most recent, as long as it is stable.
Second, where it asks where you'd like WordPress installed just select the domain name from the drop down that you just registered.
Third, name that bad boy.
Fourth, select a username and password. Make sure BOTH of these are complicated to add an extra layer of security.
Fifth, un-check the boxes of the plugins which you don't really need at this stage.
Lastly, accept the terms and then hit the Complete button.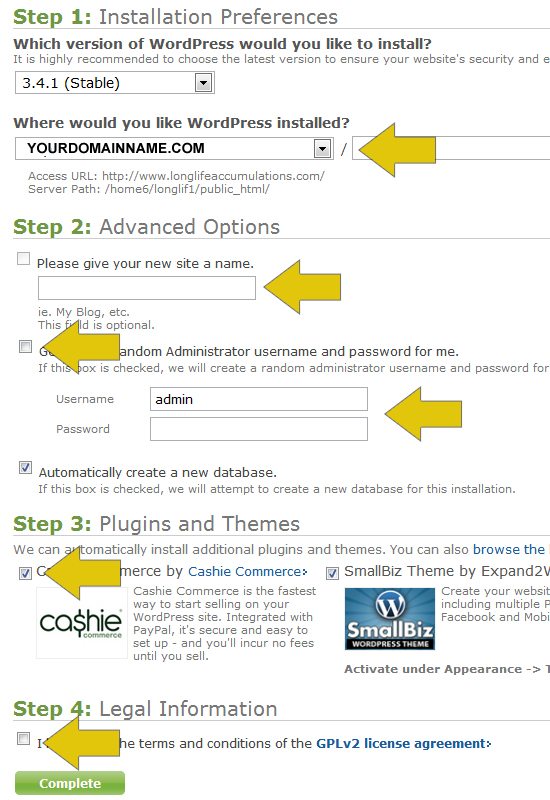 And you're done!
Once it has finished crunching the installation it will give you a confirmation screening showing you your unique WordPress login URL that will look like this:
http://yourdomain.com/wp-admin
Copy this and bookmark it and make sure you write down your username and password on a piece of paper. Never write this information down on your computer.
This URL is where you go when you want to write posts, change WordPress themes, etc. You can virtually forget about the Blue Host area for most blogging tasks these days.
Step 3: Change your theme and start blogging!
The final (and most rewarding) step in the process is where you install a beautiful new theme design and start writing your first posts!
To change your theme simply find APPEARANCES in the left sidebar and then then click THEMES. Up the top will be a tab called INSTALL THEMES – click that one.
Once you are here, use the search function to find a theme that suits your needs. There are literally tens of thousands to choose from.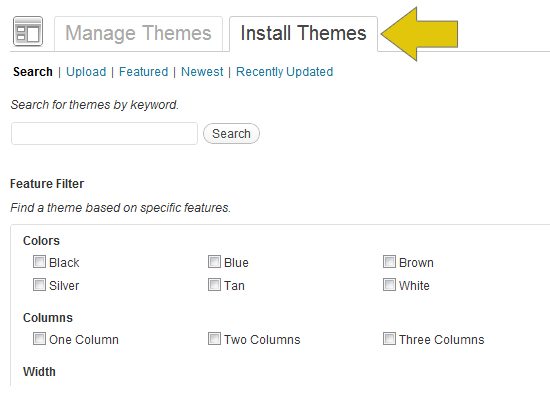 Once you have found a theme that you like you can preview it or just install it. Click the link and all the work is done for you!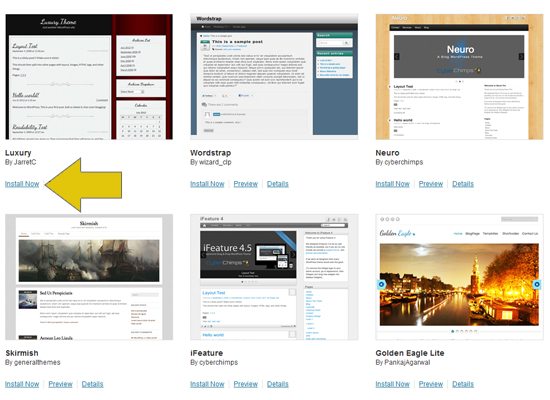 Now you are ready to start blogging on your new WordPress blog! That whole process from sign up to installing a theme can literally only take five minutes to do. Just follow this guide and if you run in to any problems you can ask one of BlueHost's amazing live support crew for help. They are there 24 hours a day.
Why would you want to start a WordPress blog?
If you're still not convinced about starting a blog on WordPress I have done a quick video on why I think it is the best option for new bloggers.
Any other tips on how to start a WordPress blog?
Do any of the more experienced crowd have any tips for new bloggers who are installing WordPress for the first time? Please leave a comment.
Um… what?
Yep, you heard me.
It's not a typo.
You're not hallucinating.
You shouldn't read blogs.
I know this is going to be a highly controversial post, especially because you are reading it on a blog. You might even be a loyal follower of this blog and be totally confused by me telling you not to read it anymore (I'm not saying that by the way).
I guess I should explain.
Oh, and at the end I'll pose a really tricky question to you. I wonder if you'll have an answer?
Read the rest of this amazing literary work…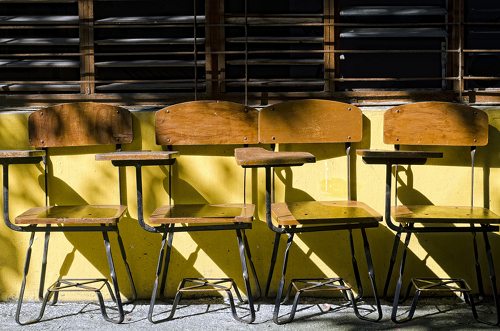 Education's purpose is to replace an empty mind with an open one.

- Malcolm Forbes
Education is power.
It allows us to reach new heights and achieve near-impossible things as individuals and collectively as a society.
But sometimes we bloggers forget to educate our readers at extremely critical moments.
I'm not talking (necessarily) about our content – we usually do a pretty good job at educating our readers there.
I'm talking about introductions, calls to action and the other places where we expect our readers to know what to do.
Most of the time, however, they don't have a clue.
In this post I'm going to introduce the SPELL IT OUT technique for educating your readers.

Hopefully by following these tips you'll increase conversions, subscribers and your loyal following.
Why are these 'education moments' so important?
In terms of blogging, this stuff is so important because of one word.
Read the rest of this amazing literary work…