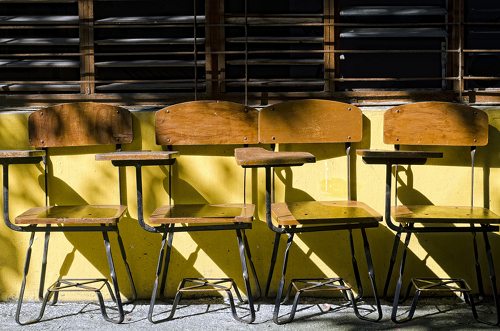 Education's purpose is to replace an empty mind with an open one.

- Malcolm Forbes
Education is power.
It allows us to reach new heights and achieve near-impossible things as individuals and collectively as a society.
But sometimes we bloggers forget to educate our readers at extremely critical moments.
I'm not talking (necessarily) about our content – we usually do a pretty good job at educating our readers there.
I'm talking about introductions, calls to action and the other places where we expect our readers to know what to do.
Most of the time, however, they don't have a clue.
In this post I'm going to introduce the SPELL IT OUT technique for educating your readers.

Hopefully by following these tips you'll increase conversions, subscribers and your loyal following.
Why are these 'education moments' so important?
In terms of blogging, this stuff is so important because of one word.
Read the rest of this amazing literary work…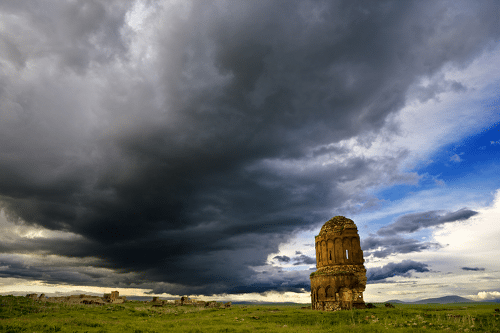 Something a lot of bloggers don't realize is that how your posts are presented is often just as important as what they say.
It sounds crazy but it is true.
Humans are very visual creatures. And we are also very judgemental and impatient.
Imagine rocking up to a job interview in flip flops and shorts. They wouldn't even listen to your credentials.
Imagine going speed dating and having a big booger hanging out your nose. It wouldn't matter how funny and charming you were.
Finally, imagine trying to give speeches with a stutter like this one.
Blogging is a lot like all of these examples: you have to make good first impressions and then you have to keep people interested and engaged with the way you deliver the content.
Let's jump in.
Read the rest of this amazing literary work…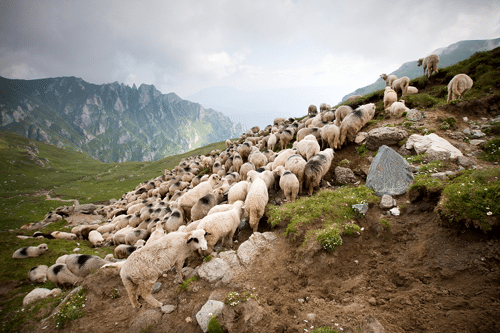 So how often should you post new articles to your blog?
Some people say you should do it everyday. After all, Google's Panda loves fresh content.
Other people say you should post multiple times each day. That gives people lots of material to share and talk about.
What about once a week? Is it perhaps best to keep it nice and regular and post on the same day each week?
Well, I disagree with all of those things.
And so do some of the guys making the biggest noise in the industry like Glen Allsopp and Derek Halpbern. I've even got quotes from them later in this post.
This post actually has two angles to it.
Read on.
Read the rest of this amazing literary work…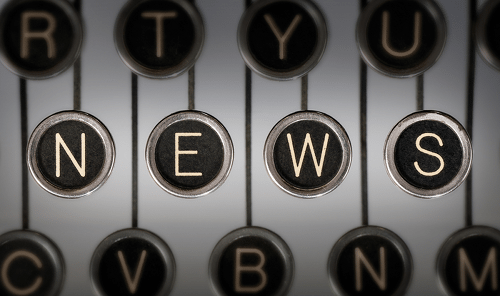 Ever wondered whether your WordPress theme was doing more harm than good?
I don't really like writing overly negative posts but I decided that some of my readers needed to have a think about the news-style (also called portal) themes that they are using.
Don't get me wrong, some of these themes are amazing and work extremely well for a lot of sites.
But for some bloggers they really aren't doing you any favors.
Let me explain why. This is going to be controversial.
Your theme is a huge part of your brand
If you are new to marketing principles I'd recommend spending some time reading about what a brand is. To help you out I found a quote by the legendary ad agency founder, David Ogilvy. He defined a brand as:
Read the rest of this amazing literary work…
In case you missed it I "came out" on ViperChill yesterday – the first person ever to get a guest spot on that awesome site.

It was a nerve racking but extremely rewarding experience.
Now that you all know my name and have seen my face I feel like we can move on to a lot of really cool new things – webinars, videos and hopefully a more open friendship.
And that is really the key thing for me – friendship. So many of my readers have become close friends and it just felt wrong to hide behind the scepter for much longer.
The ViperChill connection and the future of Blog Tyrant
Read the rest of this amazing literary work…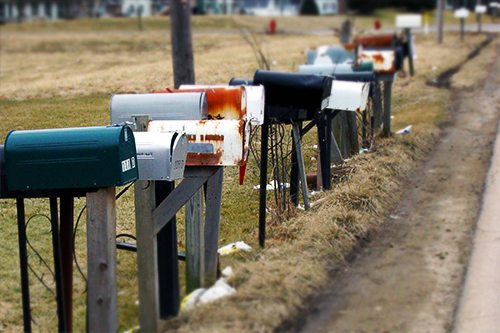 You want to know what the really rich guys do that the rest of us don't?
They use maths.
They use statistics.
They measure, track, tweak and remove as much guesswork from their business activities as possible.
And as my traffic and readership continues to grow I'm starting to see why. A small change in my opt in form design could result in dozens of missed email subscribers every day. And that works out to a lot of potential customers down the track.
I've made a video to show you how to create a split test for your opt in forms to mathematically get more email subscribers.
The post that follows is a bit of background in to what is going on and why everyone should be doing it.
What exactly is a split test?
If you are new to all this stuff you are probably wondering what the heck a split test is!
Read the rest of this amazing literary work…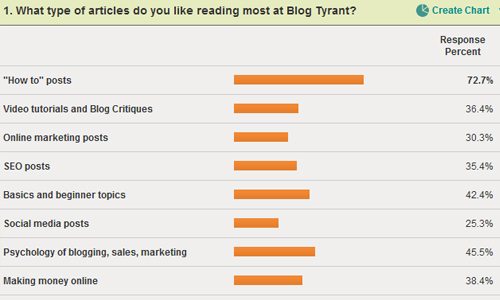 Feedback is one of the most important things your readers can give you. [Tweet this quote]
And one of the best ways to get that feedback is to create an awesome survey that your blog readers actually enjoy filling in.
In this article I'm going to show you:
why surveys are so important for your blog's growth
what WordPress plugins you can use to do a basic survey
strategies for making sure you get the right answers
how you can develop a more in depth and free survey for your mailing list
how to use the information properly
extra resources to master survey question writing
As always, if you have ever conducted a survey and have some insights to pass on please leave a comment and let us know.
Let's get started!
Read the rest of this amazing literary work…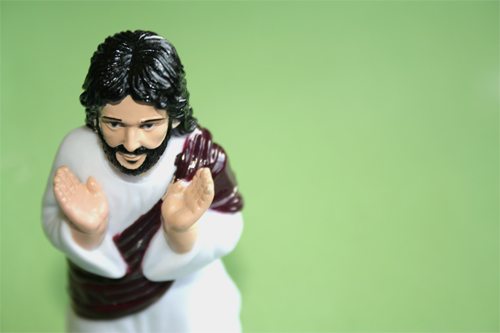 When you first start getting interested in blogging, online marketing and social media you feel like you need to be everywhere.
You start with your blog and then slowly (or not so slowly) branch out into writing on other people's blogs.
Then there is Twitter, Facebook, YouTube, LinkedIn and Tumblr.
And now we have Pinterest sending more traffic than a lot of those things combined.
So at some point you have to ask a very interesting question: how important is it to be everywhere?
Let's take a look shall we?
Read the rest of this amazing literary work…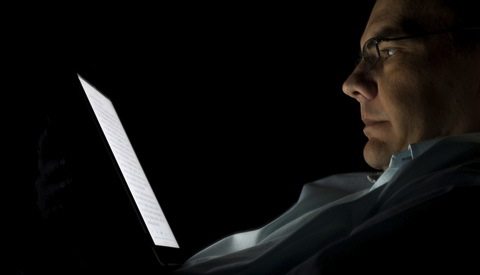 You know the drill. You create a free eBook and then you give it away for free to get more email subscribers.
It's a tried and tested method that has worked wonders for years.
But lately people have been saying the method is dead in the water. They reckon it's lost it's effectiveness because people are clued in to the method.
Well, I'd like to say a few things about that. I'd be interested to see what you think about the matter too.
Read the rest of this amazing literary work…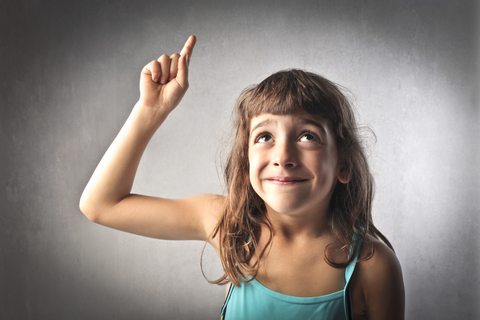 Today I thought we'd do something a little bit different.
Instead of me telling you what I think about something I'd like to hear your opinions.
So here's the question:
Would you prefer new comments to appear first or last on Blog Tyrant?
You see, the traditional way to display comments is in descending order meaning that the first person to comment retains the first position and every one else goes below him or her.
But you can also do it the opposite way whereby the newest comments appear first and the older comments gradually move down the page.
So which one do you think is best?
I'd like your answer to address two things:
What would get the most comments?
The first thing, of course, is which method do you think would encourage the most comments? Would you like to be "rewarded" for being first and getting the top spot or do you think you'd be more likely to comment if yours appeared at the top for a period of time?
What is the best user experience?
The second point is extremely important for me and that is what fosters the best user experience? Do you think you'd be more likely to engage in an ongoing conversation one way or the other?
I really love hearing all of your opinions; there are a lot of smart cookies on this site.
Please leave a comment below and let me know which method you prefer and why. Hopefully we can get some insights in to how people think about commenting which you can apply to your own blogs.
Photo: © Bowie15