Its been pretty quiet around here lately so I wanted to write a quick post letting you know about some really cool stuff that is happening next week (read: make excuses). If you have liked anything on Blog Tyrant so far you are going to go crazy like a fourteen year old at a Justin Bieber concert next week. Make sure you are following me on Twitter and subscribed to the feed so you don't miss any of the action.
The Tyrant on ProBlogger
Next week I have a guest post on Problogger that is sure to ruffle a few feathers. It is about three serious problems that make me leave your blog straight away and never return again. I have been pretty honest in there so hopefully there is some good information for you to check out and compare against your own blog. I'll put a Tweet up when the post goes live so you don't miss out.
In case you missed it, a few weeks ago I did a massive guest post on ProBlogger called How to Make Your Blog Addictive Like World of Warcraft which got over 70 comments and 0 phone numbers. That's a joke.
The article to end all articles?
For what seems like forever now I've been writing an article that might be so big and complete in its brilliance that it puts me out of business. Just kidding. But it is huge. I am going to put it up at the same time as my guest post on ProBlogger goes up so you might want to take that day off work. Remember the bookmarks function up the top of your browser window? You might even use that again!
Did you hear Myspace, Facebook and Twitter are merging?
Its going to be called YouTwitFace. That's a Jay Leno funny for you. Anyway, we now have our own Blog Tyrant Facebook page so please head over and click that like button. I am actually going to interact with my readers pretty often there as I have Facebook open all day long. If you want "live" responses or a chat about blogging that it probably the best place for it.
See you next week
I'm closing the comments on this post because I want you to save your typing energy for my posts next week. I'm going to need your support with that rowdy ProBlogger crowd.
photo credit: Loren Sztajer
This post is simply about developing a comment strategy that will grow your traffic, boost your number of subscribers and also get you better rankings on Google. Yep, that's right. All of that can be done by leaving some cleverly crafted comments. Here is how to do it.
NOTE – This post is entirely white hat and Google friendly. I never buy backlinks or use paid comment services and don't encourage my readers to do it either. Relevant and useful comments that add value are the only thing I will advocate.
Some advice about sexy comments
Before I get into the actual strategy elements of this post I want to talk about the comments that you leave on people's blogs and websites. They need to be sexy. And I do not mean sexy like dance around a pole or wear some nice lingerie sexy, I mean they need to be interesting, involved and personal. Please do not waste time leaving comments on people's blogs saying things like "hey, nice post" or "this is a really good article". Read the article (or a part of it) and leave a comment that is either adding something to the discussion, criticizing (nicely) the ideas of the post or saying something else that someone will find useful.
Why do all this? Here's why: Read the rest of this amazing literary work…
photo credit: Esther Gibbons
That's right. Blogging is a waste of your time. The title is not designed to mislead you. Sure, it is designed to be a little bit enticing but not at all misleading. In this post I am going to talk about why blogging is actually not all its made out to be and why it could be a massive waste of the precious little time that you have. But don't worry, its not all doom and gloom. There will be a light at the end of the tunnel (post).
Your goal: making money online
For the purposes of this post I am going to assume that your goal is to make money online. This might be so you can quit your day job or so you can work from home. Or, perhaps you just want a little extra cash to save up for a new car or something. If you are blogging to make money online then you could be wasting your time.
If, however, you are blogging because you want to help people or because it is a creative outlet for you then it is an entirely different story. The results of this type of blogging cannot be measures by dollars and cents.
Why blogging is a waste of your time
So why is blogging a waste of your time? What am I talking about? Well it is pretty simple. Blogging can be a distraction from your main goal. In fact, you can spend so much time focusing on blogging that you forget to actually make any money. Read the rest of this amazing literary work…
If you are serious about blogging you are probably also pretty serious about statistics. In fact, there are a lot of bloggers out there who spend more time looking at their stats than they do working on their blog. In this post I am going to talk about the five most important blogging statistics that you must know. Knowing (and understanding) these big five will help you in some significant ways.
Why do I need to know these? Can't I just blog?
Well, yes, you can just blog and ignore the stats. In the same way as you can just drive a car and not know where you are going. You'd better be pretty sure that you love driving though because you might not ever end up anywhere good. Statistics are important for a couple of reasons:
Read the rest of this amazing literary work…
Blog Tyrant just turned one month old and in that time I have had some pretty amazing things happen. I've been on the front page of Delicous.com twice, got hundreds of subscribers, had over 150 comments and received messages from some online hero's of mine (thank you Rand Fishkin). This post, however, is focused on the fact that I had over 11,908 unique visitors in my blog's third week.
I am going to do a quick break down of what I did so that you can do the same for your new (or old) blog.
The traffic proof
Before I move on with the post I know what you are all thinking. I can hear your judging thoughts. Where is the proof, jerk? Here is a screen shot from my Google Analytics statistics. I have cut and pasted the date from the right of the screen so I could fit it in to the small image. Other than that nothing has been changed.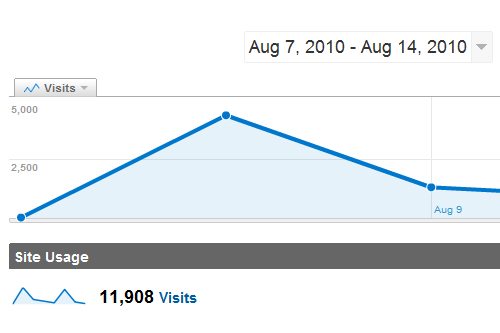 As you can see the day of August 8th was around 5,000 visitors which was the day that I hit the front page of Delicious.com for the article on selling a blog.
How I got over 11,908 visitors in my blog's third week
Now I will go into a few of the things that I did that you too can do in order to boost the traffic at your blog. Hopefully there is something new here for you to consider. As always, drop us a comment if you have any questions or any of your own suggestions.
1. I researched articles and targeted people's problems
The first thing I do before writing any article is research. Not a lot of research but a good 20 minutes or so in order to figure out exactly what I'm going to write about and, more importantly, why I am going to write it. I always do two types of research:
Read the rest of this amazing literary work…
The first few months as a blogger are hard. You have no idea what to do – self host or free hosting? This plugin or that plugin? It is a very confusing time. And the interesting thing is that even now, many years on, I still look for new things to put in my blogging arsenal. I still keep an eye out for better tools that will help me grow my network of blogs and websites.
This post is designed to be your complete blogging arsenal. I have put together all the tools, apps, plugins and websites that you will need to succeed with your blog. This post isn't just for beginners – hopefully everyone finds something new here.
54 tools, apps, plugins and websites that every blogger must have
As always, if you see any glaring omissions please leave a comment and let us know as I am going to add to this list constantly. I will give a back link to your blog if you suggest something that makes the list.
1. Just Host – Hosting
Just Host is a very cheap hosting company. They have amazing live support and give you as many add on domains as you like. This means you can host multiple blogs from the one hosting package without any problem. The main reason I recommend Just Host for so long is the fact that they never seem to crash or have down time. Most server company's seem to get this wrong. It is great for beginners because the support is really quite helpful in those times of crisis.
2. Google Sitemaps – Plugin
Automatically generates a sitemap of your blog and all its pages and sends it to Google for indexing. This is an essential for good SEO and could not be easier with this little plugin.
3. Head Meta Desc – Plugin
Turns the first few lines of each blog post into different meta description for indexation by Google. Very useful for turning your excerpt on Google results into something a little more catchy.
4. What Would Seth Godin Do – Plugin
A handy plugin that lets you add a message to your blog posts so that new readers see something different to old readers. For example, you might want to put something like "Hey dude, new here? Why not subscribe or check out our popular posts?" in order to make your blog more sticky.
5. Subscribe to Comments – Plugin
People leave comments but often forget to check back for replies. This plugin allows people to subscribe – an email is sent to them automatically when someone replies to their question. Visitor loyalty starts with this plugin a lot of the time.
6. Tweet Meme – Plugin
Adds the little thing up the top that shows how many people have Tweeted about your stuff. Handy if you get lots of Tweets, kinda sad if you don't.
7. Wise Stamp – Firefox/Chrome Extension
This lets you add a custom HTML rich signature to any email account (Hotmail, Gmail, Yahoo, etc.). All you do is compose your email, click the button down the bottom and it adds it in automatically. You can even have different signatures for different email accounts. Very handy.
Read the rest of this amazing literary work…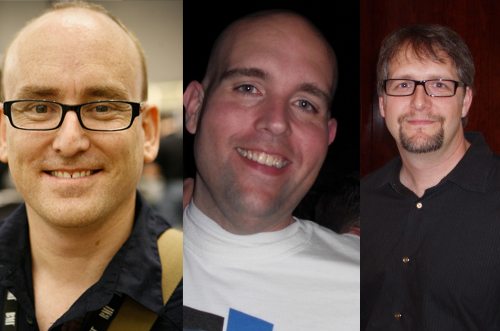 In the blogging world there are three names that everyone knows. Darren Rowse the Problogger, Jeremy Schoemaker from Shoemoney and Brian Clark the Copyblogger. These names are synonymous with blogging success, influence and, yes, making good money.
In this post I want to show you the three reasons why these guys are rich. Hopefully we can learn something from their example.
Read the rest of this amazing literary work…
So you've got a blog. You've read a few of Darren's posts and now you are inspired to make a living from it. Well there are a few things you need to know first. A couple of harsh realities that, if you learn them soon, might just save your skin. In this post I am going to show you 6 real reasons your blog won't last the year. Read carefully.
My 100 failed blogs
At the moment I probably have around 100 websites and blogs that sit there and do nothing except cost me fees and take up server space. They are the sites that I have failed at, forgotten about or just plain lost interest in. These blogs are an amazing lesson for me, however, as they give me valuable practice ground. They give me a place to try out new strategies and methods. And for every failure there seems to be a success that evolves from it. This post is all about passing the lessons from those failures on to you.
6 real reasons your blog won't last the year
Not all of these will apply to you if you are doing something right. But if you read through this list and find that some of them fit your MO then I hope you will try to fix them as soon as you can. If you don't I am quite certain your blog will not last very long.
1. You don't have a goal
The most important thing that any blog needs is a goal. If you don't have a set goal that you have planned and established then you will have no direction. Your goal is like your destination on a car trip; without one you have a nice drive but you don't get anywhere. You might end up somewhere nice, or you might end up in Arizona. Some goals that you might have are:
to build a following in order to launch a product
to personalize your company's website
to make money through advertising and affiliates
to help a cause by making money and donating or developing awareness
etc
Your goal is extremely important because it sets the tone for the rest of your activities. You need to make certain that your goal is fixed, planned and clear. Without one I think you will run into big troubles when success doesn't come as fast as you'd like.
2. Your voice is uninspiring, boring or confusing
Who are you? Why are you blogging? What can I learn from your blog? What problems are you going to help me solve? These are all questions that come back to your voice – the way you speak on your blog. You need to go back and read your previous blog posts and take a look at what you sound like to the rest of the world. Do you have something to offer? That is the main question that you need to find out. If you don't have anything to offer the world then no one is going to read your posts. No one is going to subscribe and visitors that arrive by Google are going to leave pretty quickly.
Read the rest of this amazing literary work…
In my first year of University I sold a blog for almost $20,000 after only eight months work.
It was then that I realized that making money online was something I really wanted to give a shot. Since that time I have sold several other blogs for similar price tags. In this post I am going to show you what I did in those eight months and how you can create a blog that someone might just want to pay big money for.
I am going to divide this post into three sections:
The pre-blogging stage
Building a blog worth some money
Selling your blog
Nothing in this post is particularly insightful or new, if you know where to look. What I wanted to do though was write a post that lays out the whole process so that everything is in one place and you can continue to come back and reference it as you move forward.
Read the rest of this amazing literary work…
photo credit: Mr. T in DC
Working from home has always been a dream of mine. As soon as I had a taste of office life I wanted out – the gossip, competitiveness, back stabbing and showing off was really not my scene. On the other hand, growing my own business, spending time with my family, working my own hours and playing video games at lunch time – that is something I have always wanted. And something I've got.
In this post I am going to talk you through a few strategies that will one day allow you to work from home and play video games at lunch time. Why is there a picture of a pie above? You'll find out later.
Setting a good motivation
The first thing you need to do is set a good motivation for doing it. Why is this important? Because working for yourself is hard work. It takes time, patience and a lot of discipline. If you don't have a good motivation for working for yourself then it will be extremely hard to stay focused. Here are some reasons that I wanted to work for myself:
Avoiding bad company
When you work in an office you can't choose who you are around. I found myself becoming a bitter and angry person and as such decided that I needed to get out before my character became too corrupted. Working for yourself is really the only way to do this.
Growing my own assets
When you work at a company you grow some other guy's business. When you work for yourself you are putting time and effort into your own asset. Every drop of sweat that you put in belongs to you and your company. It is very rewarding.
Helping people
My main goal in life is to spend as much time helping people as possible. Whatever money I make I want to use it in a way that benefits others, not myself. I'm not interested in big houses or vacations or fancy cars (although I do like the Audi R8!). I am interested in doing something that makes a difference. Owning my own business lets me do this.
Sit down and figure out why you want to work for yourself. What is going to get you through those weeks where no money comes in? What is going to get you through those late nights working on a deadline? What is going to stop you slacking off when no one is watching you? Without a good motivation you are sunk.
A short term, two medium term and one long term project
Okay so here it is. This is the strategy that allows me to work from home and play video games at lunch time. It is also what allowed me to weather the financial crisis without any real problems. You must always have one short term, two medium term and one long term project. Read the rest of this amazing literary work…