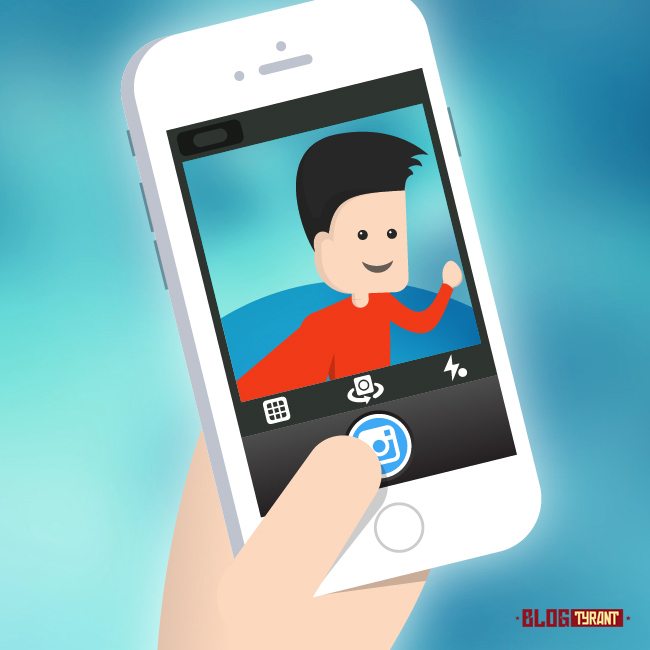 There is no mistaking it: Instagram is a giant.
Usually when a new social media platform comes out I ignore it for as long as possible – there's already so many different things to be across.
But after a while some of them become too big to ignore. Facebook, YouTube, Twitter and even Pinterest have reached that stage, and I think Instagram is now there for most industries, even more than it was just six months ago.
In this article I'm going to do my best to introduce Instagram to bloggers in a way that will hopefully help you use it as effectively as possible. We're going to cover:
Why Instagram is too important to ignore
How it works and some ways to make it better
How to integrate it with your blog to enhance both platforms
Some examples of people using it to grow blog traffic
A minor plea about the content you post
As always, if I miss anything important make sure you let me know in the comments below and we'll have a good old chat. Let's get started!
Why we shouldn't ignore Instagram
If you're new to all of this stuff Instagram is a mobile App that lets you share photos with friends and strangers after you've added a vintage filter that changes the color, look and feel.
These filters tend to do wonders for making scenery more dramatic, cellulite less obvious, and bulky muscles more defined, and as such the App took off with younger generations who made it popular.
Facebook bought Instagram for a cool $1b in 2012 and since that time has enjoyed a few updates (like live video) and promotions via the tech giant that have really solidified it in the marketplace.
In other words: it is not going anywhere.
As an almost exclusively visual medium that integrates with Facebook ads and blogs in a very nice way, we should try to use Insta (that's what the kids call it) as a way to tap into new traffic, help people, and promote good things.
The basics of how Instagram works
Instagram is primarily a social network, but also works as a search engine and archive. Let's look at the basics.
Setting up Instagram
If you'd like to try Instagram you just download the App to your smartphone and then create an account or sign in with Facebook. Fill out your biography and add a photo of yourself as well as a link back to your blog. That's it.
Using Instagram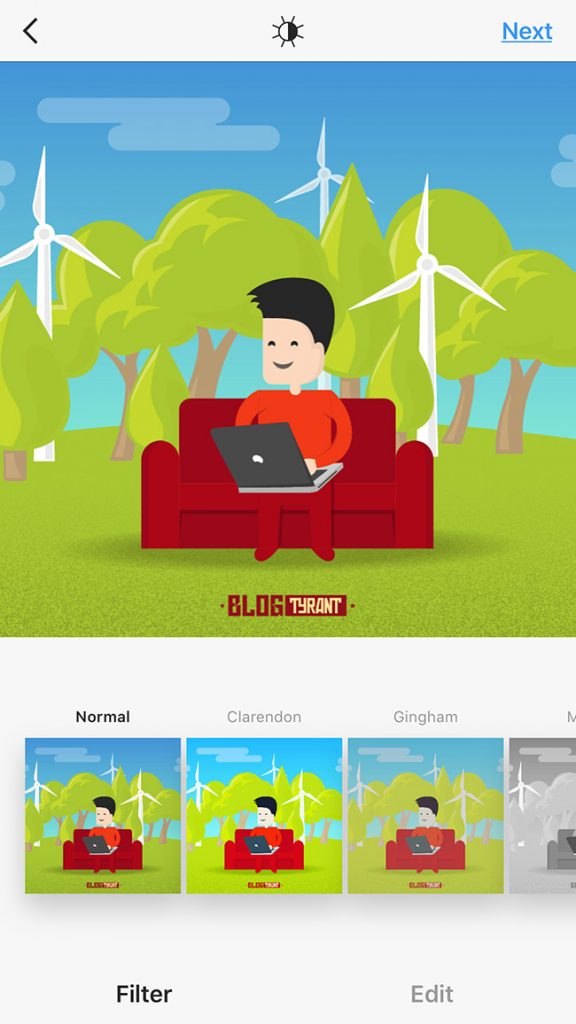 Once you've done that you will see a little + button that allows you to upload your photos, add a filter, tweak the colors and then post it to your account.
Before posting it, however, you'll want to add a little description as well as around 5-10 hashtags. This is an important step as this is how people who aren't directly following your account find your content.
For example, if I post the above photo about my carbon neutral article and tag it #climatechange then anyone searching that tag has a chance of finding my photo. This is the search engine element of the website. Posting good photos is, of course, the most important thing but tagging them will help you find more exposure.
The next thing you'll want to do is find a bunch of people to follow. They should be related to your interests/niche and be posting things that you want to see. The idea is to follow, comment and interact with them just as you would on Twitter or in this blogging strategy. This is the social networking element and is very valuable.
Lastly, you can also start posting live videos or non-live videos that people can see for a set amount of time. This can be really useful if you niche lends itself to tutorials or Q&A sessions, etc.
How to make Instagram better to use
While the app itself is very good there are a few other things we can do to make the experience more robust, easy-to-use, as well as saving a bit of time.
Use Instagram from your desktop
One thing you can do is download a desktop App like Grids which allows you to post to your Instagram account from your laptop or desktop computer.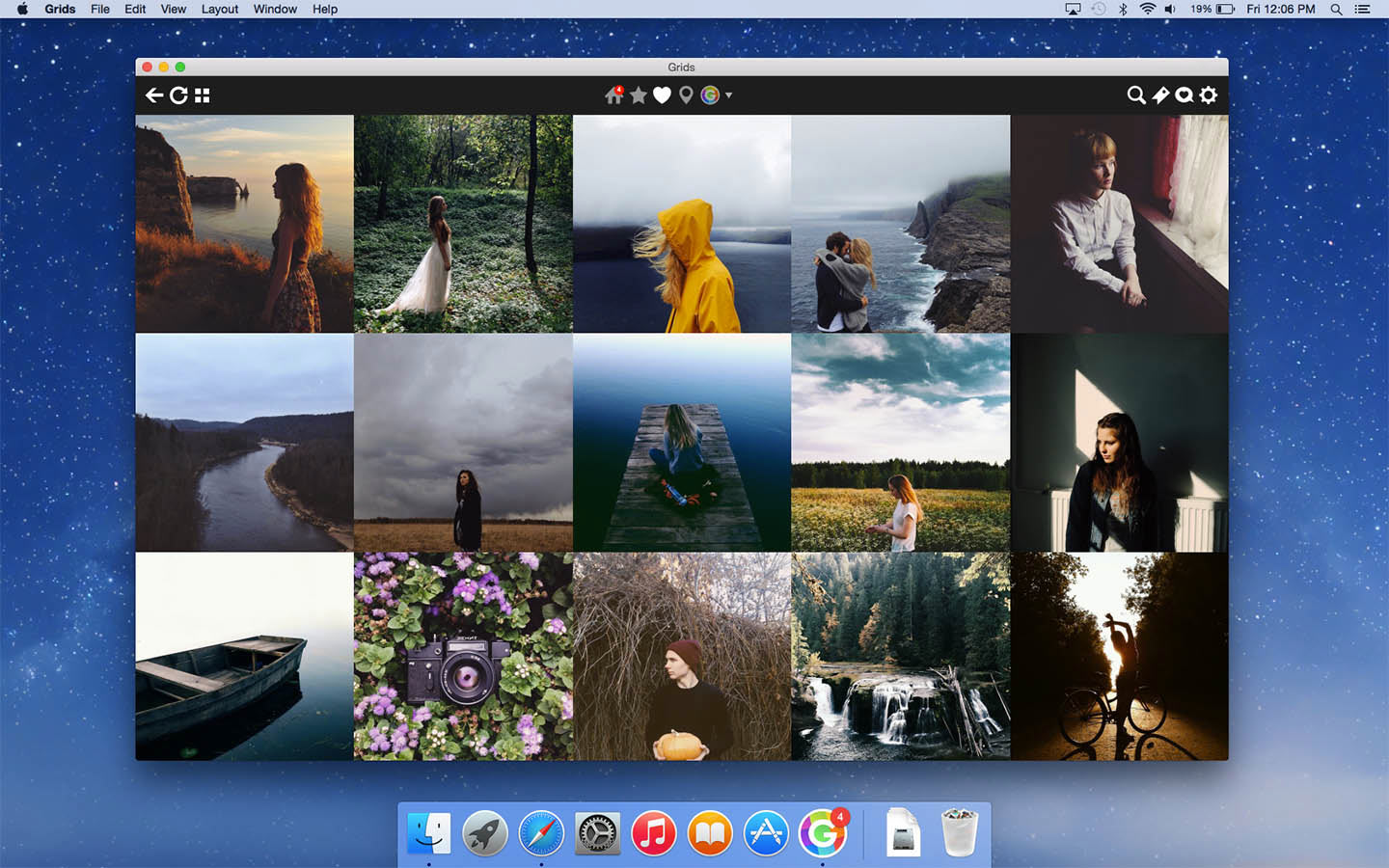 This can be really handy because it allows you to edit photos directly in Photoshop and then post them without having to send them to your phone first – very useful if you're taking a lot of photos with a DSLR on a more professional scale.
Make Instagram collages
The next thing you'll want to get is a mobile App called Layout. This allows you to add a few photos to a collage-style format and edit the colors, shapes, borders, etc.
This type of App is very handy if you want to show a sequence of photos or maybe a bunch of different photos from one event. It's also a way of making your feed slightly different to the singular photos that dominate the platform which can be good for occasionally getting a bit more attention.
Repost other users' content
Unlike every other social network, Instagram has no way to re-share someone's content. If you see a photo that you like and want to share with your followers you'll need to either screenshot it and manually edit/upload it or use an App like Repost for Instagram to make the process a bit easier.
Remember, before you share content you should always make sure it's okay with the originally owner, and always make sure you are giving proper credits without editing their message too much.
How to integrate Instagram with your blog
If you're reading this article it's likely that you want to use Instagram as a way to get more traffic to your blog or website, or as another way to communicate with existing clients/readers.
To do this properly we'll need to look at a few ways you can mix Instagram and you blog in order to enhance both platforms.
Note: I'm going to assume that you are using a self-hosted WordPress setup for this article as it gives you a bunch of different plugins and tools that help you do this effectively.
Embedding photos in WordPress posts and pages
The first fun thing to know is that you can embed your Instagram photos in your WordPress blog posts and pages by simply clicking on the photo and copying the embed code. It looks like this:
This is a good thing to try as it promotes both your Instagram account and your blog at the same time, while also giving you the choice of using some nice photos for your blog – kind of eliminating the need for stock photos.
If you're using other people's photos make sure you have permission, and also beware that if they delete a photo then the image on your blog will also be removed as you're pulling the photo from Instagram's servers as opposed to uploading it to your own.
Adding a photo gallery to your blog's footer or sidebar
Another thing that is quite popular is adding a photo gallery to your blog that populates the photos by pulling the from your Instagram account.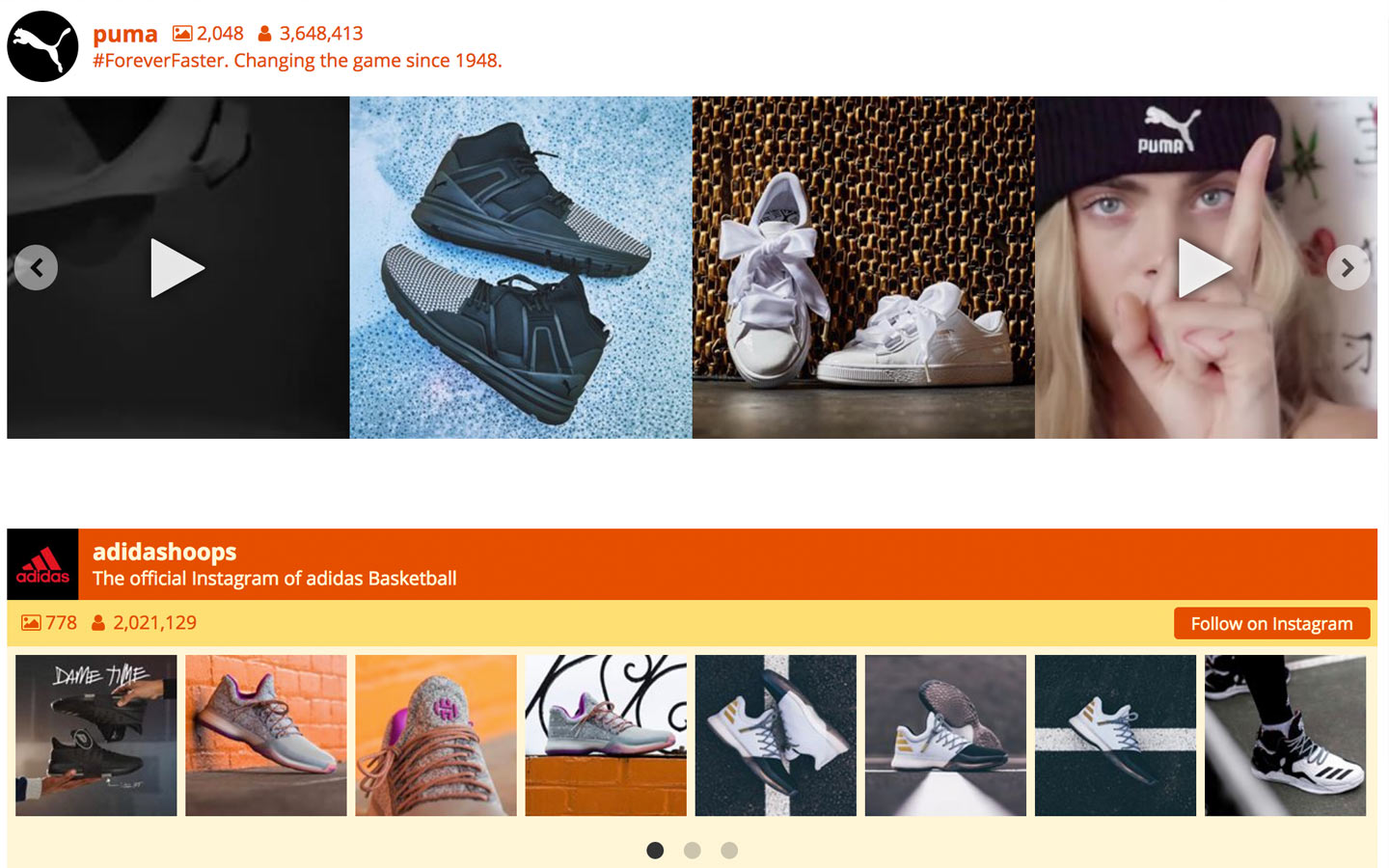 A plugin called Instagram Feed has a few different options that help you do this. You can have a regular gallery or a carousel-style that lets you scroll through photos and takes up less space.
You can also use plugins that add Instagram to your content via the Widgets function like Instagram Slider. For all of these you'll need an Instagram ID key due to the way their API works. It's a bit of set up but the results are really nice.
Importing your Instagram content to WordPress
Some people like the idea of syndicating their content across multiple platforms. The plugin Instagram Importer allows you to get all of your content on Instagram and import it to WordPress. Although I'm not a fan of shorter content, this can be a nice way to backup your Insta content while also doing something new on the blog in a certain category.
How to use Instagram to get more traffic
Now that we've had a look at some of the ways to use and enhance Instagram, let's take a look at some things we can do on the platform to get more traffic to our blogs.
Use the Facebook ads platform
The first method I wanted to talk about is the fact that you can now run Instagram ads from your Facebook ads account. This means you can either copy campaigns that are working for you on Facebook and run them on Insta, or create brand new campaigns that are more photo based and try your luck just on Insta.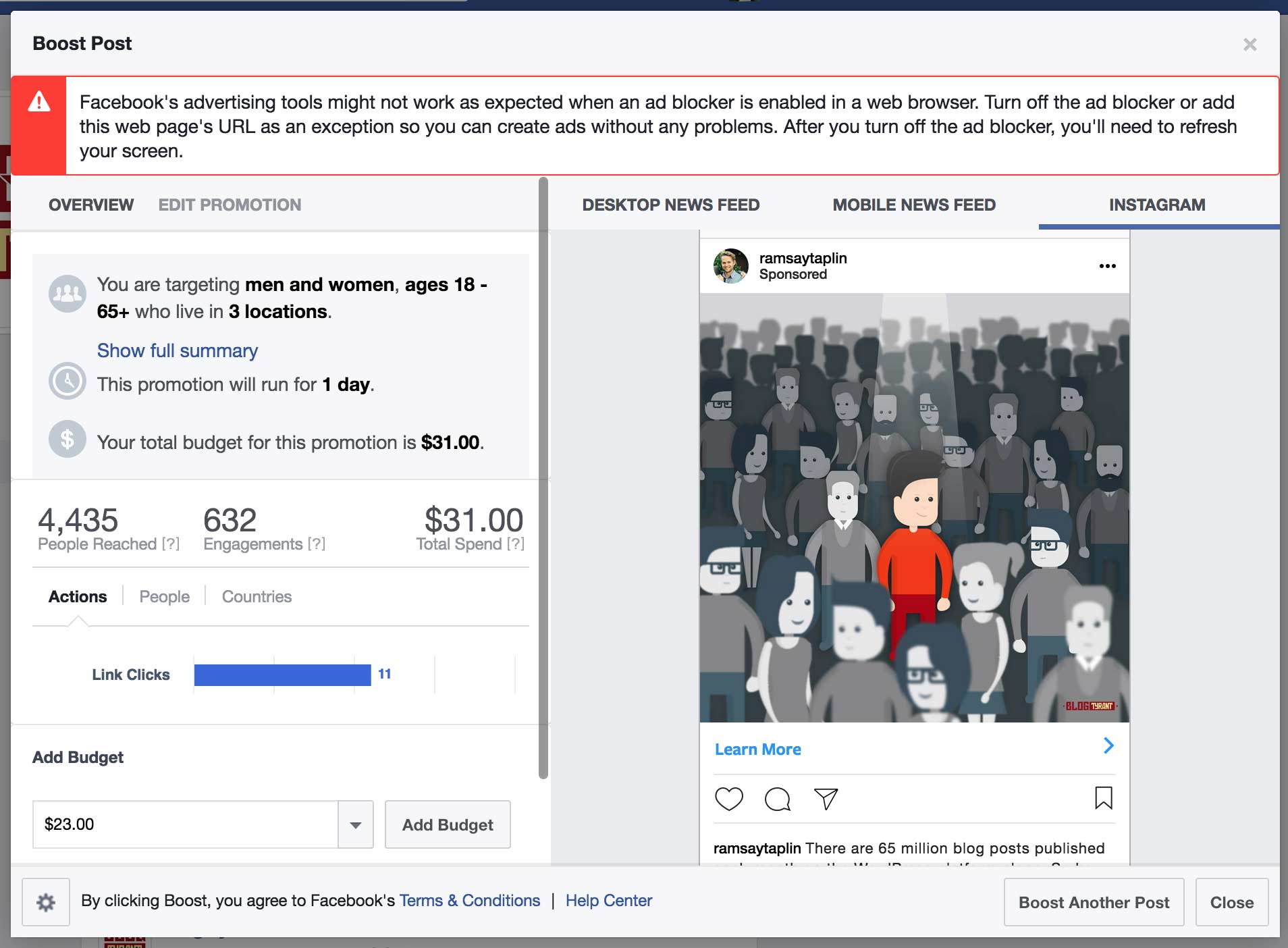 As you can see above, this is a Facebook boost that I did that also ran on Instagram. The downside? Every one of these that I've done has performed terribly and been way too expensive. I'd recommend skipping the Boost option and spending some time learning how to craft Facebook ads correctly..
Refer to your website link in your bio
This one sounds really simple but it took me a long time to realize that Instagram doesn't allow any links in the photo posts themselves. Rather, you get one website link in your bio and that's it. So, if you are doing website-related content then make sure you tell people to refer to the website link in the bio. You can always change it to a landing page if you're running a specific campaign.
Use text in your images for specific purposes
Let's take a look at six images of Chris Ducker's Instagram feed for a good example of someone who is using their brand and their personality for a very specific purpose.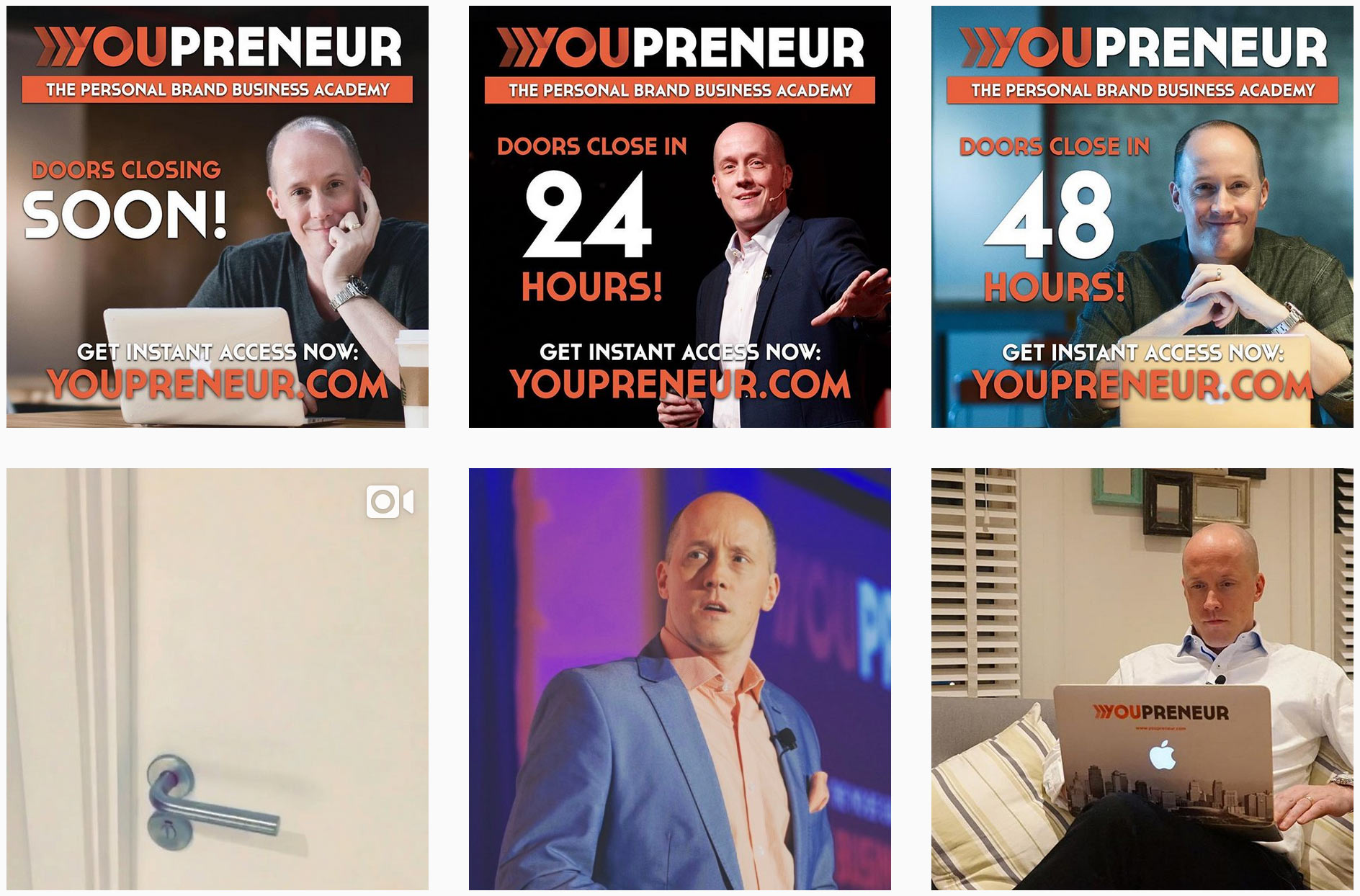 Take a look at how he's done a countdown towards a launch of a new product. A lot of the content surrounding those three photos was also educating readers about the launch or giving little bit of information from it to get people excited. This is a great idea as long as you don't do it too often such that people end up becoming blind to the promotions or frustrated with the advertising.
Run a hashtag contest
Something I've seen a lot more of lately is people and businesses running hashtag contests as a way to get in front of people in a more organic way through their friends.
For example, on of my favorite accounts, National Park Geek, tell people to use their hashtag when posting beautiful pictures of national parks as a way for them to find your content. They then repost those photos if they like them. This is extremely clever because it gets people talking about their brand at the same time as generating them incredible attractive content with hardly any work. And it's all for a good cause – they donate some money to conservation.
This type of thing could work really well at events where there is some kind of strong visual element. A real estate conference maybe not so much, but an outdoor music festival where people can snap photos of musicians, acrobats, scenery, etc. could work very well. A lot of bloggers are doing really well with this type of thing with their fashion blogs. Just make sure people know how to tag it and find the main account.
Use live and non-live videos for tutorials, reviews, etc.
I've been getting into golf a bit more lately (yes, I'm getting old) and one of the things I've found myself doing is watching coaches online who gives tips about technique, drills, etc. Rick Shiels is one of the best I've seen.
Rick is a prolific YouTuber but also does very well on Instagram. Actually, his online presence is one of the best I've ever seen in any niche – targeted, valuable, fun and free. He uses video content to teach people drills and tips, but also review clubs and sometimes just show clips of himself playing golf at different courses so that viewers can get to know him and his style a bit better.
You don't have to produce content as high quality as his to cut through either, a short little talking head video, or a clip of you doing whatever it is that you do can be enough to get people engaged and looking deeper into your website and other social profiles. But if you want to get some good ideas I highly recommend taking a look around Rick's content to see how he does it.
Preview your membership content on Instagram as a teaser
One thing you'll notice a lot of big Instagram users do is kind of use Instagram as a way to grow a community and then push them towards a membership site that they have on their own domain. It could be an online training program or an offline event – but the methodology is the same.
For example, take a look at a quality trainer/athlete like Andrew_Pap_:
Andrew posts excellent content of his workouts, nutrition, clients, etc. as a way to grow influence and educate people to his style of training. This then allows him to promote his events or products. If you look at his bio link at the time of publishing this article and you'll see it's a link to buy tickets to an event.
There is nothing wrong with this style of promotion as long as you are ethical with your statements and claims, disclose when you're being paid to say something, and genuinely try to help people with your content. And that leads me on to the final part of this post.
A minor plea about Instagram content
I wanted to end this article with a minor plea about the kind of content you post on Instagram.
Once you've used it for a while you'll notice how desperate it's getting. I don't mean to judge anyone, we all have our issues, but I've really noticed how extreme the vanity and self-involvement has become over the last year or so.
For example, graphic sexual and violent content is now normalized, and I see things like teenagers (complete with pouting selfies and needle emojis) posting messages about how happy they are that they got botox that day.
It's all a bit much and I worry about the effect it has on younger minds that are just getting started online. I have two teenage nieces and I see how it influences their thinking/shopping/conversation patterns.
Instagram is a great way to get attention and traffic, but please make sure the stuff you put out into the world is helpful. Think about the people out there who might be affected by what you post and try to make sure the effect you have is a positive one.
Do you use Instagram for your blog?
I hope something in this article has been useful to you. I'd really love to know how you use Instagram and if anything that you've done has been particularly effective for your blog. Feel free to share or ask any questions as someone here in the community will have an amazing answer – guaranteed!