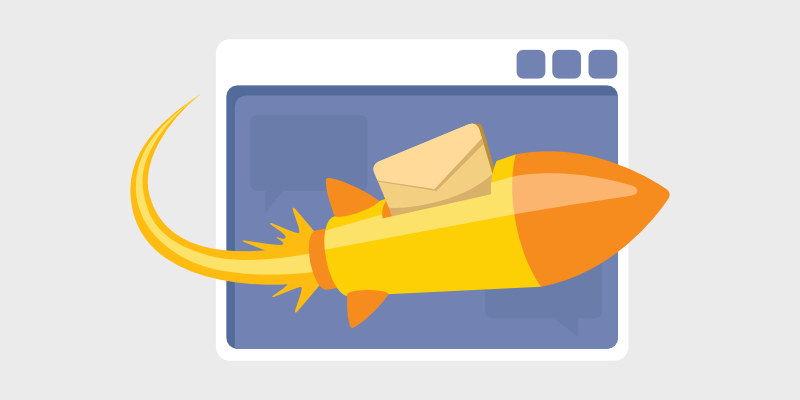 A re you looking for the best SMTP service providers? In this article, we'll share our picks for the best SMTP services to ensure that your WordPress emails reach users.
When you start a WordPress blog, you need to rely on WordPress to send emails to users for a variety of reasons.
With an SMTP service, you can make sure that the emails you send from WordPress are delivered successfully. An SMTP service will also help your emails reach the inboxes of recipients, instead of the spam or junk folders.
There are a lot of SMTP service providers on the market. To help you choose the right one for your needs, we'll list the best SMTP services available.
But, first, let's explain what SMTP is…
What is SMTP and Why Do You Need It?
You need to use WordPress to send emails for many common tasks like:
Registering a new user
Recovering a lost password
Notifications for password changes
New article or comment notifications
For online stores, you'd also need to send order confirmations, shipping notifications, delivery confirmations, and more.
The problem is, many users find that WordPress doesn't send these emails properly.
And that's because WordPress relies on the PHP mail() function to send emails. There are a few problems with this. Mainly, many hosting providers don't have this function configured properly or disable it completely to protect their servers from abuse.
Even if the function is configured properly, your emails can still end up in the spam folder. That's because most spam filters verify emails by the sender's email address, location, and domain name so it could flag your site's email as suspicious.
But, SMTP service providers are an easy solution to this problem.
SMTP, which stands for Simple Mail Transfer Protocol, is the industry standard to send emails on the internet. It uses proper authentication to make it more likely that your emails are delivered successfully to users in their inbox, rather than in the spam folder.
Now that you know why you need an SMTP service provider, let's take a look at the best options.
Best SMTP Service Providers
There are many SMTP service plugins and providers available. Each provider offers different features and pricing plans.
You might also want to consider ease of use, how many emails you can send with a free plan, and more.
So, let's dive into our top picks for the best SMTP service providers and plugins to find one that's right for you.
First, to connect an SMTP service to your WordPress site, you need an SMTP plugin.
WP Mail SMTP is the best SMTP plugin for WordPress. It lets you reliably send WordPress emails using any SMTP service provider. It seamlessly integrates with providers like SendLayer, SMTP.com, Brevo (formerly Sendinblue), Amazon SES, Mailgun, and more. 
This plugin works by bypassing the WordPress PHP mail() function and forcing it to use your SMTP settings.
WP Mail SMTP is super easy to set up. And you can set it up to use whatever email you want, simply by entering your SMTP options in the plugin dashboard.
Plus, it's available as a free plugin that comes with everything you need to improve your email deliverability.
You can also upgrade to a paid plan to get access to more powerful features. They even offer a White Glove Setup (Elite plan), which allows you to get the plugin installed and configured by a team of experts.
Over 3,000,000+ websites are using WP Mail SMTP to fix their email deliverability issues and it's backed by the team at WPForms.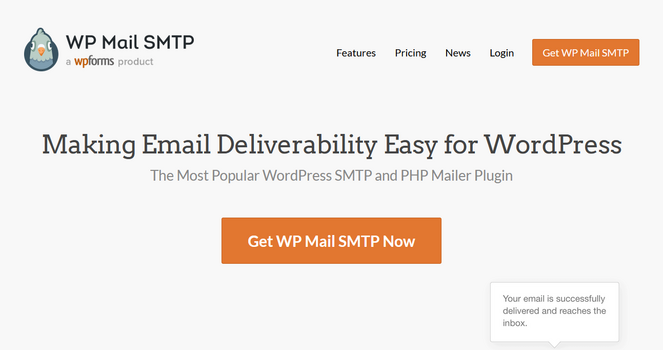 Here are some key features of WP Mail SMTP:
Works with all popular SMTP service providers
Automatically keeps track of all emails sent from your WordPress site
Control which email notifications your site sends
Full translation and localization support
Outstanding customer support
And more…
Get WP Mail SMTP today!
Pricing:
There's a free plugin available to download from the official WordPress repository. You can also upgrade to the pro version starting at $49 per year. 
SendLayer is the best SMTP email delivery service on the market. It lets you easily connect and send your website emails with API and STMP relay for maximum deliverability.
You can reliably send transactional emails, confirmation emails, shipping notifications, password resets, WordPress emails, API-based emails, and more.
SendLayer is super easy to use and you can set up your domain in a matter of minutes. Then, it will walk you step-by-step through the process of setting up your DNS to stop your emails from being sent to the junk mail folder.
From the user-friendly dashboard, you can create and manage mailing lists and email groups. You can also protect your deliverability reputation by suppressing email addresses that you don't want to send to.
It also includes detailed email logs to track emails sent and bounce rate. Plus, you can view open rates and click analytics on individual emails to check engagement.
SendLayer seamlessly integrates with over 1,000+ platforms, including WordPress, WooCommerce, Magento, Drupal, Joomla, BigCommerce, Help Scout, and more.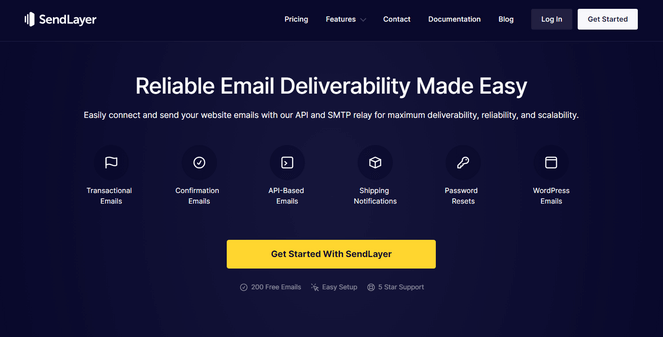 Take a look at the top features of SendLayer:
Easy to set up
Awesome email deliverability
Detailed email logs
Open and click analytics
Integrates with 1,000+ platforms
5 star customer support
And more…
Get SendLayer Today!
Pricing:
SendLayer offers a free trial that lets you try out the service and send 200 emails. After that, paid plans start at $5 per month for 1,000 emails per month.
SMTP.com is a popular SMTP service provider trusted by over 100,000 companies like Best Buy, T-Mobile, Virgin Atlantic, and more.
SMTP.com is able to handle high email volumes with super fast delivery. You can use this service to send notifications, registration emails, authentication emails, order confirmations, and much more reliably.
And you can set up and integrate SMTP.com in minutes to start sending emails quickly. It also seamlessly integrates with WordPress and popular SMTP WordPress plugins like WP Mail SMTP.
Another cool feature that SMTP.com offers is its SMTP Reputation Defender. This tool uses big data to proactively monitor the health of your email list and protect your domain and IP reputation.
You can also use the detailed analytics report to keep track of your email deliverability and engagement.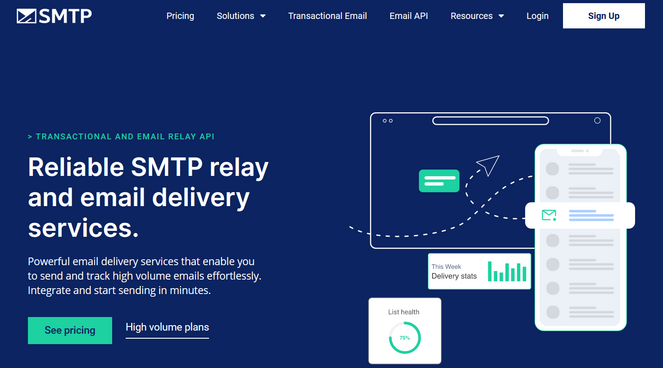 Check out these awesome features of SMTP.com:
Supports shared and dedicated IPs
99% system uptime
Proactively checks and blocks spam
Easy migration from other services
Flexible and scalable plans
24/7 customer support
And more…
Get SMTP.com today!
Pricing:
SMTP.com pricing starts at $25 per month to send 50,000 emails per month and it comes with all features.
If you need to send more emails, you'll have to upgrade your plan.
Brevo, formerly known as Sendinblue, is one of the best SMTP providers and it offers some of the best email marketing services in the world.
At Brevo, user-triggered transactional emails, like order confirmation emails, recovery password emails, and so on, are sent through an SMTP relay called Brevo SMTP.  
You can also do bulk email marketing reliably with Brevo's dedicated SMTP server. 
Brevo also offers other powerful features like live chat, SMS marketing, marketing automation, segmentation, and much more.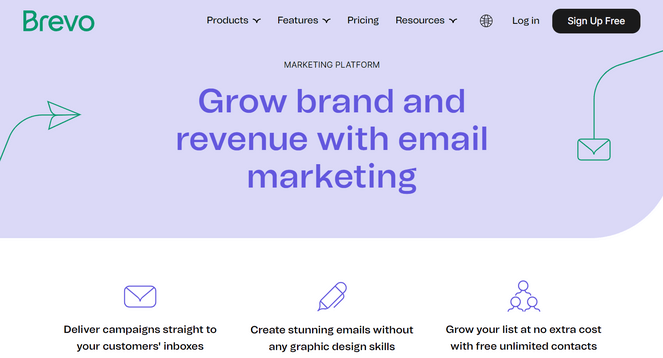 Check out these important Brevo features:
Excellent deliverability rates
Email template library and drag and drop builder
Real-time statistics and reports
Shared inbox to manage customer email history
Integrates with WordPress and marketing tools like OptinMonster
And more…
Get Brevo today!
Pricing:
Brevo offers a forever-free plan that lets you send up to 300 emails per day to unlimited contacts. 
For no daily sending limit and access to more features, you can upgrade your plan starting at $25 per month.
Constant Contact is one of the most well-known email marketing and SMTP services on the market. It comes with an easy drag and drop editor to help you create and design beautiful email newsletters.
It also comes with marketing automation, list segmentation, tools to help you grow your email list, and much more.
Constant Contact also boasts a high delivery rate of 97% so you can be sure that your emails will land in inboxes successfully.
Plus, with Constant Contact's email authentication, you can build a good reputation with ISPs (internet service providers) and improve your email deliverability.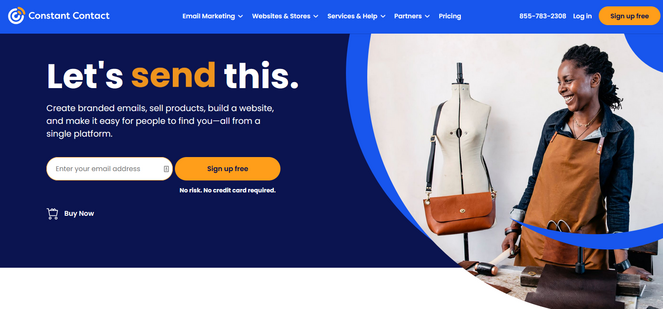 Take a look at these features of Constant Contact:
Email templates and template builder
Real-time reporting and analytics
Send triggered emails based on user behavior
Subject line A/B testing
Integrates with WordPress, WooCommerce, Shopify, etc.
And more…
Get Constant Contact today!
Pricing:
Constant Contact starts at $12 per month depending on how many contacts you have. They also offer a free 60-day trial. 
Mailgun is another powerful SMTP service provider that uses APIs to send transactional emails and bulk emails at a higher delivery rate.
It offers fast and accurate email verification, advanced email analytics, responsive email templates, and more.
Mailgun also seamlessly integrates with WP Mail SMTP to reliably send all of your WordPress emails.
Mailgun is designed for developers though. So, beginner-level users might have a difficult time using it compared to some of the other beginner-friendly STMP providers on this list.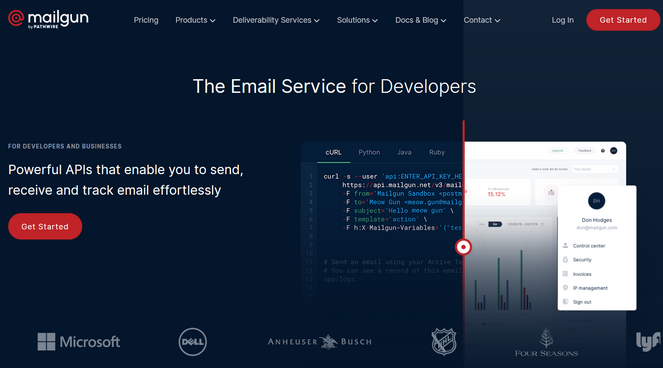 Here are some notable Mailgun features:
Email APIs, SMTP relay, and webhooks
99.9% guaranteed uptime
Highly scalable
Supports testing mode
API reference with code samples for Python, PHP, Java, and others
And more…
Get Mailgun today!
Pricing:
Mailgun has a trial plan that lets you send 5,000 free emails for 1 month. After that, paid plans start at $35 per month for up to 50,000 emails and a dedicated IP.
SendGrid is a cloud-based SMTP email service provider that's used by over 80,000 customers like Airbnb, Uber, Spotify, Yelp, and many others.
With SendGrid, you can send and receive bulk emails without managing an SMTP server. It also comes with many other useful features to improve email deliverability like dedicated IP addresses, domain name authentication, and more.
And you can easily create email marketing campaigns using the email templates and drag and drop editor.
You can quickly connect SendGrid with WordPress using the free WP Mail SMTP plugin.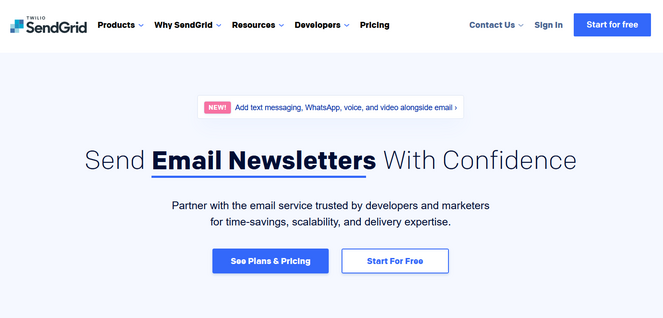 Take a look at these features of SendGrid:
APIs, SMTP relay, and webhooks
Delivery optimization tools
Detailed analytics
Easy template editor
Helpful customer support
And more…
Get SendGrid today!
Pricing:
SendGrid offers a free plan which lets you send 100 emails per day. To send more emails and get more features, you can upgrade your plan starting at $19.95 per month.
Amazon SES, which stands for Amazon Simple Email Service, is a highly scalable cloud-based SMTP service. You can use it to reliably send transactional emails, marketing emails, and bulk email communications.
It offers flexible deployment options including shared IP addresses, dedicated IP addresses, and owned IP addresses.
Amazon SES also comes with features like sender identity management and security, sending statistics, reputation dashboard, mailbox simulator, and more.
But, it's not as easy to use as other SMTP service providers on this list because its features are mainly aimed at advanced users and developers.

Check out these features of Amazon SES:
Dedicated IP addresses
Content filtering
Reputation dashboard
Detailed statistics and insights
Integrates with WordPress
Pay-as-you-go service
And more…
Get Amazon SES today!
Pricing:
Amazon SES is a pay-as-you-go service based on the number of emails you send and receive. There's a free tier for up to 3,000 outbound/inbound emails per month for the first 12 months.
However, there are fees for outgoing mail data, incoming mail chunks, dedicated IP addresses, and so on.
Postmark is another popular SMTP provider used by companies like Asana, LiveChat, Moz, and many more.
With Postmark, you get reliable and lightning-fast email delivery for your transactional emails.
It offers simple pricing and easy integration. Plus, it comes with features like email templates, 45 days of full content history and stats, detailed analytics, and more.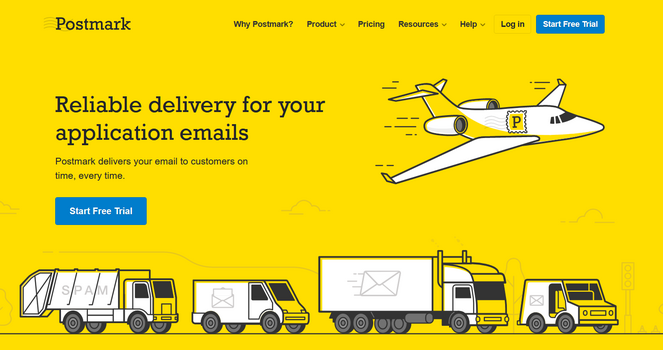 Here are some key features of Postmark:
Multiple server locations (US, Singapore, Amsterdam)
Open, click, and link tracking
Detailed email logs
Email templates
Helpful documentation and customer support
And more…
Get Postmark today!
Pricing:
Postmark has a free plan that allows you to send 100 emails per month. Paid plans start at $15 per month for 10,000 emails. After that, it costs an additional $1.80 per 1,000 emails. 
Google Workspace, formerly known as G Suite, is a collection of productivity and collaboration tools that includes professional email, calendar, online storage, Google Docs, and more.
With Google Workspace, you can use Google SMTP servers to reliably send emails and improve deliverability. It's super easy to integrate with WordPress using the free WP Mail SMTP plugin. That means you can use the familiar Gmail interface to send WordPress emails.
This option is best for small businesses and blogs because it only lets you send up to 2,000 emails per day.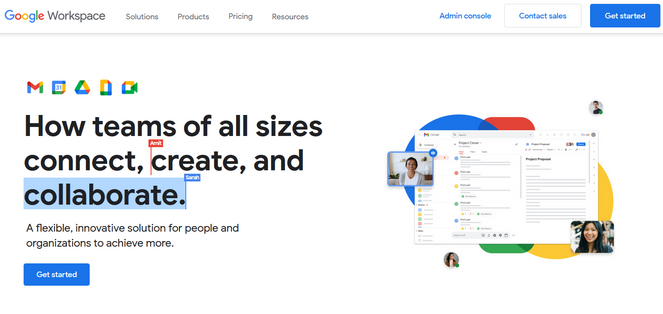 Take a look at these features of Google Workspace:
User-friendly interface
Reliable email delivery
Custom business email
Phishing and spam protection
And more…
Get Google Workspace today!
Pricing:
Plans start at $6 per month per user.
What is the Best SMTP Service Provider?
The SMTP service provider you choose depends on your specific needs and the size of your business.
For small businesses, our pick for the best SMTP service provider is SendLayer. It's scalable, has affordable pricing, and offers reliable customer support. 
For larger businesses, our pick for the best SMTP service provider is Amazon SES because it's super cost-efficient if you're sending out a large number of emails. But, their customer support is lacking.
And of course, we recommend WP Mail SMTP for connecting your SMTP service provider to WordPress.
---
That's a wrap!
We hope that you found this list of the best SMTP service providers helpful.
If you liked this article, then you might want to check out our email marketing checklist to help you get big results.
And don't forget to sign up for our email newsletter so you can get useful content like this sent right to your inbox!