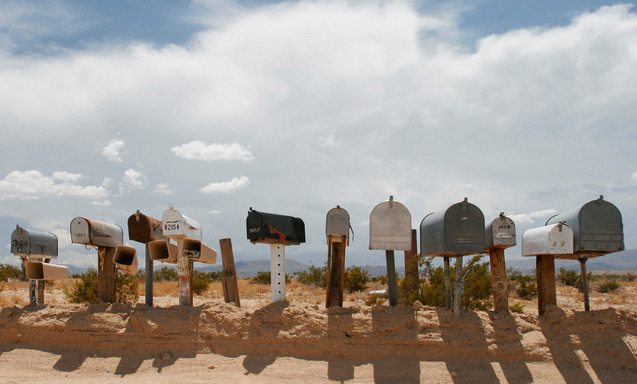 I recently saw a discussion on a blog about how it is now harder than ever to grow a mailing list. So hard, in fact, that the people having the chat were using it as a reason to give up on blogging altogether.
I'd like to offer a different point of view.
It's easier than ever before. Not harder.
Of course, that does not mean it's easy.
But, I honestly do think that if you have the right information and tools you've got a better chance of growing a good quality bunch of email subscribers now than five or more years ago.
Here's why.
Are you struggling to grow a mailing list?
I wanted to start this post by just acknowledging the fact that I know a lot of bloggers do have trouble growing an active email list.
Not only that, those that are having some success growing the list seem to struggle to use those subscribers for further expansion or earnings.
One of my goals here on Blog Tyrant is to help you avoid the mistakes that I have made in the past, so hopefully this will give you some new ideas.
Please leave a comment below and let me know what you're having trouble with in regards to your mailing list. Is it getting subscribers? Is it finding new traffic sources? Is it using the subscribers to make money?
Why it's easier than ever to grow a mailing list
Alright so I guess it's time for me to justify my outrageous and most contrarian reasoning for making such incredulous claims.
1. We have more knowledge about how to get subscribers
A lot of the time bloggers reminisce about how easy it must have been back in the old days.
There was less competition.
Things weren't as crowded.
So on and so on.
Yeah, but hardly anyone knew what a mailing list was let alone how to grow one!
These days the knowledge that floats around on the internet about mailing lists is astounding. There are guys like Neil Patel writing regularly about his conversion experiements and companies like Optimizely which help people like Barack Obama get more email subscribers in a scientific way.
And the reason is simple: mailing lists are worth a lot of money if used correctly. People are now aware of that fact and are giving their email subscribers the attention that they deserve.
Think about the idea of A/B testing your opt-in forms. This is only a relatively new concept but one that makes such a huge difference to your efforts.
In the old days you just had to guess.
So what are some of the things we now know?
Colors matter
We know that colors have an effect on how people react to not only a website but the email submit forms on that website. Derek Halpern reckons it's all about contrast.
The type of social proof matters
It's not just about having some social proof on there. You need the right type. Ordinary social proof can put people off and decrease sign ups.
Pop ups can work
People hated pop ups on blogs a few years ago. But, if done properly, they can really work wonders.
Placement is important
There are places on your blog that will lead to 10%-20% more sign ups just by virtue of it being in the right spot and without any new text.
Copy is vital
Are you using the right emotional triggers? Are you communicating an idea that encourages people to sign up? We've learned a lot about the effect of copy on submissions.
As I said above, I've got something coming out soon that is going to expand on this a lot more. Make sure you're on the mailing list. Love the irony.
2. There are incredible tools and software available
Closely related the the first point is the fact that we now have a plethora of tools and software available to us to ensure that we not only get our opt-in forms in front of people in a more appealing way, but that we can track and see which ideas are working better.
Design
Plugins like like Pop Up Domination and OptinSkin let you create beautiful forms right from your WordPress dashboard without any coding or Photoshop experience.
Tracking and testing
Websites like Aweber allow you to run A/B tests on your opt-in forms to see which one performs better. You can also see how many people in your mailing list open the emails you send and then how many people click through to your website. You can even split test your mail outs and run different designs or copy to see which converts better.
Storage
Again, sites like Aweber, Mail Chimp and Campaign Monitor allow you to store all your email subscribers for an extremely reasonable price. In the old days a lot of people had to manually store all these for themselves unless they wanted to spend a fortune on top level software.
If you take advantage of some of these things you put yourself in a very good position, assuming you are getting the right traffic.
3. There are more people on the internet
As we all know, there are more people on the internet than ever before. Not only is the internet expanding into countries that didn't have access before, the countries that did have access are now getting super-fast networks and cheaper access that create more surfing time.
And don't forget smart phones! Like I said last week, there are now more smart phones on Earth than toothbrushes and these (and tablets) now represent a huge part of overall web traffic.
These new users are potential subscribers to your mailing list.
They are customers waiting to buy your products or interact with your content in a meaningful way.
It's important to remember that the internet's growth is something real to your business – not something "out there".
4. People are less worried about signing up to a mailing list
One of my own personal theories is that people are a lot less worried about entering their email address into your mailing list's opt-in form.
Even just two or three years ago people like my mother would never sign up to a list. The security ramifications were too scary and the concept was too foreign.
And while that is still true for a lot of people, I think the major shift has taken place with how much trust people have in websites. In Australia, for example, 50% of people now use online shopping on a regular basis.
Of course, this doesn't mean you should trust every website and it doesn't mean you should stop doing things that help people trust your website. These are still important.
5. There are different ways to do it
When I first started on the internet there was definately not as many methods of capturing email addresses as there are today. You would maybe have a crappy looking submit form in your sidebar or some kind of guest book type page where people could leave a message.
That has all changed.
Think about the different ways people collect email addresses now.
Basic forms
There is all the basic form ideas like sidebars, end of post and on a dedicated subscription page.
Pop ups, slide outs and pop unders
You can have your form appear on a pop up or pop under or on a nifty little graphic that slides out only after the reader reaches a certain place on the page.
Redirects
When someone leaves a comment on my blog I redirect them to a thank you page that asks for an email address. That converts really well.
During a transaction
Remember the last time you bought something online and they had a little check box asking you to sign up for updates? Those work well too.
There are a lot of other ways too but the point is that there are a lot more savvy ways to collect emails for your mailing list now than when it was supposedly a lot easier to grow a mailing list.
But what about all the competition?
The main reason people cite for it being harder than ever to grow a mailing list is because there is just so much competition now.
Is that a valid reason, do you think?
Well, yes and no.
Yes, there is more competition. There are more blogs than ever before. Regardless of your niche you can guarantee that there are more people writing about it now than there were a few years ago.
But no, it's not a good reason to stop blogging.
Did Subway stop trying because McDonald's was already around? No. And now they have more restaurant locations than them.
There was always competition on the internet. Perhaps it wasn't as clever as it is now but it was always present. The things you have to do now to succeed are just a little bit different, but not necessarily harder.
Where are you struggling?
If you're one of the people who think that growing and using a mailing list is harder than ever I'd really like to know where you're getting stuck. Please leave a comment below – I think it will be very interesting to see where bloggers sit with this debate.
Photo: © Mirmoor