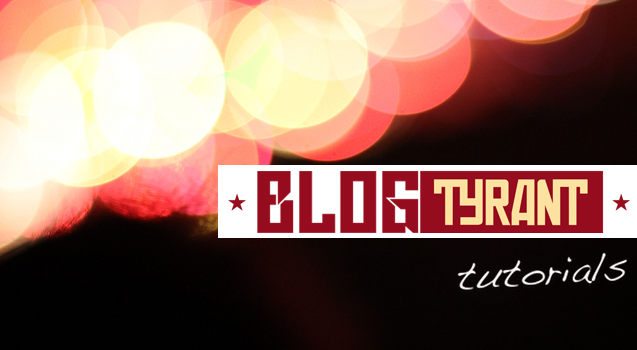 I'm really big on helping you get more email subscribers. It's my absolute favorite thing to do (other than getting emails subscribers for my own blog, of course!).
Well, I've been experimenting with a few different techniques, tools and landing pages lately and some of them are converting at nearly 25%. I still get a massive thrill from trying something new and seeing it pay off in terms of subscriber numbers, engagement or earnings.
In today's post I want to give you a few actionable ideas that you can take away and implement instantly on your own blog.
Shall we?
What does the landing page look like?
The landing page in question is the "Get Updates" page that I use to explain what subscribers get when they sign up for my mailing list, as well as who the Tyrant Troops are and why our community is so awesome.
The page has been through many revisions and I often change things like the focus, the photo, submit button and so on.
But the main elements stay the same:
Community focus
The page has a community focus. My goal is not to just get people to sign up but to make them feel like they are joining something special and understand that joining my mailing list is more than just getting updates.
A free giveaway
We can debate about the success of free eBooks til the cows come home but I have seen a higher rate of sign ups when I offer something free as a "thank you" for trusting me with your email.
Multiple sign up forms
I give people an opportunity to sign up right away at the top or later down below after reading a bit more of the story.
Imagery
The photos and images has changed on this page. I once used a photo of my favorite beach as encouragement for people to take their blogging seriously so that they'd have more time to relax. I'm currently testing a more fun-military vibe.
Social proof
I generally employ some social proof to show people that they aren't alone and that a lot of other people have gone before them. Helps to reduce anxiety.
As I'll talk about more down below, you obviously need to test this stuff.
Conversions are about MUCH more than the landing page
So the next thing we need to talk about is the fact that a high converting landing page is rarely just about the landing page itself.
Of course, there are many on-site factors that play a huge role in your conversions (pricing, colors, copy, layout, etc.) but you also need to take into account what happens before and after people encounter that landing page.
You'll see what I'm talking about in the next section.
How to build a successful landing page that gets sign ups
Alright, so lets go through a few things that you'll want to do when adding a separate landing page to your blog. Remember, we're just talking about a landing page that is focussed on getting more sign ups on your blog.
1. Decide on a continuous offer
When you write a page like this you are trying to get people to sign up for a particular purpose. There's no point, for example, trying to get subscribers who are interested in knives if your blog is about forks. Decide what you're offering and what continuous information they'll be getting down the funnel.
2. Make the copy about them
Try not to talk too much about yourself on pages where you are trying to get someone to take action. It's a good idea to shift the focus to them and what they get out of it. This includes the age old marketing ploy of focusing on benefits and not features. If you can work in a story element to this it will be even more powerful.
3. Use an opt-in form program with stats
You'll need to sign up to a service like AWeber which lets you create forms and then track their results. There's absolutely no point doing this stuff unless you can see what is working and what isn't. As we've talked about before, you can split test different ideas and see what works best.
4. Funnel the right traffic to the page
Now here is where it gets tricky (and you can get really tricky with it). It's vital that you send the right traffic to the landing page. Here are some awesome little things that have been working for me:
A HelloBar message
This last week I've been split testing a few different HelloBars to a few different posts and landing pages. The resulting traffic is really quite good. I'm honestly thinking about building my own HelloBar where you can add different bars for different pages on your site.
A targeted post
My favorite method for getting targeted traffic is to write a post that is perfectly aligned with the offer on your landing page. Glen from ViperChill is bloody good at doing this and has even launched some products with the method. I do it with guest posts all the time. It has the added bonus of massively helping your SEO efforts.
Buy traffic
Buying traffic is a great idea if you have a plan and know how to track the outcomes. For example, a little bit of Facebook advertising sent to a solid landing page (or pre-sell blog post as mentioned above) can convert off the chain. Again, you need to be willing to test these things.
Some people are really creative with how they funnel their traffic to the right landing pages. Remember, try to make sure you aim for the right traffic mix for the particular outcome you are wanting from them.
5. Simplify your design and focus on the flow
The last point I want to mention is that landing pages need to be simple. The flow needs to be directed to the outcome and the paragraphs, images and so on need to draw the reader in and down towards the opt-in form.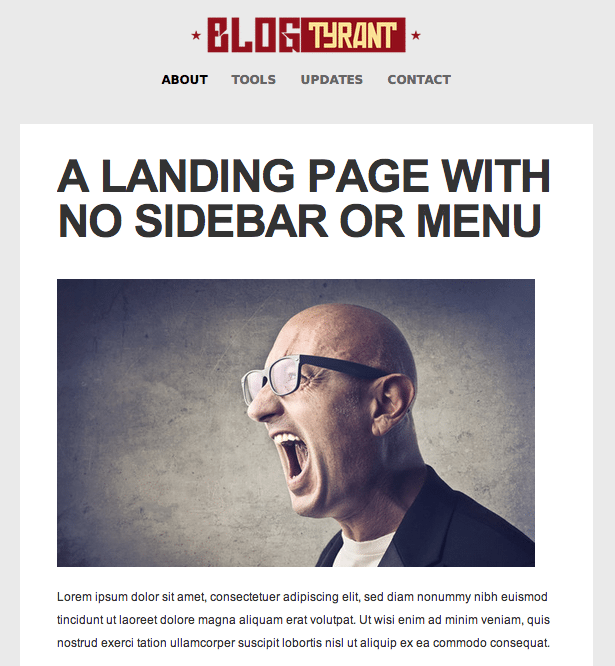 Here is a screenshot from the new Blog Tyrant design that is coming out very soon. I've built in a landing page template that removes all sidebars and extra menus. The focus is just on the copy and creating a simple space for my messages to flow.
Many WordPress themes have a built-in landing page template that you can select so as to remove your sidebar and just have a single column of text. If you don't, it's well worth consulting a developer to help you code one in. It should only cost around $50.
This is yet another example of why you should be on a super-flexible self hosted WordPress setup for your blogging experiments.
A quick summary of this landing page technique
Okay so here is a little TL;DR version of this email subscriber landing page stuff:
Build a separate landing page to promote your mailing list.
Give that landing page a single focus.
Create an offer so that the mailing list experience aligns with the landing page.
Incorporate a story into "benefit-focussed" copy.
Drive relevant and interested traffic to the landing page.
Split test your landing page and opt-in forms.
Id be really interested to know if you use a similar landing page on your blog and how well it is converting. Please leave a comment – especially if you think I've missed something important from the equation.