Podcasting Guide: How to Do a Killer Podcast from Your Blog
Blogging is so competitive these days that written content is often not enough. And as Apple continues to grow, smart phones become smarter and iTunes gets bigger, a podcast from your blog is a good way to find new audiences and reach your fans using something different.
But how to podcast?
Setting one up can be annoying, especially if you are a beginner. However, it is something that is so worthwhile I wanted to write an instructional post to let you know how.
In this post I'll go through all the things you'll need to set up and record a Podcast including a final step by step review of the whole process. I really hope to hear some of your Podcasts soon!
What is in this Podcast setup post?
Just to make it nice and easy for you to scan I have written down the sections of this post on how to podcast.
The best microphone and software to record your podcast
The best way to add your podcast to your blog & where to host the MP3s
How to add your podcast and an image to iTunes
The step by step review of the whole process
If you follow these steps one by one you should be able to set it up with minimal difficulty. As mentioned, it can be a bit of a nightmare so make sure you follow closely.
1. The best mic and software to record your podcast
Let's start off by taking a look at the very basic things that you will need to record your voice – a mic and a computer.
Can you use the computer's mic?
Now, many computers come with an inbuilt mic and these are okay. However, if you really want to make your podcast top-notch for your listeners you need a mic that is going to make your voice sound beautiful. The last thing people want is a crackling and distant sounding voice which is often what comes out of the in built versions. It has no depth.
The quality microphone I use
If you want to go all out you can buy a $3,500 professional mic that requires different sound jacks and chords. Or, you can spend under $100 a get a fantastic Audio Technica AT2020USB Studio Condenser Microphone
. This is the microphone I use for my Podcasts and it is really quite comparable to the more expensive versions.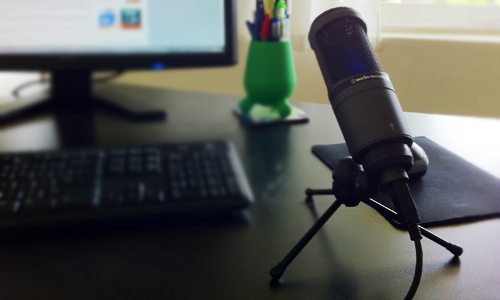 Here is a quick snap from my desk of the Audio-Technica. Told you my desk wasn't solid gold.
The upsides of this mic are:
It produces a really rich sound
It is under $100
It plugs directly into your USB port and as such requires no extra cables
It can be used on any program (like Skype, for example).
The downsides of the mic are:
It picks up EVERY sound so you have to make sure you are in a silent room
It is quite large so you need to pack it away if you like a clean desk
This mic has really impressed me. I didn't think I could get such a nice sound out of a USB mic that only cost $100 but it really has done an excellent job. I recommend it to everyone.
What software do I record on to?
The good news here is that there is a free program you can use that has every feature that you will ever need to make a podcast. It is called Audacity and you just download it to your computer, allow it to auto-install and then hit "record".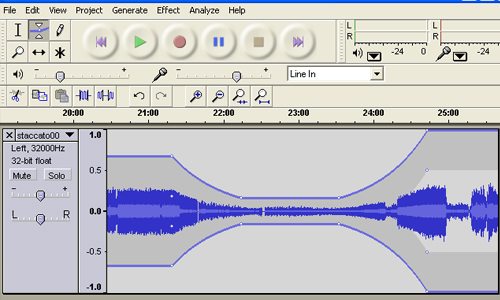 A screenshot of the easy-to-use Audacity workspace on a PC.
Does it produce MP3s?
The only downside about Audacity is that it doesn't covert files to an MP3 automatically, which is annoying because the MP3 is the best file for embedding your Podcast onto your blog and iTunes. There is a simple fix however, just head over to this page and download the LAME file. That will allow you to convert any of your Audacity project files to an MP3.
What functions does Audacity have?
Audacity has all the features you will need to record and edit your podcast from all the features like record, fast forward, rewind to the more advanced features like adding silence, cutting out all the "umms" and "aahhhs" that you will inevitably produce. It also lets you open multiple files at once and cut and splice them together in case you want to add music or an introduction like I do on my podcast.
The best way to add your podcast to your blog and where to store the MP3
Once you have purchased your microphone and downloaded your recording software you will be able to record and edit your Podcast. The next step is then creating the podcast section on your blog and adding it to a very specific place. Here is how it works.
Creating a podcast category
The first thing you need to do is create a category on your WordPress blog called "Podcast". This is just like any other category on your blog. If you have a look in my sidebar on the right you will see the list of categories and one of them is "Podcast". That is what you want to achieve.
Now, you can do this by going to your WordPress Dashboard, clicking "Categories" and then adding one called "Podcast". Alternatively, you can wait until you write your first post containing a podcast file and then add it by clicking "Add New Category" on the right of the post area.
Why do you need a Podcast category?
The reason for creating a whole category for your podcasts is because iTunes actually finds your new podcasts through RSS. So, later on in the process when we add your podcast to iTunes, you will need to supply them with an RSS feed. You can use your blogs base RSS feed as it will gather a whole bunch of non-podcast items. By creating a separate category we create a dedicated RSS feed. For example, mine would be http://blogtyrant.com/category/podcast/feed but we will talk more about this later.
Uploading your MP3 file
Now, the next step is to upload your podcast file on to the internet. Its best to make it into an MP3 before you do this.
One option is to upload it straight to your FTP hosting area. This is a very simple solution if your host gives you enough storage space. Remember, each file can be between 15MB and 100MB so if you aren't careful you could get a really big bill at the end of the month with all those people downloading your file.
A much better option is to use a service like Libsyn which gives you huge amounts of hosting for around $60 a year. This means you will never go over a bandwidth limit and won't put any pressure on your website hosting facilities.
Installing the Audio Player plugin
The next step is to go PLUGINS, ADD NEW, SEARCH and find something called Audio Player. Shout out to Pat Flynn for helping me find this because it adds a neat little player into your WordPress posts that allows you to change the colors, settings, etc. right inside your Dashboard. If you have a look at my podcast posts you will see the little grey player – that is what we are installing here.
Creating a podcast Post
The next step is to create a regular old WordPress post for your first podcast. You'll give it a title, write a little description of what you talk about and maybe do a short summary. You will also want to add two very important things:
The download link
The download link is where people can download your podcast but it is also the information that iTunes looks for in order to add it to the podcast section of their iTunes listings. You make this link like any other hyperlink using the a href= command.
The player
You also want to add the little player so people can listen to the file right off your blog. Now, if you have installed Audio Player correctly you will just need to add the tag [ audio player:http://yourpodcastaddress.com ] without the spaces around the brackets.
Make sure you assign the post to your new "podcast" category and then hit save so that it is ready for publishing later.
Adding your podcast to Feedburner and then iTunes
Now that you have done everything on the blog side of the podcast, you need to set up the RSS in Feedburner and then get it listed in iTunes. This is an important step because a lot of traffic will come from the iTunes library.
Adding your podcast to Feedburner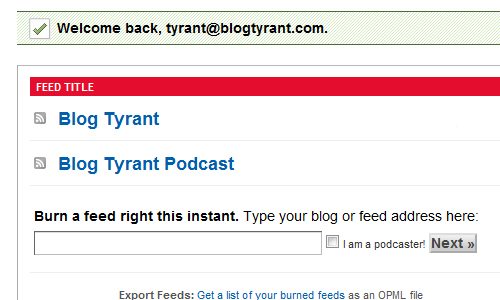 A screenshot of the Feedburner area showing two separate feeds.
As you can see from the screenshot above, you need to create a new feed for your podcast. So you will have one for your main blog, and one for your podcast.
All you need to do is add the RSS address from your new podcast category to the "burn a feed right this instant" section and make sure you tick the "I'm a podcaster" check box. You will get the opportunity to name your new Feedburner feed so make sure it is what you want the podcast to be called. For example, mine is: http://feeds.feedburner.com/BlogTyrantPodcast
Once you have done this, click SMARTCAST and fill out your podcasts categories, subtitles, summaries, etc. as this is where the iTunes library finds all the information when they list your files. Make sure you spend some time getting this information right.
Adding an image to iTunes
Feedburner allows you to add an image URL which then gets pulled and placed on iTunes to represent your podcast. If you have a look at mine you'll see its just a simple graphic of the Blog Tyrant scepter. Try do something that is consistent with your branding and helps people understand what it is that you do.
Just upload the image to your WordPress dashboard and copy the URL into Feedburner.
Adding your podcast to iTunes
The next step is to get your podcast listed in iTunes. Its pretty easy if you have everything done correctly up to this stage. All you have to do is download iTunes (as if you don't already have it) and then click the submit button. You can also go here. Apple has a really good FAQs section for creating a podcast so if you get stuck just go through some of the steps here.
The step by step process
Here is the step by step process. Follow this and if you get lost just refer to the details up above.
Buy an Audio-Techni USB mic from Amazon.
Download Audacity
Download and install the LAME file so you can convert to MP3
Record your podcast and export it as an MP3 file with Title, Artist, etc.
Upload your file to Libsyn
Install the Audio Player plugin in WordPress
Create a Podcast category in your blog
Create a new Post for your first Podcast and add a title, description, download link to the Libsyn address and the Audio Player with the podcast
Add your podcast category to Feedburner by burning a new "I'm a podcaster" feed that is your podcast category RSS only
Click SMARTCAST and add a title, description, summary and an "album cover" image.
Publish your podcast Post to your blog
Add your podcast to the iTunes library
This is how I did it and I think it is just about the easiest way to do it for a blog that is hosted on WordPress. Now, I most definitely could be wrong. I often am. If you think you know a better process or if you know about a better step in the process please let me know.
Will you podcast? The final word…
Podcasting is something that all bloggers should start to get into soon. It presents a new way to get loyal readers (listeners) and is only going to get more popular as smart phones and the Apple brand name continues to grow.
I would really like to know if you'd consider adding a podcast to your blog and why or why not. Please leave me a comment. Lastly, if you have any questions about the process or know of a better way to do something please let me know as well.