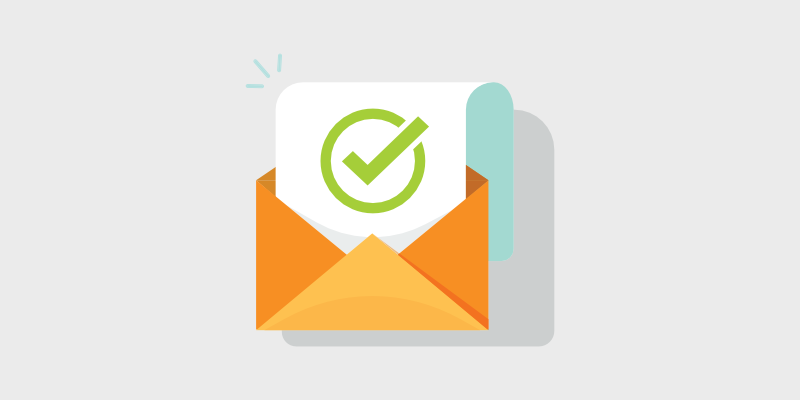 E mail marketing is still one of the most effective ways to grow a blog, website, or online business.
When you're just starting your blog, however, you may not think about email marketing. And that's okay. Email marketing is not usually the first thing people think about at the beginning.
That said, an email list can be a powerful tool to increase readership, introduce your content to a bigger audience, and even earn you money.
No matter if you're an email marketing beginner or veteran, we're here to help. This email marketing checklist will help you optimize your signups, help you write and design high-converting emails, and explain what you need to do after sending your newsletter.
Use it to create a solid foundation for any email marketing campaign or to clean up one that's not performing as well as it should.
Ready to dive in? Let's go.
Benefits of Email Marketing
Email marketing is still one of the best ways to reach your target audience. We send over 102 trillion emails every year and over 90% of people over the age of 15 use email. People check their email every day, with many doing it even before we get out of bed!
Check out the benefits you can get from a good email marketing strategy:
Promote your latest blog posts to boost engagement and drive traffic
Build relationships with your audience through regular communication
Boost revenue by promoting products directly to readers
But remember, you'll only see these benefits if you've built a list full of people who want to hear from you and who'll open every email.
This email marketing checklist will help you do that.
Let's get started!
Email Marketing Strategy
Before you send any emails to your list, you have to do a bit of homework.
1. Which email marketing service is right for you?
Before you can get started, you'll need to choose the right email marketing service to send emails with. These services will help you set up your email list, have templates you can use to design your emails, and more.
You'll save time and effort working on your list and the emails because these services are geared specifically for email marketing. And they have tutorials, support, and demos to help you out.
It can be overwhelming trying to decide which service to use since there are so many out there.
For beginners, we recommend Sendinblue because you can start for free. The free plan allows you to send up to 300 emails per day, which is perfect for beginners.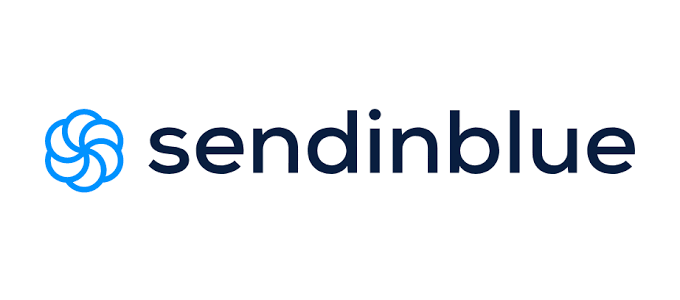 Sendinblue
Comes with a free plan
Allows unlimited contacts with every plan
Beautiful email template library
sign up with sendinblue
We also recommend Constant Contact if you want world-class 24/7 support and advanced features for a great price. They also have a free trial so you can test it out before you buy it.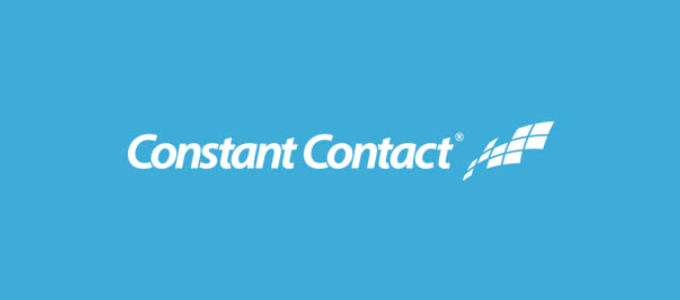 Constant Contact
Easy to use for beginners
24/7 support via phone, email, or live chat
Drag-and-drop builder to design email templates
sign up with Constant contact
2. Where will people subscribe to the list?
Most people subscribe to an email newsletter through an opt-in form on a website. You can put them in many places on your blog, such as the sidebar and the footer. Think of all the ways readers interact with your blog and give them a way to sign up for your list.
Conversion optimization tools like OptinMonster can help you maximize your signup spots and convert more readers into subscribers.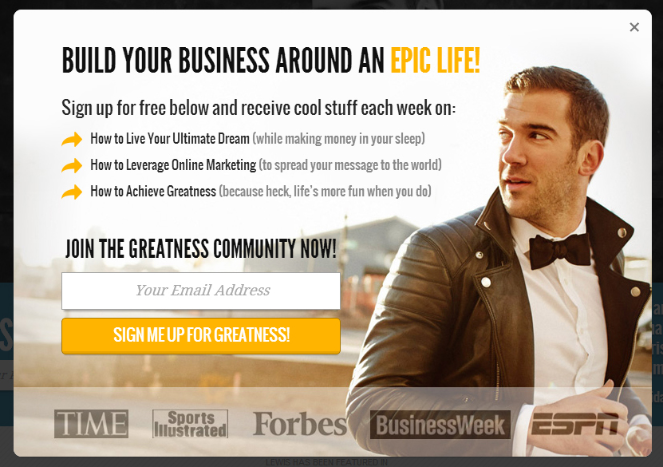 You can use OptinMonster to create a variety of opt-in forms, such as a popup window, floating bar, or inline form. You can even create an exit-intent popup that will display when a user is about to leave your site.
Use a variety of forms to see which works best for your blog and get more signups.
3. Are your email opt-ins relevant to your blog and audience?
To make sure the subscribers you get on your list are there for a good reason and are engaged, create opt-ins that are hyper-focused to your target audience.
Generic newsletter signup forms are boring. You need to create a compelling form that people can't resist filling out. This usually means offering something that's valuable to your readers.
For instance, you could add a form to offer:
1. A Discount Coupon
Everyone loves getting a good deal! If you have an online store, offer a discount to users that sign up for your email list.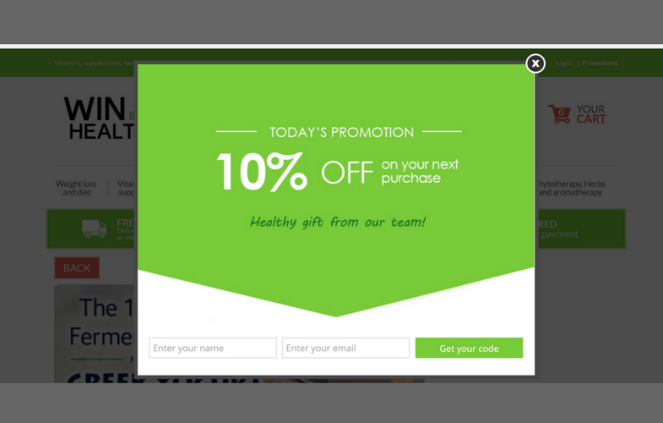 2. A Lead Magnet
A lead magnet like a downloadable PDF guide is a great way to encourage visitors to join your email list. You can create a content upgrade form like the one below using WPForms.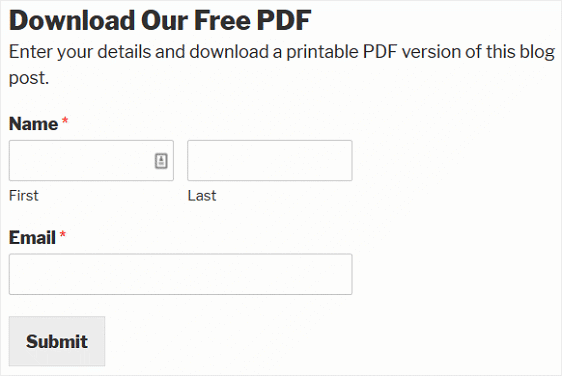 3. A Contest Entry
You can also run a giveaway to get more newsletter signups.
RafflePress is a giveaway builder that lets you give bonus giveaway entries to users that sign up for your email newsletter.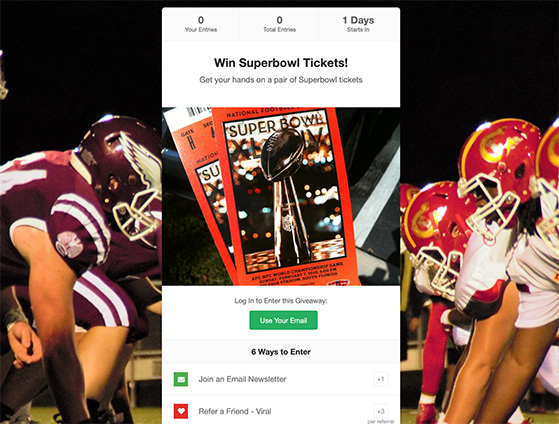 The more relevant your offer is, the more likely users are to become subscribers.
4. Do you use double opt-in on your list?
A double opt-in is when people sign up via your signup form and get a confirmation email of the signup. They have to click the button or link, saying that yes, they meant to sign up and agree to get emails from you.
The way you set up the double opt-in will depend on your email newsletter provider and your opt-in form.
Here's what it looks like if you're using OptinMonster to create your forms: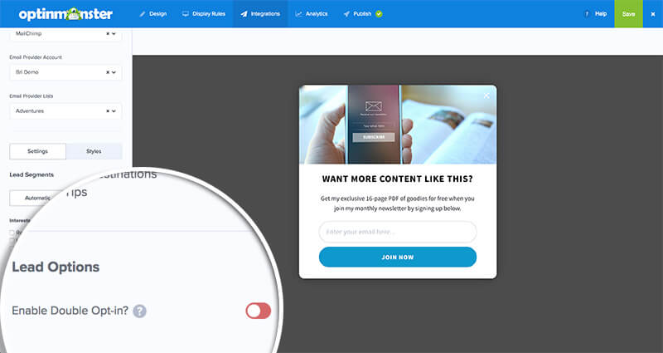 Confirmed subscribers are more engaged because you know they really wanted to sign up. That'll make them more likely to open and click your emails. That's important to consider because subscriber engagement is good for your blog.
They're also less likely to report your emails as spam. Too many spam reports affect your sender reputation, hurt your email deliverability, and could get your email marketing account banned.
5. Do you know why you want to send emails?
If you want your customers to continue opening your emails, you only need to follow 1 guideline: Don't waste their time.
You only want to send emails with useful, valuable information, otherwise, you're just taking up time they could spend doing something else.
They'll also be less likely to trust the value of your emails or even your posts, causing your unsubscribe rates to go up and readership to go down. Be selective with your email content, and never send one if you have nothing to say.
Back to the top
6. Have you segmented and selected the right audience?
Segmenting emails can boost email opens by 14.31% and deliver a 100% click-through rate because it contains what readers what to know about. You can segment subscribers by opt-in method (form location, email signature link, manual add), topics they're interested in, location, mobile device, and more.
An opt-in form created with OptinMonster lets you add all of this information to each subscriber and integrates with your email marketing provider, so you only send them relevant emails.
For example, OptinMonster's page-level targeting feature allows you to display unique offers based on your reader's location and interaction on your website, such as if they only read posts from a specific category.
Using your email provider's tagging and segmenting feature, you can create an email just for subscribers who read about that topic. When you send that email, you can be sure of getting a high open and click-through rate.
7. Are you sending it at the best possible time?
Each blog, audience, and market will have an ideal time for sending out newsletters. The best days to send your emails, according to some studies, are Tuesdays, Wednesdays, and Thursdays. The best time, according to the same studies, is from 8 pm to midnight any day of the week as people check their emails one last time before going to bed.
That said, you'll need to do a bit of research on your readers to find out what works best and then start testing. You can always change the timing until you find the right one. You can also ask your readers when they'd like to hear from you too.
8. Does the email suit your subscribers' expectations?
Couples that are honest and open at the start of their relationship are more likely to be happy than those who don't. It's the same with your email list. Your subscribers are more likely to open your emails if you're clear about what they can expect. You already have an honest relationship with them from your blog, so be sure to continue it that way in their inboxes.
Another thing to remember is that your subscribers are probably on multiple email lists for different reasons and interests. Make sure each email suits your blog's topic and branding and matches what you told them you'd be sending them when they signed up.
Back to the top
Email Content
Now it's time to look at the content you're sending your subscribers.
9. Did you choose the right email design?
The design of your emails is just as important as the content when it comes to email marketing. You've got to capture your readers' attention with a design that's on-brand with your blog and is visually appealing.
It should be clear, legible, structured, and easy to read on mobile devices. Email marketing providers like Sendinblue and Constant Contact offer email templates you can use to ensure your newsletters have a great design.
Here's an example of a customizable email template from Constant Contact: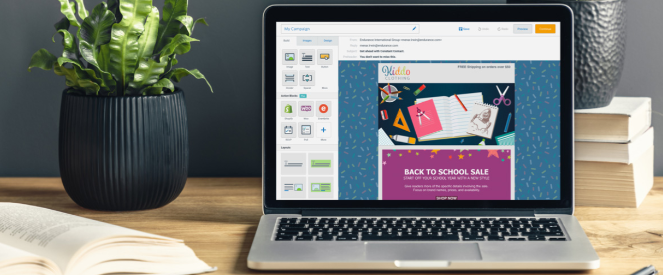 They also are mobile responsive, which is important since emails that are improperly displayed on mobile are deleted within 3 seconds.
10. Did you personalize the email intro?
Nobody likes seeing "Dear friend," at the start of an email newsletter. Personalizing emails can increase your open rates by 26%, so make sure to capture your readers' first names in your opt-in forms.
You can further personalize the emails by using your email marketing software to include additional information specific to the reader.
For instance, you could include links to new blog posts on a topic they've read about in the past. Or you could tell them about an updated eBook chapter if they bought the original one from you before.
11. Is your subject line short, attention-grabbing, and open-worthy?
Your email subject lines can make or break your campaigns, so make sure to spend time on them. Short subject lines work best to capture people's attention and get them to open the email.
Plus, they'll avoid the spam filter and get delivered right to their inbox.
To come up with a good subject line, you can use IsItWP's Email Subject Analyzer Tool. This free tool will score your subject lines and give you suggestions to improve it.

Emojis can also increase curiosity and opens, so add them to your subject lines too, but don't go overboard.
12. Is the preview text optimized?
Preview text is the snippet of words pulled from the body of the email and displayed underneath the sender's name and subject line in the recipient's inbox. Most email clients show it, including browser-based ones like Gmail and Outlook 365 online.

The concept is to capture your subscriber's attention and encourage them to open the email. Skip including instructions on how to read the email online or unclickable links to your social media accounts.
You're just wasting your time and the golden opportunity to provide more value to subscribers. You've only got 5 to 140 characters in the preview, depending on the email client, so don't neglect or waste it.
13. Can you add any instantly actionable value?
If you can add quick value to your email newsletters, you will find that people become more likely to open them. A simple tip that a subscriber can use instantly will help you increase opens over time as you become perceived as being more useful.
For example, offer a tip that they can use right away or send a link to bonus content they can download right now.
Back to the top
14. Are you using the right words in your email?
Your emails should always show your blog's value to subscribers, especially if you offered an incentive to them opting in. No matter if it's a downloadable eBook or discount coupon, show its value in your copy.
That means using the same language as your audience, but also including power words that spur people to action. Using power words is a copywriting technique that you can leverage for your email newsletter. They'll help you motivate people to take an action, whether it's to download content, click a link, or buy a product.
For instance, you can use "greed" words to play up the scarcity of an offer or our natural tendency to loss aversion, such as bargain, greatest, quadruple, skyrocket, never again, exclusive, and ultimate.
15. Are your paragraphs an appropriate length?
Plain and HTML emails will display paragraphs differently in email clients, so make sure it looks okay to recipients. Paragraphs should be a readable length and decide where the breaks will be by using content blocks or HTML code. Most email marketing software has instructions on how to do this, so look for help from your provider's support pages.
16. Did you vary your content format in the email?
Did you know you can vary the format of your emails? You can include images, videos, and even GIFs alongside your text, so why not use everything available?
In this email from Ubisoft, they add a video trailer to announce the release of a new video game: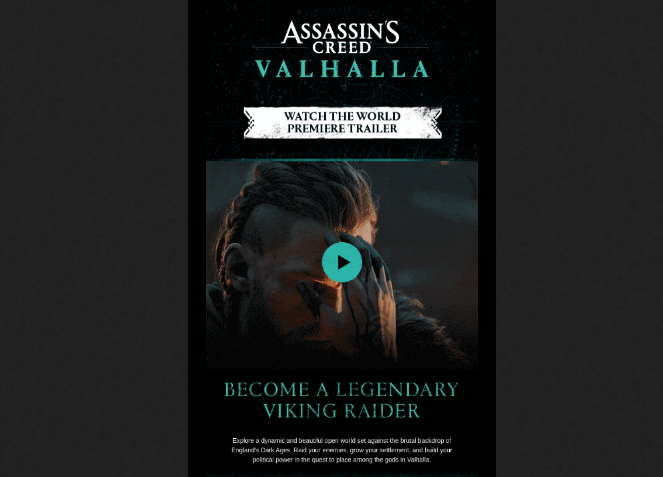 Readers respond to formats differently, so consider varying it depending on your message.
For example, use funny images for the welcome email, plain text for confirmation emails, and a flashy GIF to announce a big promotion or sale.
17. Is there a call-to-action?
A call-to-action (CTA) is a copywriting term for a word, phrase, or sentence that encourages readers to take an action. For instance, click a link, sign up for a webinar, or purchase a product. Online, CTAs often consist of text placed on a button or in a hyperlink.
Your email CTAs should relate strongly to the content of the email and clearly explain the benefit of taking action.
18. Did you include additional engagement channels?
Your email subscribers already engage with you on two channels, your blog, and your email list. To ensure high engagement and success for your blog, you'll need to interact with them on other channels, such as social media.
Be sure to include links to your social media profiles in your emails. You'll grow your community and build relationships with new people you can bring to your blog.
19. Do your links work?
Did you test all the links in your email to make sure they go to the right place? There's nothing more frustrating than clicking a link and getting a 404 page, even if it's on your blog. Be sure that doesn't happen before you send the email to your list.
Back to the top
20. Are your images appropriately sized, placed, and cropped?
If you've got images in your email, make sure they're sized properly for email and aren't blurry. Also, be sure you have the rights to use it before sending it. Consider using royalty-free images from Unsplash or Pexels.
You'll also want to include an alternative (alt) tag to each image, so it's accessible by screen readers and browsers. This will also help if your recipients have images turned off in their email clients, so they know what the image should be without seeing it.
21. Does your email pass spam tests?
Sites like this one allow you to test whether your email is likely to be classified as spam. Make sure your email subject line and contents don't contain risky words (like SALE!) or phrases. Add a valid email address and clearly identifiable sender name to reduce the risks even further.
22. Is your unsubscribe mechanism obvious?
Always include an unsubscribe link in your emails. Not only is it just good practice, but it's also the law in some countries around the world, like most of Europe and Canada. Under these laws, subscribers have the right to dictate how their data is used.
Subscribers should be free to opt-out at any time, even if they gave you permission to email them at some point. You don't want to keep people on your list if they're not interested in what you have to say.
Plus, they'll actually drag down your email engagement metrics because they're not opening your emails or clicking on them.
23. Does it look okay on mobile and tablets?
Test your emails on as many browsers and devices as you can. Sometimes HTML emails wrap text and images differently than you expected, reducing the impact of your email. Make sure you test various devices and ensure the preview looks good, and the main email itself.
Back to the top
24. Is any website you're linking to experiencing downtime?
Downtime is more common than you think. Before you send out a big email, make sure your website and any website that you link to is online. There's no point sending out a big affiliate campaign offer if their website is slow or down. You can use our free Website Uptime Status Checker to check if any website is down.
25. Have you sent a test email?
Make sure you send several test emails to check formatting, links, spelling, grammar, etc. and ensure everything looks good. Ensure that your dynamic text/personalization options are rendering correctly as well.
26. Is it worth split testing this message?
Most email companies will allow you to split test your campaigns before you send them to ensure you get the best results. If it's an important campaign, you might want to test different titles, links, copy, etc. to see if one performs better. If something gets good results, then you can use that for the major part of the list.
Your email service will let you split test your newsletters to see what works best. For example, Constant Contact lets you test your subject lines and the content of your emails, while Drip, another email marketing provider, will let you split test that and more.
Test out critical elements like your subject lines, email copy, and CTAs to determine which phrases and features your subscribers respond best to.
27. Do you have anything untrustworthy in the email?
Thankfully, people are getting wiser when it comes to email scams, but that also means they're on high alert. Some subscribers might be too vigilant.
Look at your email content and see if there are any potentially untrustworthy-looking elements. For example, tracking URLs from your analytics tool can look suspicious and dissuade people from clicking.
Back to the top
After Sending Your Emails
You might think you're done with the checklist once you've sent your email, but you'd be wrong. There are a few things you need to do afterward to ensure future emails continue to be successful.
28. Did you ask for feedback?
Asking for feedback from your readers can help you optimize your emails and ensure you're always sending them what they want to read. Here's how to do it well:
Ask them a question about what they want to read from you. Is there a problem related to your blog topic that they want help solving? Or maybe there's an issue with your emails you don't know about?
Categorize the feedback. If you see something repeated often, schedule to write about the topic(s) on your blog and in your emails. You can even reply to subscribers directly to address it.
Act on the feedback and implement any changes needed.
Follow-up with people who shared feedback with you. Let them know how you fixed it.
29. Are you monitoring your email metrics?
Your email campaign metrics will give you a strategic overview of how your emails perform. They'll tell how many people opened them, clicked on the links, what device they used to read them, and more.
Depending on the email marketing software you use, you'll have a variety of metrics available to you.
Drip, for example, lets you add custom categories and tags to your subscribers, giving you insights into what content they like, the actions they take on your blog, and more.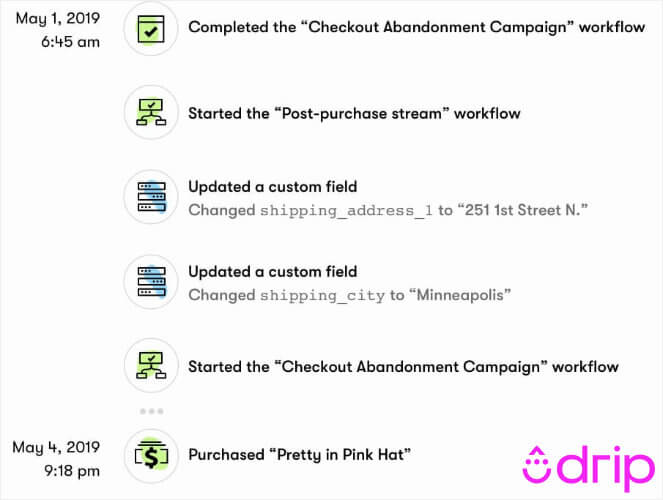 On the other hand, Constant Contact has a number of helpful default reports that'll help you find out more about your subscribers, like the engagement report, campaign comparison, and mobile open rates.
Check out your email provider's reports and use your metrics to improve your campaigns.
30. Did you remove hard bounced emails from your list?
One thing you should always do in your regular list clean up is remove hard bounced email addresses from your list. There's no point keeping them because they're either incorrect or inactive, which means the emails you send will never reach them. Delete hard bounced emails as soon as they appear to keep your email bounce rate low and healthy.
31. Are you sending emails regularly?
We've all received an email from someone we don't know, only to realize we signed up to their mailing list a year ago and haven't heard anything from them since.
Instead of signing people up and then going dark, send out regular emails. They'll start to anticipate your emails, and you'll have an active list of people who open and engage with your emails.
There you are, the 31-step checklist that'll get you big results from your email list! This isn't an exhaustive list, so you may find new things to add to the list as you send out your emails.
If you want to power up your email marketing game, read this post to learn how to create effective and profitable email marketing campaigns.
Want more checklists like this? Be sure to subscribe to our email newsletter to get the expert advice you need to grow your blog.