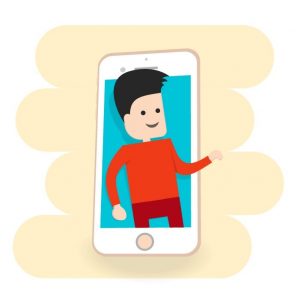 I talk about long form content so often that you're probably sick of it by now.
I do it because I love you.
And, of course, because it's a type of content that does something special – it works.
But lately I've been seeing some really exciting examples of alternate content that really blows me away and seems to be performing extremely well on social media and search engines.
Today I'd like to share a few of those examples with you in the hope that it might inspire you to try something different – especially if you're caught in a bit of a rut.
Alright, alright, alright.
New content formats that get results
Here are some specific examples that will hopefully give us ideas that we can apply to our own niches.
If you've seen anything like the stuff below I'd be really curious to hear about it. Please drop me a comment at the end of the article.
1. Gun violence maps and charts – [Check it]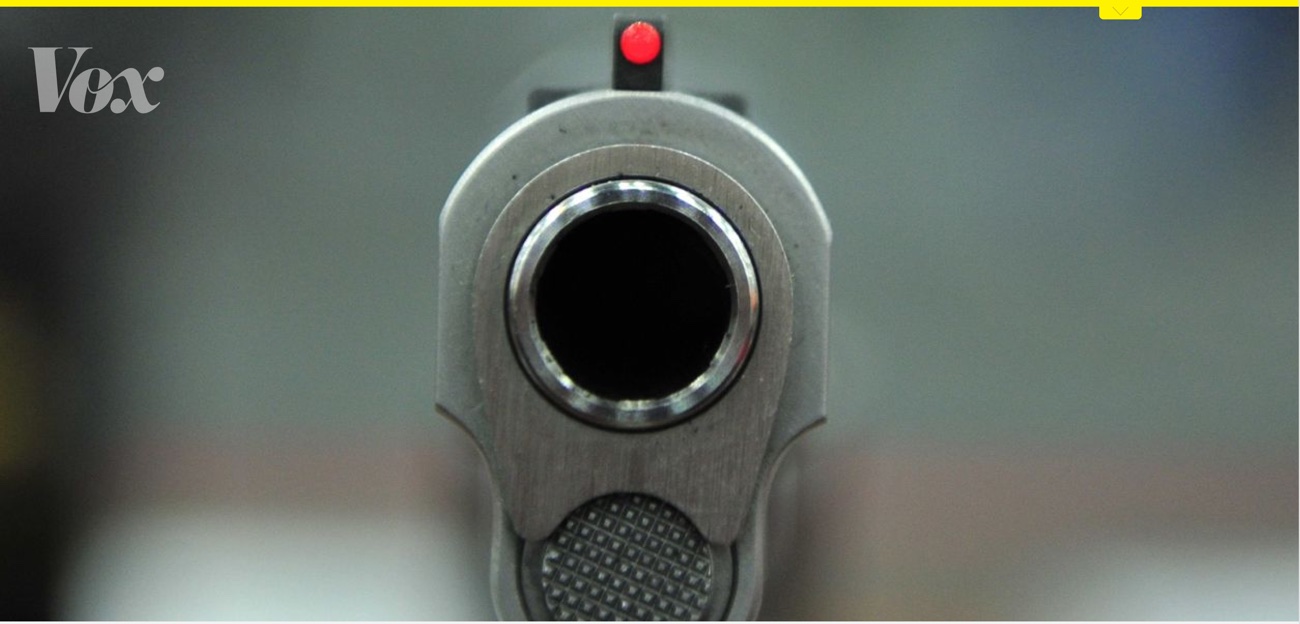 Shares: 195,000.
Notables: Each map is individually shareable on Facebook and Twitter creating multiple opportunities for promotion.
Gun violence is clearly a problem in the USA. Vox is a website that aims to "explain the news" and they're creating cool things like this article that aims to explain the problem. They've created and compiled a series of maps and charts to try and statistically prove a point. The result? A huge amount of shares.
Explaining your content in a different way can be extremely effective in helping people understand it better, but it can also lead to more viral uptake because it is new and novel. Try and think of more graphical ways that you can present any points that you make for your next few posts.
2. A linguistic analysis of Bernie Sanders – [Check it]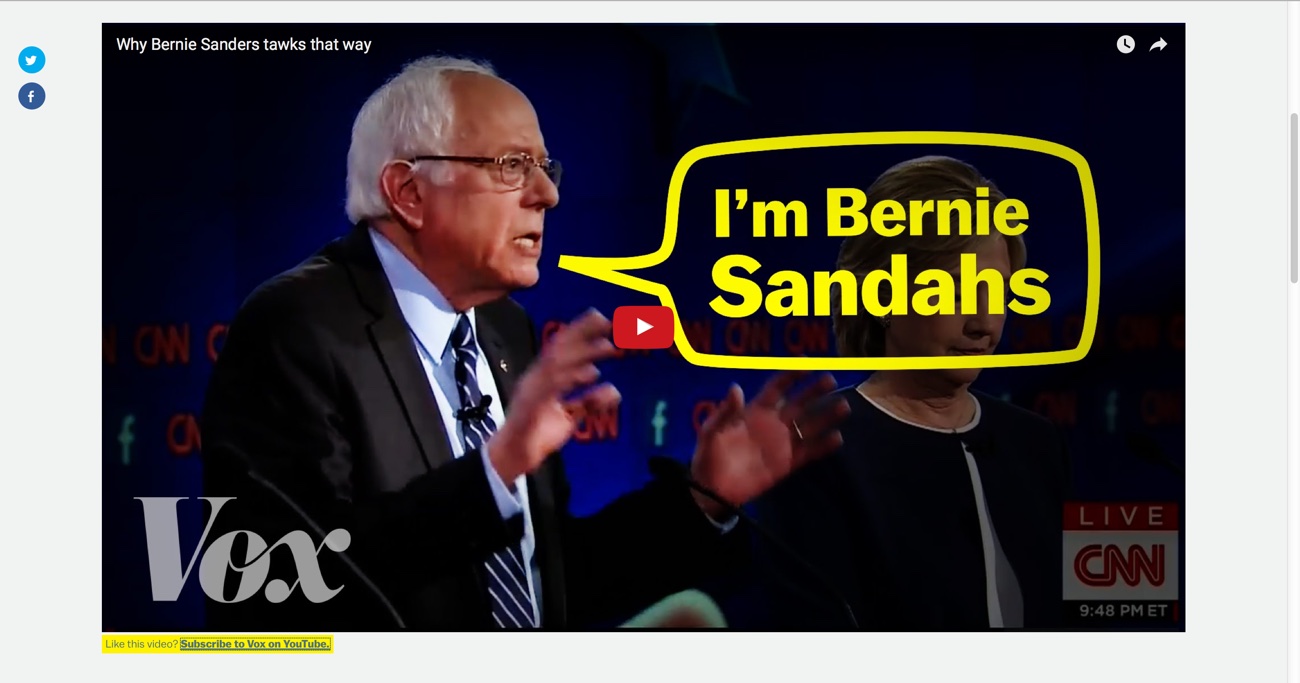 Shares: 5,700 on Vox + 7,000 votes on YouTube.
Notables: A very unique topic explained in a very clever and enjoyable way. Makes you want to dive into similar content items on their site.
I'm linking to Vox again here because their use of creative videos to explain issues has really charmed me. This one about Bernie Sanders is extremely clever because it looks at a very prominent and newsworthy person, but covers a topic that you might not have even thought about but are instantly interested in.
This type of "explainer video" has been used more and more lately and has brilliant results. Another person who does it extremely well (and even landed main stream TV time) is Veratasium and his amazing science lessons.
3. Would the last person in Sydney please turn the lights out? – [Check it]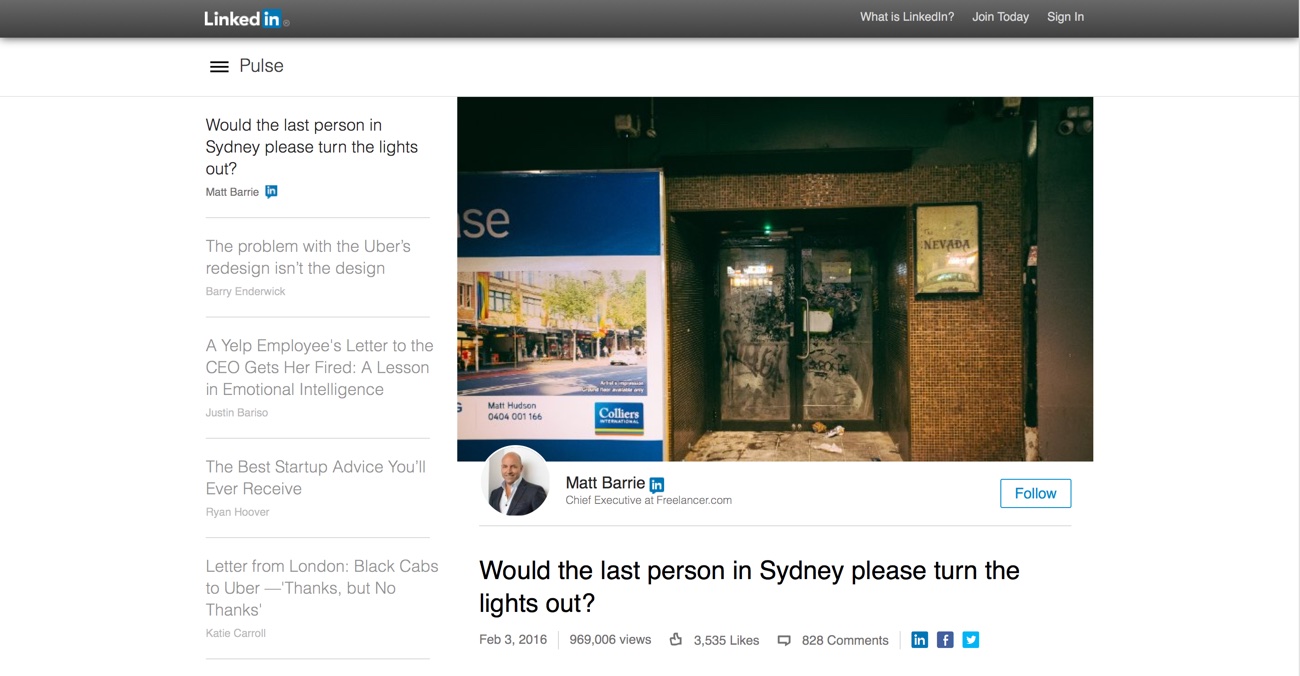 Views: Approx 1 million + syndicated to National news websites.
Notables: Absolutely exhaustive list of data, content, photography and imagery given away on a free website.
Australia is currently having a big debate about "lock out laws" that prevent people from buying alcohol after a certain time at night. This article was published to LinkedIn last week and was subsequently viewed nearly a million times and shared and republished all over the net.
We've already talked about long form content, but it seems like people are now more willing to publish extraordinary articles like this to free platforms like Medium and LinkedIn. This piece takes hours to read and is packed full of studies, photos, videos, charts and makes an argument difficult to disagree with.
I still feel like it's a big risk putting this content on a website that you don't own (in case it disappears like MySpace), but these results are difficult to argue with and may be enough to change my mind. I'm going to do some tests in the next few weeks.
4. BuzzFeed pop quizzes – [Check it]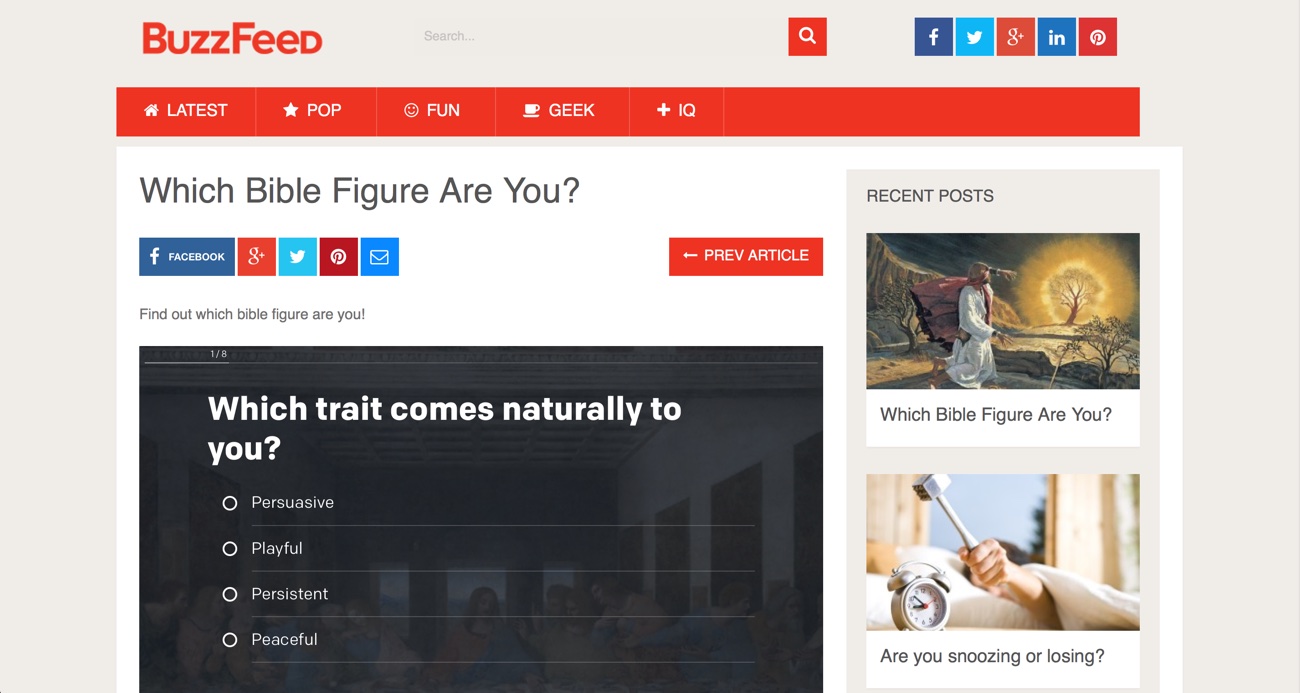 Views: 571,000
Notables: These things would take next to no time to create and still capture peoples' attention.

Quizzes are getting really popular at the moment (we did one about starting a blog in 2016) and I think it was BuzzFeed that really kind of pioneered these "pop culture" versions.
This quiz has had half a million views and is only eight questions long. It clearly would appeal to a very particular audience and would probably be something that they would share with their friends and families for a bit of fun. This type of content might not exactly make people go deeper into the site, but it's very good for back links.
5. Internet speed-test tools – [Check it]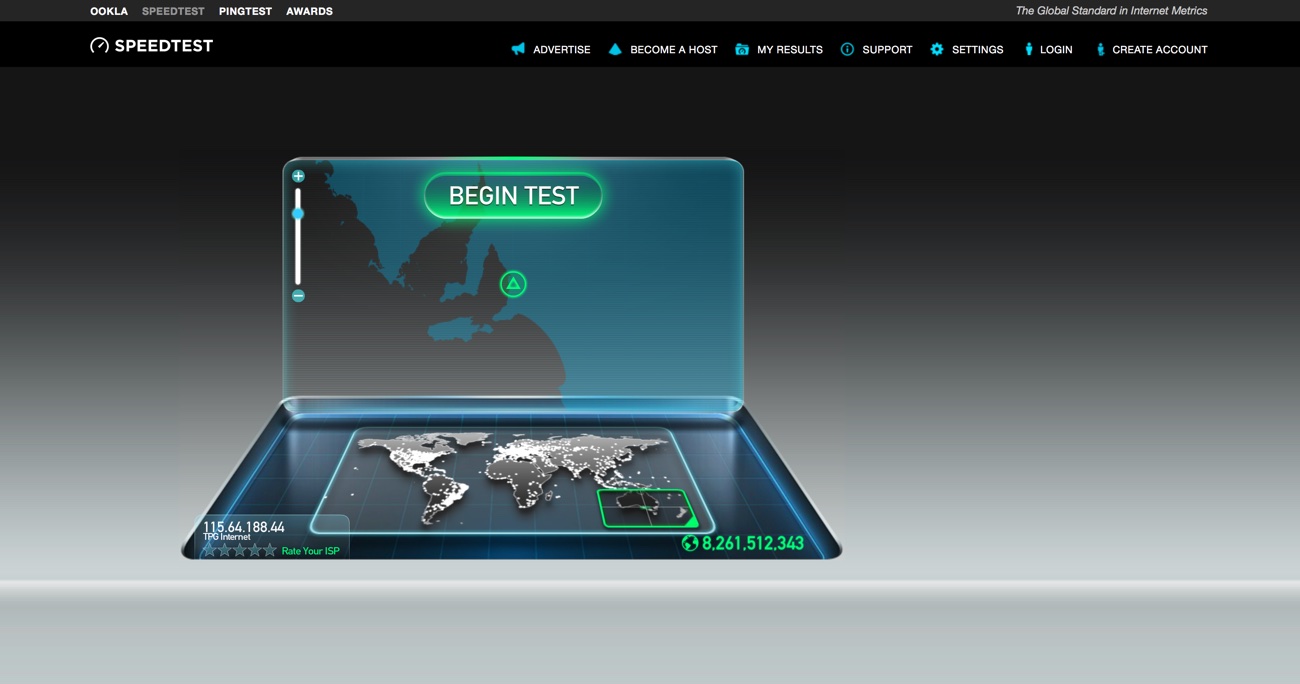 Shares: 261,000 shares, 1.5 million stumbles.
Notables: Simple website tool that since spawned a smartphone App, now the standard for speed testing.
This website is a very good example of a simple tool that can have enormous results. I used Share Tally to determine how many shares it's had and it is quite staggering for a website that just checks your upload speed, download speed, and ping.
Interestingly, these types of tools are not that expensive to build. We've talked about it a few times before but you can pretty easily get them developed for something relating to your niche. Google absolutely loves them as well; the more interactive you can make your content the more useful readers will perceive it to be.
6. Plumbing the Death Star – [Check it]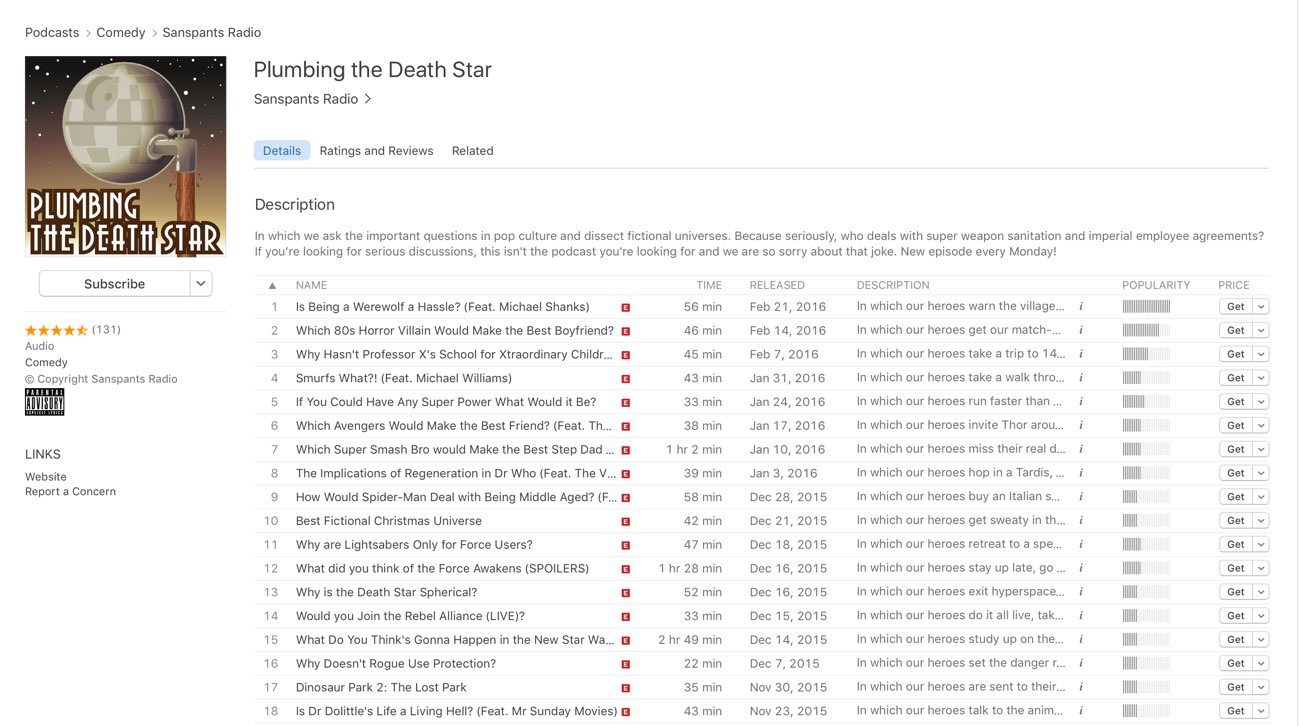 Reviews: 105 5-star ratings + regularly featured on iTunes.
Notables: A very simple format of commentary being used by many podcasters and YouTubers.
Plumbing the Death Star is an awesome podcast about, yep, Star Wars. It has also started to touch on other comic book type topics but for the most it talks about things like whether or not lightsabers can be used by non-Jedi beings. Brilliant.
This is a super clever idea for a podcast given all the Star Wars buzz that is going around now, and will being continuing for the next few movies. I've noticed many other podcasters doing similar things. For example, there's one called Filthy Casuals which discusses new video games and picks up on a lot of their hype.
So what should I do now?
I recommend taking a look at these examples and then spending a few hours looking around your own niche to see what other bloggers and website owners are doing.
One thing you can do is take content you already have on your blog and see if you can re-format it to something new and different and perhaps a little bit more automated.
Look around websites like 99Designs and Freelancer to see if you can engage a programmer or coder who might be able to help you with a new project like this. It's amazing what you can achieve if you find someone who knows what they're doing.
Finally, think about what frustrates you with your niche and your topic. Then think about how you'd solve it with a plugin, calculator or some graphical description. It's easier than you think!
Okay, your turn!
Have you seen any examples of content that is new and exciting? I'd really like to see it. Please leave a comment below and let me know. And also let me know if you've tried something different and seen results.