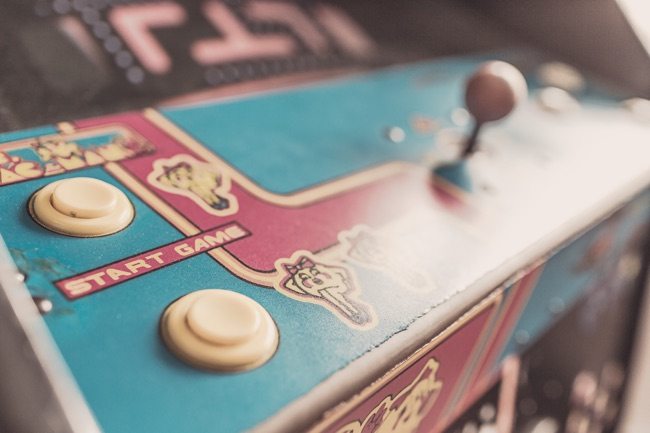 One of the main goals I have for Blog Tyrant is to save bloggers time.
So much of what one learns about succeeding online comes from patiently waiting around and making a hell of a lot of stupid mistakes.
If I can help you guys avoid some of that then I'll be happy.
Today I want to share with you some of the main things I've learned about how to shortcut your success online be it in blogging, marketing or sales.
Let's do it!
Shortcuts? How about alarm bells?
Whenever I hear about shortcuts I usually get skeptical because it often means doing something dodgy or giving people the impression that you don't have to work hard.
I don't want to do either of those things.
When it comes to my own online activities I try extremely hard to be as ethical as possible, and I work really hard to try and make things work.
But that doesn't mean you have to go the long way.
As I mentioned in the opener, over the years I've picked up some really valuable tips and shortcuts simply be being online so much and trying out so many different things. By sharing these with you I can, hopefully, save you from making those "longer" paths your own path.
So the idea isn't to cheat or make you think it's easy when it's not – I just want to show you some stuff that I've learned in the hope that it'll maybe change your own direction.
Six shortcuts for (hopefully) faster online success
What I'd like to know is show you a few shortcuts that you can use to speed up your progress.
I've only mentioned six points because I want to go into a bit of detail about the things that I feel have made the most difference for me.
1. Give away as much as possible (and keep doing it…)
Something that all the biggest bloggers have been doing since the beginning of blogging time is giving away quality stuff to the right people.
It's actually quite an interesting thing to watch.
When you look around at the most successful bloggers you see that they really aren't afraid to give away information and ideas that they could be charging a premium price for.
Take the Quicksprout University as an example. Neil has produced a massive library of tutorials on singular topics.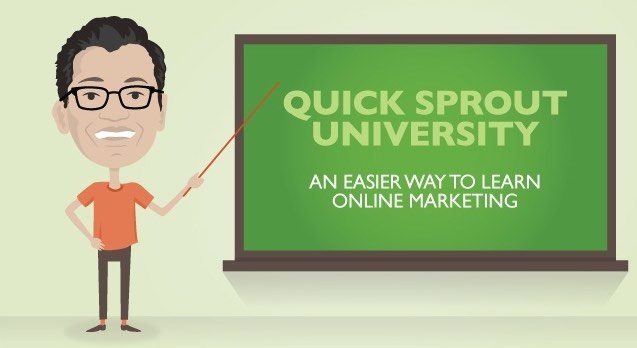 This type of thing would help him get his ideas and brand in front of so many more people because, when bloggers see it, they can't help but link to it in articles about blogging success. 😉
But what do I sell if I give everything away?
That's one of the big questions that bloggers seem to ask when presented with the idea that maybe they should be giving more away.
In the end I think it's a very legitimate question. But what you find is that you really increase your reach by creating a lot of free content. You end up building a brand and mailing list (more on that later) that is more engaged, excited and open to your product.
Of course, you need a strategy for your blog and you need an idea of what you want to sell/promote in the end. But don't let that get in the way of giving away massive value first or concurrently.
It won't take away from your market.
2. Experiment with new stuff instead of polishing
This is one concept that I have talked about a few times now.
I think the reason I bring it up so often is because it personally took me a long time to learn this lesson, and if I repeat it here on the blog I can kind of reinforce the idea in my own mind.
When you first start a blog you want to just kind of make everything look and feel amazing. And that continues on as your blog grows.
But what you often find is that you spend 95% of your time tweaking the last 5% and that 5% doesn't really matter as much as you think it does.
Some things I have tried that turned out well include:
Launching before you think it's ready
I took a really long time to launch the new Blog Tyrant responsive theme because I didn't feel like it was ready. But as soon as I put it up I had a lot of improved results like more sign ups, comments and better Google rankings.
Trying new offerings and lead magnets
Sometimes when it's going well it's tempting to just leave it as it is. But if you have a new idea for a free offering or lead magnet you should always give it a crack because you might be surprised at the new results.
Tweaking designs and campaigns to odd versions
Sometimes you think that a red button will always outperform a pink one. But you don't really know til you try it. Some of the experiments I've done on ad campaigns, opt-in forms, etc. have really surprised me and taught me a lot.
Of course, you need to use your own intelligence when doing this stuff. Don't just make changes for the sake of it.
Taking action and learning from the experience often gives you better results than sitting around researching. – Tweet this.
3. Buying ads (or negotiating them for free)
Advice I find myself giving more and more is: spend some money!
It's a concept that a lot of bloggers still have a really big aversion to.
It's a shame.
A blog is like any other business – you need to spend money on things like marketing, promotion and set up if you want to do it properly. Imagine starting a restaurant and not doing any advertising or building any new signs or purchasing a new fit out.
And the great thing about online advertising is you can get results for very little spend.
Let's say you have just $20 a month to play with:
Build a free giveaway and series of follow up emails;
Set up a quality landing page that promotes your lead magnet and the related mailing list;
Use Facebook Ads and create a niche-specific campaign promoting that landing page;
Tweak your ads for performance and cost;
Promote an affiliate product or paid product to your mailing list;
Continue advertising using a percentage of sales.
This kind of thing might not set you up for life, but it can give you a small stream of income that you can use to give yourself a pretty decent education in how online marketing works.
And if you're smart you might be able to tweak it to the point that you can start a whole new business.
It's possible.
And it's also possible to negotiate ad space for free.
One strategy, as an example, is to approach a big forum or message board in your niche and offer to do moderation/content creation for a month in exchange for an advert. Often these online communities are running on a small budget and don't have money to employ staff. It can be a good way to get some exposure.
Test the performance and see where to go next.
4. Learn how to test stuff and interpret the data
As I've hinted to up above, learning how to test things is a really big part of maximising your success online.
It's very important to move away from guesswork.
Let's take the homepage opt-in form of Blog Tyrant as an example.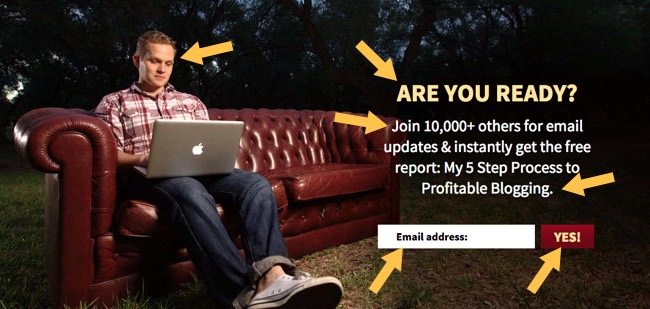 With this one email opt-in form location there are at least 5-10 things that could be affecting conversions: the ugly mug in the photo, the title, the social proof element, the eBook offer, the email submit text, the button text, the button color, and so on.
By using a bit of split testing you can run different versions and see which one leads to the most submissions.
But it's vital not to stop there.
For example, you might offer a new lead magnet and find that your submissions go up by 40%. That's great.
Right?
Well, what if none of those email subscribers open your emails after they get your eBook? Or, worse still, what if they mark your emails as spam?
What you want to do is develop a philosophy of testing that focuses on end-results. The final conversion.
By doing this you can take months off of your progress because you will start to know exactly what is causing the results.
5. Focus on the email addresses even if/when profits are flowing
Something you hear pretty regularly from bloggers is that they wished they had started collecting email addresses earlier on.
Usually this is for two reasons.
Firstly, some bloggers find it a little bit technologically daunting to set up an email subscription form that is stored somewhere like AWeber and as such put it off for a few months.
Secondly, other bloggers/marketers might crack some form of making income through affiliates or another method and kind of forget to focus on collecting subscribers. Once the income starts to fade away they are left without the backup.
All of the longterm, successful businesses that I have seen on the internet have done so through the creative, useful and genuine relationship with a growing list of email subscribers.
Sure, people do it without it.
But they often don't last long.
If you want to make your blog a stable giant over the next 5-10 years then it's pivotal that you start to really focus in on getting email subscribers and then maintaining that relationship. That means focusing on valuable content and figuring out how to increase your open rates.
It's okay to be a bit aggressive in this area.
There's nothing wrong with using a pop up or slide out box like I do here on Blog Tyrant.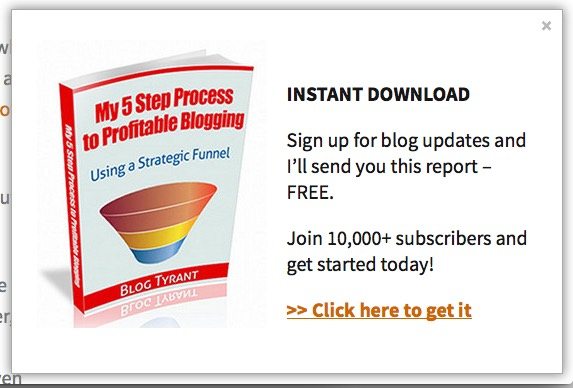 That slide out box appears after people scroll down the page a little way and leads people to a landing page that explains more details. It's a blogging tactic that converts really well while being minimally invasive.
6. Build a team to free you up for your main work
See the graphic in the eBook above?
That cost $10 on Fiverr and was done in about 15 minutes.
In the old days I would have jumped on Google and spent hours researching how to design, build and create one by myself. I then would have bought a program, created something ugly and then been so frustrated with the outcome that I never bother to launch it.
One of the most valuable lessons one can learn in the online space is that you don't have to be doing everything.
In fact, you shouldn't be doing everything.
What you want to do is use sites like Freelancer and Elance and companies like Chris Ducker's to build a team of trusted and skilful coders, designers, writers, accountants, etc. around you so that you are free to work on what you're good at.
Try to see this as an investment rather than a cost.
What tips can you share?
Do you have any tips to share about things that have sped up your progress towards online success? Please leave us a comment below because it might really help someone who is just getting started or is struggling with one particular aspect of online business.