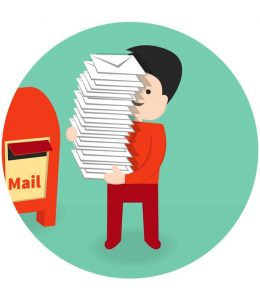 A lot of blogging advice is centered around helping you get new subscribers. But what should you do after a person has signed up?
You see, the moment after a person subscribes to your mailing list is a very important one.
One might even say it is a very intimate, romantic moment.
This person has found your blog, enjoyed your content and is now ready to take the relationship to the next level by giving out their email address.
So what do you do with it?
Here are some ideas.
Start by setting up an automatic Follow Up email response
Everything that you need to do can be done through AWeber and their Follow Up functionality. I'm sure there are other ways to do it but I'm yet to find anything as affordable and simple.
This is, simply put, a way you can automate the process whereby you send out a "welcome to the list" email immediately when someone signs up to get blog updates or your free eBook. Once you have set it up you can leave it alone and it will work without any input on your part.
I made a tutorial about how to set this up for the free eBook delivery but the process is identical for any Follow Up email so check out the video below if you're keen to see how easy it is.
This automatic follow up email (or welcome email) is a very important step in the process. It is here that you can help to set the expectations that the new subscriber has about what content they are going to receive and how often.
Remember, failing to set expectations can often lead to a high unsubscribe rate when you send out emails because people wonder why the heck they are receiving your stuff.
8 things to do in your Follow Up immediately after someone subscribes
So what should you include in this welcome email in order to ensure you get the most from this transaction?
Try to include:
A personal message
Write this email the most personal tone you can muster. You want to be developing the relationship – not just going through formalities. Try to remember that the person who just subscribed might have only read one of your articles and as such not really know your style or tone that well. By adding a personal feel to the message you can reduce a lot of stress.
A big ol' thank you
Don't forget to thank the person for subscribing. By joining your mailing list they are playing a vital role in the development of your blog and business. I have had quite a few people mention to me that they like the idea of my free eBook being pitched as a "thank you gift" for signing up to my list. It made them feel less used.
A link to download the eBook from your site (not the email)
If you are sending them a free eBook you want to make sure you include a link to a page on your blog where they can get their download as opposed to just sending them the eBook as an attachment. By doing this you are sending the new subscriber back to your blog as opposed to just hoping they'll visit again.
Some old (but sexy) content
The next thing you want to do is show them your oldest, newest, sexiest posts that they might have missed. Remember, readers don't enter your blog just through the homepage – they come from all over the place. I actually use the eBook download page mentioned above to direct them to my favorite posts. Just add a "Now What?" paragraph and they might go exploring. I also do this after people leave a comment.
A place to share their concerns
My buddy Derek 'do what I tell you' Halpern once mentioned that he uses his first Follow Up email to ask his subscribers where they are having the most troubles. This is a great idea because it gives him a free and very direct source of ideas for his blog. He simply answers the questions and solves the problems that people email him about! Give them an email address to contact you at or a social networking site where you are active an available.
Directions to your internet properties
The next thing you want to do is make sure they know what else you have out there on the interwebs. For example, I am emphasizing Google+ a lot these days and so try to make sure people know where my profile is an how they can interact with me. You might prefer to link to your Twitter or Facebook pages depending on your goals and desired outcomes.
Explanations of how your content is delivered
This is a really important one because, as I mentioned above, people need to know what to expect when they sign up for your blog. Surprises might be nice in some scenarios but when it comes to handing out your email address you really don't want any. Start by telling them how often you plan on contacting them and perhaps let them know that another email might arrive really soon if they've signed up close to a publish day.
And then leave them alone
The last thing I want to mention is that it is really important to leave them alone for a while. Don't send them a sequence of Follow Up emails that go out every two days for weeks unless that is what they signed up for. Let the dust settle. In the younger days of Blog Tyrant I had a seven-part series that I sent out and it caused a lot more unsubscribes than I would have liked.
It's quite important to make these Follow Up emails short, sharp and shiny so don't feel like you need to cram everything into a giant 2,000 word email. Perhaps the best plan is to keep the email itself short and then send people off to a custom designed page if they want more information.
Wait… isn't something missing here?
If you're smart (and I know you are!) you will have noticed that there is a piece of the puzzle missing here: what if they don't open the Follow Up email?
Well, then you've got a problem.
A really crucial part of capturing email subscribers is making sure that when they subscribe they are doing it for the right reasons. Make sure you read that carefully. You actually don't want email subscribers unless they are targeted towards your goals and outcomes.


A screenshot of my first Follow Up open rate.
The above is a screen shot of my open rate for my first Follow Up email. Not perfect but not too bad. Over the next few weeks I'm going to be coming out with something that really gets into the nuts and bolts of not only how you get more email subscribers, but how you get the right ones. This is a topic that a lot of bloggers really need to know about. Make sure you subscribe if you want to be a part of this.
What is your experience?
I'll be honest and confess that I haven't subscribed to the email list of every Tyrant Troop so I don't really know how yours are set up and what you do for your readers. I do know that a lot of you have really great open rates and as such might have a few lessons. Drop a comment if you've got an interesting success or failure in this area and we can (as usual) all chat about it and make suggestions.