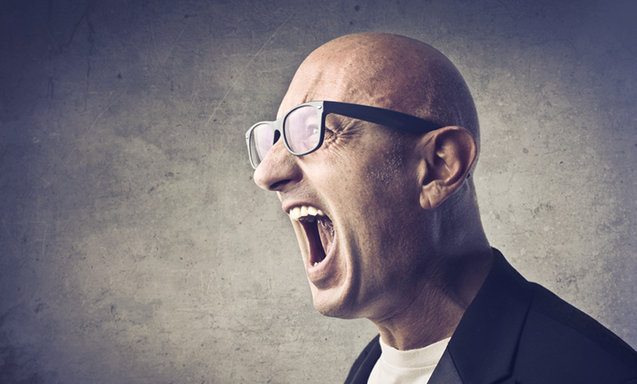 Last Updated January 22nd, 2018

We really need to focus on how to get testimonials for our blog.
It's extremely important.
Last week I was working with a mate to design an advertising campaign for his iPhone App and during that process something that came up was how essential good testimonials are.
Here's some things you might not realize:
Testimonials increase sales and sign ups
If you use them smartly you'll be able to get more people on your mailing list or purchasing your product.
You need the right ones
If you collect the wrong customer testimonials or put them in the wrong place you can actually do more harm than good.
The way they are displayed matters
If you display them poorly or emphasize the wrong things you'll put people off.
In this post I'm going to give you an overview of how to get more testimonials for your blog, website, App, book, product or real-world business. I'll also show you how to use them smartly.
What is a testimonial and what makes it amazing?
Before we talk about how to get testimonials let's take a quick look at a definition and talk about what makes one amazing.
A testimonial is a truthful endorsement whereby someone testifies to the quality of a product, person or service.
As an example, if you go to my About Me and You page you will see that I have a few testimonials from readers that I grabbed from Twitter. These act as a public endorsement that helps people to appreciate that this is a safe and trustworthy site.
You'll notice a few things in that definition:
It has to be truthful
I think making up testimonials is unethical but it also usually gets seen through and thus serves to make your site less trustworthy, not more.
It is an endorsement
A testimonial really has to be coming from someone who is personally willing to endorse your product or website. That means they should have used it.
It should mention the qualities
It's not really good enough for that person just to say they've tried it; they should also say they liked it and why.
You might also notice that it doesn't have a fixed form (like a written quote) but we'll get more into that later on in the article.
How to get testimonials for your blog or website
Let's move on to the juicy part: how do we get more testimonials and, more importantly, how to we make sure they are amazing?
1. Use Twitter and its archives
Okay so Twitter is an amazing source of testimonials for almost any type of blog or online business. People go there to vent, socialize or praise things so (if you're doing things well) you'll notice a steady steam of people saying nice things about you.
Testimonials that come from Twitter also have the added benefit of looking more authoritative because everyone knows that a Tweet is public and thus the thing must have been good for them to say it like that!
You have three options here:
Wait for them
Wait until you see someone say something good and then take a screen shot of it.
Ask for them
If you need testimonials about a specific thing it is totally okay to ask people to give some feedback on X area of your site or service.
Search the archives
There are some great tools like BackTweets, SnapBird and TwimeMachine that let you search for old Tweets so you don't have to scroll through all your Tweets. (Note: Some of these services require you to log in through their website which means they get access to some parts of your Twitter account. Make sure you do your research before using.)
Once you have found the good Twitter testimonials you then take what is called a "screenshot" or "screen grab" of that conversation.
On a Mac: You can take a screenshot by pressing Command Shift 4 and then using the little crosshairs to select the area you want to save. It will save the selection to the desktop.
On a PC: Just use the Snipping Tool in Widows 7 and above by going Start > Snipping Tool I keep the Snipping Tool in my toolbar for quick use.
Twitter actually has some guidelines on how to display these things.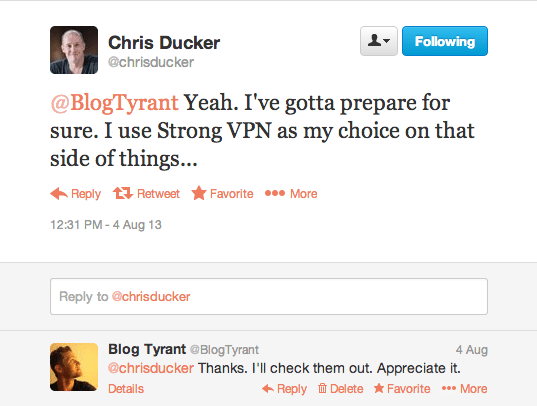 Above is an example of a Twitter screenshot that I am using in an upcoming post about VPNs where Chris Ducker recommends Strong VPN for while I am away traveling. As you can see, you can use this for more than just direct testimonials.
My favorite iPhone App Zombies, Run! also has a really nice way of displaying Tweets down the bottom.
2. Conduct a survey and ask for testimonials
You might remember an old post I did on how to conduct an blog survey. This is a fantastic way to get testimonials from people who have a lot to do with your business.
Basically the way it works is that you send out a survey by email using Survey Monkey and as a final question just ask something like, "Would you mind giving my site a short testimonial?"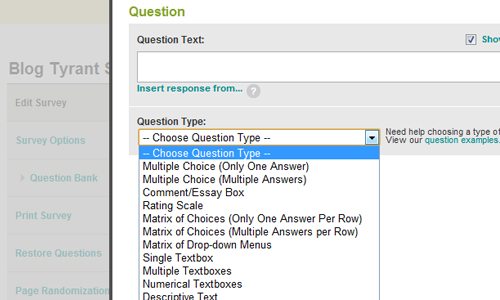 A screenshot of a survey being created in Survey Monkey.
It's good practice to ask permission wherever possible so make sure you email people and let them know that their photo and quote will be used on your website if they consent. Of course, you only need to email someone if you have selected their testimonial for your website.
There are many WordPress plugins and tools that allow you to do this on your blog but, personally, I think it's better to use email as it gives people more privacy and room to write what they really feel.
3. Use quotes from emails that people send you
In my Gmail I have a separate label for any email that I get that I think might be useful for a future testimonial.

Whenever someone sends me a suitable email I just move it to my Testimonials folder/label. It's a great way to create a place where you have easy access to things that might be useful in the future.
As I mentioned above, you always need to ask the permission of the person before you use that particular person's email in public. That is very important.
Email testimonials look really good because, like Twitter, it shows that someone has taken the time out of the natural progression of their day to send you an email about your website or product.
I'll have more on how to display these properly below.
4. Use comments that people leave on your blog
If you have been using my strategies to get more comments you might have a lot of little gems just laying around on your blog.
Sometimes it can be hard to use these because they are often very specific to the post that you're pulling them from. For example, if they're complimenting you on your post about flying saucers it will be kind of hard to use that as a general statement about your authority as a quantum physics blogger.
Again, use the screenshot technique above to grab the whole comment and give it some context. All the better if they have set up a Gravatar to display their profile photo.

Above is an example of a comment that can be used to get a testimonial that I pulled from my last post about how to start a fashion blog. It's quite general and so could work well.
Again, if you don't get many comments you could always add a little note at the beginning of your post asking for a few more in relation to getting some testimonials.
How to use your testimonials smartly, grasshopper
Now that we've covered how to get testimonials we should move on and talk about where and how to use them smartly.
Why do we need to use them smartly?
As with most things in blogging, it is a real waste of time if you get something good (like traffic, subscribers, etc.) and then lose them because you don't use them properly. Testimonials really only have the desired effect if you use them in clever ways. In fact, if you use them badly you can often really damage the way you are perceived.
1. Use them at friction points
One of the things I talk about in Special Ops (again, subscribe if you want in) is that you need to place the right testimonials at places where people need to read them.
For example, if you have an expensive product that you are selling you should try to use testimonials that talk about how much value the product adds or how affordable it really is once you start to use it. This helps people overcome the friction point of not wanting to pay too much money.

On Crazy Egg's pricing page they use a lot of material talking about money back guarantees but they also have this testimonial about increasing conversions. That translates to more money.
Try to think about some other places on your blog where people might get "stuck" and find a testimonial for that spot.
2. Design them professionally
Sloppily designed testimonials really act to cheapen your website. It's important to make sure the design fits in with your overall brand while still ensuring that the testimonial makes an impact.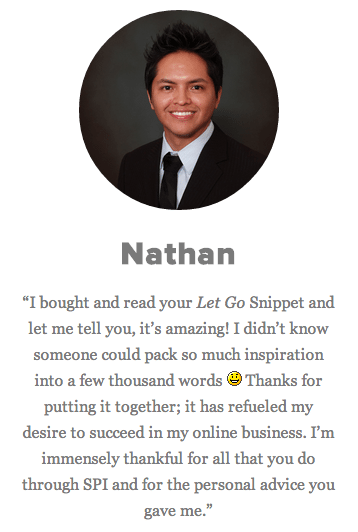 The above screenshot is taken from the website of Pat Flynn's book Let Go (has anyone here read it?) which I think is a really cool design for displaying testimonials. They are all added at nice places and the design fits perfectly with the flow and professionalism of the rest of the site.
3. Include the necessary elements
When you display a testimonial it is not enough to just show the actual text or praise itself. That stuff needs to be accompanied by some critical elements that make the testimonial complete.
A photo
Without a professional looking image of the person the text looks dead or made up. People connect to human faces.
A website or business
Sometimes when you just have the person's name it looks a little made up. By adding a website or business URL you are giving it more legitimacy.
A location
This is not always necessary but it is sometimes quite useful to show the person's location. For example, if the testimonial is for a shop in California it is pointless to have someone from India giving it a review.
These are the main ones that I have found to be useful but I'd be interested to see if you can think of any more things that you look for when deciding whether or not an endorsement is legit.
4. Don't forget video, voice and other formats
The last thing I want to talk about is that nowadays there are a lot of different ways to use testimonials that might actually mean that they have a bigger impact.
For example, if you can get someone to make a short video about how much they loved your product or blog you'll find that it has a really big impact. It is visual, compelling and not as commonly seen.
Can you think of a format that has been doing this really well for year?
Yep.
Late night television informercials.
Have a look at what I think is one of the most compelling sales videos you'll ever see – the Total Gym with Chuck Norris.
As you'll notice, the video is littered with people talking about how much weight they've lost, how toned their abs have become and so on. I'm never really sure whether or not these people are paid actors (that is illegal in Australia as far as I know) but that kind of visual testimonial acts as a very powerful form of social proof and this video does them very well.
Sure, I might not be able to become Walker Texas Ranger but maybe I can become like that dad who lost 15 kilograms in a year.
Try and think about different formats that your testimonials can take and implement them in places where it might have a dramatic effect.
How do you get testimonials?
I'd like to open up the comments now and find out how you get testimonials for your blog, product or service. Do you ask for them? Have you tried any of these strategies successfully? Please leave me a comment.
Top photo: © Bowie15.