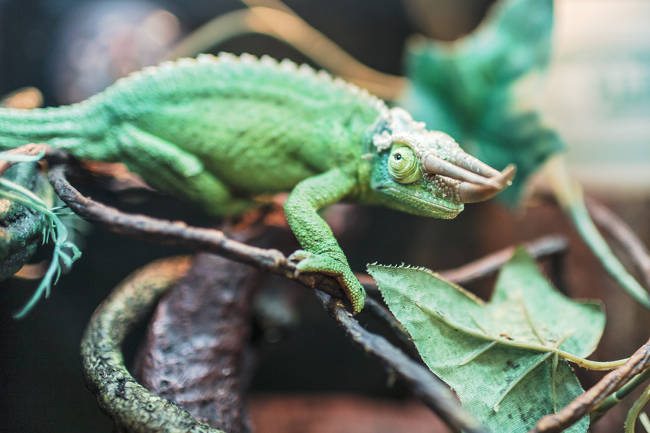 I've never been a big fan of Facebook.
And while some businesses (like cafes) need to be on the platform, I really only kept mine going because I was too lazy to delete it.
But now I'm glad I didn't.
And with the recent announcement that Facebook is killing organic reach I wanted to write a post about one powerful reason to keep your Facebook Page going.
It's actually a pretty obvious one.
What's the story about organic Facebook reach?
Over the years there have been so many stories about all the different crappy things Facebook was allegedly doing with organic reach.
Some people were really upset by it.
Others saw it and kind of understood it was all part of the business.
But the final nail in the coffin occurred late last year when reports circulated that Facebook was totally killing organic reach once and for all.
That means that, starting now, Facebook Pages will have to pay if they want to get posts circulated.
As it says in the article:
Facebook is also laying to rest the idea that good content will be rewarded regardless of its algorithm. No matter how creative a brand's Facebook posts may be, they simply won't get shown to anymore than a negligible fraction of their followers.
So, with all of this going on, why should we do a non-Copyblogger and persist with our Facebook Pages? Why is it a bad idea to get rid of them?
Well, it's kind of obvious.
Why keep your Facebook page? The ads are incredible.
One of the big reasons Google is so scared of Facebook is because they know that they are transitioning into a similar search-based model with adverts as the main source of revenue.
But the difference between Facebook and Google is that, while Google has all your search history and emails, Facebook has all your friends, likes and social data.
And that makes the adverts incredibly well targetable.
I say targetable because it's not a given that you'll do well from these ads. It sometimes takes a lot of tweaking, and there is a lot of competition on the platform.
That being said, it still is (from my experiments anyway…) a boat-load cheaper than Adwords while still getting some pretty sweet results.
Here's some results I got last week:


A screenshot showing some ads I ran last week that got some pretty sweet results.
If you're familiar with ads you'll probably see that this is a not too bad CTR and, although it could be better, for the niche I was bidding in the cost was pretty low as well.
The results were very good in terms of subscribers and sales.
How to use Facebook Ads for your blog
One thing I really have been trying to get across lately is that everyone should be spending a bit of money promoting their blog.
A blog is like any other business – it needs to be promoted.
And the great thing about online advertising is that it's cheap, effective and you don't need to spend $10,000+ just to get a spot.
Even just $20 a week as we talked about in the last article can be enough to get you started.
So what's next?
1. Watch the feed and read
The first thing to do is watch your news feed and see what ads pop up and how well they appear to be doing. Obviously you can't tell if they're converting on the website end but you should be able to see if they are getting shared and liked.
Here's one that popped up for me this morning: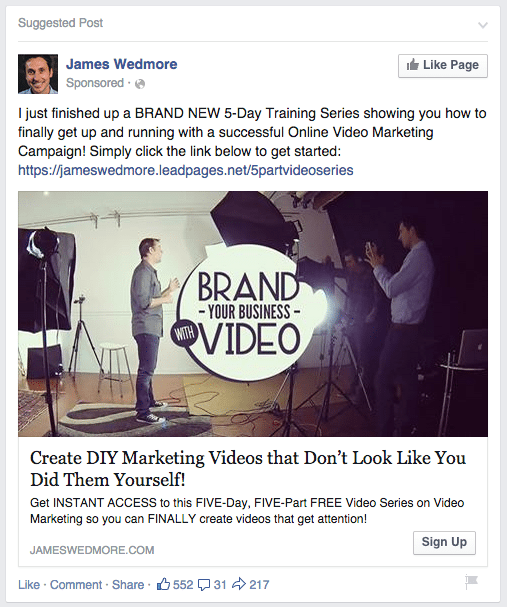 Note the photo, the text in the image (be careful of that on FB), and the copy. A very well developed sponsored post with a good offer.
While you're watching for some good ads make sure you read this post by Glen about his Facebook experiments. It's a very good starting point.
2. Set up a cheap ad to a free giveaway
The next thing I'd do is practice setting up a desktop-only newsfeed ad that goes to a landing page of a free giveaway that you probably already have on your blog.
Remember, this is one of the tactics a reader of Blog Tyrant used on her site to get over 11,000 email subscribers after finding my post about fashion blogging.
So we know it works.
The main thing you want to be working on here is trying to get your target market right and your cost per action as low as possible while still being effective.
3. Try giving your best article a boost
While you're playing around with the lead-magnet advert you might also want to try giving one of your best articles a paid boost. This can be done within ads manager as well and is a really good way get a bit more exposure – especially if you can get people sharing.
People get really mixed results by boosting posts – some love it and some hate it. But I do think it's a worthwhile thing to do for reasons I'll explain later.
Make sure you set your target market tightly and be online to watch your results in case anything needs responding to or altering.
The "hidden" benefits of Facebook Ads
The more I play around with Facebook Ads the more I realize that there are a few benefits to it that aren't immediately obvious.
We all know that it can help you get traffic, leads and exposure.
But what not a lot of people understand is that it is a really cheap and effective way to essentially get an education in copywriting and advertising.
And the reason is because it is so direct.
Think about all the elements that go into an ad:
Your copy
What does the headline, text and call to action say?
Your photo
Do you use a photo of a male, female or some object? What color is it? Do you own the image rights?
Your budget and bidding strategy
How much do you spend and how quickly? Do you pay for impressions or clicks? How do you know whether the resulting actions are converting?
Your target market and demographic
Are you targeting existing fans and their friends or a new segment of people? Age, education, interests, sex, etc.?
Competition
Who is bidding against you and what tools are they using to discover your successful campaigns? Is it still viable to keep tweaking your ads?
With maybe $100-$500 over a couple of weeks you can get a brilliant education in how online business works, and how your target market and niche operates.
So many times I've seen people who have been successful with Facebook Ads go on and be really successful in other areas of internet marketing and I'm quite sure it has something to do with the lessons they learned playing with ads.
A word of warning
Before you jump into advertising on Facebook you need to be a bit familiar with the risks. It's nothing worth worrying about, but still shouldn't be ignored.
Firstly, don't use anyone's photo or asset without permission and a credit. And never associate anything with something illegal or slanderous. It's just not worth it.
Secondly, make sure you set your budget limits, daily limits and lifetime campaign limits. The last thing you want is to accidentally write $2,000.00 instead of $20.00 because that money could get spent really quickly.
Lastly, you need to watch your results and conversions carefully and not just plainly go for likes and shares. There are a few people who have suggested that some results might not be as legitimate as you'd hope.
Are you keeping your Facebook Page?
I'm really interested to know whether anyone else will (or has already) get rid of their Facebook Page and what the reasons are. Please leave a comment and let me know, and also let us know if you've ever had any luck with the Ads platform.