The dreaded Contact Us page.
The place where you have a last ditch attempt at getting potential clients, customers and fans to get in touch or, in my case, convince them otherwise (I get a lot of emails).
So we've had a look at the best About Us pages and now I want to do the same for the Contact Us page. What are the best practices? What works and what doesn't? Is there anything you can do to increase your chances of success?
Let's take a look at what I think are 10 of the best Contact Us pages on the internet.
NOTE: Please give this post a Tweet if you like it. It'll only take you one click of that button up in the top left. You guys are amazing commentators but terrible social sharers! 😉
An important note on responsive Contact Us pages
As you might know, the web has now gone mobile. People browse websites on their iPhones and iPads as much as they do on their laptops and PCs. This means we have to change our design to responsive – make the website change to the device.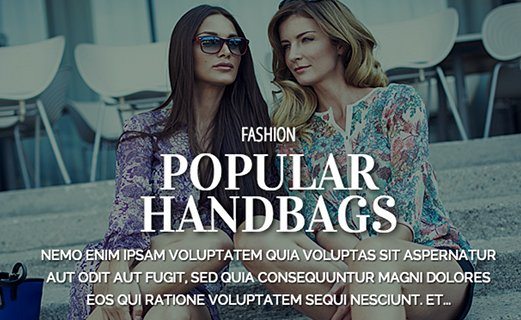 Click here to see some beautiful themes that will present your Contact Us page in a perfect way on every device and make sure you come back to see the new Blog Tyrant responsive theme soon!
What makes a good Contact Us page?
As you guys probably know by now, I have a few other online companies that keep me busy during the day. One of the things that I have found with this non-blog based sites is that the contact page can be quite important and can even help to set the tone of future relations with your clients. It is an important step in the relationship.
So what makes a good Contact Us page? Here are some thoughts:
It needs to work
At a very basic level, the darn thing needs to work. I have been to so many webpages where the contact form is broken or doesn't send properly. Bad look and lost business.
It needs to grab attention
Of course, this is the last point whereby a potential client can change their mind. If they get sent to a horrible looking contact page you are in trouble. It needs to be visually perfect.
The copy needs to be extremely seductive
Seductive copy. I do mean that literally. You need to seduce the person reading the page like you would a man/woman that you really want to take on a date. Hopefully most of the selling would already have been done if they are on the Contact Us page, so this is the tiny little flirt where you get their phone number.
It needs to set the client up for future relations
This is really important. You need to establish some ground rules. You need to set the client up for the way your relationship is going to work in the future. Statements like, "We check our emails every day and reply even if we're at dinner," can send very powerful messages.
Sometimes, just by looking at a good Contact Us page, you can tweak your own so as to increase conversions and save a potential lost client. That is the point of this post.
The best Contact Us pages
So here are some of the best Contact Us pages that I have noticed over the years. As always, if you know of any really cool ones please do drop a comment and let me know. I like to make my posts big resources of information for visitors and have found that often it is you guys, the ones who leave comments, that make it that way.
1. Music City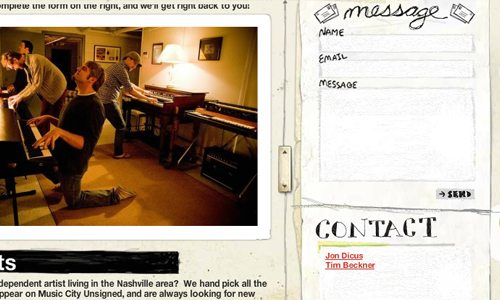 I love this because it is both professional and really informal. It is a very approachable contact form and that is something really important. Also notice the high quality photo which helps you feel like you have already met the guys when you finally do meet them face to face.
2. Bert Timmermans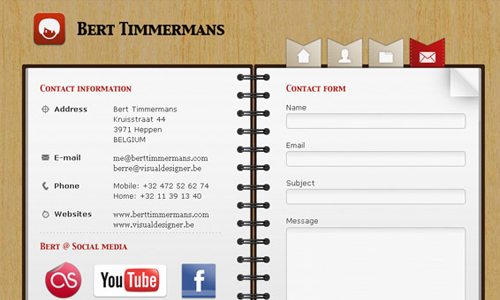 A very simple Contact Us page but a goodie. It gets all the information you need in one place with a clean and clever design. This is really important to note: you should put all your contact methods on there including social media and other methods. Sometimes an informal Tweet chat has turned in to a $5000 job for me. Without Twitter I'm sure that conversation would never have happened.
3. Alex Arts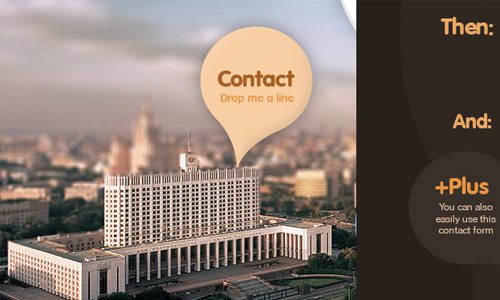 What can I say about this page other than the fact that it is pure genius. If you are trying to impress a potential design client, do an amazing design. If you are trying to impress a potential copy writing client, make sure you have some amazing copy. This is the example of perfection (except the loading time sucks).
4. Digital Base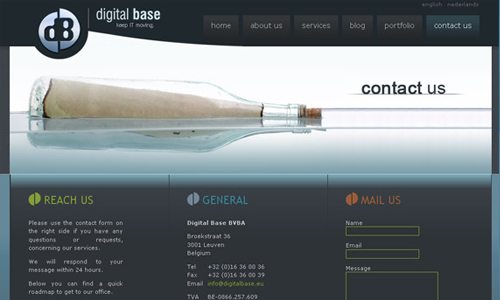 I wanted to include this Contact Us page because I thought it gave a really good idea of how a professional agency page should look. Everything is neat, tidy and purposely put. The image is high def and gives you some simple imagery or symbolism and there is nowhere for you to get lost. If you are dealing with high paying clients this type of page should be a base.
5. Loewy Design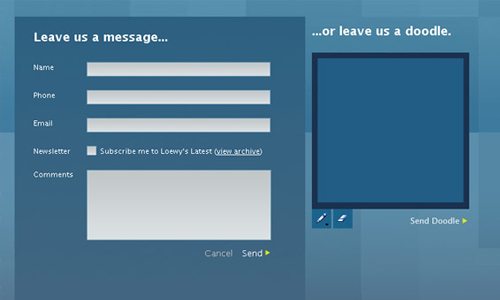 Leave us a doodle! Need I say more?
6. Chemistry Recruitment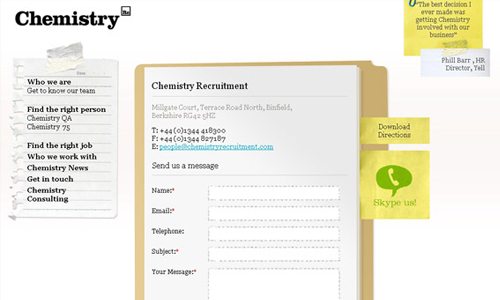 I was so surprised at how many Contact Us pages forgot to use Skype. This is now a norm. Its like email. You need to include a Skype address because it is a really simple way that people can contact you without paying. A lot of international people will want to use Skype.
7. TED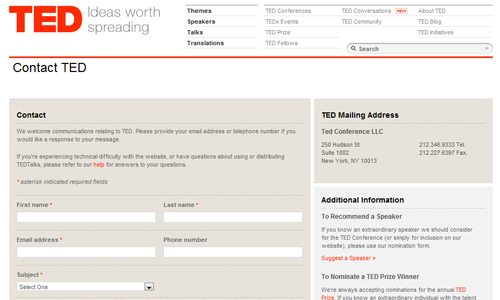 This is a really good one for showing you that your Contact Page isn't necessarily just about helping people get in touch with you. It can also help you with your cause. TED, for example, asks if you know any good speakers that could work well at their conferences. You can do the same on your blogs or websites; ask for help.
8. Viper Chill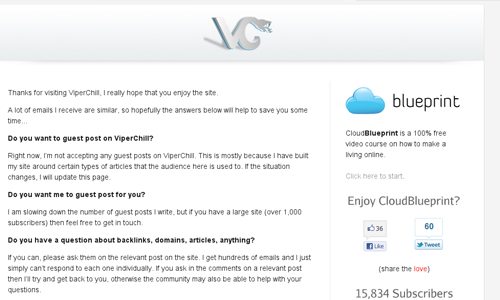 Did you know that Glen from Viper Chill once stole my laptop at the Singapore Airport while I was in the bathroom and then put all my ideas up on his own blog? True story. Well, actually its not true but the degree to which Glen continually comes up with the same ideas as me, two months ahead of my launches, makes me paranoid enough to now wear a tinfoil hat. He's brilliant. His Contact Us page is great because it uses a Q and A style format to keep people away, while using his sidebar to direct people to more important things.
9. SEOmoz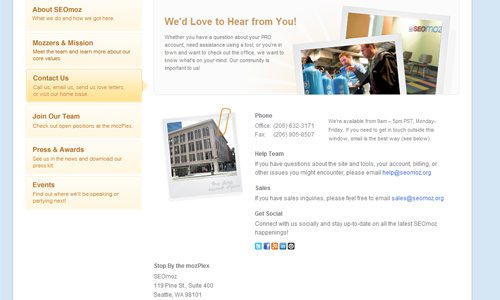 Rand Fishkin from SEOmoz is one of the coolest guys around. He always wears yellow sneakers. I like that. And their Contact Us page is really what's its all about. Well linked, easy to navigate and has all the information you want from emails to physical locations. They also do a very good job of personalizing the experience with quirky copy and well placed text.
10. Zen Habits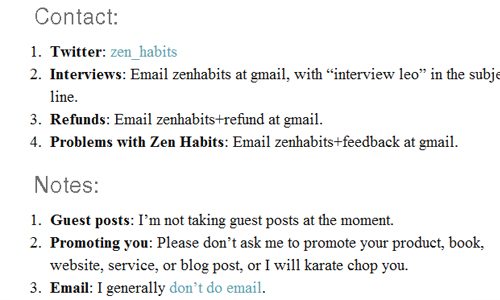 A few years ago Leo from Zen Habits gave up emails. I remember it being quite a cool moment because I realized that I could do that as well. So what about his Contact Us page? Well, he doesn't really have one. Its a small section on his About Us page that basically tells people not to email him. Minimalist. I guess you have to be when you have 200,000 subscribers.
What makes a good Contact Us page?
I'd like to hear from you now and read some comments about what you think makes a good Contact Us page. Is it design or copy? Do you think they are even that important? Please leave me a comment and let me know and feel free to share links. I really don't care about links.