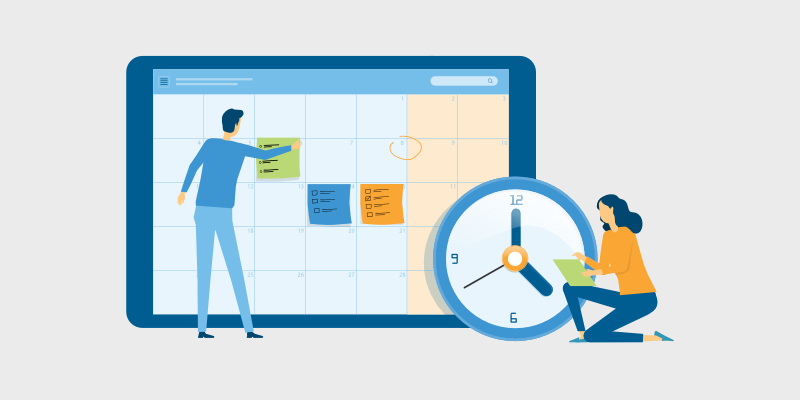 A re you looking for the best WordPress calendar plugins for your blog? In this article, we'll share the top options with you!
After you set up your blog, you might need a calendar plugin if you plan to hold online or in-person events, classes, or meetups.
With a calendar plugin, you can display a calendar on your website so that visitors can view upcoming events, schedules, availability, and more. Some calendar plugins also make it possible to schedule appointments, register for events, and buy tickets.
You may be wondering which calendar plugin you should choose and if it has the features and support you need. If so, you've come to the right place.
We'll show you the best options for WordPress calendar plugins.
Let's get started!
Why Use a WordPress Calendar Plugin?
Before we dive straight into the list, let's go over some of the benefits of using a calendar plugin on your WordPress website.
Promote Events. Calendar plugins are a great way to let your blog visitors know about upcoming events. For example, if you're running an online course, you can promote it on your calendar to create a buzz and get more signups.
Simplify Event Management. Whether your site visitors want to buy tickets or schedule appointments, a calendar plugin takes away the hassle of managing and organizing events. It makes it easy for anyone to register for an event and submit their information. The easier it is to do, the more people will sign up.
Collect Visitor Data. You can use the data you retrieve to determine what events and schedules work best for your audience so that you can improve future campaigns. The most and least popular events will tell you what interests your visitors and what doesn't so that you can increase conversions.
Whether you're a blogger or you own a local business, a calendar plugin will help you manage your events and boost attendance.
Now, let's dive into the list and find you a plugin that suits your needs…
The Best WordPress Calendar Plugins for Your Blog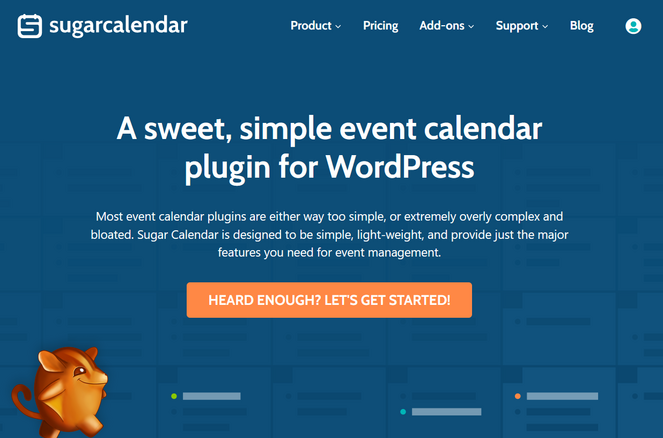 Sugar Calendar is the best event calendar plugin for WordPress. It's easy to use and comes with powerful features to customize your calendars.
With Sugar Calendar, you can:
View events on a monthly, weekly, or daily calendar
Filter events by category so that they're easy to find
Create single or multi-day events
Specify time zones for each event
Set start and end times for meetings and appointments
And more
Displaying a calendar on the front-end of your blog is super easy too. Sugar Calendar offers four different event calendar widgets you can add with the click of a button. Or, simply copy and paste the customizable shortcode.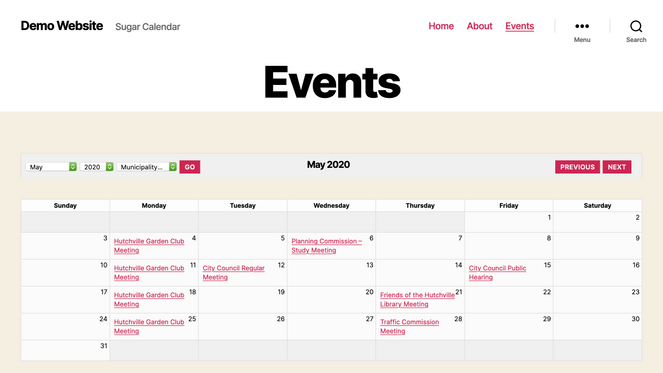 To increase the functionality of the plugin, you can integrate it with popular tools like Google Calendar, Gravity Forms, WPForms, Stripe, and WooCommerce.
Plus, you can purchase powerful add-ons like advanced recurring events, front-end event submissions, calendar feeds, and more. The event ticketing add-on is especially helpful if you want to sell tickets for your events.
Sugar Calendar is also fully localized and ready to translate.
Pricing: Starts at $49 per year. There's also a free version with limited features.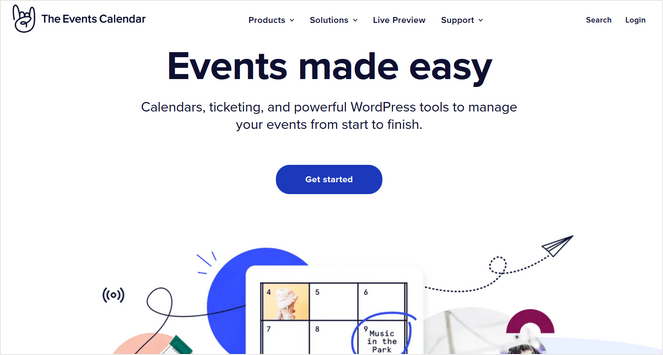 The Events Calendar is another widely popular calendar plugin for WordPress sites, with over 28 million downloads.
With the free version of the plugin, you can display calendars in a month, list, and day view, and you can use categories and tags to organize your events. Its customization tools make it possible to match your calendar to your blog's branding to create a cohesive look.
The Pro version takes it a step further and allows you to:
Import events from other calendars with its CSV importer
Set monthly, weekly, and custom recurring events
Highlight specific events to drive engagement
Create photo and map views of calendars
The Events Calendar also offers time zone support, advanced widgets, keyword search, and more.
Pricing: There's a forever-free version that comes with limited features. The premium plan starts at $99 per year.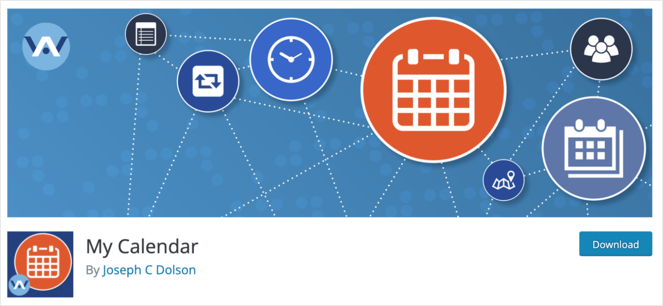 My Calendar is a well-liked event management plugin for WordPress. It's easy to use so it's a great option for beginners who aren't looking for anything complex.
My Calendar supports individual event calendars, multiple event calendars, locations, lists, and categories. Its widgets and shortcode generator allow you to add calendars to any post, page, or sidebar.
On the front end, My Calendar is flexible and comes with extensive settings so you can customize your calendars to your liking.
Some of its other powerful features include:
Multi-site friendly
Advanced search features
Integrated help page
Limit views by categories, location, author, or host
Editable CSS styles and JavaScript
Pricing: Free. There's also a Pro plan that starts at $59 a year.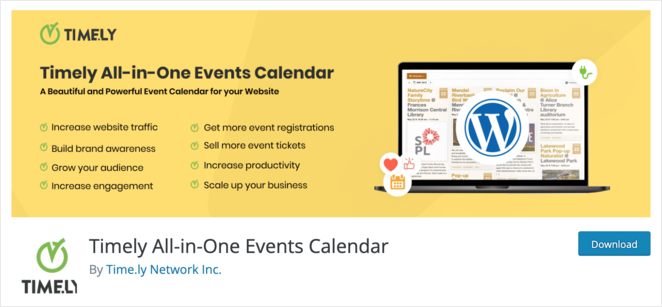 Timely All-in-One Events Calendar is another simple calendar plugin for WordPress. You can create in-person, virtual, or hybrid events to suit your needs and appeal to your audience.
It comes with pre-made calendar themes so that you don't have to worry about the design. You can customize your theme, fonts, and colors to fit your branding and even change the header, footer, and CSS. It's also 100% responsive so it looks beautiful on any device.
You can set up different views for mobile and desktop, duplicate events, filter events by categories, color-code events, and much more. There are even social share buttons as well so visitors can share your events and spread the word on social media.
In addition, you can easily import and share events via Google Calendar, Apple iCal, MS Outlook, and other systems that accept iCalendar feeds.
Pricing: Free.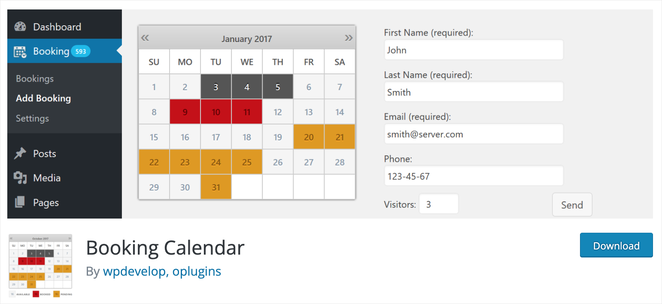 Booking Calendar is a simple but useful booking system plugin for WordPress. Once installed, all you have to do is insert the shortcode into any page or post and you're ready to accept bookings.
You can show availability for your services and allow customers to choose the time slots that work for them. From there, you can accept or decline.
Alongside services, customers can also check the availability of properties such as hotels or apartments and book a specific time slot.
Booking Calendar is easy to use and straight to the point, which makes it a great option for beginners. It's flexible and appeals to a wide range of businesses and blog types. You don't need third-party accounts since all bookings and settings are stored in its database.
Booking Calendar also offers a range of cute and customizable designs so you can find a look that matches your website. Its frontend and backend design is super responsive and its Booking Admin Panel is easy to use.
Pricing: Free.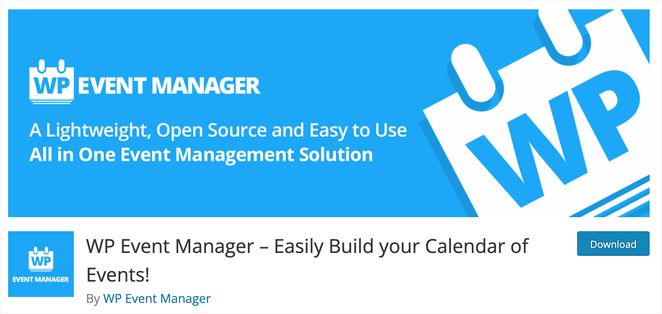 WP Event Manager is an intuitive event management plugin that's lightweight and easy to use. It works out of the box with almost any WordPress theme so it's guaranteed to work well with your existing design.
WP Event Manager offers multiple ways to customize your listings and provides premium add-ons for those that want extended features.
With WP Event Manager, you can:
Assign locations to each event
Create custome fields to personalize your events
Manage bookings directly from the WordPress dashboard
See live previews of events
Display event listings using simple shortcodes
This plugin is fully responsive and SEO-friendly so your content can rank higher on search engines. Visitors can search for events by category or type and view events in list view and box view.
Pricing: Free.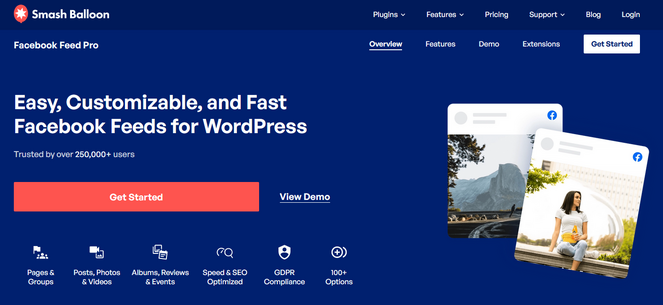 If you're looking for an easy way to display a Facebook events calendar on your blog, then check out Facebook Feed Pro by Smash Balloon.
Facebook Feed Pro lets you seamlessly embed Facebook content on your WordPress site. You can create multiple types of feeds including Facebook posts, photos, videos, reviews, and events.
Here's an example of a Facebook event calendar feed: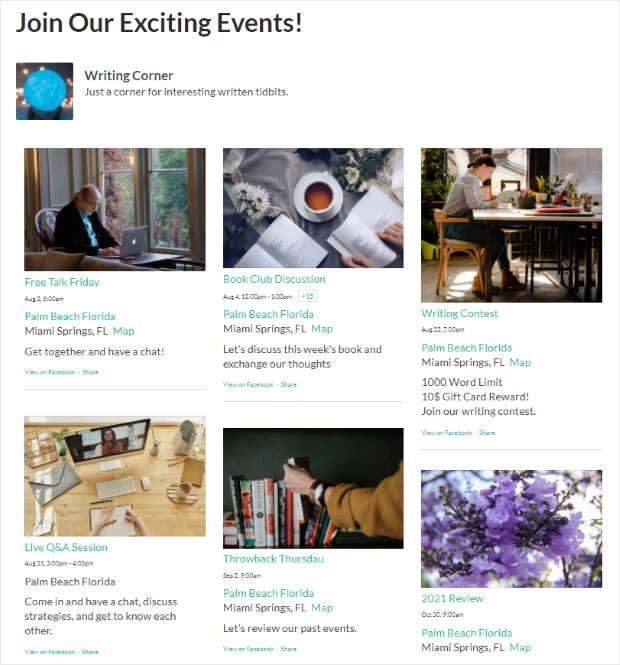 You can customize the feed to match your brand, choose from multiple layout templates, control what information is displayed, and more.
This plugin is different than others in this list because you can't create events directly in WordPress, manage appointments, or sell tickets. But, it's perfect for bloggers that want to display Facebook events on their site in a beautiful way.
Check out our Smash Balloon review to learn more.
Pricing: Starts at $49 a year. A free version is also available.
---
That's a wrap! These are the best WordPress calendar plugins for managing your events, staying organized, and boosting ticket sales.
Now you can make an informed decision on which calendar plugin is right for your blog.
If you liked this post, feel free to check out our guide on the best WordPress plugins for bloggers. It has a full list of everything you need to get started.
And don't forget to sign up for our email newsletter for more helpful blogging tips!