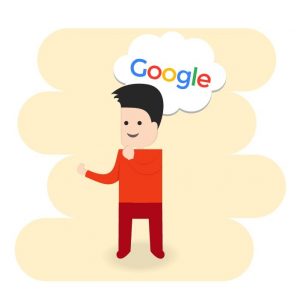 We all know that getting heaps of traffic is really important for any blog or website. In fact, without traffic there is really not a lot of chance of having long term success.
But what a lot of new bloggers don't realize is that sometimes the majority of your traffic can be absolutely useless for your blogging goals.
Today you're going to learn:
How to spot bad traffic when it hits (and affects!) your blog
What good traffic looks like and why it's valuable
How to tap into better and better sources each day
I'm going to try and show you this by looking at my own stats and doing some basic analysis.
Let's do it.
What makes for good (and valuable) traffic?
Last year I went into some deeper detail about what constitutes bad traffic so I'll just give a bit of an overview here.
To my mind, traffic is good if it…
doesn't bounce
Traffic that bounces from your site as soon as it hits your article is a waste of time and actually really bad for SEO. Bounce rate often has a lot to do with on-site factors like design and load time, but most of the time it is because the source of your traffic doesn't match with your goals and outcomes.
takes a basic action
We always want our visitors to take an action when they touch base with our website. For example, they might tweet an article or they might just click through to read another article. This is usually a sign of a pretty well planned traffic source.
takes an advanced action
And advanced action is what we are really after. This is where the visitor signs up for a mailing list or purchases a product that you are promoting. These advanced actions are usually the reason we are trying to get traffic in the first place so being able to convert is a sign of a good blog meeting a really good traffic source.
Of course, these are some very basic measurements for what valuable traffic looks like but they will help to be nice little guide posts for us during the rest of this article.
Some sticky issues when looking at traffic
Whenever you examine your traffic stats you'll come to notice that there are a few places where you powers of "traffic stalking" become limited.
For example, it's very easy to track a visitor's origin, actions and exit if you are doing so from a paid Facebook campaign that uses cookies (or pixels) and syncs up with your own analytics software.
It's a little bit more tricky, however, if you want to track that visitor to a sale that takes place on an affiliate's website where you can't see the final traffic.
Sometimes you can make it work, other times you can't.
Today's analysis isn't going to go into that much detail, but I encourage you to start digging into your stats and setting up goals and campaigns to really see what actions people are taking after they have arrived on your blog from various origins.
An analysis of web traffic sources
What I'm going to do now is look at four sources of traffic from my analytics and talk you through what I'm seeing.
For some of you this might be a bit basic, but I'm hoping it will give you some insights into what kind of things we should be looking out for when it comes to tapping into better traffic sources.
Remember, there is no point in doing all of that blog writing, outreach marketing and blogging SEO if we just end up with visitors who do nothing but increase out bounce rate.
1. Organic Google search traffic
Google is by far and away my number one source of traffic in terms of numbers of visitors. I've warned about this in the past and I'd like to again now – if you rely on Google too much for your money-making you can end up getting hurt by a penalty or an algorithm change.
That being said, it does make my business a lot of money so there is no point in ignoring it. The best thing you can do if you want to go after Google traffic is just make sure you have a backup plan or a safety net. This might mean having multiple websites/blogs, or it might be having a healthy mailing list that will still be active and engaged should something go wrong with your site.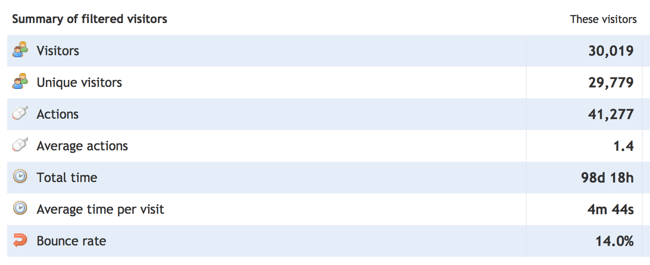 Here's a screenshot of my Google traffic for the last few days. As you can see it has quite a low bounce rate (which is good) but also people aren't taking too many actions and are only looking at one or two pages per visit.[simple_tooltip content='Your bounce rate is the rate at which people hit your blog and leave without taking an action. High bounce rate is bad.']

[/simple_tooltip]
The good thing is that on average people are spending almost five minutes reading the content. This is a good statistic and tells me that the traffic itself is quite good, but the site design or the way I write articles might need to be changed to encourage people to click more links.
2. StumbleUpon
Earlier in the month Blog Tyrant got Stumbled and received a substantial influx of traffic in just a few hours. This particular source of traffic works by votes; an original Stumbler submits the article and then others "like" the post if they enjoy what they see.
The big problem I've always had with StumbleUpon is that users are generally just mindlessly clicking through submissions using a toolbar that is installed on their browser. Sometimes you'll hit "Stumble" so often that you'll see over 50 articles in a minute!
What this means is that the traffic has a low time-on-site value and usually bounces quite quickly. The good thing about it is that it can quite easily go "viral" due to the large numbers of eyes that hit your page, but I've never found it to be of much long-term value.
Unfortunately this seems to be the norm for bookmarking sites like Delicious, Reddit, etc. You get a big hit of traffic (and maybe crash your servers!) but then no real long term benefits because the traffic isn't that targeted.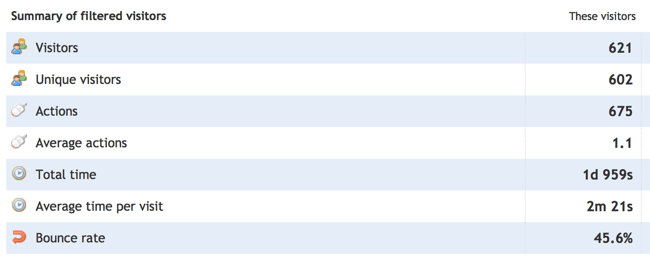 Here's the stats from last week's Stumble visitors. The bounce rate is almost half which means you're getting a lot of traffic and not many actions. The time on site is actually a lot higher than what Google Analytics reports and I suspect the traffic is quite useless.
3. Facebook and Facebook Ads
Facebook is interesting because it has an organic component as well as the Facebook Ads section where you can pay for views or clicks. This format is notoriously excellent in terms of quality of traffic if you can get your targeting right. Unfortunately that normally means paying for it or getting some good mentions.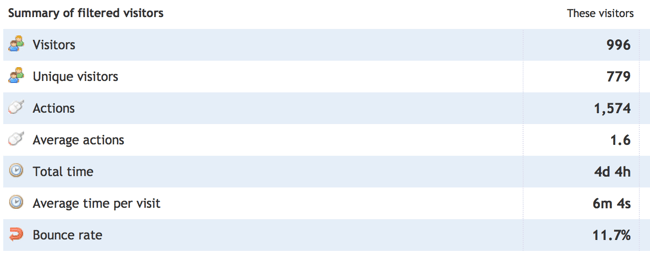 Here is my Facebook traffic during the last week or so. During this time I did only one post but it was mentioned by Darren Rowse: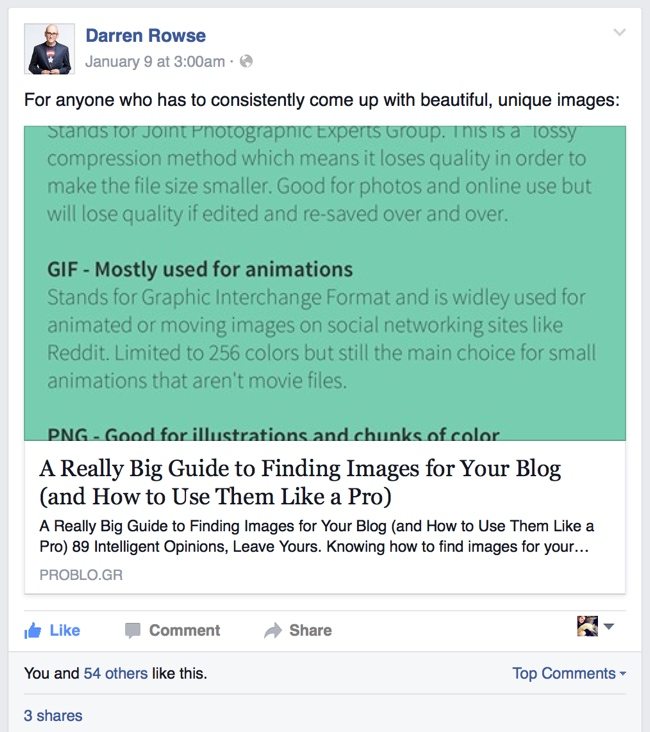 Darren has a very active Facebook account and it clearly pushes some good traffic. As you can see they spent an average of six minutes on site, and the bounce rate was even lower than that which arrives by Google.

The great thing about Facebook Ads (other than their awesome inbuilt stats) is that you can use a conversion pixel which allows you to see whether or not people have reached a certain page on your blog. For example, if I run an advert promoting Blog Tyrant I can stick the pixel on my sign up page (it's invisible) and then see how many people from that advert end up on that page. Very cool and great for removing the guess work.
4. Website Referrals
The last lot of the stats that I wanted to show you was that of some website referrals (links from other blogs and websites that aren't search engines or social sites).
To me, these are really valuable sources of traffic because they have really good SEO value, are an endorsement from the website itself and generally pass along traffic that is really highly relevant.
Remember, whenever someone links to you blog it is as if that blog/website is saying, "Here's a really great website that I trust". This carries a lot of weight that can often mean the traffic is highly ready for action.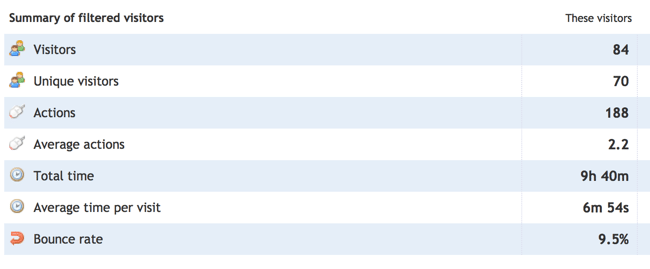 A few months ago I got a link from Moz and it has sent a lot of excellent traffic that has converted into a large number of subscribers. The traffic isn't huge (90 visitors in November) but the bounce rate is one of the lowest I've seen and people spend almost seven minutes on the site.
How to tap into better sources of traffic
Finding better sources of traffic seems to be a combination of experimenting with new ideas and looking at what you're already doing well.
Services like Teacup Analytics (use "blogtyrant" to get beta access for one month for free [not affiliate]) can help you quickly see which content is doing well and keep an eye on any trends.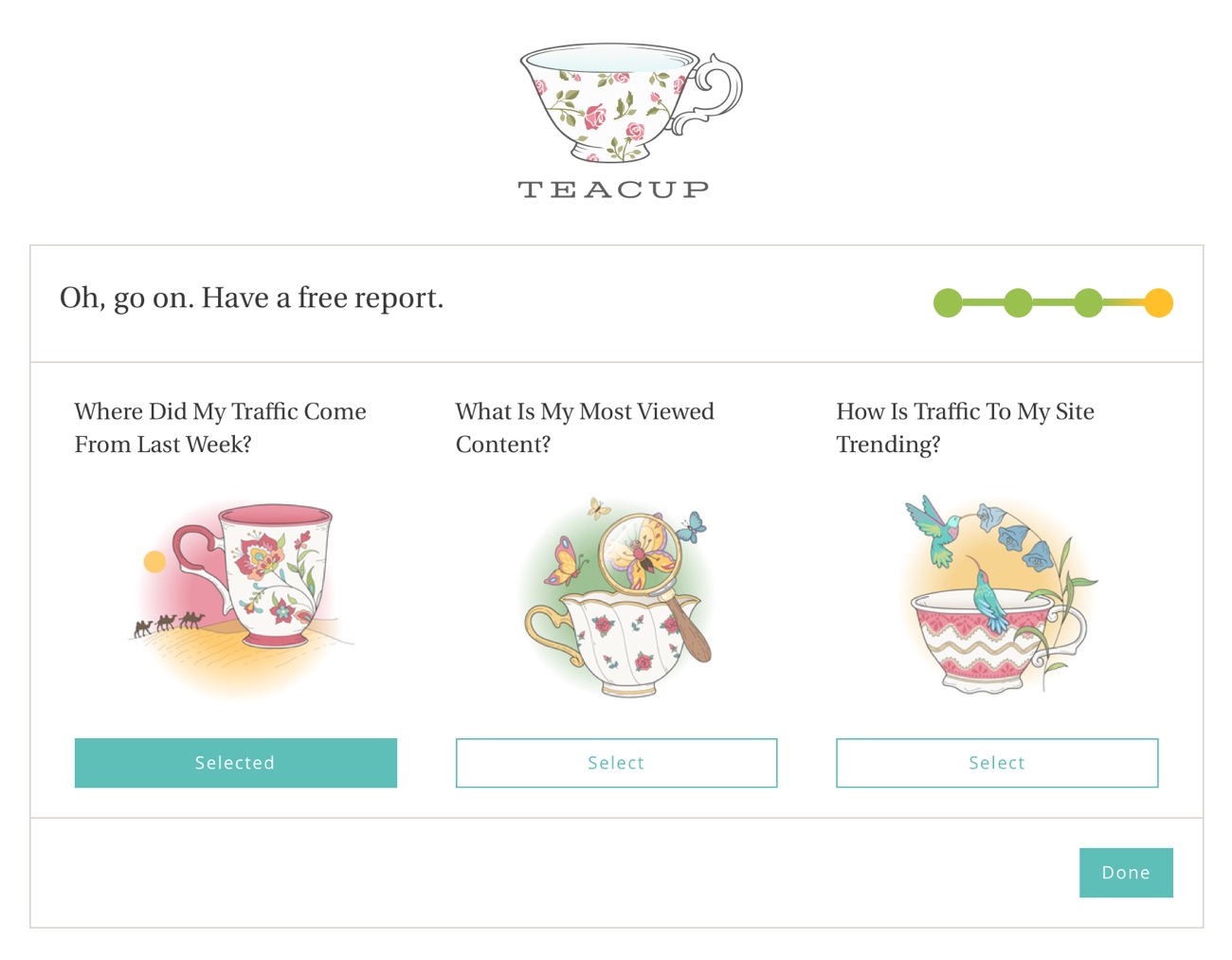 Once you've had a look around at what's going on with your traffic you can set up little "achievables" to monitor how your progress is going. I like their interface – it's a nice clean way to get a quick overview at what your sources are looking like.
The idea is to identify content that is performing really well and then work backwards to find out where that traffic is coming from. Often you can find little gold nuggets by looking at it like this.
If you find a traffic source that is converting particularly well, you can then try and access that source again via different formats.
For example, if you got a link in one of their posts you could try pitching to get a guest post or seeing if you can buy some advertising space on their site.
Secondly, if you're getting good traffic to one particular post then you might want to expand on that post by writing more articles or creating new bonuses that go deeper and deeper into the topic and then adding them to original article. This means that these new items will be more likely to get shared and noticed.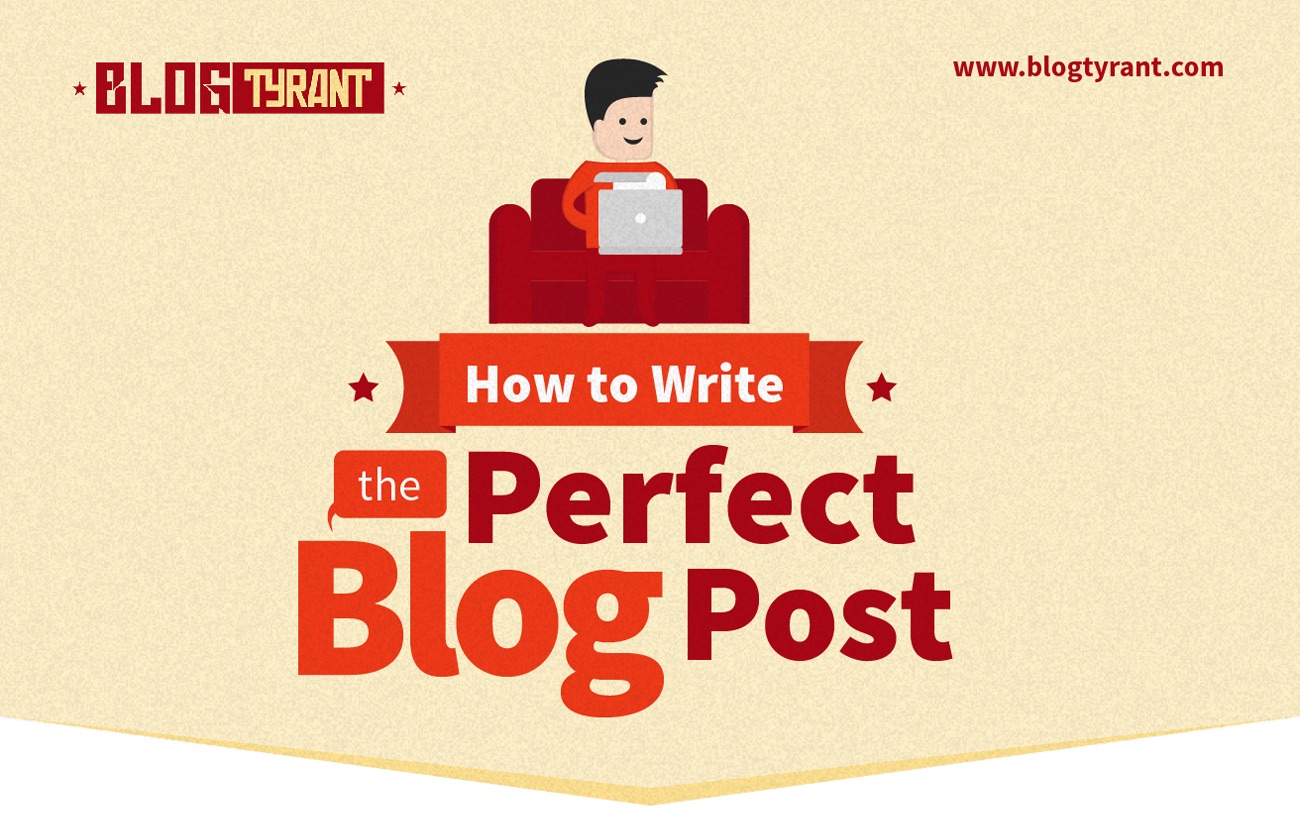 For example, I added an original infographic (that's a preview above) to my article about the perfect blog post and it has since been pinned dozens and dozens of times.[simple_tooltip content='Just type https://www.pinterest.com/source/yoursite.com/ to see which images from your blog have been pinned.']

[/simple_tooltip] Remember, all of these pins represent a new backlink which is extremely valuable even if the individual pin doesn't pass along that much new traffic.
So what's the best source of traffic?
I hope by now you've kind of realized that there really isn't any one source of magically perfect traffic. Sorry about that…
Each blog will have different results based on things like where the traffic comes from, how you were mentioned/referred, where the traffic lands and how good your on-site funnel is.
The most important thing is to keep experimenting and creating useful content that helps people with their daily lives. This is the kind of thing that converts well and gets shared around.
Where does your best traffic come from? Please leave a comment as I'd be really interested to learn what is working for you blog.