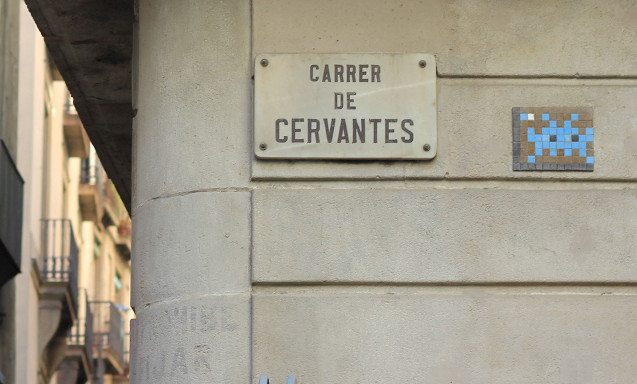 Yes, there's Google Adwords and Facebook Ads.
Those things are great – but this post isn't about them.
You see, there are myriad ways to advertise your blog on the net. In fact, some of those ways involve getting a little bit clever. Last week a lot of you asked me how to promote a blog on a budget so I thought this might be a good place to start.
In this article I'm going to show you:
Realistic goals for your advertising plan
Don't just shoot in the dark. Make a plan with a solid goal for outcomes.
How to make sure your post/landing page converts
Don't just send traffic to random places or pages. Design something custom.
Where to advertize on the cheap
This is what a lot of people want to know. Most bloggers don't have heaps of money to throw at advertizing so we'll keep it cheap.
Designing a successful advert
Tiny variations can make huge differences in outcomes. I'll give you some ideas.
A little contest (you can win!)
At the end I'll create a little contest for you all where you can maybe win some advertizing dollars.
A lot of this is based on my own experiments but, of course, I'm always keen to learn more if you lot have any tips.
That's the end of the intro.
Let's do it!
What do I target with my advertizing?
Okay so you want to run an advertizing campaign but you aren't sure what you should be targeting. Some ideas include:
Direct sales
If you have a product to sell then you can advertize to directly sell copies of whatever it is.
Email subscribers
Going after email subscribers is a legitimate thing to pay money for. You can use them for all the amazing things that we know come from having a strong mailing list.
Traffic
Imagine buying cheap traffic and driving it to a page that then has ads on it? That's called arbitrage. It's hard to do but still a viable option. I have a friend who makes around $1,000 a day from this.
Awareness
Something not a lot of people talk about. You can pay to build awareness. It might be to generate buzz for a future launch or something more concrete.
It's so important that you have goals in mind for your campaign. If you just buy advertizing and watch your traffic go up you'll have really no measure of what is working or not.
I think a lot of bloggers think that getting more traffic is an important goal but without some solid outcomes for that traffic all it will do is cost you money for server space.
It's a waste of time.
What you want to do is pick one goal that you'd like to achieve and design one campaign for that specific outcome. No more, no less.
What results can I expect?
It's important to note that the outcomes of these campaigns are usually small. You aren't going to get 40,000 subscribers from a $50 spend.
The most important thing is that you track and tweak your campaigns continually so that they are getting better and better. Once you have achieved an acceptable conversion rate or sales rate you then "scale" it up and spend more.
How do I design a successful landing page?
As I said above, you don't just buy traffic and send it to the homepage of your blog. That might get some results but it won't be optimal.
Rather, you want to be driving traffic to a specific landing page that you've created for the purposes of this campaign.
Of course this whole section will vary massively depending on the goals that you are going after. A landing page that sells a book will look a lot different to content that you are using to try and get email subscribers.
The most important thing is targeting
So what you need to keep in mind through all this is that the targeting needs to be really tight: you want the traffic to match the outcome.
I've talked about this quite a few times in relation to using guest posts to get email subscribers. I always make sure the guest posts are on blog that match the topics I'm writing about, and that the links I use in those guest posts go back to related and interesting posts.
It works.
The second most important thing is testing
If you've got good sources of traffic going to good landing pages then the next step is to make those landing pages better.
This is something that I'm infinitely lazy about but constantly seeing examples of why it's so necessary. In actual fact, it was Glen from ViperChill who really pushed me to not be so lazy with this and to split test even the dumbest little things.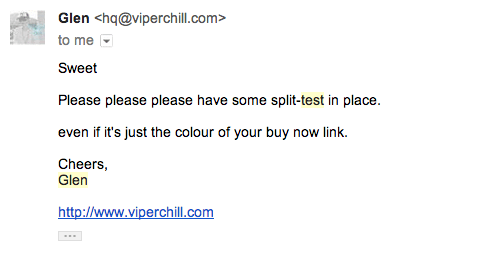 In fact, Glen recently talked about how a crappy little drawing that he made is killing a professionally designed advert on conversions. There was no way he would have figured this out unless he was testing.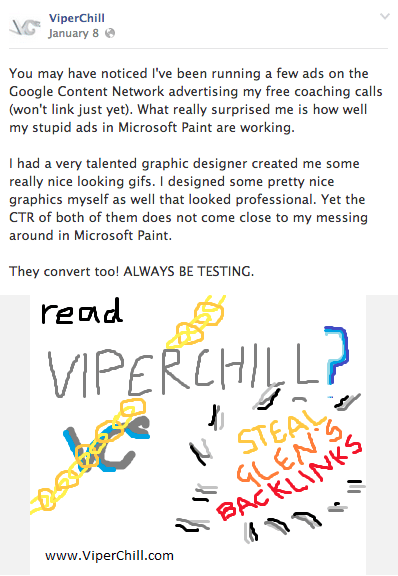 I regularly run split tests on this blog for both affiliate campaigns as well as email subscriber numbers. I've seen changes of up to 7% for variations on copy/design that I never would have guessed based on what is "best practices" when it comes to internet marketing.
My favorite tool for this kind of stuff is Visual Website Optimizer – not because it's necessarily any better than the others, it's just the one I got on to first and have been really impressed with how it works.
The simplest but sexiest option is one where you create two pages of the same things but change one element. Call them something like http://yoursite.com/a and http://yoursite.com/b and then send traffic to them and see which converts best.
Select a winner and then change a new element and test that.
So what should you include on a landing page? Here are some options of elements to split test and see how they affect your results:
Social proof
Show how many people have subscribed or purchased your product already. Helps to reduce fear.
Story elements
Tell a human story to get people involved in the product or page on an emotional level.
Faces
Consider including human faces on the page somewhere as it can help to increase trust.
Cat pictures
Just seeing if anyone actually reads these smaller list items.
Video
Videos are helping boost conversions in some niches more than ever. This is especially true for "instructional" videos that lead you down a pre-determined path.
Benefit focused
Tell people what they will get out of it, not what is included.
Again, once you have a beautifully crafted page you then test it over and over.
Can I send traffic to a normal post?
Now, you can send traffic to a normal post as long as that post itself is very targeted to an outcome or a funnel process. Long form content is a great landing page if the traffic it is getting is hyper-interested in what you are talking about.
Where do I advertise my blog?
Okay so I wanted to avoid the PPC (pay per click) discussion for this post because there are plenty of other people out there who know it better than I do.
Let me just remind you, however, that PPC is a really good way to make money if you know what you're doing. Generally, however, you need to have some money to spend and a lot of bloggers don't have that at the start.
So there are two options that I want to discuss: private ad buys and BlogAds.com.
1. Private ad buys
A private ad buy is where you approach websites and blogs that you want to advertize on and negotiate a price. The nature of the negotiation often means you end up with a good rate as you can simply turn down sites that are too expensive.
Here's an example scenario:
You run a blog about martial arts and are about to launch your 'Super Big Punching Guidebook'. You create a landing page with a nice eBook cover photo and promotional material. You then find high-quality martial arts blogs and email the owners individually asking if they would like to run an advert for your new book.
How much does it cost?
Each site has different rates. Sometimes they will charge on a "per impression" basis and sometimes they will charge you for a certain amount of time like a week or month.
What do I need to look for?
Match the traffic to your own. Look for an active community with lots of comments and social shares. Look for a blog where you get a prominent or advantageous position for your ad so that it doesn't get drowned out.
What are the advantages of private ad buys?
You often get cheaper rates and can run your ads for longer. You have a broader spectrum of blogs to choose from as quite often you'll want to target sites that don't normally run ads. You'll also usually have more flexibility with the type of advert you get and the images that you can and can't use.
2. BlogAds
BlogAds is a lot like private ad buys except it is managed through one website that tracks your clicks, payments and all of the different blogs through which you can advertize.
Here's an example scenario:
You want to get more traction for your 'Massive Karate Kicking' eBook. You go to BlogAds, select a bunch of sport and health blogs and then take out ads on them for a week. Measure the traffic and sales and see how it converts.
How much does it cost?
BlogAds uses a set fee approach but gives you metrics to look at as well. So, you'll be able to buy 10,000 impressions for $20 on some blogs while on others it will cost more or less.
What do I need to look for?
Again, match your traffic closely. Don't take out ads for martial arts on fashion blog. Look for blogs that give you good terms and impressions for your money. Make sure you experiment, however, and don't write-off expensive blogs as they might have the best quality traffic.
What are the advantages of BlogAds?
It's all managed through one site that gives you a list of blogs to choose from as well as statistics and payment information all on one site. It's a good place for beginners to learn how to work with this type of advertising.
How do we get tricky with blog advertizing?
So when you run ads like this you want to get a little bit clever with your approach. This will help you get better results from your spend.
1. Photo techniques
The photo that you use plays a big role in how well your campaign will perform. For example, earlier in the year I promoted my start a fashion blog post by using a photo of one of my family members smiling and looking directly to some text that I wrote over the top.
Just take a look at BlueHost's new homepage. Having people look at the area you want them to take action on is a really good way to increase conversions.
2. Mention new traffic by source
If you've created an individual landing page for each source you might want to consider mentioning that source directly. For example, if your sending traffic from Twitter than you can give them a little shout out and perhaps mention something casual like taking some time away from Tweeting to check out your site.
This can have the opposite effect of seeming disingenuous to people who know what you're doing so make sure you test.
3. Make your advert copy compelling
I've found a few things work really well when it comes to advert copy.
One: ask a question and don't solve it til the next page. Back to the Karate example, something like "Who had the deadliest punch?" might work really well.
Two: Ever seen those ads that say "Lose weight with this one weight trick" with the picture of the banana? Or the one that says "5 foods you should never eat". It's been working for years. Creating a sense of curiosity is really important to get people to click through.
4. Create consistency between jumps
When a user clicks on an ad and it takes them to a new site there is a jump. That jump sometimes freaks people out and causes them to navigate away.
One way you can help to control this is by creating some consistency across that jump. For example, if you've showed them a photo of your face on the advert, use that same photo or a bigger version of the same photo on the landing page. That will help them to realize that they are in the right place.
5. Borrow from others
One of the biggest things I've been learning in this field is that you need to borrow ideas from people who are clearly doing very well in your niche. That banana example up above is a perfect example; it's been going for years. Why should we try something completely different if that simple idea might also work for us?
I'm not saying you completely rip off someone's intellectual property. Not at all. And I'm not saying you steal their hard work. But look at the principles behind why they are doing what they are doing and see if those techniques also work for you.
Visit some sites in your niche, look at the ads, follow the links and see what's going on.
A little challenge for you
Alright so I wanted to lay down a little challenge to you awesome people.
I want you to go away and spend $20 buying an advert on a site (or BlogAds) to drive traffic to a page on your blog that either makes you money or grows your mailing list.
It's not going to be perfect.
It's not going to break the bank.
But it's a start.
Sometimes I think that I write these really long posts and people skim read them and get excited but never really put much in to practice. So this week I'd love to see you spend $20 and see what results you can get.
I'd much rather you learned from doing that than by me turning this 2,500 word post into a 5,000 word post.
Come back and report your results, ideas or lessons learned and I'll pick the best one and send that person $100 towards their next campaign. I'll also work with them via email to see how we can improve that campaign.
Again, it's not much but I'm trying to give you a starting point.
Who's in?
(Oh, by the way, Jo from ZigaZag one the USB mic from the contest in the last post. I'll be answering her comment/concerns soon.)