UPDATE: Sadly, Google has now removed photos from search results. I recommend you read this article on long term SEO practices for blogging instead.
One of the most important things you can do for your search engine rankings is to set up Google Authorship.
This is where Google displays a little photo of your handsome mug next to any results that you have authored (I'll show you how to set this up down below).
Here's a screenshot of how one of mine looks: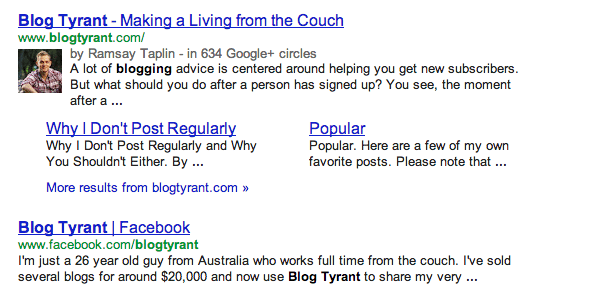 Some of the benefits of this are obvious:
Higher CTR
Results with a photo are going to get a higher click through rate than those without. Unless, of course, you have a really ugly mug!
Increased exposure
An important part of a successful brand is making sure that your "image" appears in as many places as possible. This is great exposure for you and your brand.
Increased trust and authority
Results with Google Authorship look a lot more trustworthy than those without. It makes the result seem more official. This is particularly important for brands that are trying to sell a product.
But the less obvious benefit that many people are reporting is that they are ranking much higher in the SERPs (Search Engine Ranking Positions) since they set up Google+ and added Google Authorship to their blog (you need both for the latter to work).
And while this might seem like an awesome thing it does worry me a little bit.
Here's why.
Why Google+ worries me
Let me start by saying that Google+ is completely essential for anyone wanting to succeed online.
It is no longer an "optional" social network. Brian Clark, of course, has been saying this for a while.
Why?
Because it is so intimately linked to search results and, over time, it will become integrated with every other Google service such that if you ignore it you will be left behind in more areas than just rankings.
And that is precisely why I am worried about it.
You see, I love Google. Incidentally, I also really love Google+.
Without Google probably half of the people reading this article would never have encountered my site.
Without Google I wouldn't be able to make a regular income from affiliates and blogging.
Without Google… you get the idea.
But as blogger I am inherently wary of Google. Call it a healthy mistrust. I think anyone who makes money on the internet should have it.
And the reason is that we become too dependent on Google. And with Google+ being integrated into hundreds of millions of smart phones, local search results, videos, emails, etc. the reliance is going to get even heavier.
Don't get me wrong here – it's not that I don't trust Google with my information. I do. I am a paranoid person by nature but I don't think Google is some big giant corporation trying to gather data on us all so that we can be enslaved into some mindless zombie-race.
As far as corporations go I think Google is very honest.
But it's still not a smart business decision to rely on them too heavily.
Two cautionary tales of Google reliance
If you've been reading Blog Tyrant for a while (nice work!) you've probably heard my story about getting de-indexed from Google's results with one of my early blogs.
The first story
In case you haven't, the story is pretty simple. I built up a fitness blog with quality, original content and then started making regular income from Adsense on the site. One day I woke up and with no warning found that my site had been de-indexed from Google and my revenue had completely dried up. The traffic was gone.
I was in trouble. But I was also an idiot.
I don't know whether someone reported me for a made up offence or whether it was just a glitch in their update but Google tooketh awayeth as fast as they had giveth. I was relying on their organic search traffic almost 100% and when it went away so did my income.
Of course I still wanted to date Google (badly!) but I promised that we'd never be exclusive again. I needed to start seeing other people.
And then Google+ and Google Authorship came along.
The second story
I set up my G+ account and then added Google Authorship to my blog so that my photo would appear in the search results (I'll show you how to do that later).
Everything was going swimmingly – one post in particular was performing quite well with the new photo and I was getting a little bit of extra affiliate income each week.
But then I noticed the photo disappeared.
And then came back again.
And then disappeared again.
And I wasn't the only one who was experiencing the issue.
Guess what? When the photo was gone that affiliate income dropped in line with click throughs. Once again I found myself relying on Google traffic for an income source instead of building up my own self-reliant asset.
It happened to a lot of "real" businesses after the Panda update too.
What should I be doing instead?
As I said, there is nothing wrong with Google traffic.
There is nothing wrong with getting a crap-tonne of it either.
The problem is when you rely too heavily on it and my worry is that Google+ is making us all so integrated and dependent on Google services that a lot of bloggers, website owners, etc. will find it hard to live without them.
Here are some steps I think we should all be taking:
Keep going with Google+ and SEO
Don't interpret this post as me telling you to run for the hills and leave Google behind. That's crazy talk! Keep learning and growing on Google+ and with your SEO strategies.
Keep writing solid content with a strategy
Now, more than ever, you need to focus on writing solid content that has a strategy behind it. A lot of bloggers have problems with that strategy which is something I'm going to help you with very soon.
Really focus on the email list
Make sure you are using AWeber or MailChimp to grow a mail list that is engaged, involved and, most importantly, yours. These amazing people are your primary and your back up plans.
Diversify your traffic sources
I would say that you want to have greater than 50% of your traffic coming from non-Google sources. That means guest posts, sites that link to your wicked content, forum discussions that you participate in, legitimate advertising methods, etc. The more organic, non-search referrals the better.
Diversify your content styles
One of the best ways to get diverse traffic is to use different methods of content. Instead of just pumping out blog posts consider things like infographics, photos, tools, eBooks, podcasts, videos, tutorials, etc. These will attract different types of links to your site. All this quality content will also help keep you in good stead with Google.
If you are clever and plan your time well you will be able to get across all of these things without too much trouble.
How to set up Google Authorship and get your photo in search results
There are a lot of tutorials out there on how to set up Google Authorship but I thought I'd run over it in this post quickly to save you looking around. I've done a video version and a written out version below.
To get your face in the Google search results you need:
A Google+ account
A snippet of code added to your blog/posts that you author.
A link on your Google+ profile back to that blog/those posts.
So you start by getting a Google+ account if you haven't done so already. Just go here to get started and make sure you think carefully about which email/Google Account that you use as it will be connected to your emails, YouTube Channel, analytics, etc.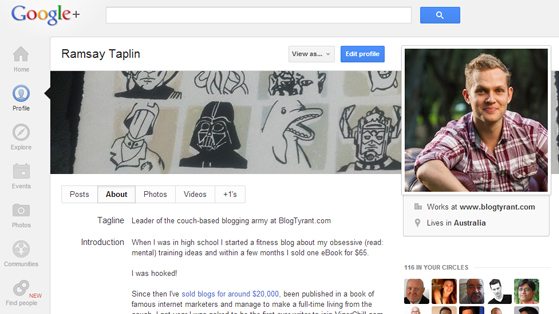 Once you've done that go to your blog and open up the code for your About page. You need to add a special link back to your Google+ profile from your About page. Actually, it's just a regular link but with a special element.
The link should look like this:
<a href="http://YourGoogle+ProfileAddress" rel="author">Google +</a>
It is really important that you include the re="author" part of the code as that is what tells Google that you are the author of that content.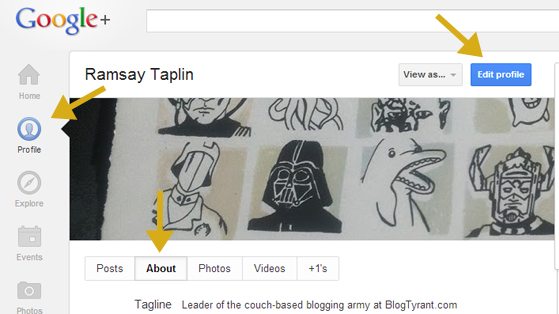 Once you've done that, head back to your Google+ account and go the the Profile section.
Click Edit Profile and go to the About tab.
Scroll down until you find the Other Profiles are and then Add a Custom Link back to the page where you just added the special author link.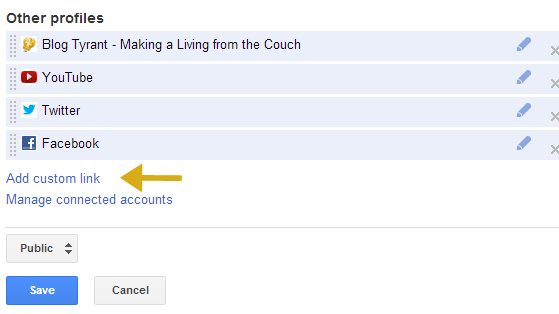 That's it! After a few days or weeks you should start to see your face appearing in the search results. You can check my Profile to see what it should look like.
If you've authored articles in many places you can repeat the process and add links back to the other sites under Contributor To.
Are you worried about Google+?
Have you set up Google Authorship for your blog? Are you seeing any interesting results? I'd really like to hear from anyone who has an interesting experience in this area. I'd especially like to hear from you if you're worried about Google+ for some reason and whether or not you're resisting signing up.