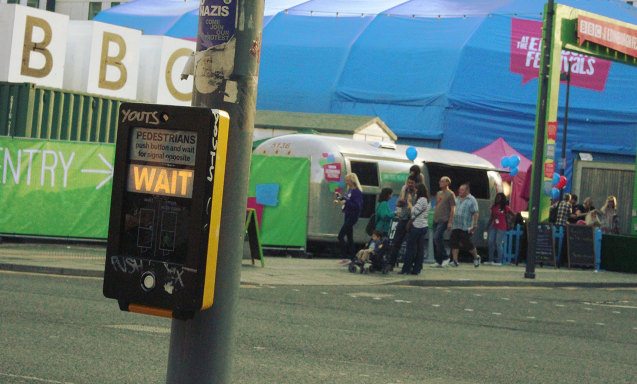 Most of us are trying to make money with our blog.
But perhaps the biggest mistake you can make is to try and make money with it today.
That might sounds like a crazy statement to many internet entreprenuers out there – surely we want to maximise our profits from the beginning?
Well, lately I've been having some other ideas based on some stuff that has been working for me and a few of my more successful blogging buddies.
Let's take a look, shall we?
How most bloggers try to make money
Take a step back and think about how you view making money on your blog.
For most people it will be something like this:
Start a blog > Put Adsense on it > Write a blog post > Get traffic > Hope they click
It's a very short term strategy and one that, for most people, won't yield very good results.
That's not to say that there aren't people making money from ads and Adsense. There are. But most of them have a pretty solid plan and know how to seriously drive the right types of traffic.
This type of immediate earning strategy rarely works.
So what is a better way to make money blogging?
Something that I've been doing for a while now (on this blog and others) is to put off the money making event until much later in the reader/blog relationship.
Initially when I got into blogging I was like the above scenario. I just wanted to make money as quickly as possible and didn't give any real thought to the long term.
I ended up selling one of those blogs for five-figures but it was also a mindset that got me in to trouble with Google. You can read more about that here.
These days I'm doing things differently.
My main focus is getting more email subscribers and creating a trusting relationship through quality content and targeted, useful content.
I then introduce the selling (affiliates or my own products) later down the line.
So why focus on the email list before the money making?
There are three main reasons:
1. Your mailing list is protection
I posted this quote over on Google+ a few weeks ago and it got shared around quite a lot after Brian Clark from Copyblogger re-shared it with his own followers. You can have a look at the whole thing below.

This is the first reason I focus on the mailing list before the money. If Google makes some horrible update to their rankings algorithm and you lose your rankings overnight, you won't be completely buggered.
No matter what happens, you have that list of email addresses for people who are interested in you and your content. That is an extremely wise move.
2. Your mailing list is a reusable asset
The main problem I have with Adsense is that you are essentially asking potential email subscribers and long term readers to click away from your blog in exchange for a few cents.
Think about that for a second.
You add an Adsense unit to your blog and someone clicks it, leaves your site and you earn somewhere between $0.30 and $3.
Well, what if that person subscribed to your blog for a year and shared the content that you produced and eventually purchased a product priced at $97, $197 or even more?
Seems like a waste.
People who subscribe to your blog not only pay you money for your products, they also help to promote your blog and grow your asset. Email subscribers lead to more email subscribers.
3. Your mailing list can change what you sell
When you have ads on your site you are limited in what you can show.
But with a mailing list you have an endless source of people to go to for feedback. If you are thinking about developing a new product or launching a new eBook you can simply send out a survey to your readers and discover what they are interested in.
This is a really valuable thing and something that doesn't occur in many other places.
Some of the biggest bloggers out there like Derek Halpern and Yaro Starak all use this method to survey readers and get information about what they will be making for them next.
It's all about developing a solid and narrow funnel
What I am really excited about these days is using the blogging format to create a powerful sales funnel.
It sounds a little bit sleazy, I know, but the important thing to remember is that you're never promoting or selling anything that you don't hugely believe in. I certainly know that none of the Tyrant Troops would damage good relationships with their readers to promote something less than amazing!
So how do you get started?
Well, this is an absolutely massive topic, and something that I'll be going into detail with on my mailing list, but here are some broad strokes to get you thinking:
Make a plan
The first thing you need to do is come up with a plan for your immediate and long term actions. We want this all written down and specific. This plan should include some ideas about what exactly you are going to be selling.
Develop a solid brand
Once you come up with your idea you need to develop a solid brand that coherently communicates your outcomes to your readers. This is your logo, colors, website, message… everything that people think about you.
Get a domain name and hosting
You absolutely cannot grow a successful blog, mailing list and sales funnel on a free blogging setup. I honestly believe that everyone needs to get on self-hosted WordPress to take this seriously.
Create strategic content
Don't just post randomly. You want to be developing highly useful, long form content that funnels readers towards your mailing list via a landing page. Having a free eBook or email course can help achieve this.
Promote the heck out of it
This is something that a lot of bloggers don't think about as a separate step. Once you have developed that amazing content you really need to be promoting it as much as you can (without pissing everyone off!).
Add value
Once people are on your mailing list make sure you are breaking down barriers and establishing trust by adding as much value as possible. Often people worry about giving away too much at this stage but personally I think that's exactly what you want to be doing.
Begin selling
Once you have the trust of the reader and are certain you have the niche correctly established, you can then begin promoting your own products or affiliates that you use. How you go about this is different for every blog and, again, we could write a whole series on just this part.
As always, there is a huge amount of testing that needs to go on here. From your opt-in forms to your landing pages to the sales process – it can be a really big and complicated task. But the main thing is that you get started with growing a very targeted mailing list.
Do you sell early or late?
I'd be really interested to know what you think about this strategy and where you struggle with the process. Have you tried it before? Do you currently have something similar set up but find it isn't quite working? Leave a comment and let's chat about it.