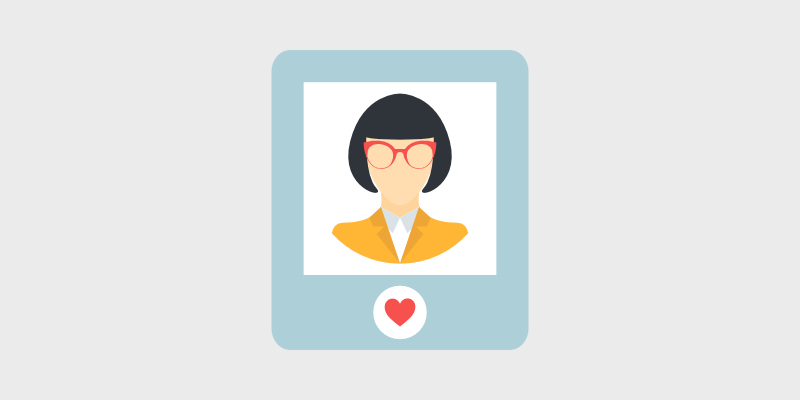 F rom fashion to music, cooking to fitness, bloggers use Instagram to show off their creative photos to connect with people in a different way.
Instagram is an excellent way to market your WordPress blog since you can share details about it in a visually appealing way to the 1 billion people that use it every month.
So, if you want to take advantage of Instagram to grow your blog, you should connect your Instagram profile to your website. Whether you want to display your Instagram feed, create an Instagram slider, or add the Instagram icon to encourage people to follow you, this list is for you.
We've gathered a list of the top Instagram plugins that'll embed an Instagram feed with a single click, let you publish images from your media library to Instagram, automatically publish your Instagram photos as WordPress posts, and more.
Read through the list to find the right Instagram plugin for your WordPress blog.
Why Should You Use an Instagram Plugin on Your WordPress Blog?
Why should you bother embedding Instagram photos on your WordPress blog or otherwise connecting your blog to Instagram?
It increases engagement on your blog because people can scroll through an entire feed without leaving your site.
You can grow your follower count since the people who read your blog might not have known you're on Instagram.
It adds a little extra excitement to your blog, due to the additional, vibrant Instagram photos.
You'll save time when managing your Instagram account because many of the plugins let you do a lot right from WordPress, such as respond to comments and upload pictures.
You can publish user-generated content on your blog by asking your readers to submit photos. User-generated content like photos and testimonials are a great form of social proof.
Now that you know the benefits of connecting your Instagram profile to your blog, let's take a look at some plugins that will help you do it.
With so many different Instagram plugins available for WordPress, we gathered a list of the best ones so you can decide which one to use.
Many of these plugins are free or have a free version. We've included paid ones as well since they may offer additional features for the fee. Some are just for sharing content or getting likes, while others let you embed Instagram content on your WordPress blog.
Let's get started!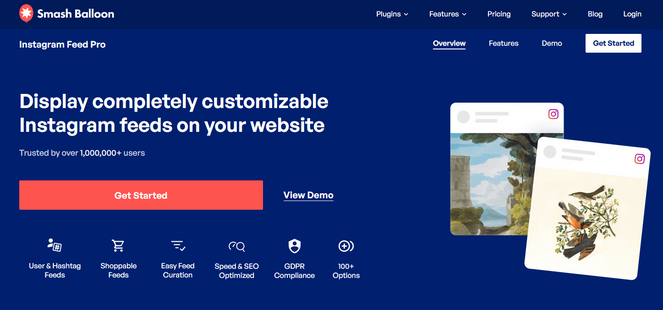 Instagram Feed Pro from Smash Balloon is the highest rated Instagram feed plugin for WordPress. Over 1 million website owners use it to create custom Instagram feeds for their WordPress blogs and sites.
The free version of the plugin lets you easily add and customize your Instagram feed on your WordPress site and it has a ton of great built-in features.
But if you upgrade to the pro version, you'll unlock additional features like multiple photo layout choices, hashtag feed display, a lightbox option with built-in social sharing buttons, and more.
Check out this beautiful Instagram feed made with Smash Balloon: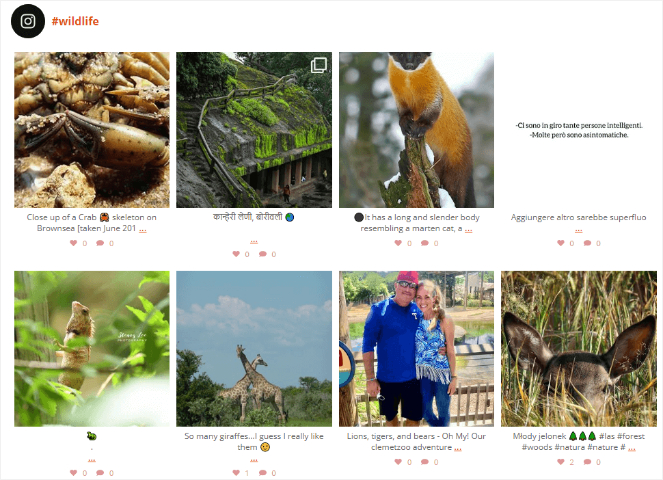 You can easily add your Instagram feed to any post or page of your WordPress blog using the block editor, a sidebar widget, or even by copying and pasting the shortcode. The pro version also supports Instagram Stories so you easily add videos to your blog too.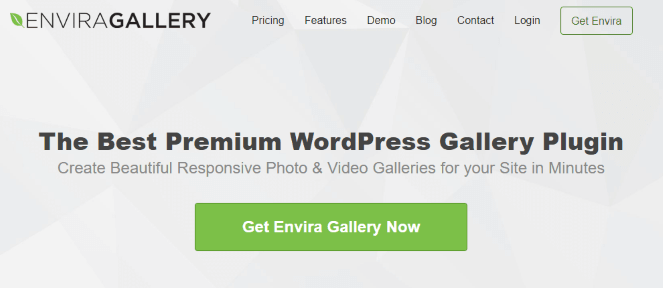 Envira Gallery is a high-powered gallery plugin with tons of advanced features for your Instagram feed. Display your photos in an Instagram display box or use the Instagram Addon to import your photos into your WordPress media library.
It helps you create mobile-responsive Instagram feeds with an easy-to-use drag and drop builder, choose your layout with gallery templates, and more. Envira Gallery also supports Instagram Stories, so you can embed the videos on your blog in just a few clicks.
Here's what the plugin looks like on Envira's own website: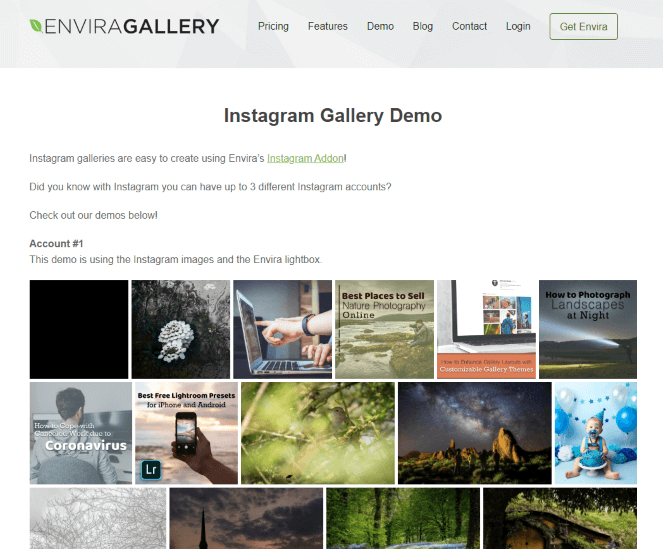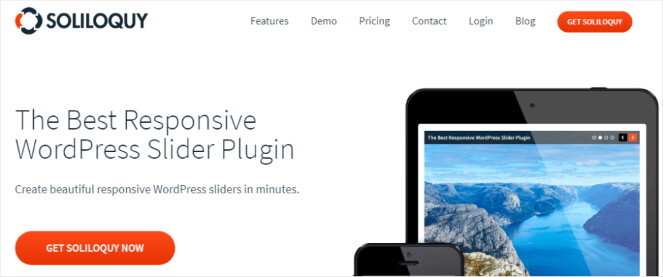 Soliloquy is a user-friendly WordPress slider plugin you can use to create mobile responsive photo and video sliders from your Instagram photos. You'll need the pro version to get access to the Instagram addon.
Connect your Instagram account in a few clicks and you'll be able to create slideshows of your feed that you can include on any page, post, or widget. Create sliders that display all your photos or filter your feed to display ones with specific tags. The pro version of the plugin lets you include as many Instagram photos as you want in the slider and also display the photo captions from your feed if you like.
The plugin comes with a ton of features that let you customize your display including the layout, colors, fonts, Instagram follow options and buttons, and a lot more.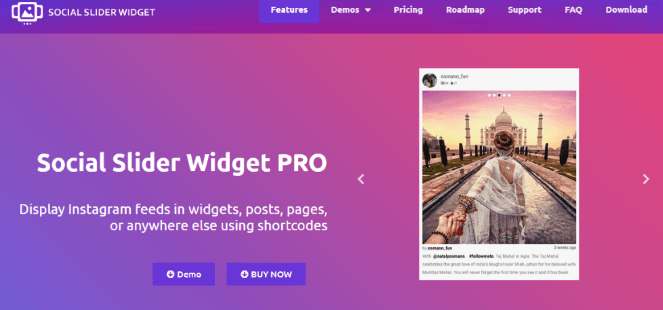 Social Slider Widget is another popular Instagram WordPress plugin with over 100,000 installations worldwide. Install and use the free version quickly, with no coding required. The free version has a wide range of features including different image size options, several feed sorting options (random and by popularity or by date), and it's mobile-responsive.
Upgrade to the pro version to unlock advanced features like masonry displays, feed highlighting, and share counts. Plus, it has a photo curation feature that lets you hide or display certain photos from a feed.
No matter which version you choose, Social Slider Widget makes it easy to add your Instagram feed to your blog with the block editor, in a widget-enabled area, or with the shortcode.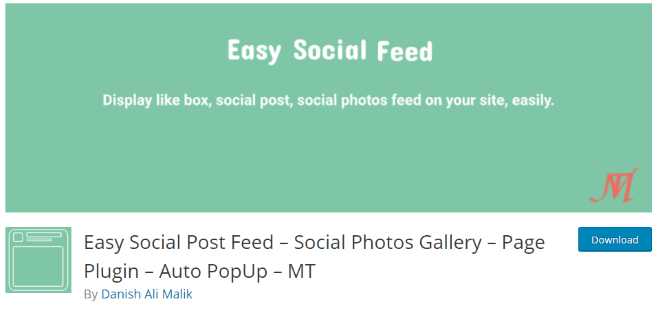 Easy Social Post Feed is a freemium WordPress plugin for Instagram. It's mobile-responsive, highly customizable, and SEO-friendly.
The free version includes many customization and layout options, including whether to show or hide the header at the top of the feed and a dynamic 'load more' photos option.
The pro version lets you display multiple Instagram feeds, select a gallery carousel pop-up to display the photos, and gives you the ability to display Instagram post comments on your site. Both versions include fast image caching so your site is never slowed down by your Instagram feed.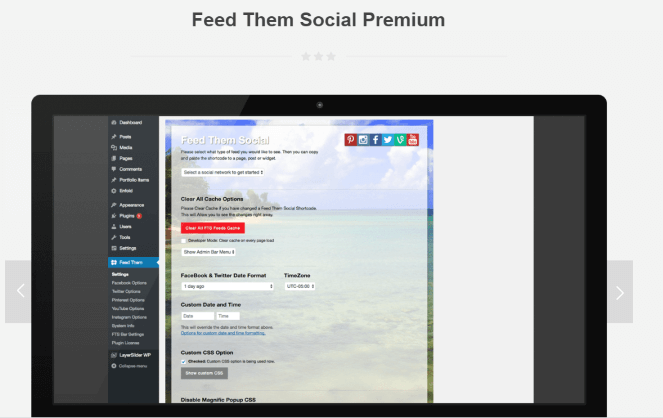 Feed Them Social is a fully-featured Instagram feed WordPress plugin. It's very easy to install, set up, and use, and will get your Instagram feed on your page in no time.
Use the plugin to display your Instagram pictures on posts, pages, or in widgets anywhere on your blog. It has a handy shortcode generator that lets you insert it anywhere you like on your blog.
The plugin comes in two versions: free and pro. The free version is very customizable and lets you display as many Instagram feeds as you want. The pro version includes additional features such as post counts for each Instagram account you link to, the ability to display hashtag feeds, and a pop-up for images.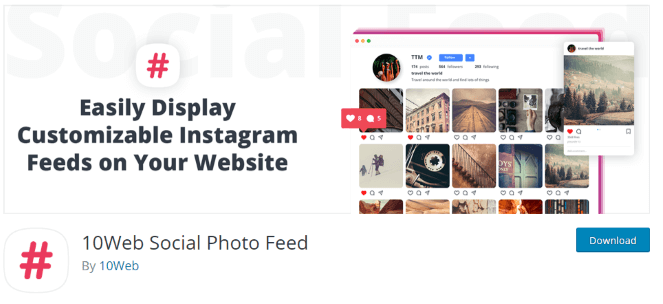 10Web Social Photo Feed is quick to install and set up on your WordPress blog. Use it to add Instagram feeds to your posts or pages and style them with one of the two default style templates that are available in the free version. Embed your feed into any page or post with the block editor or add the plugin's Instagram widget to your sidebar or footer.
The pro version gives you more display options like masonry or blog-style for the images, and even lets you filter the images that are displayed from a feed. Fine-tune your feeds as you like to show off just the right images. It also includes a powerful photo lightbox option where you can display Instagram Stories and videos, and unlocks 15 transition effects when visitors click on the images.
The 10Web support team is very helpful and quick to respond, even for the free plugin, answering your questions thoughtfully.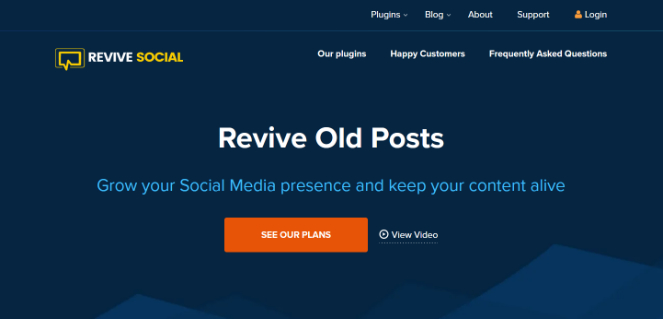 Revive Old Posts is a social media scheduling plugin that lets you share previously published blog content on your social networks, including Instagram.
You set a custom schedule for your Instagram posts based on post category or tag. You can skip sharing particular posts by setting a date range or excluding categories or tags. The plugin can also share photos directly from your media library to Instagram and add custom hashtags or tag other Instagram accounts with every post.
While there is a free version of the plugin, you'll need the pro version to connect your Instagram account.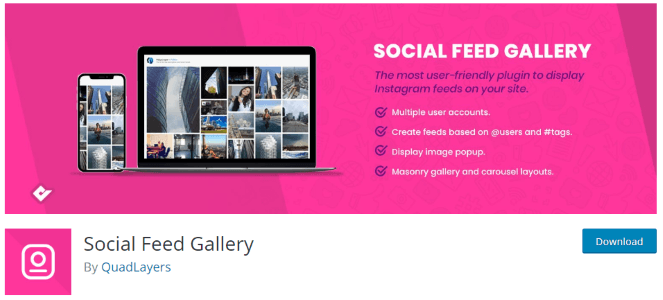 Formerly known as Social Feed Gallery, Instagram Feed Gallery is a high-powered WordPress plugin that won't slow your blog. Connect your Instagram feed to the plugin in a few clicks and you're all set.
It's compatible with any WordPress theme and offers styling options so you can match it to your blog. You can display a feed from a single account or multiple accounts with the free version.
The pro version gives you additional account and layout options. For instance, you can display pictures in a gallery or masonry layout, show the user info inside the lightbox pop-up, change the image description position, and more.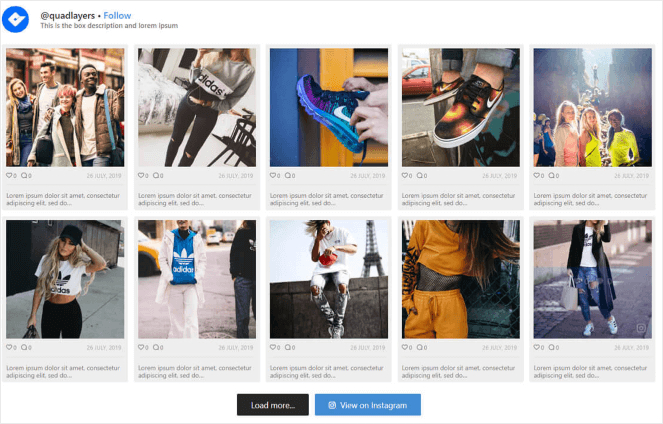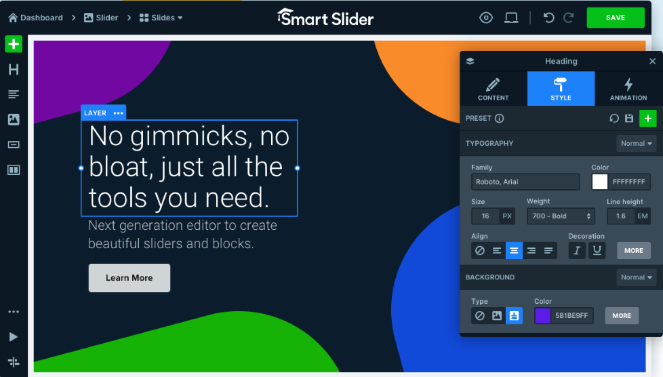 Smart Slider 3 is another impressive slider plugin that gives you an impressive way to add your Instagram photos to your blog. The pro version of the plugin enables you to connect your Instagram account and gives you an even wider array of customization and styling options than the free version.
Pop up your images and videos in a separate lightbox that works well on desktop and mobile devices. It includes over 180 templates and layout options where you can show your Instagram photos in carousels, blocks, and even full pages. With your pro purchase, you'll also get priority access to their support team if you have any questions.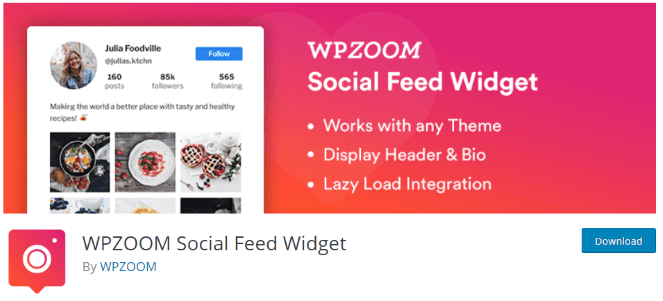 WPZoom Widget for Instagram is another free Instagram widget plugin for WordPress that's very easy to use. It's compatible with any WordPress theme and plugins, so you won't have any compatibility issues.
With the plugin, you can display the header of your feed to let people know the details of what's being displayed. Display your Instagram feed in any post or page or add it seamlessly to your sidebar with the widget.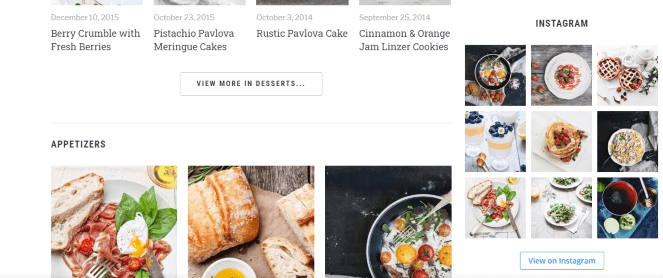 One great feature is the "lazy load" option which only loads images when they're visible to visitors. This helps keep your blog nice and fast since it won't get bogged down by loading things unnecessarily.
You have full control over how your photos display with the customization options. You can even use CSS code to add extra design flair to your display and make it stand out from other blogs.

Sassy Social Share is a free Instagram plugin that makes it easy to increase your Instagram follower numbers. Style the Instagram buttons and icons to match your blog's style easily. You can display the icons anywhere on your site, like in a floating sidebar or widget. The plugin is mobile responsive and was developed to be lightweight and optimized for high-speed page loading. They also have a helpful and quick-to-respond support team if you have any questions, which is impressive for a free plugin.
Use Sassy Social Share to increase your Instagram followers and help readers share your blog images on Instagram with a single click.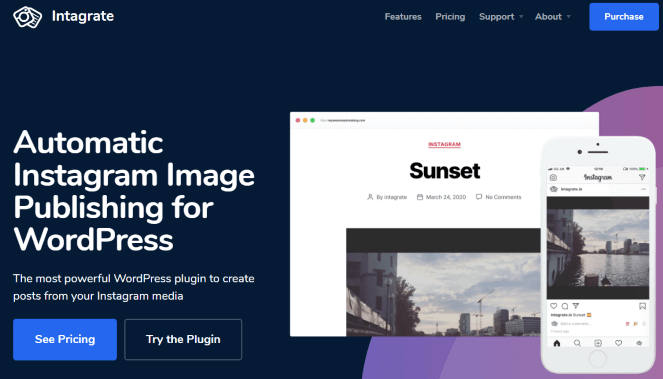 Intagrate offers you an exciting way of connecting your Instagram account with your blog. When you connect your Instagram, Intagrate will create and publish a new post for every new image you upload to Instagram. The plugin uses the image caption for the post title and the image itself is the post content.
The free version lets you connect a single Instagram account and gives you control over a limited set of options like setting up the post category, format, and author for your Instagram posts.
Upgrade to the pro version to be able to publish from multiple Instagram accounts, schedule your Instagram posts on the blog, convert your Instagram hashtags into WordPress categories or tags, and more.
One interesting feature of Intagrate Pro is the ability to save your Instagram photos directly to your WordPress blog's media library. That way you can save all your photos and skip subscribing to a photo backup service.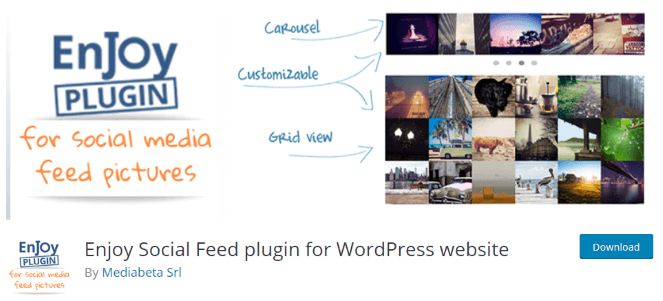 Enjoy Social Feed, previously known as Enjoy Instagram, is a free WordPress plugin that allows you to easily connect your Instagram account to your blog in one click. Use hashtags to display your photos and videos, and customize the way they're displayed on your blog through the plugin's setup options.
Display multiple photos in a carousel, use lightboxes with image captions and navigation arrows, or show them off in a sidebar widget. The plugin is compatible with all themes and is mobile-friendly.
The pro version lets you customize your feed and a user's experience even more.
Give mobile users access to swipe gestures on your feed, use the moderation panel to filter the photos that appear on your blog, four different widget options, customizable shortcodes to paste your feed anywhere on your blog, an option to make your feed look like vintage Polaroid pictures, and more.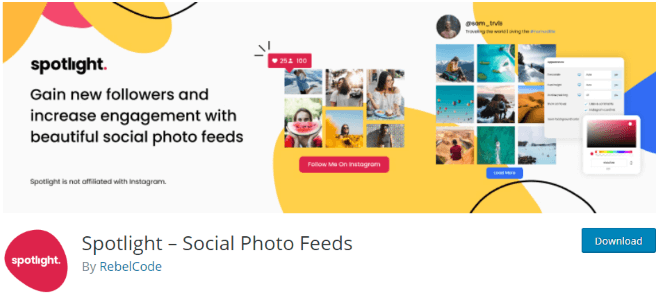 Spotlight is a simple way to add your Instagram feed to your WordPress blog. Connect one or multiple accounts and start sharing your photos today.
One interesting feature is the live preview customizer where you can see how your feed will look on your blog as you make selections to the design and layout. It even has an option to customize the look for your readers' device, such as a desktop, tablet, or smartphone to ensure it looks great everywhere.
With a lightbox pop-up option that displays both photos and videos, Spotlight has many features in its free version that'll help you increase user engagement with your blog. Embed your feed through the block editor, with a shortcode, or by adding a widget to your sidebar or footer.
Spotlight's pro version gives you access to more features if you need them, including new layouts and customization options, and more filter options for your feeds.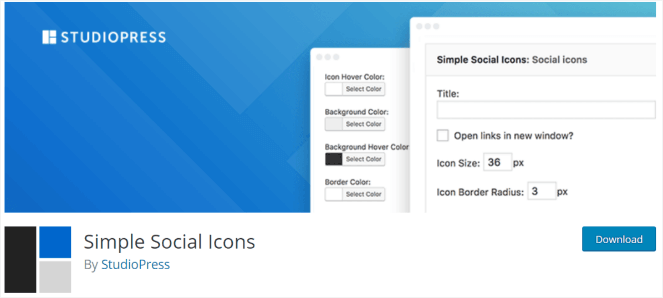 Simple Social Icons lets you add social media icons to a sidebar widget. The icons have links to your Instagram account and make it easy for your blog readers to find and follow you there too.
It's a straightforward plugin that's easy to install and set up. Plus, it's totally free. Customize the style and color of your icons, and choose how to align them in the widget. It's simple and does the job.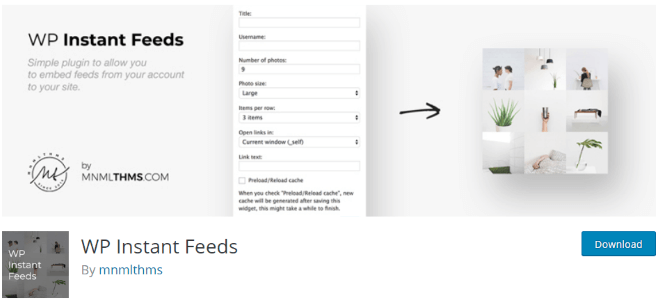 WP Instant Feeds is a no-frills plugin that'll embed your Instagram feed on your WordPress blog. After installing it, you just need to connect your account and you're all set!
Embed your Instagram feed in the block editor, in a widget-enabled area, or with the shortcode anywhere on your site. Note that it only works with public Instagram accounts and only a single account at a time.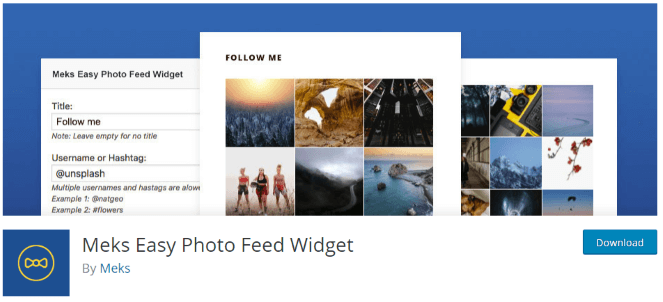 The newly-renamed Meks Easy Photo Feed Widget is an easy-to-use Instagram widget for WordPress blogs. It's easy to install and set up, and is compatible with any WordPress theme.
Customize the photo display to match your blog as you like. Get more followers by showing a follow button. You can display photos from a single account or a hashtag, enabling you to show relevant photos to your readers.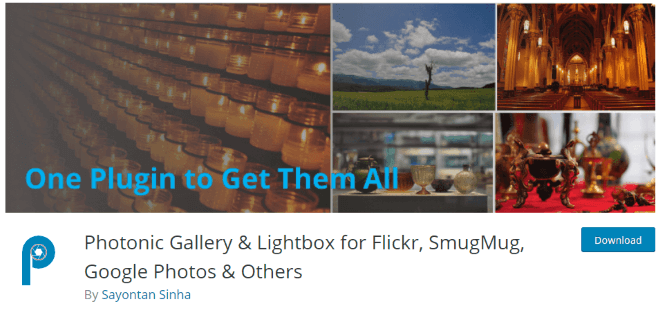 The Photonic Gallery plugin super-charges your photo displays for any online platform, including Instagram. With this free plugin, you can display photos from your own Instagram feed in a variety of layouts, including carousels, single photos, different thumbnail options, and more.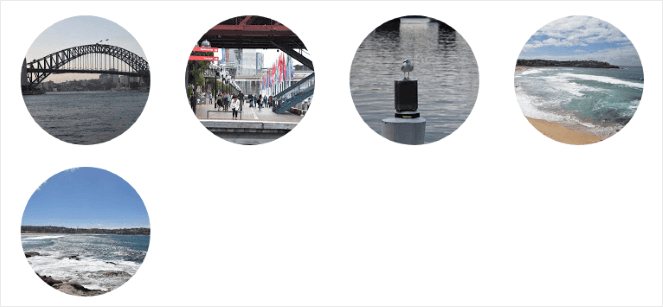 Its advanced features let you display videos too, either individually or as part of the photo feed. This plugin won't slow down your site and also includes an option to delay loading your feed until your visitors have scrolled to it on the post, page, or sidebar.
Which Instagram Plugin Is the Best for Your Blog?
When it comes to plugins, you'll often have to install and test out a few of them before committing to one exclusively. The features available in the plugins vary widely, so the one you choose depends on what you want to achieve by including Instagram on your blog.
Here's a quick list to help you decide on an Instagram plugin:
We hope this list helped you find the right Instagram WordPress plugin for your blog. You've learned about the different ways you can connect Instagram to WordPress and the benefits of doing so.
Now that you've connected your Instagram account to grow your blog and boost your social media following, why not check out our list of the best Facebook plugins for WordPress.
And don't forget to sign up for our email newsletter for more helpful blogging tips!