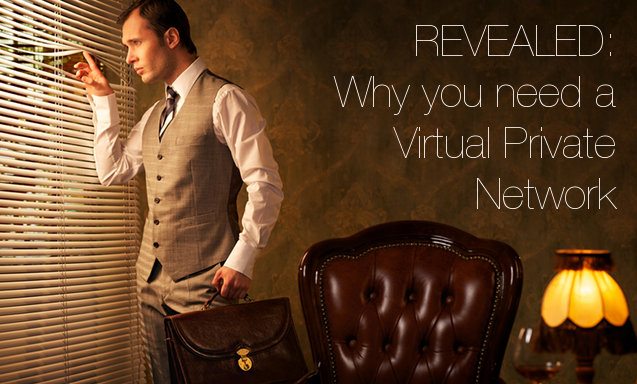 Last updated March 26th, 2017
Are you looking for some VPN reviews after all the news lately?
Getting your own VPN is actually something I think almost every online user should be considering nowadays. Why?
Well, did you know that through the use of a simple browser extension, a naughty person can access all of your passwords and details when you are blogging, Facebooking or internet banking from a public WiFi hotspot?
Gross right?
I've been traveling around Europe for the last month and during that time my VPN has been an essential part of my work life.
Don't know what a VPN is? I'll get to that in a minute.
This won't be like every other VPN reviews post that you see. I'm going to focus on the premium service that I personally use – StrongVPN – and then tell you about a free alternative or two.
My goal is not to tell you about every VPN out there but rather to give you confidence to start exploring for yourself.
Important Note: As with any purchase, please make sure you do your own research and analysis before making a decision. I'm not a security expert – just someone talking about a service that I've personally enjoyed. If you purchase StrongVPN through a link in this post I'll earn a small commission at no extra cost to you. Thanks for the support!
What exactly is a VPN, dude?


An image from StrongVPN showing how one part of a VPN works.
Okay, so VPN stands for Virtual Private Network and it is basically a way to keep yourself safe from prying eyes when you are using public Wifi. It does lots of other things too but this is the main benefit I wanted to talk about today.
A lot of people don't realize that working in cafes, airports and other places that offer free WiFi can actually be really insecure. A simple Firefox extension and a would-be jerk can see all your passwords as you enter them into your blog, email account or bank sign up.
Yep. 🙁
So how does a VPN help with that?
Simply put, it acts as a "barrier" between your computer and the intruders by encrypting everything that you submit over the WiFi or Internet. So instead of seeing your passwords they see a random chain of characters that don't really mean anything. It also changes your IP address to a different location so people can't see which computer location you are using.
(Note: The technologies that VPNs use to keep data private and secure is actually quite complicated and can vary from company to company. Some of them include L2TP, IPSec, PPTP, SSL, etc. Feel free to do more research into this if you're interested in how that process works but, to be honest, I find it all a bit boring confusing.)
You simply login to your VPN client when you open up Chrome or Safari and it will go to work hiding your IP, details and lots of other things.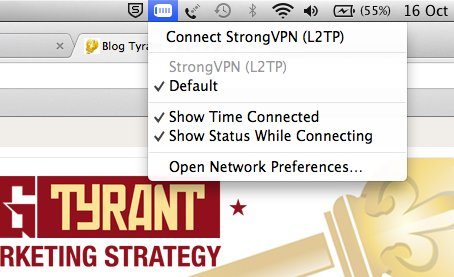 A screenshot of the little icon on my laptop that I click to login.
Hopefully now you can see why I wanted to do a few VPN reviews for you – I know a lot of you like to work on the road.
Some background to these VPN reviews
A few months ago I got an email from a guy called Peter Nguyen who runs a VPN company called HotSpotShield. Quite by coincidence, he sent me an email asking if I knew much about VPNs and whether I had talked about them here on Blog Tyrant.
It just so happened that I was preparing to leave Australia and go to Europe where I knew I'd be spending a lot of time working in cafes.
So what did I do?
I totally forgot about my email chat with Peter and went on being a busy nutcase. I ended up asking my friend Chris Ducker for a recommendation on which VPN he uses when he travels (he travels a LOT).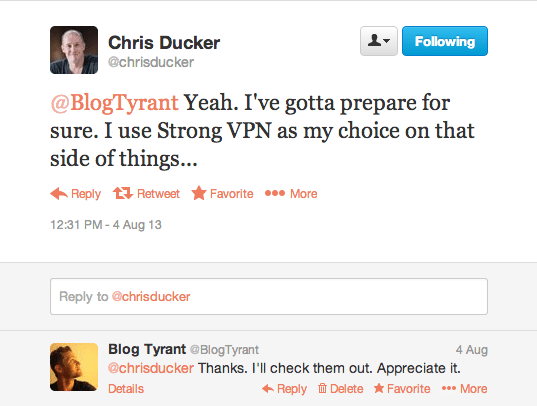 As you can see, Chris recommended StrongVPN which was what I ended up buying and using while I was over in Europe.
After a while I realized that I had rudely ignored Peter by complete memory-lapse-accident and decided to contact him again. During that conversation I actually discovered that his company offers a really useful feature that StrongVPN does not provide.
More on that soon.
Why do I need a VPN?
Let's quickly list a few benefits that you can get from a VPN server installed on your computer, laptop, iPhone or iPad.
Security
Obviously, the main benefit is to keep your data secure by encrypting your goodies while you work in public places where people might be watching. They can also protect from viruses (more on that later).
Anonymity and privacy
Ever since it was revealed that certain Governments might be looking at our data sales for VPNs have gone through the roof. They allow you to change your IP, hide your location and browse the net completely anonymously. This is NOT so you can do bad things but rather so you can have some remaining privacy.
Location changing
Can't afford to go on a holiday? Well, with your VPN you can browse the net from a foreign country. This is useful if you're into things like SEO and want to go to the USA or UK to look at results.
There are a lot more uses (like looking at overseas websites that are blocked in your home country) but these three are the main ones that I thought would be of interest in our VPN review for bloggers.
A review of StrongVPN: my paid VPN of choice
I've been using StrongVPN for around two months now and so far have really enjoyed it. Here are some of the main things I've noticed:
It's cheap
Some VPNs can be quite expensive but you can get a really good plan that will only cost you a few dollars a month.
The 24 hour support staff rock
I really love live support. They have technicians and sales staff on live chat 24 hours a day and they are really helpful and speedy with their responses.
The setup is simple
Setting up your VPN is as simple as buying a package and then following their step by step screenshots. It's a little bit like setting up a new modem on your computer. It took me probably 5 to 7 minutes to get up and running.
Turning it on is easy
Once it's all set up, you just click a little button next to the clock on your computer navigation and you're ready to go.
You can change servers
Some VPNs don't allow you to change servers. This is a shame because sometimes you get a slower IP address and want something better. StrongVPN gave me 18 free server changes for my basic package.
Good speeds
I really didn't want my workflow to be slowed down. I've noticed some drops in speeds but, to be fair, I'm in Europe using a server not all that close to me.
As I said, it has been a great service. I wouldn't recommend them to my readers unless I had personally used them and found them to be of the utmost quality.
The only downside that I can find so far is that the Lite package only lets you chose servers in the USA. This might mean that people in the UK, Europe, Australia, Asia, etc. need to pay a bit more to get a server nearby that is fast enough to use daily.
What other VPN options are there?
As I always say when I do these types of reviews, my goal is not to give you an overview of every service that is out there. Rather, I like to tell my readers what I have used and found to be helpful and then leave you up to your own devices as to which direction you want to go.
And as far as a VPN review goes my recommendation would be StrongVPN as they have been the company I've been using and really enjoying.
But as Peter (the owner of HotSpotShield) has been so helpful to me over email in regards to what features a VPN should have, I thought it only fair to mention his company as a potential alternative. I did want to give you a free option to consider in case you don't want to go the paid route.
As I mentioned earlier, his VPN has a few extra features:
Free and paid version
You can get a free version as well as a paid version. Although please note that the free version comes with ads in order to help pay for the servers.
Inbuilt scanner
Unlike most other VPNs, this one has an inbuilt scanner that HotSpotShield say will help to keep your computer free from any nasties that you might accidentally expose yourself to whilst surfing the web.
That inbuilt scanner is the extra feature that I thought a lot of people might be interested in as I know a lot of us are paranoid about web security.
Some concerns with HotSpotShield?
Now, when I was doing some research for HSS I went onto CNet to look and see if they had any reviews. The review from the CNet staff member is very positive and awarded them 4.5 stars out of 5 as a VPN service.
The reviews from the members though are not all as positive. Many people indicated a lot of problems like pop up ads and the inability to remove the toolbar and software when they decided to stop using it.
I decided to contact Peter (the owner) and ask him about these concerns. I decided to share his answer here (with his permission) because I think it is a very good one: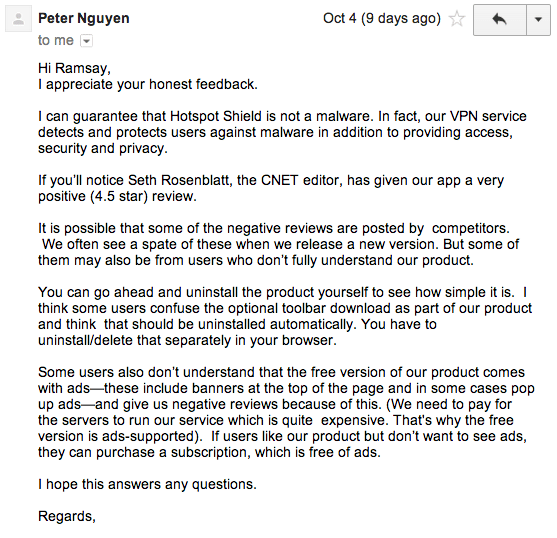 To be honest, I don't really know why a company that makes its money from protecting people's computers would then cause them to be infected with problems. They'd lose business instantly. I think Peter is probably right when he says that people probably don't understand the way the ads operate.
I should also mention that HSS has been downloaded over 150 million times and has over 1.7 million likes on Facebook. Not bad!
That being said, always do your own research (even with StrongVPN), whenever using an online service. You want to make sure it's right for your own needs and wants.
Perhaps at this point I should ask for comments from the Tyrant Troops about any other VPN services they have tried?
FYI: some short points about VPNs
I thought I'd just finish off this (now quite long) post by sharing some summary points as well as a few important things that you need to remember after reading this VPN review.
Do your own research
Spend a little bit of time to learn about why you might need a VPN and then find one that suits those needs. Personally, I'm happy to pay a bit more if I know I'm getting something good. Here's a good post from Gizmodo that takes it deeper.
VPNs work differently
As mentioned, some VPNs work differently to others. It might fry your brain but see if you can learn just a little bit about what they do so you don't put unrealistic expectations on it. Some VPNs also keep logs of your activities while other delete them daily. Stuff like that is good to know (if it matters to you). If you want to get really deep check out the Wiki article on VPNs.
A VPN won't keep you 100% safe
You can still catch a cold when you use a VPN. Sure, it might help protect you from prying eyes but it's not a 100% failsafe deal. Make sure you be careful in other ways.
Find one with support
One of the main reasons I chose StrongVPN and have been so happy with them is because their support is literally 24/7/365 and they are always polite and active. It's so important these days.
Don't break the law
When it comes to using my VPN I am straight down the line. I just want it to keep me safe online. Please don't use it to be a douche bag or break the law. And don't break copyright law either. Here's a post from Glen about why it matters. If you want to use something, pay for it.
Here at Blog Tyrant I really like to act as a kind of stimulus for you to take your own knowledge or experiments further. I can't provide all the answers! 😉
Do you have any VPN reviews?
I'd be really interested to know whether any Troops have used a VPN before and what they thought of it. Do you have any of your own reviews that you'd like to share with the other readers? Drop a comment while it's hot!
Top photo: © Nejron.