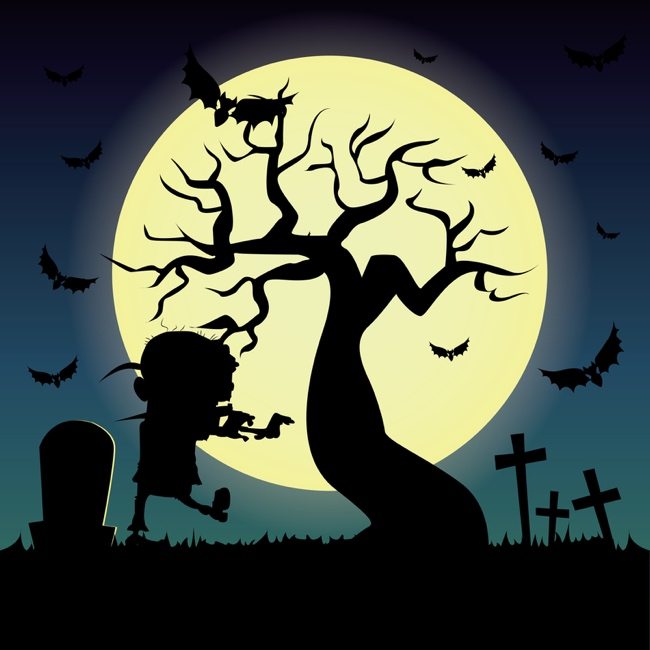 It's a horrifying thought, isn't it? All those hours spent writing blog posts, emailing subscribers and developing your blogging skills only to see your site start to die. So what do you do?
Unfortunately this is a really common event and can happen to any blog in any niche. It might be Google penalty or maybe the topic of your blog is no longer trendy.
In this post I'm going to fire up the defibrillator paddles and press them on to the chest of your dying blog! Or… something like that.
Let's hope it helps someone out there.
What are the symptoms of a sick blog?
What is something you hear from doctors and health professionals all the time?
Prevention is better than cure.
That same philosophy applies to our blogs as well.
It it so much easier to treat a sick blog than it is to try and revive one that has pretty much totally died. Some of the symptoms include:
A big drop in traffic
Are you seeing your traffic from organic search drop off or trend downwards?
A decrease in engagement
Are you getting less comments and discussions on your blog or related social media accounts?
Bad open rates on emails
Have your email open rates gotten worse or perhaps never been that good?
A decrease in conversions or sales
Are you seeing less conversions or money in the bank despite everything else looking good? Hmmm.
Seeing one or more of the symptoms above on your blog? These are the symptoms that can indicate a blog illness. Some illnesses are much worse than others.
How can I definitively tell if my blog is sick?
What I want to do now is show you a few ways you can tell whether your blog is sick or not and the tools you can use for a proper diagnosis.
1. Check your traffic stats problematic downturns
If you've got a good analytics program you'll be able to tap into some nice data that will give a good base for determining problems.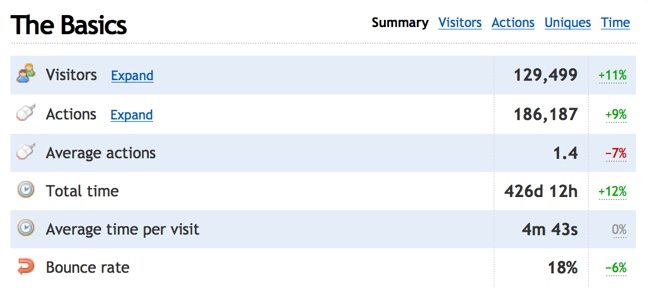 Clicky has a really nice and simple comparison tool which you can see above. I've just selected a random 28 day period and compared it to the same time frame the previous month. You can see that I've had an 11% increase in visitors since the previous month but a 1.4% decrease in actions.
You need to be a bit careful when looking at raw stats like this. For example, that 11% increase in traffic that I had might have been due to hitting the front page of Reddit for one article, even though the rest of the site has had a big downturn. Make sure you dig, and then dig a little bit deeper.
2. Check your Google Webmaster Tools (Search Console) for SEO insights
Google Webmaster Tools, which is now called Search Console, can give you some incredible insights into how your blog is appearing in Google Search results. This is a must-have for anyone who cares about their blogging SEO practices.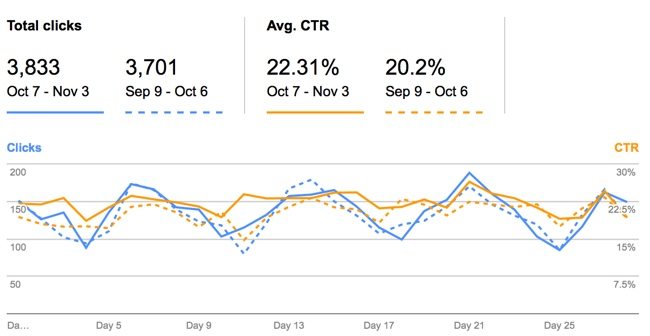 In the screenshot above I've done a comparison between two months on a key phrase that I'm targeting. If you go Search Traffic > Search Analytics you can then see the keywords that Google is indexing you for. Click a keyword and you'll get a date range option.
As you can see here, I've had a 2% increase in click through rate (CTR) from the previous month. This is good. You want to watch out for both a drop in search position (where you appear in the results) and CTR (how many people click your link). A drop in either one of those can cause huge problems for your organic Google traffic.
So what can cause a downturn in these essential stats? It could be an algorithm update, a loss of links, an increase in bad links, a manual penalty, a change in your titles, an increase in competition, etc. These are quite advanced topics which we can cover later if there is interest.
3. Check your email sign up, open and opt-out rates
Another symptom we want to take a look at is our email subscribers. The blog itself could be wonderfully healthy but if there is a major issue with the subscribers then we are going to run into some major illness at some point.

The above screenshot shows my Follow Up series in my AWeber account where you can see that the first email has an open rate of 70% and the second of 49%. I'm quite happy with these numbers in and of themselves, but I'd like to figure out why there is a big drop between the first and second and if I can remedy it.
It's quite normal to see a decrease in open rates from when you start a mailing list to when you start to see it get bigger and bigger. Initially you can have rates up around 80% that gradually drop down to 15%-30% for a list over 10,000. But if you start to see inconsistent drops within those ranges you might have a sick blog.
4. Check Google trends
Google trends is a neat little tool that allows you to punch in a keyword and see whether or not it's a trend on the up or down.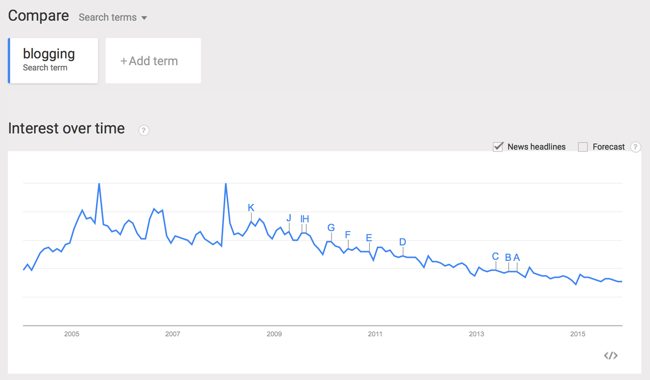 Here is a trend graph for the keyword "blogging". As you can see, it kind of hit it's height back in 2008 and is now slowly trending down. This is probably due to things like Twitter, Facebook, Snap Chat and instagram where people are "blogging" without actually calling it that. It's not an ideal trend and would probably concern me if I was starting a new business.
That being said, this is also a good example of how trends can be misleading. Many people are still making a very decent living from blogging and related concepts. It just indicates that you want to do your research first because if your blog has seen a downturn then maybe people are calling your topic something different.
5. Check your keyword search numbers
The next thing you'll want to do is keep an eye on how many searches are being made for your keywords each month.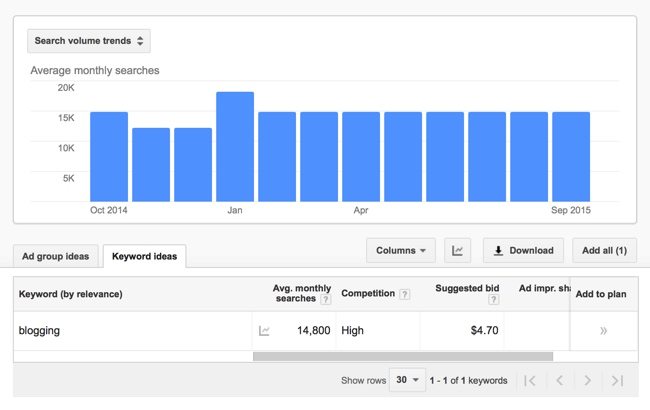 There are many other tools that do this really well but, for me, I like to use Google Keyword Planner to see how many people are searching for the phrases that I want to target. As you can see above, this is the monthly searches for the term "blogging".
The idea is to monitor the topics that you are going to write about in the future and just make sure they are reaching the number of searches and competition level that still makes them worthwhile. For example, I don't really write about topics that have only a few hundred searches each month.
How do I save a dying blog?
Alright so the next thing we want to look at is how we can press the defibrillator paddles onto the chest of our dying blog and bring it back from the dead!
Learning by doing is still my favorite method of fixing things! Doesn't always work out perfectly but it's a lot more fun.
1. Re-engage your existing audiences
The first thing you want to do is find a way to get your existing audience to get interested with your content again. There are several ways we can do that.
Start off by conducting a blogging survey or two.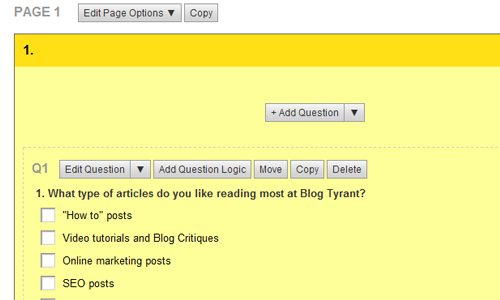 Here's an example from a survey that I did with Survey Monkey a few years ago where I asked readers what types of posts they'd like to see more of. This is a good one to do because you can then find out what people like reading and call on them to engage once you start producing more of that type.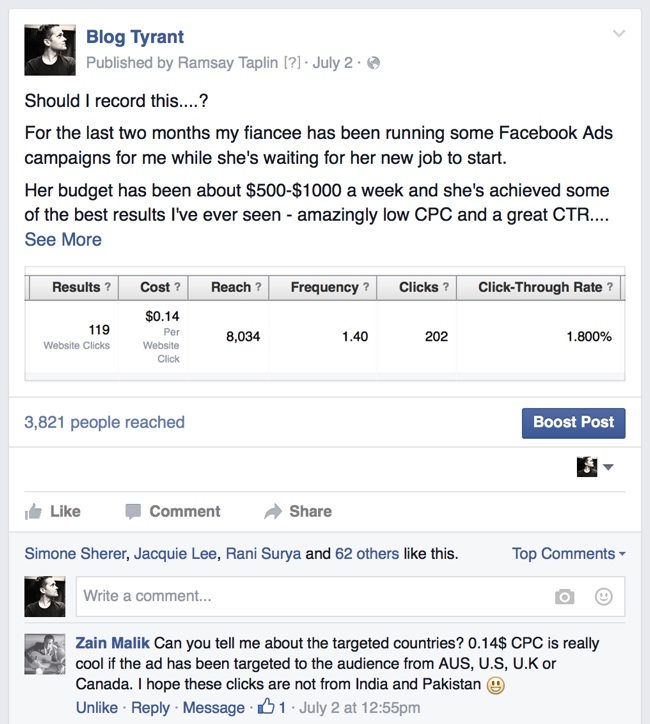 Another way to do this is by asking people on Facebook. Up above you'll see an example of where I asked Blog Tyrant's Facebook Fans whether they'd like to hear an interview of how my fiancee got such good results with Facebook Ads. It had over 60 likes and a lot of comments from people who thought it was a great idea. This is also an excellent way to build suspense and expectation for future content.
When you do produce this content make sure it's as valuable as possible and comes in the form of long form content with added resources, bonuses and as much useful information as possible. The aim is to impress.
2. Naturally build back links through networking
The next thing you'll really want to do is start building up build back links in a natural and authentic way.
If you're following my blogging strategy you'll remember that we want to have a narrow keyword focus and then aim to get guest posts on blogs that fall within that category.
But what is also important to remember is that you can build back links and get mentions on other big blogs in a variety of ways other than guest posting.
Networking at this stage is absolutely critical because it is often the shout outs, mentions and promotions that you get from other bloggers in your niche that will help rescue your dying blog.
One way to do this is offer some sort of free advice to blog owners that really helps them out. This is really good for getting on their radar but also increases the chance that you'll get a mention if they ever decide to write about that tip or topic.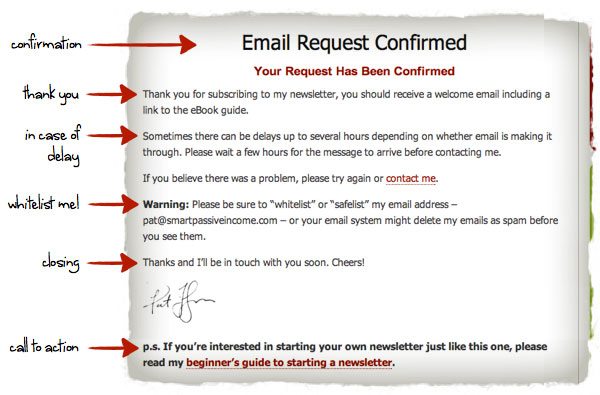 For example, I once sent Pat Flynn a tip about a little affiliate trick that I used and he implemented it on his blog and ended up writing a post with a little thank you to me. That kind of a mention is really the best kind you can get because it is a natural and honest endorsement.
3. Narrow your call to actions and focus on email subscriber value
The next step is to do a bit of a blogging audit and minimize the number of actions you are encouraging your blog visitors to take.
The classic marketing idea of the Paradox of Choice applies here – the more choices you give your readers the less likely they are to take any action at all.
It's best to focus in on trying to get more email subscribers.
And the best way to do that is by creating something of immense value and giving it away for free and then promoting it through long form content that really solves problems for people in your area.
If you can "marry up" your long form blog content with your mailing list offering then you are on to a huge winner.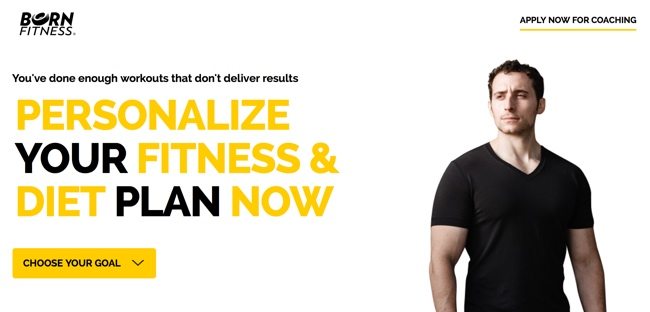 If you have a look at Born Fitness (and I encourage you to subscribe he's endorsed by Arnie!) you'll see that all of the content is aimed at helping people with no-BS fitness information and then "funneling" them towards the coaching program. The landing page for this is absolutely stunning and one of the best I've seen – I'd be fascinated to know how well it works.
The idea is simple – stay on message, provide value, promote your free offer, provide value, stay on message. This is a strategy that works for almost any online business. If you're not doing this now it might be time to do it. If you are doing this already then you might need to refresh the offer based on the survey we did above.
Figure out exactly what you want your readers to do and then remove other distractions.
4. Professionalize your approach to running your business
Sometimes a blog starts to die because the owner doesn't approach it in a way that is prolific enough or professional enough.
It's a very common thing among small business owners (and that's what we are) to avoid spending money for fear of not having money. But in reality you need to back your business and invest in vital things like good staff, a decent website, advertising, etc.
It's a little bit hypocritical of us to want to succeed as a blogger but then not really invest the resources into making sure that our blog is up to date from a branding and design point of view, for example.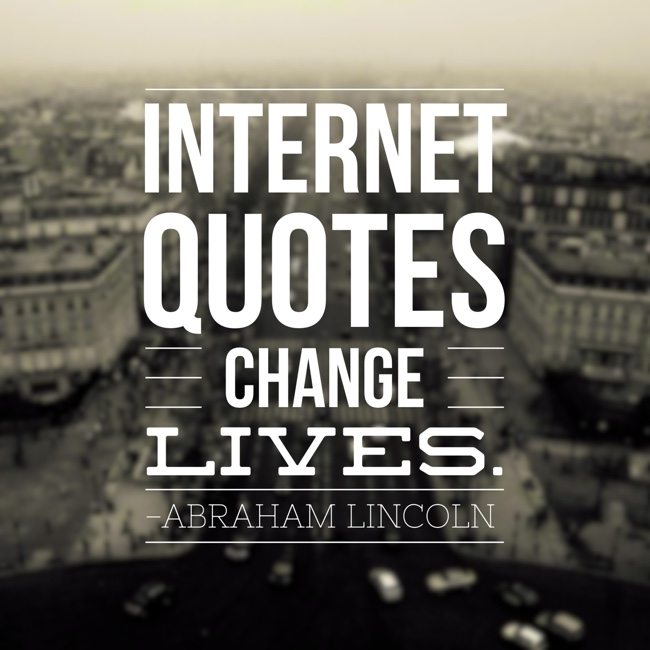 One really simple and affordable way to do this is invest in apps like WordSwag that let you manipulate text and images and create beautiful quotes for instagram and other social sites. I made the one above in about one minute.
You can also start engaging people on Fiverr to create videos, graphics and PDF files that can accompany your content and supplement it in a really professional manner. Here's a few suggestions I wrote about last year.
Try and think about some ways in which your blog and your approach to blogging could be professionalized and taken up to the big leagues. Even if you don't feel like you are there yet, it's important to position yourself in a way that will allow the change to happen.
5. Get some help from an expert in the field
This would be a perfect time to pitch a service where I come along and save your blog for the cheap price of $9,999 but, lucky for you, I'm not going to do that.
That being said, this type of service can be an extremely valuable investment for the future of your blog or your blogging business. Of course, not everyone who has a blog is trying to make it into a money-making behemoth. But for those who are using blogging to promote a business, product or service, it can be a good idea to get fresh eyes on it.
Now there are people like Neil Patel who can do this and will absolutely revolutionize your business. But he's expensive.
Another option is to go to expert communities and ask for help.
One great place to do this is at Inbound.org where they have a section called Ask Inbound. Actually, as of literally today that section looks to be no longer promoted but you can still start a discussion and ask for advice. This is a fantastic community of marketers founded by Rand Fishkin and as such there is always some incredible insights to discover, especially if your question is technical or about promotion.
Is your blog healthy?
I'd love to know how your blog is going because this is an issue that can and will affect most bloggers. Is yours healthy and happy or are you noticing some downward trends that might be worrying you? Please leave a comment below and let us know if you are going to try anything new.
I'd be more than happy to discuss any problems that you might be having.
Top photo: © Ladiseno.