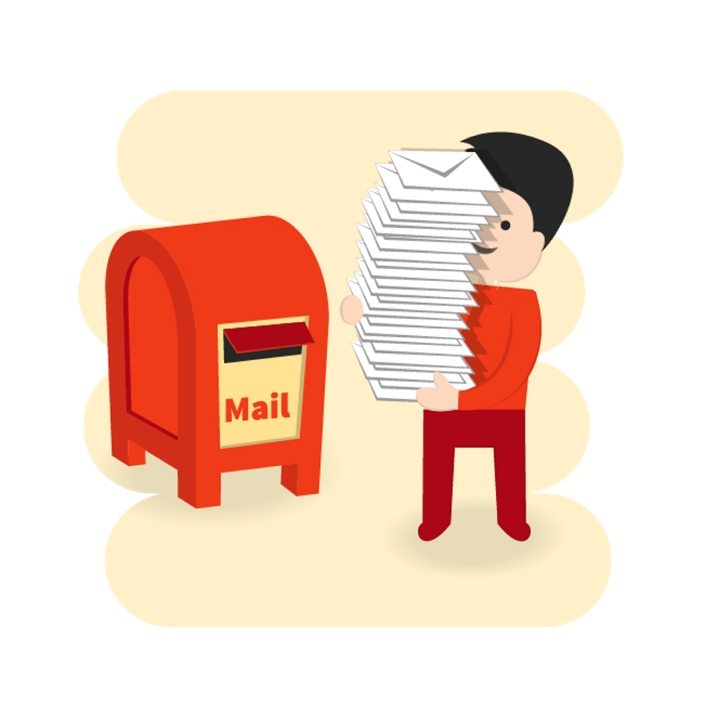 Your email list is one of the most important parts of your blog and its long term success and as such you should make sure it's stored somewhere good.
In this article I am going to show you why I switched to another email marketing provider and why you should too.
Getting more email subscribers is the safest way from which you can grow your brand and develop a lasting income.
It is vital that you set yourself up with the best software so that you can capture email subscribers effectively, email them new content and develop a lasting relationship.
Disclosure – This contains some affiliate links. I'll let you know which ones they are below. If you purchase a product through one of those links I will earn a commission at no extra cost to you. I only recommend services I've used and love. If all this bothers you feel free not to use the link. Thank you for the support!
My review of AWeber for my blog's email list
What I want to do is show you a few of the features that AWeber (affiliate) offer that are extremely attractive for us bloggers. Hopefully by the end of it you will be convinced to change over because I truly believe it will be a good move for you and your blog's future.
1. Instant eBook delivery
Like a lot of bloggers I give away a free eBook as a way of capturing email subscribers. This is a very clumsy process using Feedburner as you cannot set up an automatic response to send the eBook as soon as someone subscribers. Rather, you have to add a download link to your feed and then hope the new subscriber understands that they don't get an email until you write a new post.
It is all very clumsy. Not with Aweber. I made a video on the whole eBook delivery process here:
Now when you subscribe by email you get an instant thank you response sent to your email with the eBook attached. You can also set it so the subscriber is redirected to a "thank you" page on your blog where you can either promote other offers or get them to interact with the blog in a different way. There are a few reasons why this is important:
Instant promotion
People want things fast. They don't like waiting. With this technology you can send them the eBook straight away and in your ad copy you can tell them that it is instant. This is very important.
Less work
Every day I had to reply to emails from people who were confused about the eBook delivery process. Now they get an email with the eBook instantly as well as a redirect to a "thank you" page where I explain that their stuff is on the way.
More professional
The way Aweber works looks extremely professional. There is very little room for confusion and it really looks like you are running a tight ship.
Being able to instantly send the eBook was the main reason I started looking at Aweber but I soon realized that many of the features I was searching for in other places for were already available to their customers.
2. Automatic follow up messages to develop the relationship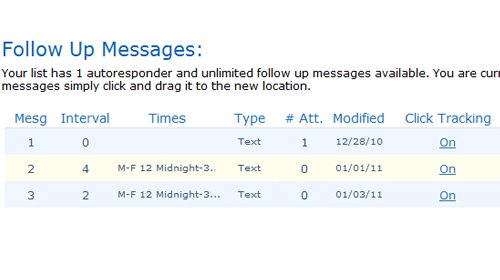 My readers are extremely important to me. Each and every one. So when I realized that Aweber allows you to automatically send out follow up emails to your subscribers after a set amount of days or weeks I realized what a powerful opportunity it would be to develop the relationship further.
The image above is a screenshot from my account showing that I have three follow up messages set at the moment. The first one is the eBook, the second one arrives a few days later and is a thank you message, and the third one is a tactic that I use on my blogs that I only share with my email subscribers. The follow up email function allows me to create a deeper sense of value with everyone who is subscribed.
3. Ability to earn more money
For some reason people get a little bit funny when talking about making money like it is a dirty topic. Its not. Its why most of us are blogging. And one of the massive reasons to use Aweber is because the follow up function mentioned above gives you a fantastic opportunity to earn a continuous and passive stream of income.
How?
Let's say you run a blog about dog training. You give away a free eBook called Teach Your Dog to Sit to anyone who signs on to your list. You then head into your Aweber dashboard and set up a few follow ups. The first follow up is another free dog training lesson, perhaps about how to get your dog to stay. Make sure it is packed full of value. Then a few days later send out another free lesson. A day later send out another email with another dog training guide, this time priced at $49. It could be your complete guide or another must have product.
You now have a constant and fully automated stream of income. Let's look at some numbers:
You get 10 email subscribers per day
You have a 10% unsubscribe rate
9 subscribers see the final email
You convert about 20%
You make $49 per day
$49 x 365 days in a year = $17,885
You get my drift? The numbers are a bit rough (you might convert less) but it is the idea behind it that works. You don't even have to have your own product. As long as you are providing your readers with high quality products that you use yourself then you are going to be adding value to their lives. And that is a vital element of making a sale. Aweber allows you to do all this without touching a thing.
4. High converting email submit forms you can cut and paste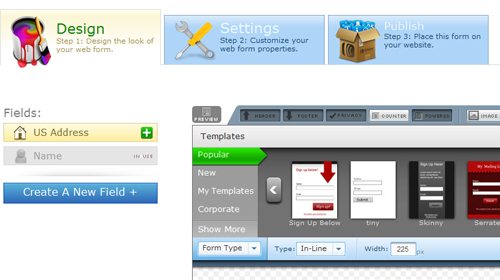 Remember the article I wrote on increasing conversions where we talked about the Blue-Shirt Trust your blog needs in order to capture email subscribers and appear reliable? Well Aweber can help you with that. They have hundreds of free web forms that you can copy and paste right in to your blog's code. They even have a web form creator (pictured above) where you can play around with colors, shapes and logos.
To be really frank and honest some of the email submit forms I see out there look dreadful. The fonts are all different to the blog itself and the box is out of line with the formatting. It is vital that you appear trustworthy at this stage because you are asking for your readers' personal email address. Any hesitation because of a funked design could cost you the subscriber.
This is a very cool feature if you have zero coding experience. You just design the widget and copy and paste it into your blog's sidebar.
5. The ability to track, split test and tweak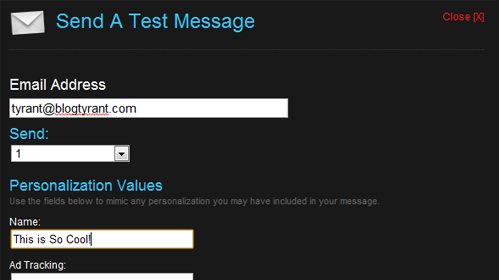 Here is where is gets really cool. If you are a stats freak like me you will really dig this. One of the most frustrating things about Feedburner is the total lack of information. Aweber on the other hand is busting with statistics and information that can really take your subscription process to the next level.
Some of the things they let you do include:
Name your ads and track which one works best
If you look around Blog Tyrant you will see that I have a pop up advert displayed once to new visitors, a sidebar form, a form under the first post and a form at the end of each single post. I have given each one a different name in my Aweber dashboard (popup, form, single post, front page) and I can track which one is working best for me. Thrilling!
Test emails before you send them
The above screen shot is from the little pop up window you get when you click "TEST". This feature allows you to send out an email to yourself to make sure everything looks right before you send it.
Split test two ads at once
The coolest thing since sliced bread. You can create two forms with different colors, images or even products and run them at the same time and see which converts best. Sometimes split testing really surprises you as people often go for things you would never have imagined.
Get an email every time you get a subscriber
With Feedburner you have to wait around until the end of the day to see whether a post or marketing campaign brought you any new subscribers. With Aweber you can opt to get an email every time someone signs up complete with the form name in the subject heading.
These are just a few of my favorite tracking and stats features but there are a lot more like the unsubscribe rate and even the rate at which people open your emails and click on the links inside. So much to look at!
6. Integrate with Feedburner and your Feedcount
One of the final clinchers in the decision to move to Aweber was when I found out that you can completely integrate your Feedburner emails as well as have your new Aweber email subscribers count towards your Feedcount. For those of you out there who like to display the number of readers your blog has you can rest assured knowing that all your new subs will be included in that count.
How do you get it to work? Simply set up a Blog Broadcast.
The Blog Broadcast is Aweber's term for the automatic emails that get sent out every time you publish a blog post. They are separate from the other automatic follow ups that you send out. The great thing about Aweber is that you can choose to send a hundred follow ups or none, automatic blog broadcasts or manual blog broadcasts, etc. It is all up to you. For example, here on Blog Tyrant I send out all my updates automatically to my subscribers as well as the occasional email newsletter with a few tips and specials.
Feature list for bloggers thinking about Aweber
I just read back over the post so far and realized that it is pretty long and a bunch of you might feel a little bit lost. Here is a quick "at a glance" feature list for anyone thinking about switching over.
Ability to integrate with Feedburner and your count towards Feedcount
Send out automatic follow ups at set intervals
Instantly deliver your eBook
Send out blog updates automatically like Feedburner does
Choose from hundreds of well designed email submit forms
Track which forms work best
Monitor who signs up, when and from where
Split test two different email submit forms
Test emails before you send them
There are so many more but these are the ones I think are most relevant for bloggers who are looking to grow a list and use that list to make a good living. This is how Problogger, Copyblogger, Shoemoney and all the big guys do it. And they all use Aweber.
What do you think about Aweber?
I know a few of my loyal readers have tried Aweber already. Did I miss out any crucial features? Would you recommend it to other bloggers? Why does it work (or not work) for you and your blog?
Finally, if you feel totally overwhelmed by this information or have some questions about it all feel free to drop a comment and I will try my best to help you out.