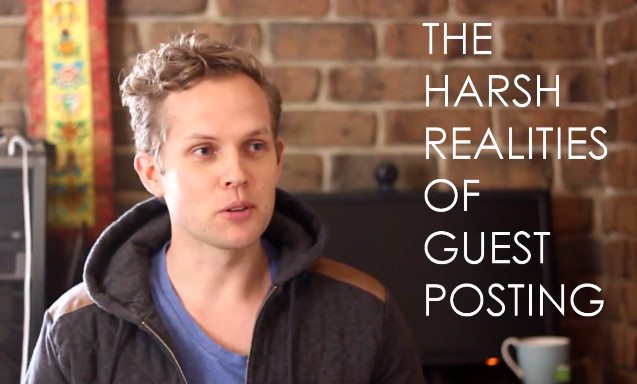 Why can't I get my guest posts accepted?
It's a question I hear almost every day, and it's one I'm sure all of us have pondered from time to time. It can be really frustrating to reach out to big blogs and get rejected again and again.
Today I've got a short video for you (I promised I was going to do a lot more of them) that is based around the harsh realities of guest posting.
In fact, the main premise of the video is this:
Guest posts grow new blogs, but new bloggers struggle to get guest posts.
So how do you overcome that double-edged sword? Watch the video to find out.
Note: This post is a lot shorter than the usual 3,000 to 5,000 words that I normally put out and that's because I want to make sure you have time to watch the video.

You can subscribe to my YouTube Channel here as not all videos are used in articles.
As a lot of you might know, this week I had a guest post on Copyblogger called Why I Hate Copyblogger. It caused a little bit of a stir around the web but it also brought in over 100 new email subscribers and helped me make introductions with some big names in the niche.
And to be honest, I don't think that post would have been possible without the friendship and guidance of Sonia Simone. I'm sure she went out on a bit of limb to get that post approved by Brian Clark, the founder of the site, as evidenced by a Google+ comment Brian addressed to me: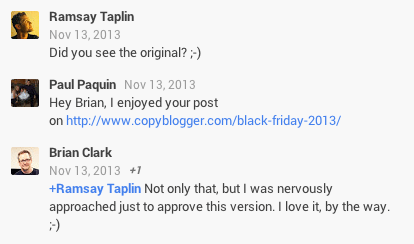 It was all in good fun but I was really impressed at the bravery they showed running such a controversial title. I'm glad they trusted me to write it.
Do you struggle to get guest posts?
What I'd really like to do now is open up the floor to anyone who has struggled to land a guest posting gig. What problems did you have? What was the response that you got from the blog owner? Hopefully we can all pitch in and come up with some good suggestions.