I heart Google. I really do. They have created the most incredible search engine that has not only allowed the easy acquisition of information, but allowed me to work from home running online businesses that I love. For years they have sent me hundreds of thousands of visitors to dozens of sites. But things are changing. The latest trends are showing that Google's now taking your traffic for themselves.
In this post I am going to show you what I'm talking about and then discuss a few ways that you can ensure your blog survives.
How is Google taking my traffic?
The first part of this post needs to be dedicated to the idea that Google is taking your traffic. And we need to start by reminding ourselves that it is actually Google's traffic. You see, Google is a website too and, although they are built around sending people to useful websites, they are also interested in increasing traffic levels on their own website. In that respect they are just like any one of us.
So how are they taking traffic?
Well let me start by saying that they aren't doing anything underhanded like hacking your site and stealing visitors back. What they are doing, however, is keeping visitors on their results page as opposed to encouraging you to click through. Let's take a look.
Example 1 – Going to the cinema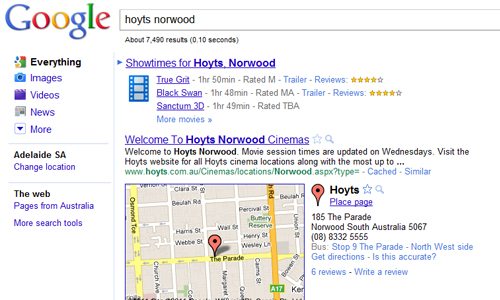 A few years ago when you wanted to find out movie times you had to look on the cinema's website. Not any more. Take a look at the screen shot above where I have typed in the name of my local cinema here in Australia. As you can see, Google's first result is no longer Hoyts' website; it is theirs. The sessions times are now right there at the top so you no longer have to click through to the website to find out what movies are on and when. In fact, you can click that link at the top and get this: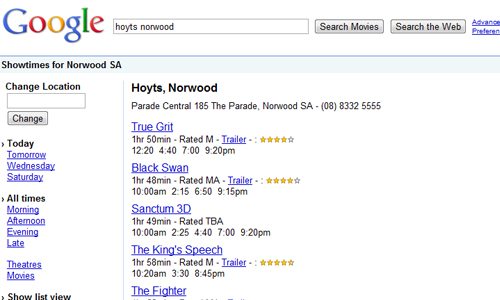 This page shows you all the movies and their times for today as well as allowing you to change the day of the week or the location of the cinema. The result of this is that these cinemas would be losing a lot of traffic to their websites; websites where they promote special offers, discount clubs, etc. I wonder whether they have noticed a decrease in loyalty?
Example 2 – Sport results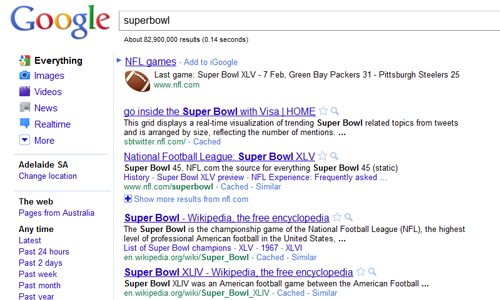 The Super Bowl was on Sunday and, as you can see from the screenshot above, you can find out the score of the game by just looking on the results page. Now, this is not so much of an issue for big events like the Super Bowl but for smaller domestic sporting events like AFL, soccer, etc. you would think that a lot of newspaper website, opinion blogs, etc. would be losing traffic because people don't need to delve deeper and read content to find out what happened.
Example 3 – Preview feature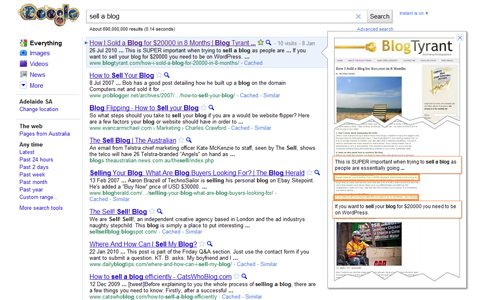 If you take a look at the image above you will see it is an example of Google's relatively new preview feature where you click the magnifying glass on the right and get a snap shot image of what's inside. I've taken a screen shot of how my post on selling a blog for $20,000 would look but the important thing to remember is that this feature can stop people from visiting your website. Copyblogger has an article about it here.
I often find myself clicking the magnifying glass and judging the website before I even visit it. If the design doesn't look clean and professional I just don't even bother. Now, this isn't a place where Google is directly choosing to keep visitors on their site but it can have a similar effect.
How to ensure your blog survives
Now, I don't really think that this is at the stage where blogs would be shutting down because of the changes. Its not that bad. But the trend is indicating that Google will be trying to keep more traffic on its own sites for its own products and programs.
Its not like we have to panic or anything, but we should start to think about it. Here are some important things to do and remember:
1. Grow that email list
If you have a large and flourishing email list it doesn't matter what Google does. Sure, you might take a hit if they stopped sending you any traffic but you will be able to absorb the impact if you still have thousands of loyal readers to read and promote all your content. Focus on capturing email subscribers. Here is some advice in that regard:
After years of blogging and website marketing I can honestly say that focusing on gathering highly active and interested email subscribers is the best thing you can do. I hope this is something that you take a way from my site.
2. Create that blue-shirt trust
Remember that post I did a while back on increasing conversions? It was all about how you need to make your site rock solid trustworthy if you want to convert people in to subscribers or fans or customers. It is now more important that ever, especially with the preview feature.
Make sure your design and layout elements are clean and easy to navigate. Make sure your logo and branding is interesting and sends the right messages. Ensure your content is the very best you can put out and really helps people to get something new and beneficial.
3. Create an addictive blog that is sticky as hell
My first ever post on Problogger was all about how to make your blog addictive. And the reason why this is important should be self evident – you can't afford to lose anyone.
If you own a website that has been affected or is likely to be affected by the new Google then you need to start making sure you retain as many visitors as possible. They need to be converted in to Twitter followers, Facebook fans and RSS subscribers. They need to go gaga whenever you post a new article. This loyalty and deep interaction is something that very few bloggers prioritize over social media and search engine traffic.
Its a shame because one or two loyal visitors are way more useful than 100 who leave right away.
4. Forget about Google
The last point I want to talk about is that you need to forget about Google. This might seem a little bit confusing so let me explain.
Google should not be a main traffic source
I have said this a million times before. Think of Google as a bonus. If you got banned from Google tomorrow you should be able to survive. In this respect you need to forget about them.
Focus on your amazing website and content
The second way you need to forget about Google is in terms of writing for search engines. Don't write to please Google, write to please people. The flow on effect of this is that Google really likes that too!
Of course I don't want you to turn your back on good SEO practices or anything like that. Rather, what I am saying is that you need to go way beyond Google and look to other sources of traffic like referrals, Youtube, social media and direct traffic. That is the only sustainable model.
The good news is that Google is growing and so is the number of people using it. In reality you should find that you get more and more traffic from them in the next few years, despite these on-site changes.
What do you think about this?
I'd love to know whether anyone has been affected by this or has started to make changes because of it. Do you think it will affect your blog? Lastly, do you have any other ways to make sure your blog would survive if Google went away tomorrow?