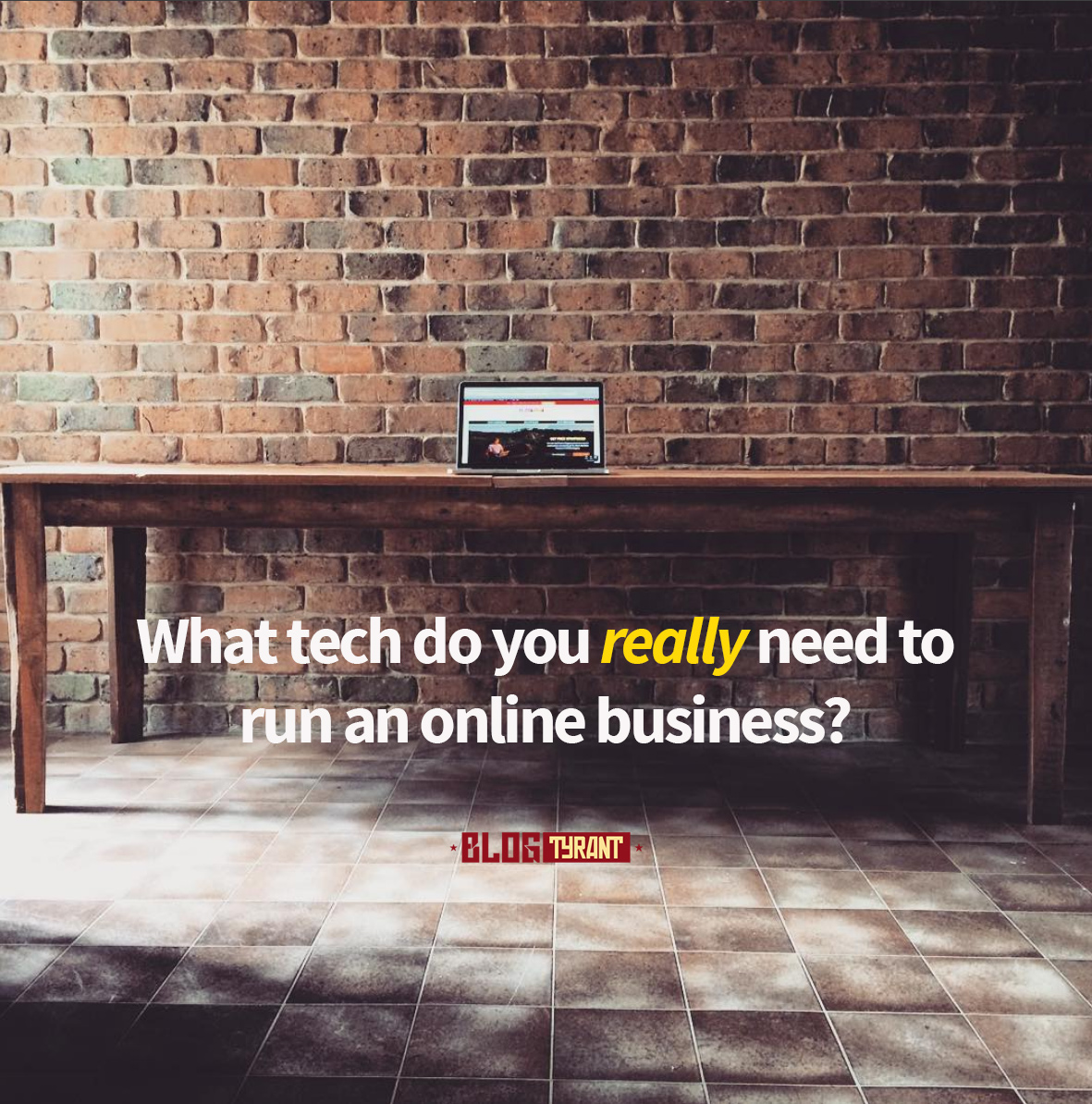 If you want to start a restaurant or a hair salon you're going to need tens (or hundreds) of thousands of dollars worth of equipment before you can even open your doors. But online businesses aren't quite the same – especially if you work from home and start small.
Sure, there are some larger tech startups that needed millions of dollars of capital before they get up and running, but for most of us the barriers-to-entry are a lot lower.
Seeing as I regularly get asked about the technology/equipment that I use to run my blogging company, I thought I'd do a post highlighting what I think are the essentials, and what you can leave behind.
Let's take a look.
NOTE: None of the links in this post are affiliate links as I didn't think it would fit with the "feel" of the subject.
Essential tech: are we being misled by marketers?
In today's world we are bombarded by marketing (up to 5,000 ads a day!) and as such it can be very hard to determine what is a necessary purchase and what is something we've been artificially convinced that we need.
For example, I am constantly amazed at how many people line up to get a new iPhone when an updated version is released – especially when the latest version is only minimally different from the previous.
It's just not necessary, and it is a tremendous waste of resources.
My heart melted a little bit when I got this Facebook message last week:
"Hey Ramsay, I have been reading your blog for quite a long time. I want to start a new blog very soon. By the way, I am a teenager. There is something I want you to help me with. I want to buy a laptop to start my blogging and I want to know whether I should buy an expensive laptop or not."
Definitely not.
As you can see in the photo up the top, I like a pretty minimal work space. I also try very hard to be responsible with my purchases – but I am not "cheap" when it comes to getting something that will make my work more efficient, effective or beneficial.
When you're looking at buying something new for work, have a long think about whether it is truly necessary/beneficial for making money, or whether you've been tricked by a clever advert that doesn't perhaps have your best interests at heart.
The tech/equipment you need to run an online business
The following is a list of tech that I use ranked with some level of importance, timing and upgrade-ability. Remember, these days "equipment" does not just refer to physical items but also some services, software, etc.
Some people will be able to get away with less than this, others will need more. My hope is to debunk a bit of the unnecessary and just show what has worked for me in a simple way.
The tech I recommend includes:
1. A reliable Laptop or PC (not a phone or tablet)
Importance: Critical Price: Medium to Expensive Timing: From day one
A reliable laptop or PC is vital if you want to run an online business. Of course, you don't need to have a $3,000 MacBook Pro to run a blog, but you might need some good processing power if you are doing tasks that require a lot of juice like video editing, gaming, etc.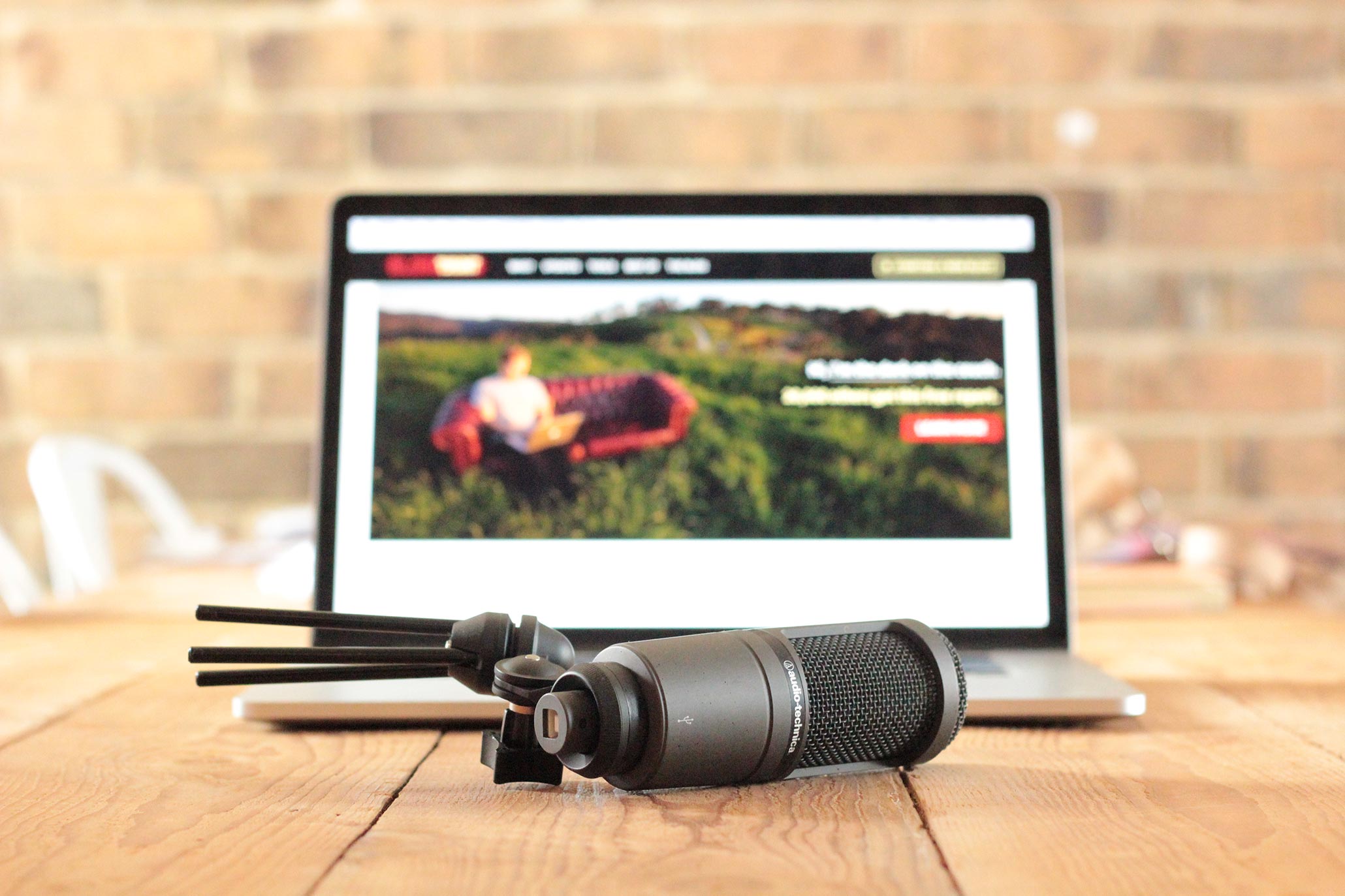 I started my company on a secondhand laptop and then upgraded to a $600 gaming PC that I built myself. That PC lasted me almost 6 years (along with another very cheap laptop I got) until I upgraded to my current MacBook Pro, and I really only got that because my company went through a big growth period at the same time as the Australian Government offered a new tax break for equipment purchases.
The main thing you want with a computer is reliability, speed, security, and the ability to do your specific tasks. If you're only writing articles for a living then don't get an Alienware gaming rig. You'll need to be able to access it regularly (like, not sharing it with a family during work hours) but it does not need to be expensive.
2. Reliable Internet, router, and mobile plan
Importance: High Price: Medium Timing: From day one
The next thing on my list might not seem that important to most people, but it is a part of my work that I have wrestled with for years. I've lumped a few things together as they all relate to web connectivity.
Australia, by default, does not have as fast Internet as the USA, and mobile data plans are expensive. That is slowly improving with the National Broadband Network and cheaper mobile pricing, but even this week I have spent at least an hour on support calls with my Internet provider to get a faulty router replaced.
Secure WiFi with fast upload and download speeds can drastically improve your business's efficiency. For example, I stopped doing HD videos years ago because I just couldn't be bothered with the upload time when the speed was under 0.5 mbps per second. The last week or so it has jumped up to 25 mbps per second and, as such, that whole platform is opening up again.
If you travel a lot you will also want the ability to tether your phone's data as public WiFi is inherently insecure and shouldn't be used. You'll want to shop around and get a good plan that gives you lots of downloads and coverage areas. This can increase the cost.
I pay a premium price for faster internet and a top level router/range extender because it genuinely helps me get more work done. Weigh up the pros and cons for your own business before you lock yourself into one specific carrier or setup.
3. External hard drive/online backup service
Importance: High Price: Cheap to medium Timing: Within the first few months
Once you start a business you'll need to backup many different types of files. For example, you'll want to keep your financial records safe for as long as you're required by your local authorities, and you'll also need to back up assets like logos, images, photos, programs, websites, etc.
There are two options when it comes to back ups: offline and online. Offline options are usually more expensive initially (purchasing a device) but work out to be cheaper overall as you're not paying for subscription services. Of course this depends on your business's needs and the data you're trying to protect.
The best bet is to have both an online back and a physical local back up. For example, I have my company's online assets backed up to two totally different servers in case anything goes wrong, and we also use a LaCie external hard drive for other things.
Start with free/cheap services like DropBox, Google Drive, etc. and then assess how much it'll cost to back up things you absolutely cannot be without and do them first. Then slowly start adding more budget for things as you grow and produce more data and want to keep local backups for.
4. Camera (and associated equipment)
Importance: Medium Price: Medium to expensive Timing: As soon as it's smart
A camera can be an incredibly useful tool for many online businesses. The good news is that these days you can do most blogging photographic tasks with the camera that is built in to smartphones. In fact, the camera in phones like the iPhone 6s and upwards is more than enough for things like product photos, video recording, talking head videos, etc.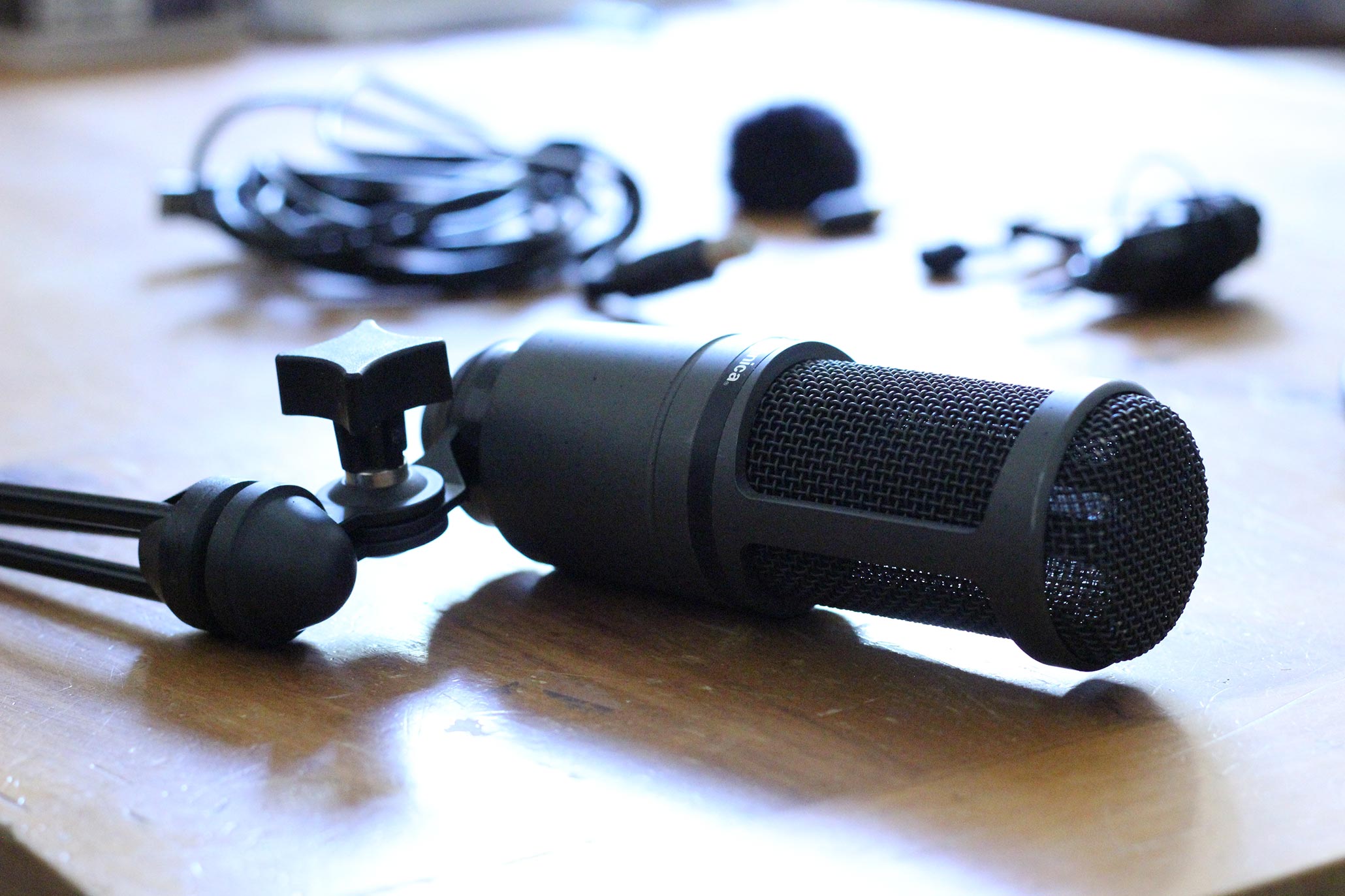 If, however, you want to take your photos or videos to the next professional level and you have the budget to spend, a good DSLR camera and some sound recording equipment like a lapel microphone can be extremely handy. Personally, I wouldn't recommend doing it right away unless you have a lot of training in the medium as it will take up a lot of time that might be better spent on other tasks.
Remember, you can always find images for your blog using other methods, so it's a good idea to weigh up whether the cost of a camera will pay for itself in branding, etc. in the near term.
5. Photo editing software
Importance: High Price: Cheap to medium Timing: As soon as you can
Photo editing software like Adobe Photoshop or Pixelmator are an extremely important addition to any online business. Re-sizing photos for your posts, adding logos, manipulating graphic, and even drawing on screenshots to show coders are all regular tasks that you'll have to do.
Of course, you can always get these types of tasks done on sites like Fiverr, but after a while it becomes a lot quicker to just do it yourself. Thankfully now Adobe has a subscription service so you don't have to spend thousands getting the software all at once.
If that really isn't in your budget, consider at least a browser extension or free app that will allow you to edit images and mark them up in a simple way.
6. Mentally and physically supportive work area
Importance: Critical Price: Cheap to medium Timing: As soon as you can
More and more research is showing how bad sitting still is for our health – some studies showing it's worse than smoking. But, unfortunately for most bloggers and online business people, you'll need to spend a really long time at your desk if you want to make it work. Make sure you have a computer set up that is good for your spine, neck and wrists. That might mean a screen up at eye level and a keyboard that is at a better angle than your laptop.
It's also crucial that you support yourself mentally. That might mean taking time to work in a cafe or somewhere out of the house, or it might mean getting set up in a room with lots of natural light. Vitamin D deficiency is an issue for most people who work indoors during the day. I highly recommend spending a bit of money to get your workplace set up in a way that supports your health over the long term.
7. Servers (website, email, data storage, etc.)
Importance: Critical Price: Cheap to expensive Timing: Day one
Your various servers are the life blood of your online business. You need equipment that is affordable, reliable, secure and fast. And while it can be a little bit of a learning curve initially, it's vital that you start learning about these things early. The good news is that we can pay a company to do all of these things for us.
For your website/blog hosting I always recommend that people who are starting something new get their own domain name and host so that they can have full control over the back end.
The same is true for your mailing list database which, for a lot of online businesses, is going to be the basis of your promotions and stability over the coming years. It's important to capture, test, and store those leads with a company that you enjoy and trust.
Now, a lot of people do opt for their own data and email servers (including one presidential candidate), but I personally don't have any experience with that. If you do I'd love to hear about the advantages in the comments.
8. Statistics and reliable reporting
Importance: Pretty darn important Price: Cheap Timing: Day one
I'm often surprised at how many websites, blogs and online companies guess at what is working for them. This is often because they don't have a good analytics platform installed, or they didn't install it early enough. This is a big mistake, especially if you ever want to sell your website or blog or get investors (they'll want to see stats from day one), or spend advertising money and know what's working.
Remember, the website aspect of your online business is only one element that you need statistics and reporting for. You'll also want a place for record keeping, taxes, invoicing, etc. and you want it all to spit out reports that are accurate and time saving. This is not something you should be spending all day on and, as such, spending a bit of money to get the right tech can be a business-saver.
Start with free services like Google Analytics for stats and Open Office spreadsheets for your accounting and then slowly begin to upgrade to things like SEMRush, Clicky, and whatever taxation software your accountant recommends so that you are in sync with him/her.
9. Security software
Importance: Critical Price: Cheap Timing: Day one
Another non-optional is some security software for both your website and your computer. It's so important to keep your data safe, and with rates of cyber crime increasing each year, it's now more critical than ever before to make a cheap investment in this area.
For computers it's useful to have programs like MalwareBytes and HitmanPro, and for WordPress installations we want things like Bulletproof Security, Wordfence, Sucuri Firewall, etc.
Of course, these things are all null and void if you're not up to date with basic security protocols like not clicking unknown links in emails, using the same passwords on multiple sites, keeping software and browsers patched and up to date, never using public WiFi, etc.
The truth about essential tech for online businesses
The honest truth is that you really don't need much tech to run a successful blog, website, or basic online business. I know plenty of people who have made millions from their laptops.
Of course, each industry is going to need different things, and it's also not wise to ignore those requirements because you are trying to be minimalist with your requirements.
The best bet is to try and start small with the essentials and then slowly build up your tech assets based on what you need. And always try to use as little as possible, recycle, and try to offset your company's footprint. It's not always realistic, but we can try.
What have I missed?
Any post like this is bound to be missing some integral elements. Do you have a particular piece of tech that you use in one of the categories above? Or perhaps I missed something entirely?
Please leave a comment below and let me know.