Did you know that you have less than 1.5 seconds to convince a reader to stay on your blog?
Internet traffic is notoriously impatient, and it is getting worse. This means that what you put above the fold is more important than ever.
In fact, it can be the difference between the success and failure of your blog, website or squeeze page.
In this article I am going to show you a few things I am testing in regards to how you can take advantage of impatient traffic by manipulating where stuff appears on your blog.
What does "above the fold" mean?
Above the fold refers to the area of the screen that you see before you scroll down. So, everything you see on your screen when you load a new website is the area above the fold.
Now, the important thing to note here is that the area above the fold is different depending on the screen size of your readers.
This issue is complicated further by the fact that smartphones and tablets now make up a growing proportion of blog readers.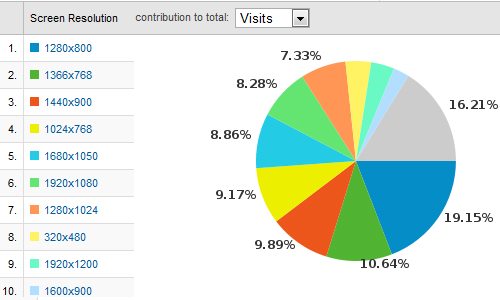 Blog Tyrant's readers use a huge variety of different screen sizes
The image above is a screenshot (with some clipping to make it fit) from my Google Analytics account that shows the screen resolution of my readers over the last few weeks.
You can find this by going VISITORS > BROWSER CAPABILITIES > SCREEN RESOLUTIONS. As you can see, there is no outright winner. Sure, 1280×800 has the highest percentage but it is by no means a majority.
There also seems to be about 5% mobile phones in there.
I'll talk more about this issue as we go on into the other areas of the article.
Why optimize? Why are readers so impatient?
The modern web user is massively impulsive, impatient and unforgiving. As I said in the opening paragraph, this phenomena is getting worse.
Why is that? Why are people so impatient and what does this mean for our blogs?
Well for starters, people are getting better and better at using the net. When I was in high school we didn't have Google, we just had Alta Vista. Kids these days grow up with Twitter and Facebook and Smart Phones and as such they are much better at speeding around looking for information.
The second reason is because people are addicted to information. We need new updates all the time. We need quality entertainment and constant news updates on whatever it is we are interested in. This information overload has caused us to become finely tuned (read: impatient) information gatherers. If something doesn't look good right away we close the window. Sometimes we don't even open it.
We need to actively present your content in a way that gets people's attention and engages them so that they don't just click off right away.
How to take advantage of impatient traffic
What I want to do now is give you some concrete ways that you can use the area above the fold to make sure that you aren't losing impatient readers.
1. Put your main call to action up high already
What is the goal of your blog? What are you trying to achieve? That focused and well designed call to action needs to be in a high position on your blog. I have said it many times before. Make sure that email subscription form is the highest thing in your sidebar. Don't put your categories or your archives up the top. Don't put someone else's affiliate program. Put your own stuff there.
It always surprises me as to how afraid people are to promote their own products and eBooks. It doesn't make any sense at all. Why are you nervous about promoting something that you worked hard on? Why do you want to sabotage something that you know will bring you success? If it is because you don't want to appear "spammy" or too aggressive then I highly recommend you get over it. No one thinks Mercedes Benz is spamming when they make ads of their incredible new machines. The same goes for your quality product.
2. Get rid of all ads
Yep, I'm putting it out there; saying something that not many bloggers are brave enough to. It is time you got rid of your space-sucking adverts that make you next to no money and take up valuable real estate. Unless you have sold space to a premium advertiser I really think there are better things you can do with that ad position.
Here's my logic. The top part of your blog or website is so valuable because you have a finite amount of space with which you can capture a new visitor. But as it stands you are selling that space to Google Adsense or some other affiliate for chump change. Wouldn't it be better to use whatever room you have to convert those people to long term readers? Wouldn't it be smarter to give someone a chance to become addicted to your content before you sell them out for a few dollars?
3. Keep your main content layout smaller than 1024 pixels
Basic web design standards tell us that all of your main content should be no larger than 1024 pixels wide. Why? Because if you go wider than that you run the risk of isolating people with smaller screens.
Let me give you an example. Let's say you get your blog redesigned and the main sidebar falls outside the 1024 pixel safe area. In that sidebar is your email subscription offer. What you now have is a situation where about 15% of the population might miss your sign up form. It is a mistake that is totally avoidable.
If you ever get your blog redesigned make sure you specify that the main content area must be no larger than that 1024 zone. It will be another few years before everyone is running a big screen.
4. Keep your branding carefully consistent
Do you know what branding is? I mean really know? Its not a logo. Its not a name. It is much more than that. And you need to make sure that branding is used carefully.
Now, when talking about above the fold optimization you need to think of branding in terms of your whole vibe. What I mean by this is that everything you do reflects upon your branding. Its your colors, your fonts, your language. Its the tone you use in your copy, the way your ads are structured and how you relate to people. And because so many of us link our blog intimately with our persona it means we have to be very careful about creating that brand.
If you muck it up you run the risk of creating an untrustworthy site or confusing your reader. For example, if you create an eBook cover that looks nothing like your site's colors or logo you might find that your readers think it is an advert for someone else. You need to make sure the branding above the fold it super tight.
5. Give yourself another layer
This point is going to be somewhat controversial because I know a lot of people have strong opinions about pop up windows. But, in all honesty, it is one of the most powerful ways to increase conversions on your website or blog because you are giving yourself a whole new layer with which you can encourage people to sign up.
The interesting part? I have never once had any complaints about my pop up.
If you missed it you can see it again by deleting your browser's cache and then visiting Blog Tyrant again. It is a carefully designed advert that promoted my free eBook as a way to get people to sign up to the blog. And it has about a 6% to 8% conversion rate. It brings me hundreds of subscribers every month.
6. Make your header smaller
Blog Tyran't header is actually too big and something I need to sort out. Take a look at the world's biggest blogs and websites and you will find that the logo doesn't take up very much room. It might only be 100 pixels high. That's all you need.
The reason for this is simple: if your logo and header is too big you take away room above the fold that could be showing off your content. Your logo might get people slightly aroused, but it is your amazing content that is going to really turn them on.
Don't take up too much room with your headers. I know some of you are. I've been watching.
What's the special announcement, jerk?
Now I know a lot of you have been having trouble setting up, customizing and tweaking your WordPress themes – especially in the area above the fold. For this reason I have decided to do something to help you out.
In a few days I will be launching the brand new Tyrant Themes website – a site devoted to bringing you free themes that are professionally designed (by me) to help you build a successful blog.
There are a lot of WordPress themes out there. Probably tens of thousands. A lot of them are rubbish. A lot of the free themes come with a bonus set of adult links embedded in your code somewhere. And some of the designs do your business more harm than good.
Enter Tyrant Themes.
These themes are designed to support your goals. I don't make them to just look nice, I make them to convert readers and show off your content. The first theme is called Email Assault and is all about helping you capture as many email subscribers as possible. If I can help you do that, I am certain I can help you work from home in a few years. Here is a preview.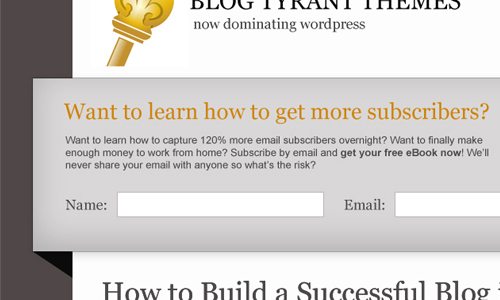 Click for a bit more of a preview
For a long time I have wondered why more themes aren't designed to include an email capturing area. Well this one does; right in the hottest spot on the website. You will be able to enter in your Aweber code and eBook cover using a simple form and away you go.
If you want to get this theme for free when it is released you need to be on the mailing list for Tyrant Themes. This will also allow me to notify you of any new themes that will be released over the coming weeks and months.
What are we talking about today?
What I really want to do is open up the comments to all of your "above the fold" and WordPress theme problems and questions. Is your current WordPress theme working for you? How could it be improved? Do you have any ideas for a good WordPress theme? Have you made any changes above the fold on your blog and seen any significant changes? Please leave a comment and let me know. I think we could learn a lot from this one.
Top photo credit: telmo32