You've written some good posts, got your blue-shirt trust happening but you still can't make your new readers stick around.
It is an extremely frustrating feeling.
In this article I am going to talk about a few things I do to try and convert new visitors into loyal readers that participate and get involved with the blog.
Hopefully you will be able to take some of these lessons and start growing a community a lot quicker than normal.
The percentages and why returning readers matter most
I just had a quick look in my Google Analytics account and took a screenshot to show the statistic about the new vs returning visitors here on Blog Tyrant.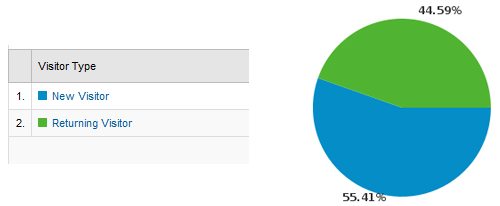 As you can see, 55% of visitors are new-comers who arrive at the site through Google, referral sites, social media and so on.
In the green you'll see that 45% of my readers are returners meaning that the have visited the site more than once in one cookie period.
Delving deeper in to my stats I discovered that around 30% of traffic visit the site 10 times or more with an average time on site of around five minutes.
While this is far from the best set of stats in the world, I'm encouraged that the time on site is doing okay and I'd like to explore some ways we can work on improving that.
Why it matters
If you have been here for a while you will know that I place a lot of importance on capturing email subscribers and creating a website that has loyal followers.
The reason for this is simple. Over the life of your blog you will find that it is your loyal readers who link to you from their websites, leave comments on your posts, bookmark you on social media websites and, most importantly, buy your products when you launch them.
Of course there are exceptions to this rule.
Some people make a lot of money selling products with Google or Facebook ads having never written a blog post in their lives. That is a different animal (which I am going to write more about later).
But for the most part you will find that it is your repeat and returning visitors who help you grow in to an authority blog that has high levels of success.
How to convert new visitors into returning readers
As always I love to hear your thoughts and experiences. Blog Tyrant is fast becoming a site that is not only about my ideas and tips but also the ideas and tips of some really cool bloggers who get together and have a good chat in the comments section. I really enjoy seeing that happen. But seeing as you came here to read about how I did it I suppose I should share a few things.
1. Challenge your readers
One of the most important things you can do if you want to get a good community brewing is challenge your readers. This type of challenge is not necessarily an overt, chest pumping, bar fight style of a challenge but rather one that encourages everyone to starting thinking.
The last post on how to increase conversions was a pretty good example of how I like to challenge people on my sites. At the start of the article I left a little baiting statement saying:
Oh, and make sure you read all the way to the end as there is a nice little surprise at the bottom.
This is designed to get people interested, involved and to plant the seed that something a little bit different is going to happen. Network TV stations do this all the time when they show you just a few seconds of the next big show without even advertising the name. Once the suspense is built I closed the article by saying:
Are you concerned that maybe you have become too familiar with your blog or website and no longer know whether it appears safe, strong and successful to outsiders? Leave a comment and tell us what is worrying you and we'll see if the Blog Tyrant community can offer their initial impressions on your site.

Beware. Once you ask you have to be brave enough to handle the criticism.
This challenge is complete with a call to action that asks the reader to step up and be brave and see whether your pride and joy (blog) is up to the task of criticism by strangers. Funnily enough it was an extremely popular idea; people loved being judged.
2. Make it all about them
Something else that I have been really trying to do on Blog Tyrant is make it all about you guys.
I don't always hit the mark with this one but I honestly do try to aspire to it. If you aren't interested in helping people then you can look at helping others as a marketing method.
If you read the book How to Win Friends and Influence People you will see that the section on how to make people like you says that you should always:
Be a good listener. Encourage others to talk about themselves.

and

Talk in the terms of the other person's interest.
If you make your blog completely about your readers and less about yourself you will find that people naturally become loyal. This is particularly true of niche blogging where you are talking to a very specific set of people who are interested in a narrow field. In these cases it is quite easy to talk in terms that other people are interested in.
3. Use your real face
If you want new visitors to become returning readers you need to inject your real self in to everything that you do on that blog.
Write honestly, react in a way that you would if you were talking to someone in real life and don't try to manufacture a voice.
Be conversational in your tone. People become loyal to other people. Show them your human side by being yourself.
4. Use specific calls to action
A call to action is a piece of text that tells someone what step to take next. We see them so often that we often stop noticing them.
Think about the last late night fitness commercial that you saw – I bet it ended by telling you to call NOW for free delivery or something similar. That is a call to action.
If you want people to come back to your blog then tell them how to do it.
Give them clear calls to action about why they should subscribe by email, add your feed to their feed reader or bookmark your posts for later. Go even deeper in the process by telling them how to do it; don't assume that everyone has as much knowledge as you do about posting schedules or how email subscriptions work.
A good call to action should:
be clear
educate about the next step
direct users to a relevant secondary page
use scarcity (limited time, only 100 available, etc.)
have social proof attached
The last point is extremely important. People hate to be first. They want to know that they are part of a group and that that group is a special one. A good call to action will make people feel like they are about to become part of something quite rare.
What have you discovered?
If you have found anything works well for converting new visitors into loyal returning readers I would really like to hear about it. If not, please try implementing some of these techniques and then stop back in a few days and let me know if you have noticed any differences.