Education's purpose is to replace an empty mind with an open one. — Malcolm Forbes
Education is power.
It allows us to reach new heights and achieve near-impossible things as individuals and collectively as a society.
But sometimes we bloggers forget to educate our readers at extremely critical moments.
I'm not talking (necessarily) about our content – we usually do a pretty good job at educating our readers there.
I'm talking about introductions, calls to action and the other places where we expect our readers to know what to do.
Most of the time, however, they don't have a clue.
In this post I'm going to introduce the SPELL IT OUT technique for educating your readers.

Hopefully by following these tips you'll increase conversions, subscribers and your loyal following.
Why are these 'education moments' so important?
In terms of blogging, this stuff is so important because of one word.
Waste.
We spend so much time writing amazing articles, guest blogging, commenting, chatting on social network sites, etc. but we often undo a lot of that work by failing to educate people at certain points along the path.
Think about your goals for your blog – they probably include things like:
Getting more subscribers
For most bloggers this is our primary goal. We are trying to grow loyal subscribers in order to develop a long-lasting and profitable blog.
Selling a product
Maybe you already have a product developed and are trying to build your blog to directly or indirectly sell it.
Selling your services
You might do consulting or run a blog to promote some service that you do.
Whatever it is you are aiming for, however, can be undone by failing to educate people at some critical moments in the relationship.
What a waste.
How does the SPELL IT OUT technique work?
The people reading your blog posts are, 95% of the time, brand new to the scene.
What this means is that they are not looking at your blog through the same lens that you are.
How many times have you run your eyes over your site? A thousand? Ten thousand? More?!
And how many times have you run your eyes over other blogs to learn more about blogging and online marketing? Another 1000?
Well, the guy/girl who just rocked up to read your blog is here for the first time. All of this stuff is brand new. They might never have even subscribed to anything before and here you are asking them to give you their email address!
Are you educating them enough on what happens at this point? Or are they going to leave without knowing what to do?
Educating your readers is so important.
So important, in fact, that I decided to give this very simple and basic idea a name: the SPELL IT OUT technique.
This technique is all about giving your readers a helping and educating hand at moments that are critical to your relationship as blogger and reader.
And there are five critical times when a lot of us are failing to implement this strategy by educating our readers.
When are these five critical times?
So when are we making these mistakes? And what can we do to make sure we don't keep repeating them?
Let's take a look.
1. When a reader is about to enter their email somewhere
Giving someone your email address is a really intimate moment.
It is almost like giving someone your phone number when you know they want to ask you out on a date. First there might be some flirting and conversation. And then after some chemistry occurs, someone plucks up the courage and asks for a phone number.
And then you are on your own. Waiting. Thinking. Wondering if they'll call.
Well, entering your email address on a website and subscribing is just like that and in the same way no body likes wondering what happens after information gets exchanged.
Whenever you ask for someone's email address you should try to:
Let them know what they're in for
Make sure you are clear about what they will be getting. Is it all the blog updates or just occasional promotions and insider news?
Specify how often it's arriving
Don't make them wait for you and don't bombard them with information. Let them know how often you'll be dropping in.
Promise it's a secret
You don't want your email address all over town any more than you want your phone number given to all their friends. Make sure they know it's secure.
Sometimes I think that more is more when it comes to getting email subscribers. Often you need to work at making sure they subscribe and then stay signed up.
And that leads me to point number two.
2. Straight after a sign up occurs
After a sign up occurs you need to set the expectations for the future of the relationship.
And don't kid yourself: the blogger/reader phenomena is a relationship just like any other.
Imagine if you signed up to a college or school and never got any information about classes, fees or rules. It would be extremely confusing and frustrating.
That's one of the reasons bloggers should use Aweber to manage their email lists – you can send an automatic follow up email to your new subscriber that introduces yourself and sets expectation.
Here is a video I made on how to send a free eBook with Aweber but you can apply the same tutorial to a nice follow up introduction.
Guys like Derek and Yaro do this really well. You know what you are getting from the start.
3. Before someone subscribes to RSS
With all the focus the big bloggers have been putting on getting more email subscribers it seems as though RSS has totally gone by the wayside.
Sure, it's not as effective as someone's email address because you can't contact them about anything unless you write a blog post.
But it is better than nothing.
And, sadly, nothing is what a lot of bloggers get when they don't help their readers understand what RSS is.
Darren from Problogger started a movement a few years ago where he suggested that bloggers explain to their readers what RSS is and how to use it. Effectively you are teaching them how to subscribe to a blog so that they can subscribe to your blog.
You can do this by putting a little "What is this?" link under your Feedburner logo or the area where you are asking for subscriptions and sending them to a page that explains things like:
What RSS does
Talk about what RSS stands for (Really Simple Syndication) and the different feed readers that are available like Google Reader.
How they can use it
Talk about how you can add all your favorite blogs so you don't have to visit the site each day to see if they've updated.
Why it is a good idea
Talk about how it saves time, makes them more efficient at consuming information and allows them to categorize information into certain topics and niches.
Educating your readers about RSS can often lead to better engagement and more subscribers.
4. When someone wants to leave a comment
Comments are the lifeblood of your blog. I am a bit like Glen from ViperChill in this respect; I rate the amount/quality of comments that I get higher than any other metric.
The people who comment on my blog are champions. Without them my posts would be a one way lecture but, particularly here on Blog Tyrant, when the comments start to flow friendships are made and new resources are discovered.
But a lot of blogs aren't like this. People don't stick around and talk about things in the comments section. So you need to educate your readers that you want comments. And you need to tell them how it all works.
Three things to do:
Add a comment policy
Back when Blog Herald was really big the wrote about having a comment policy. Some people noted that their comments went up after they added one.
Change the default 0 comments text
Here's a video I did a while ago about how you can get rid of that boring '0 comments' text and add something more interactive like "Leave a comment, handsome".
Redirect your commenters to a thank you page
This post was something I had to write because so many people were asking me how I did it. When you leave a comment on this blog you get sent to a thank you page that asks give you more things to do. A good moment to educate your readers about how much you love comments.
There is no shame in asking for comments and helping people to understand how it works.
Again, this is a moment when you might assume that a reader knows what to do but, in fact, they might not even know what comments are.
5. After they have successfully or unsuccessfully read a blog post
I don't think many bloggers consider the idea that someone can successfully or unsuccessfully read a blog post. It's something I think about quite a lot.
How far down are people reading?
Where are they getting distracted?
Do they read all the words, most of the words or just the bold headings?
Well, turns out they do all of those things. So you need to make sure your blog post style caters to all of their needs.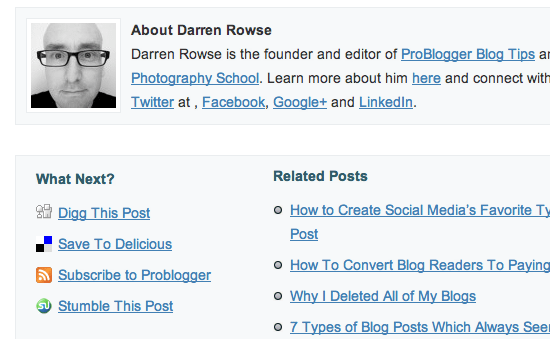 A grab from the bottom of one of Darren's posts.
At the end of his posts Darren educates his readers about who wrote the post (a good idea for branding and loyalty) and about what they can do next (read another post or share it on social networking sites). This is an example of educating readers who have successfully read a post.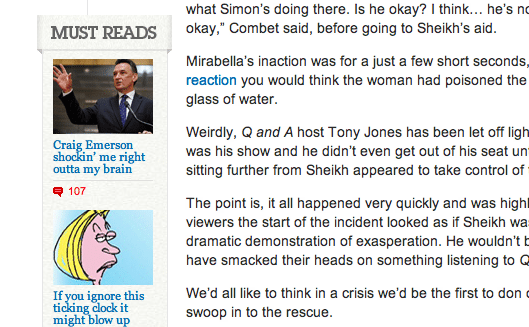 A grab from half way down an article from The Punch.

The Australian political website The Punch adds a fancy little widget on the side that gives you an option to look at something else if the current article isn't doing it for you. This is a good idea for preventing another blog bleed and is an example of something you can do for an unsuccessful read.
You really want your readers to digest your posts. But at the end you have to tell them what to do next.
People need to be educated, especially when everyone moves around the net in such erratic and impulsive fashions.
What do you think?
Tell me your thoughts on all this. Are you failing to educate your readers at important moments on your blog? Can you think of any other places where you really need to SPELL IT OUT? Or, do you know anyone who does it really well?
Leave a comment.